Abstract
This review highlights recent (2000-2004) advances and developments regarding the synthesis of block copolymers with both linear [AB diblocks, ABA and ABC triblocks, ABCD tetrablocks, (AB)n multiblocks etc.] and non-linear structures (star-block, graft, miktoarm star, H-shaped, dendrimer-like and cyclic copolymers). Attention is given only to those synthetic methodologies which lead to well-defined and well-characterized macromolecules.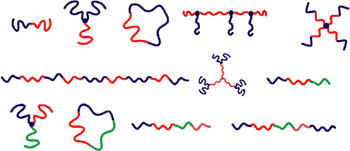 Keywords
Block Copolymer 
Molecular Weight Distribution 
Graft Copolymer 
Triblock Copolymer 
Diblock Copolymer 
These keywords were added by machine and not by the authors. This process is experimental and the keywords may be updated as the learning algorithm improves.
Abbreviations
AFM

atomic force microscopy

AIBN

α,α′-azobisisobutyronitrile

AMBA

sodium 3-acrylamido-3-methylbutanoate

AMPS

sodium 2-acrylamido-2-methylpropane sulfonate

ATRP

atom transfer radical polymerization

BDSIMP

bis(tert-butyldimethylsilyloxymethylphenyl)

BMBP

2,2-bis(methylene α-bromopropionate)propionyl

bpy

4,4′-dialkyl substituted bipyridine

BzMA

benzyl methacrylate

CbzNB

5-(N-carbazoyl methylene)-2-norbornene

CDMSS

4-(chlorodimethylsilyl)styrene

CMP

chloromethyl phenyl-

CMS

chloromethylstyrene

CTA

chain transfer agent

D3

hexamethylcyclotrisiloxane

DABCO

1,4-diazabicyclo[2,2,2]octane

DCC

dicyclohexyl carbodiimide

DDPE

double diphenyl ethylenes

DEPN

N-t-butyl-N-(1-diethylphosphono-2,2-dimethylpropyl)nitroxide

DLLA

d,l-lactide

DMAP

4-(dimethylamino) pyridine

DME

dimethoxyethane

DMF

dimethylformamide

DMSO

dimethyl sulfoxide

DMVBAC

N,N′-dimethylvinylbenzylamine

DPE

1,1-diphenylethylene

DPMK

diphenylmethylpotassium

DPQ

2,3-dichloro-5,6-dicyano-1,4-benzoquinone

DSC

differential scanning calorimetry

DTPA

dithiobis(propionic acid)

DVB

divinylbenzene

DVC

divinyl compound

FMA

2-(N-methylperfluorobutane sulfonamide)ethyl methacrylate

GAMA

2-gluconamido ethyl methacrylate

GMA

glycerol monomethacrylate

GTP

group transfer polymerization

HBBIB

4-hydroxy-butyl-2-bromoisobutyrate

HEBB

β-hydroxyethyl α-bromobutyrate

HES

hexaepoxysqualene

HMTETA

1,1,4,7,10,10-hexamethyl triethylenetetramine

IPP

isopropenylpyridine

Is

isoprene

LALLS

low angle laser light scattering

LAMA

2-lactobionamido ethyl methacrylate

LFRP

living free radical polymerization

MAHE

trans, trans-1-methacryloyloxy-2,4-hexadiene

MALLS

multi angle laser light scattering

MAO

methylaluminoxane

MBA

3-methacryloyloxy-1,1′-biadamantane

Me6-TREN

[(2-dimethylamino)ethyl]amine

MHI

multifunctional initiator

MLA

multifunctional linking agent

Mn

number-average molecular weight

MPEO

poly(ethylene oxide) monomethyl ether

MTS

1-methoxy-1-trimethylsiloxy-2-methyl-1-propane

Mw

weight-average molecular weight

Mw/Mn

molecular weight distribution

NIPA

N-isopropyl acrylamide

NMP

nitroxide mediated polymerization

NMR

nuclear magnetic resonance

OEGMA

oligo(ethylene glycol) monomethylether methacrylate

P2MP

poly(2-methyl-1,4-pentadiene)

P2VP

poly(2-vinylpyridine)

P4VP

poly(4-vinylpyridine)

P(7CC)

poly(1,3-dioxepan-2-one)

PAAM

polyacrylamide

PBBOS

poly2,5-bis[(4-butylbenzoyl)oxy]styrene

PBd

polybutadiene

PCHD

poly(1,3-cyclohexadiene)

PCL

poly(ε-caprolactone)

PCMS

poly(p-chloromethyl styrene)

PCP

polycyclopentene

PD

polydiene

PDEAEMA

poly[2-(diethylamino)ethyl methacrylate]

PDIPAEMA

poly[2-(diisopropylamino)ethyl methacrylate]

PDMA

Poly(decyl methacrylate)

PDMAA

poly(N,N-dimethylacrylamide)

PDMAEMA

poly[2-(dimethylamino)ethyl methacrylate]

PDMS

poly(dimethylsiloxane)

PDOP

poly(1,3-dioxepane)

PE

polyethylene

PEG

poly(ethylene glycol)

PEMA

poly(ethyl methacrylate)

PEN

poly(ethylidenenorbornene)

PEO

poly(ethylene oxide)

PEP

poly(ethylene-alt-propylene)

PF

polyfluorene

PFS

poly(ferrocenyl dimethyl silane)

PHEGMA

poly[hexa(ethylene glycol) methacrylate]

PHOS

poly(p-hydroxy styrene)

PHPMA

poly[N-(2-hydroxypropyl) methacrylamide]

PHS

poly(p-hydroxystyrene)

PI

polyisoprene

PIB

polyisobutylene

PIBVE

poly(isobutyl vinyl ether)

PIsOA

Poly(isooctyl acrylate)

PLLA

poly(l-lactide)

PMA

poly(methyl acrylate)

PMDETA

N,N,N′,N′,N′′-pentamethyl diethylenetriamine

PMEMA

poly[2-(N-morpholino)ethyl methacrylate]

PMeOx

poly(2-methyl oxazoline)

PMMA

poly(methyl methacrylate)

PMOS

poly(p-methoxystyrene)

PMVE

poly(methyl vinyl ether)

PNBD

polynorbornadiene

PnBuA

Poly(n-butyl acrylate)

POHVE

poly(2-hydroxyethyl vinyl ether)

PPO

poly(propylene oxide)

PS

polystyrene

PSMA

poly(stearyl methacrylate)

PSPMA

poly(sulfopropyl methacrylate)

PtBuA

poly(tert-butyl acrylate)

PtBuMA

poly(tert-butyl methacrylate)

PtBuS

poly(t-butylstyrene)

PTHPMA

poly(tetrahydropyranyl methacrylate)

PTMSMA

poly(trimethyl silyl methacrylate)

PVAc

poly(vinyl acetate)

PVL

poly(δ-valerolactone)

PVP

poly(N-vinyl pyrrolidone)

PαMeS

poly(α-methyl styrene)

ROMP

ring opening metathesis polymerization

ROP

ring opening polymerization

s-BuLi

sec-butyllithium

SEC

size exclusion chromatography

SLS

static light scattering

SPP

3-[N-(3-methacrylamidopropyl)-N,N-dimethyl]ammoniopropane sulfonate

St

styrene

Sn(Oct)2

stannous octoate

TBABB

tetra-n-butyl ammonium bibenzoate

tBuLi

tert-butyllithium

TEA

triethylamine

TEMPO

2,2,6,6-tetramethyl-1-piperidinyloxy stable radical

THF

tetrahydrofuran

TMEDA

N,N,N′,N′-tetramethylethylenediamine

UV

ultra violet spectroscopy