Abstract
Recent developments in the microwave-assisted synthesis of heterocycles are surveyed with the focus on diversity-oriented multi-component and multi-step one-pot procedures. Both solution- and solid-phase as well as polymer-supported methodologies for the preparation of libraries of heterocycles are reviewed. Advantages of microwave dielectric heating are highlighted by comparison with conventional thermal conditions.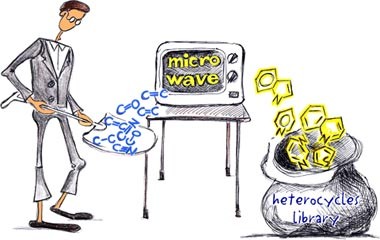 Heterocycles 
High-throughput synthesis 
Microwaves 
Multi-component reactions 
Abbreviations
BEMP

2-tert-butylimino-2-dimethylamino-1,3-dimethylperhydro-1,3,2-diazaphosphorine

DBU

1,8-diazabicyclo[5.4.0]undec-7-ene

DHP

dihydropyridine

DIEA

diisopropylethylamine

DMAP

4-(dimethylamino)pyridine

DMF

N,N-dimethylformamide

DMF–DMA

N,N-dimethylformamide dimethyl acetal

HBTU

O-benzotriazol-1-yl-N,N,N′,N′-tetramethyluronium hexafluorophosphate

HMDS

hexamethyldisilazane

IL

ionic liquids

MCR

multi-component reaction

MW

microwaves

NBS

N-bromosuccinimide

NMP

N-methyl-2-pyrrolidinone

PEG

poly(ethylene glycol)

PPTS

pyridinium p-toluenesulfonate

PS

polymer supported

RCM

ring-closing metathesis

SPE

solid-phase extraction

SPOS

solid-phase organic synthesis

TFA

trifluoroacetic acid

THF

tetrahydrofuran

TMS

trimethylsilyl

Ts

tosyl (p-toluenesulfonyl)
Notes
Acknowledgments
We thank Professor E. Lukevics, Dr. J. Fotins and Dr. R. Zemribo for proof-reading of the manuscript and artist L. Putnina for designing the graphical abstract.
Copyright information
© Springer-Verlag Berlin Heidelberg 2006