Synopsis of Structural, Biosynthetic, and Chemical Aspects of Glycopeptide Antibiotics
Part of the Topics in Current Chemistry book series (TOPCURRCHEM, volume 267)
Abstract
Glycopeptide antibiotics represent a very important group of natural products with regard to medicinal application as antibacterials and for cancer treatment. A characteristic for assignment as a glycopeptide antibiotic, next to antibiotic potential, is the modification of the peptide aglycon with various types of carbohydrates. According to this definition, vancomycin (including five subtypes), ramoplanin, bleomycin, mannopeptimycins and salmochelin belong to the family of glycopeptide antibiotics. In this article, an overview is given on the structural aspects, the biosynthesis and the mode of action of glycopeptide antibiotics. Structure–activity relationships of important functional groups contributing to enhanced antibiotic properties are highlighted. Finally, similarities with regard to structural features, the biosyntheses and the modes of actions are discussed. According to current knowledge, glycopeptide antibiotics mostly act as inhibitors of bacterial cell wall biosynthesis. It is to be expected that the actual list of glycopeptides will be continuously extended due to discoveries from ongoing screening programs.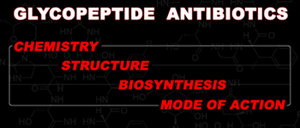 Bleomycin 
Mannopeptimycin 
Ramoplanin 
Salmochelin 
Vancomycin 
Abbreviations
ACP

Acyl carrier protein

BLM

Bleomycin

Chp

3-Chloro-4-hydroxyphenylglycine

Dab

2,4-Diaminobutyric acid

Dhb

2,3-Dihydroxybenzoic acid

Dpg

3,5-Dihydroxyphenylglycine

Dpr

2,3-Diaminopropionic acid

FTICR

Fourier transform ion cyclotron resonance

Hpg

4-Hydroxyphenylglycine

Hty

β-Hydroxytyrosine

Mephe

β-Methylphenylalanine

MIC

Minimum inhibitory concentration

MPM

Mannopeptimycin

MRSA

Methicillin-resistant Staphylococcus aureus

NRPS

Non-ribosomal peptide synthetase

orf

Open reading frame

PBA

Pyrimidoblamic acid

PBP

Penicillin binding protein

PKS

Polyketide synthase

SAR

Structure–activity relationship

VRE

Vancomycin-resistant enterococci

VRSA

Vancomycin-resistant Staphylococcus aureus
Notes
Acknowledgments
This work was supported by a grant of the European Union (COMBIG-TOP, LSHG-CT-2003-503491), the Deutsche Forschungsgemeinschaft (DFG, SU 239/3-3) and by an Emmy-Noether-Fellowship for young investigators of the DFG (SU 239/2-2).
Copyright information
© Springer-Verlag Berlin Heidelberg 2006