Abstract
This review provides an overview of our explorations into oligosaccharide and glycoconjugate construction for the creation and evaluation of glycopeptide-based vaccines. The basis for these investigations is the known tendency of both cancer cells and viruses to express selective carbohydrate motifs in the form of glycoproteins or glycolipids. Utilization of these carbohydrates in a glycopeptide-based vaccine could potentially trigger immune recognition, generating a protective response against the disease. However, obtaining large quantities of such compounds from natural sources is extremely difficult. Over the past two decades, our lab has been engaged in the total synthesis of complex oligosaccharides and glycoconjugates. With this knowledge and experience, we have begun to evaluate, in many cases at the clinical level, whether the human immune system is capable of mounting a response against such fully synthetic carbohydrate antigens in a focused and useful way. Toward this goal, we have merged the powers of both chemistry and immunology to provide insight into this problem. The synthesis and evaluation of potential vaccines for both cancer and HIV will be described.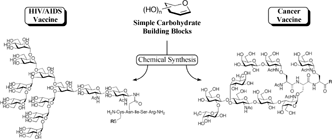 Cancer vaccine 
Drug discovery 
Glycoconjugates 
HIV vaccine 
Synthetic carbohydrate antigens 
Abbreviations
Ac

acetyl

Bn

benzyl

Boc

tert-butoxycarbonyl

Bz

benzoyl

DMDO

3,3-dimethyldioxirane

DTBP

di-tert-butylpyridine

ELISA

enzyme-linked immunosorbent assay

Fmoc

fluoren-9-ylmethylcarbonyl

ivDde

4,4-dimethyl-2,6-dioxocyclohex-1-ylidine-3-methylbutyl

KLH

keyhole limpet hemocyanin

MBS

m-maleimidobenzoyl-N-hydroxysuccinimide ester

MCA

monochloroacetyl

MesNa

sodium 2-mercaptoethanesulfonate

MMCCH

4-(4-N-maleimidomethyl)cyclohexane-1-carboxylic acid hydrazide

NCL

native chemical ligation

Pam3Cys

tripalmitoyl-S-glycerylcysteinylserine

Phth

phthaloyl

py

pyridine

SCLC

small cell lung cancer

SPR

surface plasmon resonance

TBAF

tetrabutylammonium fluoride

TBS

tert-butyldimethylsilyl

TFA

trifluoroacetic acid

TIPS

triisopropylsilyl
Notes
Acknowledgments
The research reviewed in this manuscript was possible only through the dedication, enthusiasm, and creativity of those co-workers whose names are acknowledged on the publications cited from our laboratory. It is to these people, and to other members of the laboratory (who were constantly available for the extensive discussions that helped fashion this research) to whom the program is lastingly indebted. Financial support was largely provided by the National Institutes of Health, grants CA-103823 and CA-28824 (to S.J.D). We especially thank Mr. William H. Goodwin and Mrs. Alice Goodwin and the Commonwealth Cancer Foundation for Research for additional financial support. J.D.W. gratefully acknowledges the US Army Breast Cancer Research Foundation (DAMD17-03-1-0443) for a Postdoctoral Research Fellowship.
Copyright information
© Springer-Verlag Berlin Heidelberg 2006