Abstract
Insect models, such as Galleria mellonella and Drosophila melanogaster have significant ethical, logistical, and economic advantages over mammalian models for the studies of infectious diseases. Using these models, various pathogenic microbes have been studied and many novel virulence genes have been identified. Notably, because insects are susceptible to a wide variety of human pathogens and have immune responses similar to those of mammals, they offer the opportunity to understand innate immune responses against human pathogens better. It is important to note that insect pathosystems have also offered a simple strategy to evaluate the efficacy and toxicity of many antimicrobial agents. Overall, insect models provide a rapid, inexpensive, and reliable way as complementary hosts to conventional vertebrate animal models to study pathogenesis and antimicrobial agents.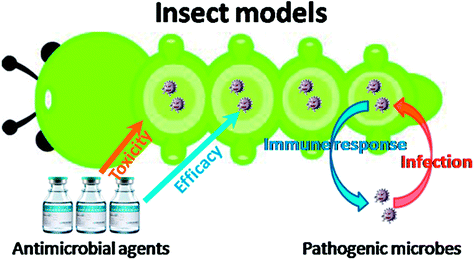 Keywords
Antimicrobial efficacy 
Drosophila
Galleria
Infection 
Insect 
Pathogen 
Pathogenesis 
Abbreviations
MRSA

Methicillin-resistant Staphylococcus aureus

RNAi

RNA interference
Notes
Acknowledgments
This work was supported by the National Institutes of Health through an R01 award (AI075286) and an R21 award (AI070569) to Eleftherios Mylonakis, and National Natural Science Foundation of China (81273558, 81072678) to Yan Wang.
Copyright information
© Springer-Verlag Berlin Heidelberg 2013