Host Factors Promoting Viral RNA Replication
Abstract
Plus-stranded RNA viruses, the largest group among eukaryotic viruses, are capable of reprogramming host cells by subverting host proteins and membranes, by co-opting and modulating protein and ribonucleoprotein complexes, and by altering cellular pathways during infection. To achieve robust replication, plus-stranded RNA viruses interact with numerous cellular molecules via protein–protein, RNA–protein, and protein–lipid interactions using molecular mimicry and other means. These interactions lead to the transformation of the host cells into viral "factories" that can produce 10,000–1,000,000 progeny RNAs per infected cell. This chapter presents the progress that was made largely in the last 15 years in understanding virus–host interactions during RNA virus replication. The most commonly employed approaches to identify host factors that affect plus-stranded RNA virus replication are described. In addition, we discuss many of the identified host factors and their proposed roles in RNA virus replication. Altogether, host factors are key determinants of the host range of a given virus and affect virus pathology, host–virus interactions, as well as virus evolution. Studies on host factors also contribute insights into their normal cellular functions, thus promoting understanding of the basic biology of the host cell. The knowledge obtained in this fast-progressing area will likely stimulate the development of new antiviral methods as well as novel strategies that could make plus-stranded RNA viruses useful in bio- and nanotechnology.
Keywords
West Nile Virus 
Bovine Viral Diarrhea Virus 
Replication Protein 
Tomato Bushy Stunt Virus 
Brome Mosaic Virus 
These keywords were added by machine and not by the authors. This process is experimental and the keywords may be updated as the learning algorithm improves.
Introduction
Plus-stranded (+)RNA viruses replicate their genomes by manipulating host cells and transforming them into viral "factories." Unraveling the interactions between viruses and their host cells as a function of time can contribute greatly to our understanding of the dynamics of viral infections. (+)RNA viruses replicate their genomes in a two-step process: through the production of minus-strand replication intermediates, followed by the production of (+)RNA progeny via the use of the (–)RNA template. Interestingly, replication is an asymmetric process leading to a 20- to 100-fold excess of the new (+)RNA progeny. All known (+)RNA viruses assemble their own replicase complexes (RCs), likely containing both viral- and host-coded proteins (Ahlquist, 2002; Ahlquist et al., 2003; Buck, 1996; Nagy and Pogany, 2006; Noueiry and Ahlquist, 2003; Shi and Lai, 2005; Strauss and Strauss, 1999). In addition, replication takes place in membraneous compartments derived from intracellular organelles, such as the endoplasmatic reticulum (ER), mitochondrion, vacuole, Golgi, chloroplast, and peroxisome (Salonen et al., 2005). Some viruses actively induce the formation of novel cytoplasmic vesicular compartments, using COPII-coated or possibly autophagosomal membranes (Cherry et al., 2006; Egger and Bienz, 2005; Kirkegaard and Jackson, 2005; Rust et al., 2001). Thus, replication of (+)RNA viruses is a complex process that involves numerous interactions among viral RNA, viral-coded, and host-coded proteins and host membranes (lipids). Dissecting the functions of the various replication-associated or replication-modulating molecules in (+)RNA replication is one of the major frontiers in current virus research. The picture emerging is that the mechanism of genome replication, and the functions of viral and host factors, might be somewhat analogous among various (+)RNA viruses in spite of their diverse genome organizations and gene expression strategies. Also, most of the previously identified host factors are conserved genes, suggesting that (+)RNA viruses might selectively target conserved host functions as opposed to species-specific factors. Such a strategy would help viruses broaden their host range by expanding infections to new host species. Altogether, host factors play crucial roles in all steps of (+)RNA replication. Host factors are also key determinants of the host range of a given virus and affect virus pathology, host–virus interactions, as well as the evolution of the virus. Host factors could also be potent antiviral targets. Studies on host factors also contribute insights into their normal cellular functions, thus promoting understanding of the basic biology of the host cell.
The host factors characterized to date play diverse roles during (+)RNA replication, including mediating intracellular transport of viral proteins and viral RNA, as chaperones facilitating correct folding of viral proteins, as helicases or RNA chaperones assisting the folding of the viral RNA, facilitating the switch from translation to replication by promoting template recognition/selection, and as lipid metabolism enzymes driving membrane proliferation.
This review provides an overview of our current understanding of the role of host factors that facilitate (+)RNA virus replication. Major challenges remain to resolve further what roles the identified host factors play during (+)RNA virus replication. Studies aimed at identifying and dissecting all the replication-associated factors are expected to increase the number and efficiency of our methods to interfere with successful viral replication/infection.
Approaches
Since (+)RNA viruses can potentially co-opt most of the ∼20,000–30,000 host proteins (whether animal or plant) for their replication, it is a daunting task to identify those proteins, which are actually subverted by a given (+)RNA virus. Numerous approaches have been developed during recent years to identify host factors, and we will briefly describe only a selected number of ways that yielded the most fruitful hits.
Molecular Interaction Between the Host and (+)RNA Virus During Replication
Most of the known host factors inhibit replication when absent, or present in reduced amount, suggesting that these genes facilitate (+)RNA virus replication by providing useful functions, directly or indirectly (see below). Identified host factors are known to be involved in various cellular processes, such as metabolism/modifications of RNAs, lipids, and proteins; in protein intracellular transport/targeting; or, in general metabolism (Kushner et al., 2003; Panavas et al., 2005b). It is intriguing to note that a large set of host genes affecting (+)RNA virus replication is unique for any given virus, suggesting that (+)RNA viruses have developed different ways to utilize the immense resources of cells. In spite of the differences in the host genes involved, we predict that many of the different genes might provide mechanistically similar functions during replication of various (+)RNA viruses. For example, molecular chaperones, albeit different members of the chaperone family, have been found to affect BMV, TBSV, FHV, HCV, and coronavirus replication (Tomita et al., 2003; Castorena et al., 2007; Kampmueller and Miller, 2005; Nanda et al., 2004; Okamoto et al., 2006; Serva and Nagy, 2006).
The genome-wide screens with BMV, TBSV, and DCV confirmed that (+)RNA viruses depend greatly on the intracellular components of infected hosts for robust viral replication. It appears that the interactions between host cells and (+)RNA viruses are complex, likely including numerous replication-associated host factors with direct or indirect roles. Overall, the identified host factors likely belong to one of the following three groups. (i) Those that may directly interact with the viral RNA(s) or replication proteins and perform essential functions for the virus. This group of host factors also include host membranes/lipids, various components of the intracellular transport and trafficking system, the translation apparatus, and possibly intracellular compartments, such as the ER, peroxisome, and vesicles, which (+)RNA viruses require and/or utilize to complete their replication. For example, the Hsp70 molecular chaperone, which is present in the tombusviral RC, might be directly involved in replicase assembly (Serva and Nagy,
2006
). (ii) Those host factors that indirectly affect (+)RNA virus replication via influencing the amount and/or activity of those host factors, which are directly involved [group (i) above]. These indirect host factors may affect the competition between the virus and the host for limited cellular resources, host proteins, and intracellular compartments. For example, transcription factors could affect the amount of host factors available in the infected cells, thus indirectly affecting (+)RNA virus replication. (iii) The third group of host factors includes direct inhibitory factors, such as components of the host innate and general antiviral defense mechanisms, which affect virus replication by destroying/modifying viral RNAs or viral replication proteins in targeted or in general manners. For example, Ngl2p endoribonuclease, the yeast Xrn1p, and the
Arabidopsis
Xrn4p 5'–3' exoribonucleases were found to affect degradation, and thus stability, of TBSV RNA (Cheng et al.,
2007
,
2006
; Serviene et al.,
2005
). The second and third groups of host factors will not be discussed further in this chapter.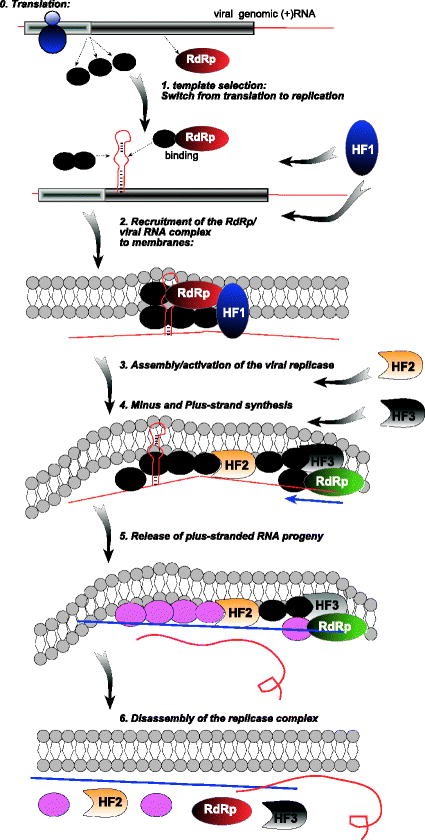 The Replication Cycle of (+)RNA Viruses Consists of Six Distinct Steps
The viral (+)RNA has to participate in three-to-five competing processes required for successful infection. Activities include translation to produce viral proteins, replication, transcription [to produce subgenomic (sg)RNA for some viruses], encapsidation, and cell-to-cell movement (in the case of plant RNA viruses). These processes are highly regulated and compartmentalized to avoid collision between the ribosome and the viral RC. Recent advances in knowledge about (+)RNA virus replication have resulted in the division of the replication cycle into six separate steps (Fig. 14.1). These include (1) recruitment/selection of the viral (+)RNA template for replication (the switch of viral RNA from translation to replication); (2) targeting of viral replication proteins to the site of replication; (3) assembly of the functional viral replicase complex on intracellular membraneous surfaces; (4) synthesis of viral RNA progeny; (5) release of viral (+)RNA progeny from the site of replication; and (6) disassembly of the viral RC. In the following subchapter, we will discuss our current knowledge on the role of host factors in each of those steps.
Roles of Host Factors in Various Steps of Viral RNA Replication
Future Directions
In spite of recent major efforts in studies of host–virus interactions and viral replication, our knowledge in many areas is still incomplete. However, the application of systems biology approaches and the availability of complete sequences for many host genomes, in combination with development of in vitro approaches and yeast as a model host, will likely lead to rapid advances in identification and characterization of host factors involved in (+)RNA virus replication. The combined use of genetics, biochemistry, and cell biology will help dissect the detailed functions of subverted host proteins. Also, proteomics-based analysis of the viral RC is expected to lead to identification of host proteins recruited into (+)RNA virus replication. Determination of 3D structures of viral RdRp and the auxiliary replication proteins with bound RNAs, as well as high resolution imaging of viral RCs, will likely unravel the mechanism and regulation of (+)RNA replication. Proteomics approaches should also accelerate identification of various post-translational modifications of viral and host proteins that could affect and/or regulate their functions during the replication process. These advances will lead to a better understanding of virus replication and host:(+)RNA virus interactions, which are key aspects of viral pathogenesis.
Notes
Acknowledgments
The authors thank Dr. David Smith and members of the Nagy lab for discussion. The authors apologize to those colleagues whose research on replication of plus-strand RNA viruses was not mentioned in this review due to page restrictions. This work was supported by NIH-NIAID.
Copyright information
© Springer Science+Business Media, LLC 2009