Dysfunction and Restoration of Endothelial Cell Communications in Pulmonary Arterial Hypertension: Therapeutic Implications
Open Access
Conference paper
Abstract
Impairment of the pulmonary endothelial communications contributes to the development and progression of pulmonary arterial hypertension (PAH). Investigations currently under way are likely to produce novel therapeutic strategies that target pulmonary endothelial dysfunction linked to PAH. This chapter outlines the complex role of the dysfunctional pulmonary endothelium in PAH and its potential value as a target for innovative therapies.
Keywords
Pulmonary hypertension 
Pathogenesis 
Endothelial dysfunction 
Cell-cell communication 
Therapeutic target 
19.1

Introduction

Pulmonary arterial hypertension (PAH) is a severe and progressive cardiopulmonary disorder characterized by non-specific symptoms (i.e., breathlessness, fatigue, weakness, angina, and syncope) that take years before appearing, usually after the disease is in an advanced stage. In Europe, PAH prevalence and incidence are in the range of 15–60 subjects per million population and 5–10 cases per million per year, respectively. Despite recent progress in the treatment of PAH, most patients still die from the disease or fail to respond adequately to medical therapy with a 5-year survival of 59%. Current treatments can relieve some PAH symptoms and slow the progress of the disease in some patients, but they have limited impact on the progressive pulmonary vascular remodeling that eventually culminates in right heart failure [1].

Pulmonary endothelial dysfunction is a critical contributor that could be detrimental for the onset and progression of this severe cardiopulmonary disorder [2, 3, 4]. Therefore, early diagnosis and better understanding of the mechanisms underlying the altered pulmonary endothelial cell (EC) phenotype and endothelial communications with both resident vascular cells (smooth muscle cells, fibroblasts, myofibroblasts, and pericytes) and inflammatory cells are needed to propose and develop new, more adapted and more powerful therapeutic tools.
19.2

Pulmonary Endothelial Dysfunction and the Pathobiology of PAH

At the interface between bloodstream and lung tissue, the pulmonary ECs play critical roles not only in optimizing gas exchanges but also in the local adaptations of vascular tone, in the maintenance of a thrombosis-free surface, in the control of inflammatory cell adhesion and trafficking, as well as in the maintenance of the vascular wall integrity and for normal angiogenesis. Importantly, they are dynamic and adapt their roles and phenotypes according to the nature of the local milieu (Fig.

19.1

). Indeed, the pulmonary ECs are highly metabolically active, sensing and responding to signals from extracellular environments by secreting the correct substance(s) by which it may maintain the vasomotor balance and vascular-tissue homeostasis [

4

].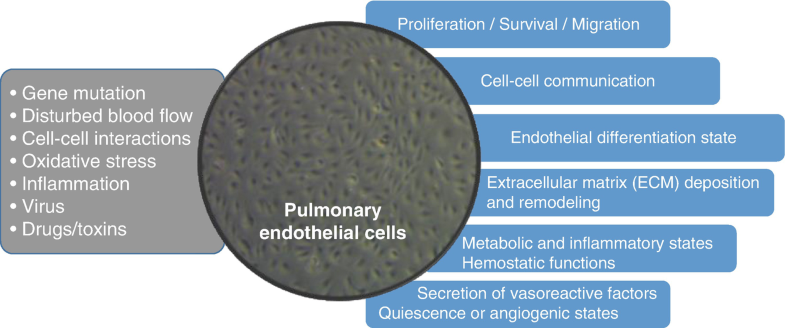 As a vital part of the pulmonary vascular wall, alterations of the pulmonary endothelium are now well established to be central role in the pathogenesis of PAH. The main characteristics of pulmonary endothelial alterations or dysfunction in PAH includes, among others, a reduction in the secretion of vasodilator molecules such as prostacyclin (PGI2) and nitric oxide (NO), and an increase in the potent vasoconstrictor endothelin (ET)-1 [5]. In addition, our group has highlighted that pulmonary ECs from PAH patients exhibit a pro-inflammatory phenotype characterized by an increased expression of key adhesion molecules (E-selectin, ICAM-1, and VCAM-1) together with an excessive secretion of different inflammatory mediators (such as interleukin (IL)-1α, IL-6, IL-8, IL-12, macrophage migration inhibitory factor (MIF), and CCL2) [6]. Pulmonary ECs from PAH patients also exhibit metabolic alterations including heightened glycolysis [7]. Finally, decreased capacities to form vascular tube in vitro [8] and acquisition of some mesenchymal markers have also been reported [9]. Finally, a pro-proliferative and apoptosis-resistant phenotype has been described [10, 11, 12]. Various stimuli such as high glucose, insulin resistance, disturbed blood flow, and oxidative stress can lead to endothelial dysfunction. Therefore, further research is needed to elucidate their specific contribution to the altered pulmonary EC phenotype in PAH.
Importantly, this excessive local secretion of key factors by the dysfunctional pulmonary endothelium in PAH has also been demonstrated to play a critical role in modulating the behavior and functions of adjacent vascular cells (smooth muscle cells, fibroblasts myofibroblasts, and pericytes) and several immune cells that infiltrate the remodeled pulmonary vessels, thereby contributing to the vascular remodeling in PAH [
3
] (Fig.
19.2
). Although considerable progress has been made, the triggers, the mechanisms, and the consequences of dysfunctional pulmonary endothelium in PAH are still not completely understood. A better knowledge of these key aspects would help finding new PAH biomarkers and/or novel therapeutic targets to reverse or even stop the progression of this irreversible vascular remodeling.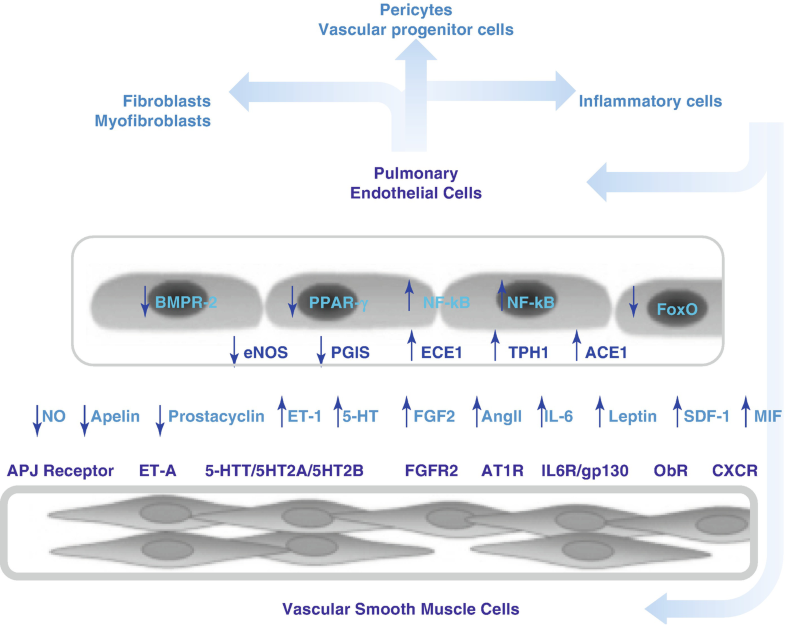 19.3

Current Promising Strategies for Restoring Pulmonary Endothelial Dysfunction and Cell-Cell Communications

Below, a few of the most promising therapeutic strategies that target the dysfunctional pulmonary endothelium are underlined.
19.4

Future Directions and Clinical Implications

In summary, substantial work remains to be done to discover and/or develop a new, better tolerated, and more powerful curative treatment for PAH that combines promotion of vasorelaxation and restoration of endothelial communications. However, important discoveries in the molecular mechanisms contributing to the pulmonary endothelial dysfunction in PAH have been obtained and our knowledge continues to accelerate. Thus, our improved understanding of additional pathways in this condition will presumably lead to the development of novel therapeutic strategies that could specifically target endothelial dysfunction in the near future. A comprehensive estimation and evaluation of risks and benefits, potential ways to circumvent the risk of adverse effects on the adaptative myocardial hypertrophy, and a targeted delivery of these new drugs in a safe and effective manner are still major challenges facing clinical researchers.
Notes
Acknowledgments
This work was supported by grants from the INSERM, the University of Paris-Sud and the University Paris-Saclay, the Marie Lannelongue Hospital, the ANR (ANR-16-CE17-0014 Tamirah), the FRM (DEQ20150331712), and in part by the DHU TORINO, the AP-HP, Service de Pneumologie, Centre de Référence de l'Hypertension Pulmonaire Sévère, the LabEx LERMIT (ANR-10-LABX-0033), the French PAH patient association (HTAP France), and the FRSR-FdS.
Copyright information
© The Author(s) 2020
Open Access This chapter is licensed under the terms of the Creative Commons Attribution 4.0 International License (http://creativecommons.org/licenses/by/4.0/), which permits use, sharing, adaptation, distribution and reproduction in any medium or format, as long as you give appropriate credit to the original author(s) and the source, provide a link to the Creative Commons license and indicate if changes were made.
The images or other third party material in this chapter are included in the chapter's Creative Commons license, unless indicated otherwise in a credit line to the material. If material is not included in the chapter's Creative Commons license and your intended use is not permitted by statutory regulation or exceeds the permitted use, you will need to obtain permission directly from the copyright holder.