Microbes and Petroleum Bioremediation
Abstract
Petroleum pollution is an environmental issue often reported, including oil spills that occur accidentally worldwide. The release of large quantities of oil causes directly or indirectly huge environmental and economic impacts and may persist for decades. Bioremediation processes, such as biostimulation and bioaugmentation, among others, represent an eco-friendly and effective way to treat impacted areas based on the use of biological agents, associated or not to other compounds like biosurfactants in order to mineralize or complex organic and inorganic pollutant compounds. Therefore, this book chapter will review some topics related to bioremediation, including several in situ and ex situ techniques employed to treat polluted areas and the use of biosurfactants produced by several microorganisms. Moreover, oil spills and how they can affect marine and terrestrial environments are also mentioned, based on recent reports available in literature and according to organizations responsible for environmental impact monitoring. Hydrocarbonoclastic microorganisms have been described in both environments as well as the community dynamics of specific groups as a function of oil compounds input. In marine environments, a high abundance increase of a specific group called "obligate hydrocarbonoclastic bacteria (OHCB)" has been reported after an event involving petroleum contamination. Similar observation has been reported for mangroves, showing that oil or its derivatives allow the selection of microorganisms capable to degrade hydrocarbons. Petroleum contamination in cold environments, as Arctic and Antarctic regions, represents a huge challenge since management of contaminated sites and bioremediation effectiveness in these regions depend on several factors influencing oil degradation under cold conditions facing intrinsic limiting factors. In conclusion, bioremediation is not only a scientific concept described in literature but a concrete and applied efficient tool to treat polluted environments. The increasing number of bioremediation companies and patents also corroborates the tendency in search for new technologies and approaches focusing on sustainable management of polluted areas.
5.1

Introduction

Crude petroleum and its derivatives are still the main energy source for several countries and are among the most widely used substances in industrial processes. The world production of crude oil in 2015 was 41.4 million barrels per day (OPEC 2016). Activities related to petroleum industry as transport, extraction, refining, and distribution can affect directly or indirectly the surrounding ecosystems or even those in the transportation route. Due to the extensive application in several industrial sectors, petroleum hydrocarbons (PHCs) have been reported as a great pollutant source in the environment. Accidental oil spills, whether offshore or onshore, have been often reported and imply in major impact, affecting all the food web involved as well as human resources, mainly local communities economically dependent on natural resources for living.

Remediation techniques are already described and applied for contaminated environments, based mainly on physical treatment for the removal of contamination source. Instead, bioremediation is a technique employing microorganisms or their products to degrade or inactivate toxic compounds. Nevertheless, the success of this process is dependent on many biotic and abiotic factors.

Several microorganisms, as bacteria, fungi, and yeasts, whether from marine or terrestrial environments, are reported in literature as being capable to degrade diverse hydrocarbon compounds and/or used in bioremediation processes. In addition, some of them can produce biosurfactants, complex molecules which increase hydrocarbon degradation.

This book chapter will review some of the topics concerning bioremediation research. Contamination and fate of spilled petroleum in environment, as well as some of the microorganisms capable to degrade hydrocarbons, are described. In addition, some commercialized bioremediation products and how different bioremediation approaches have been investigated and applied for petroleum contamination as an eco-friendly and efficient tool for polluted environments are discussed.
5.2

Bioremediation

Anthropogenic activities have resulted in the dump of hazardous waste into the environment. These wastes represent pollutant sources of diverse types, such as pesticides, heavy metals, polyaromatic hydrocarbons (PAHs), polychlorinated biphenyls (PCB), antibiotics, dyes, and cleaning products (disinfectants and detergents), among others. Most of them are toxic to humans and animals, offering risks of diseases or even death (Verma and Jaiswal 2016). They can contaminate soil, surface water, groundwater, and air causing unpredictable environmental catastrophes. For this reason, remediation of contaminated environments has been an arduous task with countless researches aiming low cost-efficient solution.

In order to remove pollutants from contaminated sites, several physicochemical methods have been developed, such as solidification and stabilization, soil vapor extraction, soil washing, air sparging, thermal desorption, and incineration (Dadrasnia et al. 2013).

Such methods might be highly expensive and laborious, and, moreover, there is an inherent risk of worsening the situation by spreading pollutants (Salleh et al. 2003). Other common technologies used are evaporation, burying, dispersion, and washing (Das and Chandran 2011), but as a disadvantage, they often lead to incomplete decomposition. Then currently a simple and cost-effective method for hydrocarbon removal is necessary.

Bioremediation, although not a recent term, describes a natural process that uses biological agents (microorganisms or their products) in order to promote pollutant mineralization and recovery of the contaminated site. This approach presents lower costs and other advantages when compared to physicochemical processes (Table

5.1

). According to the American Environmental Protection Agency (EPA), the definition of bioremediation consists in a "treatment that uses naturally occurring organisms to break down hazardous substances into less toxic or nontoxic substances."

Table 5.1

Advantages and disadvantages of bioremediation techniques compared to conventional technology
| Advantages | Disadvantages |
| --- | --- |
| Lower cost | May be difficult to control |
| Contaminants usually converted to innocuous products | Amendments introduced into the environment to enhance bioremediation may cause other contamination problems |
| Contaminants are destroyed, not simply transferred to different environments | May not reduce the concentration of contaminants to required levels |
| Persistent use | More time-consuming |
According to literature, romans may have been the first ones to discover bioremediation during the development and establishment of biological treatment of wastewater and sewer. However, bioremediation process using microorganisms was invented by the American scientist George M. Robinson. He worked as an assistant petroleum engineer at Santa Maria & Company in California in the 1960s and devoted himself to experiments with a series of microbes in contaminated flasks (Sonawdekar 2012). The concept of commercial utilization gained acceptance throughout the 1960, but only in 1970 Dr. Chakrabarty described a crude oil-degrading bacterial strain of Pseudomonas putida, and 2 years later the first bioremediation commercial product was launched (Kundu et al. 2017). As consequence of Exxon Valdez oil spill event in 1989 in Alaska, the remediation using dispersants started to gain more visibility.
There are many different bioremediation techniques reported in literature using biological compounds (bacteria, fungi, plants) or enzymes. Although the techniques described can be applied to a diverse range of contaminants, hydrocarbons are the most reported class of pollutants due to their wide contamination in water and soils (Firmino et al. 2015). The main goal of this technique is to reduce or eliminate toxic substances from contaminated sites through different pathways such as degradation, assimilation, or transpiration in the atmosphere, yielding nontoxic final products such as inorganic molecules, water, carbon dioxide, and microbial biomass (Van Hamme et al. 2003).
Bioremediation techniques can be managed
on-site
(or in situ
)
, treating the contaminated material at the impacted site and
off-site
(or ex situ
)
, which removes the contaminated matrix to be treated in other location (Azubuike et al.
2016
). Several factors as costs, site characteristics, and type and concentration of pollutants can determine if bioremediation should be carried out ex situ or in situ (Fig.
5.1
). There are many types of bioremediation treatments such as application of specific fungi species (mycoremediation), plants (phytoremediation, rhizofiltration), and microorganisms in general and their subproducts or nutrients (bioaugmentation, biostimulation, biopiles, natural attenuation, and biosurfactants), among others (Banerjee et al.
2016
; Marykensa
2011
).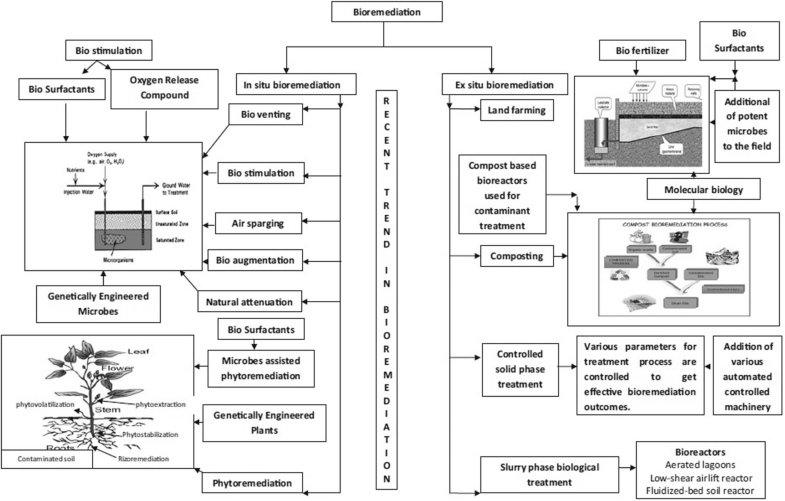 5.3

Oil Spills and Contamination

Petroleum is composed by a blend of hydrocarbons and can contain dozens of thousands of organic compounds chemically diverse, including some heavy metals. Petroleum chemical and physical properties may vary according to some features from reservoirs as age, location, and depth (Van Hamme et al. 2003; Head et al. 2003). The general classification of crude oil is resumed to light, medium, or heavy oil. This specification is based on their composition (proportions of the high-molecular-weight compounds) and products generated from their respective distillation process such as paraffins, naphthenes, or aromatic compounds. Light oils contain more saturated and aromatic hydrocarbons and a small proportion of resins and asphaltenes. On the other hand, the largest fraction of heavy oils consists of polar compounds, whereas saturated and aromatic hydrocarbons are in lower proportion (Head et al. 2003).

In accordance with Van Hamme and collaborators (2003), the biodegradability level of the oil components is dependent on their structure, meaning the more structurally complex the molecule, the more complex is its degradation process. Generally, biodegradation starts from structurally simpler molecules as n-alkanes and moves forward to compounds of higher structural complexity such as branched-chain alkanes and low molecular-weight n-alkyl aromatics, until more complex molecular structures as monoaromatics, cyclic alkanes, polycyclic aromatic hydrocarbons (PAHs), and asphaltenes.

Biodegradation of crude oil leads to changes in its composition. However, in general, biodegraded oils present high quantity of polar compounds which are more complex molecules and, in turn, more resilient to degradation than saturated and aromatic hydrocarbons. Moreover, heavier fractions of petroleum are more toxic and persistent and when released in the environment can cause long-term impact (Hassanshahian and Cappello 2013).
5.4

Bioremediation Studies and Practical Aspects

As previously described, bioremediation involves different approaches aiming at the mineralization of organic compounds by using microorganisms or their products.

A recent example of natural attenuation (in situ bioremediation) was observed after the Deepwater Horizon (British Petroleum) platform explosion accident, quoted previously. Hazen et al. (2010) evaluated deep water samples from across the Gulf of Mexico aiming the comprehension of the impact of the deep hydrocarbon plume on the marine microbes and the rates of hydrocarbon biodegradation. They reported a shift in the marine bacterial community exposed to the oil, with an increase in the abundance of microorganisms from the order Oceanospirillales (class ϒ-Proteobacteria), suggesting a faster acclimation and ability of such bacteria to thrive in the oil.

To be an effective process, biostimulation is dependent on availability and capability of intrinsic microorganisms to perform the complete degradation of a target pollutant. Still, the amount of specific degrading groups (in colony forming units – CFU/mL or gram of soil) must be abundant (Luqueño et al. 2011). Liu and co-workers (2010) reported the use of biostimulation in polycyclic aromatic hydrocarbons (PAH) contaminated soil by the addition of organic fertilizer. After 360 days, there was a reduction of 58% PAH in the amended treatment when compared to the control without any fertilizer. Moreover, the authors observed a smaller number of degrading bacteria in the control samples than in the treated ones and concluded that at concentrations below 105 UFC g−1, bioremediation process may not occur significantly. Thus, the higher the abundance of degrading microorganisms within an area under remediation treatment, the faster and more efficient the process is.

Other works have reported the use of biostimulation approach whether in both soil and aquatic environments, resulting in an effective removal of pesticides (Kanissery and Sims 2011), PAH and petroleum (Nikolopoulou and Kalogerakis 2008; Nikolopoulou and Kalogerakis, 2009; Delille et al. 2009; Yu et al. 2011), and organohalogenates (Major et al. 2002).

In some cases, bioaugmentation is considered as an alternative remediation technique when biostimulation or natural attenuation fails. This may happen when (1) there is low abundance of degrading microorganisms in the treated area and (2) the native microbiota do not present physiological capability to degrade pollutants (Fantroussi and Agathos 2005; Tyagi et al. 2011).

There are different strategies of bioaugmentation, as follows: (1) reinoculation of potential oil degraders from autochthonous microbial community, (2) selection of suitable target microorganisms from contaminated environments similar to the target area to be treated, and (3) use of genetically modified microorganisms (GMO) aiming to potentiate the degradation process (Mrozik and Piotrowska-Seget 2010, Hosokawa et al. 2009). Hosokawa et al. (2009) reported the bioaugmentation approach using ABA (autochthonous bioaugmentation) in Hokkaido Island in petroleum-contaminated sediments, comparing different consortia. The consortium previously isolated from contaminated sediment showed higher efficiency to degrade petroleum compounds.

Several bacterial and fungal strains have been used by different authors in bioaugmentation strategies for petroleum and derivative compounds (Table

5.4

).

Table 5.4

Microorganisms used in bioaugmentation approach for degradation of diverse pollutants from petroleum and derivatives
| Microorganism | Compound | References |
| --- | --- | --- |
| Alcanivorax | Petroleum hydrocarbons | |
| Bacillus | Diesel oil; quinolone | |
| Rhodococcus | Diesel oil; PHA | |
| Pseudomonas | Petroleum; simazine | Stallwood et al. (2005), Morgante et al. (2010), and Mei-Zhen et al. (2012) |
| Burkholderia | Carbofuran; ethylenediaminetetraacetic acid (EDTA) | |
| Aspergillus | Anthracene, naphthalene (PAH) | |
| Penicillium | Petroleum/crude oil | |
Despite several advantages in bioaugmentation, as low cost and high efficiency, there are some limitations involved in its application. Strain selection, microbial ecology aspects, and inoculation procedure may influence directly in the process effectivity. Parameters such as availability and amount of water, oxygen, nitrogen, and phosphorus and, on top of that, the ability of microorganisms to degrade the target contaminants and compete/act synergically with autochthonous microbiota are essential factors to achieve a complete degradation of the pollutant. Remediation process under natural conditions may be inefficient in absence of any of the abovementioned parameters (Boopathy 2000; Tyagi et al. 2011). Gentry (2004) reported some methods that may enhance the activity of exogenous microorganisms or genes in the environment: (1) development of methods to enhance the tolerance and resistance of exogenous microorganisms into contaminated areas, (2) research for genetically engineered microorganisms with remediation potential, (3) monitoring of the activity and/or presence of introduced microorganisms through reporter genes, and (4) control of the released genetically engineered microorganisms through suicide genes.
The combined use of biostimulation and bioaugmentation for hydrocarbon removal is mentioned in previous literature and may be a useful approach for accelerating bioremediation. Exogenous and indigenous microorganisms can be supported from biostimulation due to nutrient addition and electron acceptors (El Fantroussie and Agathos 2005).
Yu and collaborators (2005) reported the degradation of a mixture of three types of polyaromatic hydrocarbons (PAH) in mangrove sediments, fluorene (Fl), phenanthrene (Phe), and pyrene (Pyr), using three approaches individually: natural attenuation, biostimulation, and bioaugmentation during 4 weeks. At the end of the last week (week 4), natural attenuation (only autochthonous microorganisms) removed more than 99% of fluorene and phenanthrene but only about 30% pyrene. Biostimulation, adding mineral salt medium allowed more than 97% degradation of all three PAHs, showing that nutrient amendment could enhance pyrene degradation. However, bioaugmentation, using a PAH-degrading bacterial consortium enriched from mangrove sediments, was not able to stimulate PAHs degradation, and biodegradation percentages were similar to those obtained by natural attenuation.
Crisafi et al. (2016) reported the treatment of oil-contaminated seawater after an oil spill event occurred in the Gulf of Taranto (Italy), using different bioremediation approaches. The authors concluded that biostimulation based on inorganic nutrients allowed 73% hydrocarbon biodegradation; bioaugmentation using selected hydrocarbonoclastic consortium composed by Alcanivorax borkumensis, Alcanivorax dieselolei, Marinobacter hydrocarbonoclasticus, Cycloclasticus sp. 78-ME, and Thalassolituus oleivorans allowed approximately 79% degradation, while the addition of nutrients and a washing agent allowed 69% degradation. Nevertheless, the authors also could observe harmful effects of the washing agent on the microbial community.
5.5

Bioaugmentation Using Genetically Engineered Microorganisms (GEM)

Almost 40 years ago (in the decade of 1980), the search for bacterial genes encoding catabolic enzymes for degradation of recalcitrant compounds gained attention, along with their cloning and genetic characterization, increasing global interest toward the metabolic potential of microorganisms for biodegradation processes. The first genetic study on microbial degradation was performed with a Pseudomonas strain developed to degrade several compounds such as camphor, octane, salicylate, and naphthalene (Chakrabarty 1972; Chakrabarty et al. 1973). This work resulted in a patent [US Patent #425944] (Cases e De Lorenzo 2005).

GEM might be a useful biological tool to treat polluted environment. Biodegradation rates of several contaminants could be enhanced by genetic engineering through cloning of genes involved in degradation pathway(s) with wider substrate specificities. However, the critical point before the release into the environment is to check the stability of any GEM. In addition, the competence to thrive in natural environments can determine the fate of released GEM (Samanta et al. 2002).

Nevertheless, the use of GEM for bioremediation faces restrictive legislation that forbids in situ application. However, using GEM for bioremediation purposes might be a viable and effective alternative, including the performance and degradation time, and it could be considered in containment conditions (de Lorenzo 2010).
5.6

Marketable Bioremediation Agents

The United States Environmental Protection Agency (US EPA) considered as bioremediation agents microbiological cultures, enzymes, or nutrient additives, which can boost biodegradation processes and mitigate contaminated areas. In the year 2001, the same agency compiled a list of 15 bioremediation agents in the scope of National Oil and Hazardous Substances Pollution Contingency Plan (NCP) Product Schedule, and in the next year, this list was modified, totalizing only 9 bioremediation agents. Several new companies have strengthened commercial products in order to clean and treat contaminated environments whether using lyophilized microbial consortia or their enzymes or metabolites, like biosurfactants or other polymers, which currently tend to be a growing market (Randhawa and Rahman 2014).

However, studies have reported that the efficiency of bioremediation products may vary between laboratory and field conditions. Due to the limitation to simulate environmental conditions in laboratory tests (biological interactions, influence of abiotic effects, such as climate and nutrient mass transport), the biological product may fail in the field application. For this reason, field studies are required as the final step to testify the effectiveness of bioremediation products (Das and Chandran 2011).

A recent review provides a list of bioremediation companies all over the world, such as the German "AB enzymes" and the American "EOS Remediation" among others, which are also involved in development of biosensors for detecting pollutants (Mahmutoglu et al. 2010).

Along with emerging bioremediation companies, researchers have developed several methods in order to restore contaminated sites. Based on Thomson Innovation patent database, the work carried out by Kapoor and co-workers (2013) analyzed a total of 125 patent applications and their approaches involving oil-degrading microorganisms to achieve bioremediation. Still, in a rank for bioremediation technology, the United States of America is the leading country followed by China, Korea, Japan, and Russia. Several companies worldwide known for developing innovative approaches currently work toward eco-friendly products and sustainable solutions, including DuPont, Biosaint, and others.
5.7

Conclusion

In conclusion, given the increasing number of patents and companies all over the world, bioremediation is not a mere theoretical scientific concept but a concrete and applied efficient tool to treat polluted environments, ensuring a minimum impact on the ecosystem. Moreover, this scenario opens the possibility to uncover new technologies and approaches that may be used individually or in combination, as well as the improvement of known practices, aiming at eco-friendly treatments for environment decontamination and waste management in general.
Copyright information
© Springer Nature Singapore Pte Ltd. 2018