Abstract
The sharing economy is a platform-based business model in which users are directly connected for creation, sharing, and exchange of goods or services that draw on underused resources. While this emerging phenomenon has been studied from several perspectives, including the technical, social, and economic, limited investigation has been conducted from the customer perspective. A study was carried out to narrow this research gap by applying the customer viewpoint to explore and analyse how the sharing economy reconfigures value creation. To reach the goal for this research, an interpretive approach was taken to the case of Airbnb. Customers' experiences of using the sharing economy were examined to disentangle the economic, functional, emotional, and symbolic benefits and sacrifices that together capture the diversity of customer-perceived value of the sharing economy. Customer value is discussed as an important conceptual tool to identify and pinpoint the distinguishing characteristics of the sharing economy and to explore how conventional businesses and emerging sharing-economy platforms can recognise and capitalise on their competitive advantages. While the sharing economy gives customers alternatives that involve easier consumption methods at lower cost, it also provides a unique, personal, and socially integrated experience. This can contribute to values that extend beyond traditional hospitality management and thus imbue sharing-economy platforms with a unique and sustainable competitive advantage.
Keywords
Customer value 
Sharing economy 
Service platform 
Introduction
The sharing economy, also known as collaborative consumption, is a peer-to-peer business model built around platform thinking. In this model that has emerged in recent years, peers conduct business activities via a single virtual marketplace without any other intermediaries. The consumption of goods or services is based on shared access to, rather than exclusive ownership of, resources from the marketplace community (Denning 2014). Adoption of the sharing-economy model has grown significantly in recent years and has become an interesting research phenomenon. Many consider the sharing economy to be the next industrial revolution (Botsman and Rogers 2010) or a 'disruptive business model' (Guttentag 2013), able to redefine industries and consumption. A study of European markets shows that the five key sectors of the sharing economy – collaborative finance, peer-to-peer accommodation, peer-to-peer transportation, on-demand household services and on-demand professional services – facilitated transactions valued at $28 billion in 2015 and projected to reach $570 billion in 2025 (PwC 2016).
Research into the sharing economy has shifted from studying individual sharing platforms to studying the entire sharing economy as a general phenomenon, whatever the product/service types or shared objects may be (e.g. Matzler et al. 2015). Technically oriented work has focused on the sharing platform, how it functions and how humans and technology interact in peer-to-peer networks (Avital et al. 2014; Bucher et al. 2016). Studies taking a social perspective have addressed human motives for sharing (Guttentag et al. 2017; Hamari et al. 2016; Milanova and Maas 2017) the role of trust and reputation (Ert et al. 2016), racial discrimination (Edelman et al. 2017), and impact on labour regulation and society (Kneese et al. 2014; Teubner 2014). Tussyadiah (2015) conducted a study of the sharing economy from a customer satisfaction perspective, to detect the factors that influence customers' choices. Although considerable research has recently been devoted to exploring the sharing economy as a phenomenon, only limited attention (Camilleri and Neuhofer 2017; Tussyadiah and Zach 2017) has been paid to understanding it from a user perspective.
Understanding the research phenomenon from a customer standpoint is important for many reasons. First and foremost, customers are the primary initiators of a sharing economy (Botsman and Rogers 2012). A sharing economy may also have unique characteristics that can lead to customer experiences extending beyond traditional industry logic. Accordingly, studying the sharing economy from the customers' perspective could reveal useful insights that might not only help conventional tourism actors to reconfigure their business concepts but also deepen our understanding of this emerging phenomenon. Although the characteristics of service platforms and the associated management strategies are of importance, losing sight of the customer creates a risk of forgetting the basic nature of the phenomenon, unleashing of unused customer resources for consumer-to-consumer value creation. Not all customer resources are valuable to all customers nor are they necessarily competitive when compared to offerings under traditional business models. Hence, understanding what kind of value is created, for whom, remains a key question for those designing and managing competitive service platforms. Consequently, this paper is devoted to exploring and analysing how the sharing economy reconfigures value creation. Accordingly, the focus here is on identifying the benefits and sacrifices of the sharing economy as perceived by customers, in a tourism context. We begin by discussing the sharing economy and customer value as key conceptual tools. After a summary of the methodology – including description of the case study research setting – the results related to customer-perceived benefits and sacrifices are reported and discussed. We end the paper with our conclusion and address some limitations and future research directions.
Theoretical Background
The term 'sharing economy' or 'share economy' was first used to describe social welfare in which participants share in pursuit of the greater common good (Weitzman
1986
). Since the 2000s, sharing-economy models have attracted the attention of both researchers and practitioners (Smolka and Hienerth
2014
). 'Sharing economy', along with alternative terms such as 'collaborative consumption' (Botsman and Rogers
2012
), 'consumer sharing system' (Lamberton and Rose
2012
), 'access-based consumption' (Bardhi and Eckhardt
2012
), and 'the mesh' (Gansky
2010
) (cf. Belk
2014
), has become a buzzword and is now widely discussed by economists, philosophers, marketers, and entrepreneurs alike (Botsman and Rogers
2012
) (Table
1
).
Table 1
Selected definitions of 'sharing economy'
| Authors | Definitions |
| --- | --- |
| Lamberton and Rose (2012, p. 109) | '[M]arketer-managed systems that provide customers with the opportunity to enjoy product benefits without ownership' |
| Bucher et al. (2016, p. 318) | An economic model in which consumers use online tools to collaborate in owning, renting, sharing, and trading goods and services. A practice enabled and driven by technology |
| Botsman and Rogers (2012, p. 15) | 'Traditional sharing, bartering, lending, trading, renting, gifting, and swapping redefined through technology and peer communities' |
| Bardhi and Eckhardt (2012, p. 881) | Consumption models in which access is enabled through sharing or pooling of resources/products/services redefined through technology and peer communities |
| Botsman (2013, p. 6) | '[An] economic model based on sharing underutilized assets from spaces to skills to stuff for monetary or nonmonetary benefits' |
According to these definitions, a sharing economy can be perceived as a socio-economic model based on shared usage, promoting temporary access, and functioning as a non-ownership model. Access to, rather than ownership of, products or services is encouraged (Botsman and Rogers
2012
). It is important to understand and discuss the when, how, what, and why of sharing, as these offer complementary perspectives on what characterises the very nature of the sharing economy as a research phenomenon. Although this paper focuses on contributing to understanding of why sharing emerges by exploring and analysing the sharing economy from the perspective of the customer (see Fig.
1
), other perspectives are discussed in more detail too, for a holistic view of the phenomenon.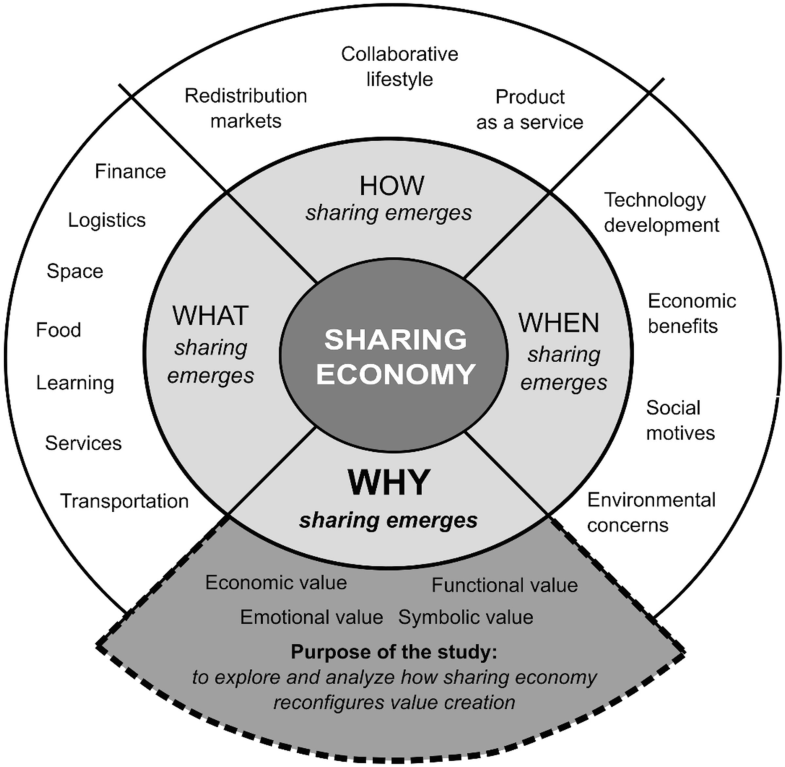 Research Methodology
Given its purpose of exploring and analysing how the sharing economy reconfigures value creation, our study addressed this phenomenon itself, rather its justification (Yadav 2010). This orientation for the research is reflected in the methodological choices taken: we used qualitative methods in general and a case study research setting in particular to explore the perspectives of customers and uncover their experience of the sharing economy in using Airbnb. Delving into the benefits and sacrifices perceived by customers helped us to uncover the themes that reflect the dimensions of customer value. Qualitative methods help to deepen and sharpen our understanding of the social world, and a case study is 'an empirical inquiry that investigates a contemporary phenomenon in-depth and within its real-life context' (Yin 1999, p. 18). The case study method is widely used by disciplines from psychology, sociology, and political science to economics and management (Yin 1994). A case study aids in understanding the phenomenon in its proper context (Dubois and Gadde 2014), which is especially important for fulfilling the aim for our research: understanding the context is critical to uncovering the nature and richness of perceived customer value.
Description of the Case
We chose the online accommodation booking service Airbnb as our case for studying customer value in the sharing economy. This San Francisco-based company was founded as a start-up in 2008 by Joe Gebbia, Brian Chesky, and Nathan Blecharczyk. In its community, users can rent out or book accommodation. The company offers an approach to bed-and-breakfast accommodation that is built on the collaborative-consumption model (Guttentag 2013). Described more precisely, Airbnb is a peer-to-peer accommodation-renting community that caters to hosts and travellers. Hosts use Airbnb to promote their underused space and rent it to others, while travellers use the site to book a stay at another person's house. Airbnb acts as a third party between hosts and travellers, charging fees to both parties. In 2015, the average Airbnb host in San Francisco earned $440 from renting out spaces via the Airbnb website, with earnings in some cases reaching $1900 per month (Budget and Legislative Analyst's Office 2015). A report released by Airbnb in 2012 stated that 56 per cent of hosts used income from Airbnb to make their monthly house payments or pay rent, while 42 per cent used this money for day-to-day expenses (Airbnb 2012). Airbnb offers three types of room: shared rooms, an arrangement in which guests share the entire space with the host or others and do not have a room to themselves; private rooms, with guests sharing some common areas with their hosts, such as the kitchen, lounge, and bathroom, but having their own bedroom; and entire homes/flats, a whole unit rented by the guests, who need not share the space with the host or with anyone else. The type of accommodation ranges from one- to three-bedroom flats to one-bedroom studio flats with a kitchen or even a treehouse bungalow.
Airbnb serves as an interesting and representative case of the sharing economy for three main reasons. Firstly, it applies a typical collaborative-consumption business model utilising critical mass, idle capacity, belief in the common good, and trust between strangers. Airbnb has critical mass as a widely available service with booking available in 190 countries and more than two million listings at any given time, worldwide (Airbnb 2017). Idle capacity is Airbnb's speciality: the company enables customers to rent out unused rooms via its service. Airbnb customers, in turn, gain trust in the community by checking online profiles and previous reviews. Secondly, Airbnb, alongside other modern companies, such as TaskRabbit and ZipCar, is a pioneer of the sharing economy and is still evolving. Airbnb's business model has had sufficient time for adjustment and development and is a proven success, accounting for a large slice of the market. In 2012, rooms available for rent via Airbnb exceeded the volume of any single brand used by the two largest hotel chains in the world (InterContinental Hotels Group and Marriott International) (Guttentag 2013). Thirdly, approximately, 60 million guests have used the Airbnb service, in 34,000 cities (Airbnb 2017). Consequently, customers are generally well aware of the characteristics and value-creation potential of Airbnb.
Data Generation and Analysis
For the selection of interviewees, we applied two main criteria. Firstly, participants had to be customers of Airbnb; that is, they were required to have booked accommodation via Airbnb. Secondly, the respondent sample was selected to cover customers of diverse nationalities. This purposive sampling was used to provide a complete picture (Patton 1990) of the data represented and the research phenomenon. A snowball sampling technique was used to identify key informants (Moriarty 1983). We asked the respondents to ask their friends and their friends' friends whether they would be interested in participating in an interview.
We followed a semi-structured interview method, as widely used in social research. An interview protocol was developed that included the conversation flow, important themes, and key general techniques. There was no set order for the conversation, and respondents were allowed to expand on their thoughts, illustrate them, and digress freely throughout (Alam 2005). The interview protocol was used as a guide to ensure that the interviews were conducted in an appropriate and consistent manner. The respondents shared their experiences in their own words and discussed themes that they found significant. Questions were based on the interviewees' responses so as to avoid imposition of any predefined framework or logic on respondents (Alam 2005). If an interesting point was raised during the interview, the interviewee was asked for further explanation. Then, the interviewer verified the explanation by repeating it and asked for clarification, to ensure correct understanding of the subject's responses. Notes were taken during the interviews, and these were compared and reflected on later, in the analysis stage.
In all, 21 semi-structured interviews were conducted, over the span of 1 month (see Table
2
). Among the respondents were both males and females of various nationalities: British, Chinese, Finnish, Hungarian, Korean, American, and Vietnamese. Ages ranged from 22 to 32 years. The Airbnb spaces were in Europe, North America, Australia, and Asia. Interviews were done as face-to-face meetings, online video calls, or (for subjects who were in other countries) online text-based chat.
| No. | Pseudonym | Gender and age | Airbnb use region | Times Airbnb was used | Interview date | Interview length | Interview method |
| --- | --- | --- | --- | --- | --- | --- | --- |
| 1 | Carol | F, 22 | Europe | 4 | 14.10.2015 | 34 min | Video call |
| 2 | Nancy | F, 22 | Europe | 10 | 25.10.2015 | 43 min | Video call |
| 3 | Lily | F, 25 | North America | 6 | 26.10.2015 | 36 min | Video call |
| 4 | Tomas | M, 32 | Europe | 2 | 27.10.2015 | 56 min | Face-to-face talk |
| 5 | Anna | F, 27 | Asia | 3 | 30.10.2015 | 50 min | Online chat |
| 6 | Josh and Lyna | M, 22; F, 22 | Europe | 1 | 31.10.2015 | 26 min | Face-to-face talk |
| 7 | Hana | F, 28 | Europe | 3 | 31.10.2015 | 19 min | Video call |
| 8 | Violet | F, 27 | Asia | 2 | 31.10.2015 | 32 min | Video call |
| 9 | Emily | F, 25 | Australia | 1 | 1.11.2015 | 56 min | Video call |
| 10 | Lara | F, 24 | Europe | 7 | 3.11.2015 | 51 min | Online chat |
| 11 | Tiina | F, 22 | Europe | 4 | 4.11.2015 | 49 min | Video call |
| 12 | Linda | F, 25 | North America | 4 | 4.11.2015 | 42 min | Video call |
| 13 | Peter | M, 25 | Asia | 2 | 7.11.2015 | 30 min | Video call |
| 14 | Teehee | F, 23 | Europe | 8 | 7.11.2015 | 56 min | Online chat |
| 15 | Sara | F, 26 | North America | 1 | 4.11.2015 | 16 min | Video call |
| 16 | Bella | F, 24 | North America | 4 | 9.11.2015 | 45 min | Online chat |
| 17 | Cathy | F, 27 | Europe | 2 | 10.11.2015 | 45 min | Video call |
| 18 | Kimmy | F, 22 | Europe | 1 | 12.11.2015 | 31 min | Video call |
| 19 | Jonas and Daisy | M, 26; F, 22 | Europe | 1 | 13.11.2015 | 48 min | Face-to-face talk |
| 20 | Cindy | F, 25 | Europe | 1 | 20.11.2015 | 51 min | Face-to-face talk |
| 21 | Julia | F, 27 | Europe | 8 | 26.11.2015 | 21 min | Video call |
Data analysis took place in three, complementary phases. In the first, all interview recordings were transcribed, for 81 pages of text in total (including chat logs). Transcripts were read twice, for an overall idea of the data in general and the customer-perceived value of Airbnb in particular. Secondly, more detailed analysis of the transcripts was conducted. This was considered critically important, as multiple readings of transcripts were necessary for capturing the experience of each informant holistically (Flint and Woodruff 2001). The second phase included thematic analysis for preliminary identification of the themes that emerged from the interviewees' words and to capture the perceived value of using Airbnb (for a similar thematic analysis, see Camilleri and Neuhofer 2017). In the final stage, the themes identified were considered in terms of the economic, functional, emotional, and symbolic dimensions of customer value. Here, focus was placed on systematic and iterative reflection on the kind of value that interviewees perceived when using Airbnb; other opinions or preferences were excluded from consideration (Stake 2004).
Results
Proceeding from the analysis of interview content, we identified six types of benefits and five kinds of sacrifices as underpinnings for the value creation of the Airbnb user experience. To obtain a better understanding of the value-creation process, we then used the conceptualisation of value along the economic, functional, emotional, and symbolic dimensions (Rintamäki et al.
2007
) to classify the benefits and sacrifices into more manageable sets of perceptions. These dimensions are summarised in Table
3
, with illustrative interview material.
Table 3
Summary of customer value, with illustrative quotes
Dimensions of customer value

Benefits and sacrifices

Illustrative verbatim comments

Economic benefits

Monetary savings: Airbnb is perceived as lower cost than similar accommodation. Customers enjoy better services or facilities at the same price

'I can save a lot of money' – Cindy

'You have the same services [as] in the hotel [but] at lower price' – Jonas and Daisy

'At regular hotels, it is more expensive, because we have to pay for other services – such as [a] cleaning fee, service fee, … At Airbnb, we only pay the room price for the owner' – Josh and Lyna

Functional benefits

Convenience (of the booking process and terms of accommodation): Airbnb helps to simplify the booking process. Customers can negotiate terms and conditions with individual hosts

'It is easy for me to book a room. I can use my Facebook account to sign in very quickly. The user interface is simple' – Peter

'I have the application on the phone. I can just choose the date and the city, and I can see the map, I can see the price, all the things directly, and the date available [and] then I can communicate with them. If it's fine, then I just book directly… The payment is very convenient' – Lara

'The host helps me with many things, I hardly [ever] get lost when I use Airbnb' – Hana

Functional sacrifices

A risk of unreliable information: The online information on Airbnb does not reflect actual room conditions. Customers face miscommunication and find it difficult to evaluate the spaces offered

'The room is written as "central of Milano", but actually it is the central of [an]other town, around 30 minutes by train from Milan. I feel a bit cheated… It costs us time and money to travel to and from. I found it so inconvenient' – Tiina

'Some places are reviewed nicely, but they could turn out [to be] very bad. It is not trustworthy' – Violet

'There was kind of a mix-up there, because the price he quoted on Airbnb was per person although it said different[ly], so we kind of like paid double' – Tomas

'We travelled during peak season. Hosts charged us double the quoted price. The room we stayed in was terrible, unlike the room in [the Airbnb] pictures. It did not look like a normal room at all but like a storage/reused room' – Hana

Time and effort: Customers have to deal directly with non-professional hosts and non-standard service quality

'It's really hard to communicate with hosts' – Linda

'I had to ask 7–8 places before I got one. It really takes time' – Lily

'You have to arrive at a certain time, co-ordinate with the host to have the key, and everything, because they had their own schedule – not always available like hotel reception… Sometimes it is not easy to schedule your time of arrival' – Julia

'I like to come on holiday [to[ a hotel because you can have someone if you want your towel washed or something. Someone will come, someone will clean, but you don't have that in Airbnb' – Cindy

Emotional benefits

A feeling of being at home: Airbnb locations are real homes with furniture and home appliances. Customers can follow their established routine and enjoy the premises as they would their own home

'I want to stay at [an] Airbnb place because I like its homey atmosphere' – Tiina

'You just like staying [at] your home so. Basically, what we did: we cooked dinner, watched some TV, and sat on the sofa' – Cindy

Experiencing authenticity: Customers can experience local living and culture, from the room decoration to living styles, from food to interacting with local people

'At a local stay, I could experience their lifestyle more. I think that is the point of traveling: for a truly unforgettable experience' – Bella

'Cause it's not possible if u are just at a hostel, surrounded by other travellers. If you are at a hostel, people may know "[a] little more" than you but still less than locals know. Even though [a] hostel organizes some "local trip" like pub crawl it's another sightseeing tour. And personally, I value unique experiences – something unlike what others have heard of' – Teehee

'You could have a unique experience unlike anything before' – Anna

'Host invited me to a local festival. It was an unexpected experience. As if I was coming back to a village and meet[ing] elderly [people] who were friendly and warmly hold you in their arms. I don't think that I am in a foreign country, I feel like I am in my hometown' – Kimmy

Social engagement: The Airbnb mechanism builds trust and encourages kindness between strangers. Customers can make new friends and engage with the community

"I have met the host lady who is really nice. We talk a lot, like Yoga and everything, and when I live there, we cook together. For me, it is nice to meet new people and to stay at someone's home makes me feel really comfortable like a home [and] not a hotel or something else' – Lara

'I even get to know some people in the village. They invited us to their social circle because they know my host' – Tomas

'When we were in Rome, the host left us cake and wine with a short note: "Merry Christmas." It was Christmastime. It was so nice. So when we left, we gave her some wine and some presents in return' – Tiina

Emotional sacrifices

Feelings of insecurity (worries about safety and security with Airbnb): Customers stay in a stranger's house without the strict safety and security regulations a conventional hotel or hostel must follow

'Staying at a stranger's place who knows what's gonna happen' – Bella

'I like the concept, but sometimes I feel not secure… especially when I was traveling alone so I looked for a woman host…well cause there might be some sexual harassment' – Teehee

'The main door wasn't closed. He said he left the door open so that the air could circulate around; otherwise the room will be really hot. I was scared [about] if someone came in when we did not notice' – Linda

Stress: One must resolve issues, without any responsible party to count on

'We could not get the key to enter. The host blamed another guest for losing the key but did not feel sorry… Airbnb didn't play any role in this situation apart from trying to contact her, like us' – Linda

'One time I was uncomfortable with Airbnb is that the host in Lisbon was on vacation when we arrived. I messaged him, but he did not reply. When I arrived in Lisbon at 8 o'clock, he was in another city, and he had to drive back. It took 4 hours for him to be back. We had to wait the whole morning, and we could do nothing' – Hana

Symbolic benefits

Enabling of meaningful lifestyles: One can care for the environment, express a preference for freedom and equality, and role play for out-of-the-ordinary lifestyles

'There was one in particular in London. We stay in a very nice place in [the] London area named Hampstead. Like it [is] kind of the special place in London, very expensive and a lot of celebrities live there. Kind of place I could never live because I [could] never have enough money to afford to live there. So it is really cool. I got [to] stay there via Airbnb' – Julia

'At a hotel, there are things like shampoo and stuff, the towel washed every day like crazy. It is quite wasteful. I do not need my towel washed every day […]. So I am interested in the environment and [that] kind of stuff, so maybe [Airbnb is] more environmental' – Cindy

'You can step out [of your] comfort zone' – Kimmy

'It is more equal. No-one has to serve anyone' – Tomas

'When I stay in Kyoto, the room is exactly like a Nobita room. A typical traditional Japanese room: with bamboo mattress, a small table in the middle, near a closet like the one of Doraemon. It was interesting – like I can live the life of my favourite story from childhood' – Peter

Symbolic sacrifices

Embarrassment: Peer-to-peer interaction results in unique experiences and strong bonds but, conversely, disturbs the privacy of customers

'My partner is a woman…we had to say in advance because we do not want last-minute cancel… with a hotel, we do not think we have to say that' – Cindy

'Host is a guy and he is extremely passionate. He comes really close and asks us for party or something. He always touches us, not in [a] weird way but still like for strangers it's a bit weird' – Lara

'The lady kept asking me: 'How long have you been with your boyfriend'? 'Why don't you stay at your home'?… I feel like I['m allowed to] stay in someone['s] house as a favour, even though I have paid for It' – Violet
The perceived benefits (monetary savings, convenience, a sense of being at home, experiencing authenticity, social engagement, and enabling of meaningful lifestyles) and sacrifices (risk of unreliable information, time and effort costs, feelings of insecurity, stress, and embarrassment) represent the customers' perceptions of the sharing economy and capture how the sharing economy reconfigures value creation. Alongside the respective dimensions of value, they are discussed below in more detail.
Discussion
We have identified and delved into the multi-dimensionality of the sharing economy as revealed by experiences of Airbnb. These findings can be considered in conjunction with the typology used by Guttentag et al. (2017). In the latter study, respondents were clustered into money-savers, home-seekers, collaborative consumers, pragmatic novelty-seekers, and interactive novelty-seekers. While these clusters reveal various motivations for using Airbnb, they do not extensively address the perceived sacrifices. To this end, we looked at dimensions of value, to go beyond motivation-based segmentation by addressing both the benefits and the sacrifices that using Airbnb may entail.
Economic value is perceived through the monetary savings that are a fundamental benefit of the sharing economy. In a finding consistent with previous studies (Denning 2014; Smolka and Hienerth 2014), interviewees chose to use the sharing economy because it helps them save on costs. They experience economic benefits when they can take advantage of a similar offer at a lower price or of a better offer at the same price (Zeithaml 1998). As was illustrated by the extracts in Table 3, economic value was perceived primarily when the interviewees saw more options to choose from, at prices more competitive than those offered by conventional providers. The services that hosts provide are free of frills; the primary aim is to satisfy basic needs rather than deliver premium service quality. On top of this, the sharing economy can offer additional personal benefits to customers at prices equal to or lower than traditional services. For example, hosts can offer services such as airport pickup or dinners cooked in the local style. At base, this sharing economy offers savings on accommodation expenses, which translate to perceived economic value for its users.
Functional value is increased by one benefit (convenience) and decreased by two types of sacrifices (the risk of unreliable information and the required time and effort). Convenience stems especially from the booking process and terms of accommodation. Advanced technology makes it easy for customers to compare alternatives and find the offers that best match their preferences. The peer-to-peer relationships of Airbnb mean that hosts can be helpful supporters in the event that customers need assistance. Arrangements between users and providers can be flexible because their relationship is not merely one of buyers and sellers; it is based more on trust and friendship between partners. Customers can negotiate the terms of use and avoid various formal obligations, such as contracts and deposits. However, two kinds of sacrifices may decrease the functional value created. There is a risk of unreliable information: the details online may not accurately reflect actual conditions, as with hosts misrepresenting the quality or location of the accommodation. In addition, customers might have to deal with miscommunication and may find it difficult to find the information that would enable them to evaluate the accommodation. Time and effort sacrifices can result from having to deal directly with non-professional hosts and non-standard service processes. As was well documented in the interviews, long and unexpected waiting times and changes to travel itineraries can all contribute to functional sacrifices with Airbnb.
Emotional value is the sum of three types of benefits (the feeling of being at home, experiencing authenticity, and social engagement) and two types of sacrifices (feelings of insecurity and stress). Customers may experience a sense of being at home if they perceive the accommodation as comfortable and resembling their own home even though they are in another place. The experience of authenticity, in turn, involves the possibility of experiencing local culture in ways that go beyond conventional tourism services. Customers can also feel a closer bond with the service providers (hosts) because the interaction is within a peer-to-peer context. A peer-to-peer relationship is developed with feelings of trust and equality, of being friends rather than business partners. Choosing the sharing economy can encourage customers to interact with providers socially and engage with the community more than would otherwise be possible. Previous studies have suggested that participation in the sharing economy can have the benefit of satisfying basic human social instincts (Franke and Shah 2003; Lerner and Tirole 2002; Smolka and Hienerth 2014). Similarly, the social interaction encouraged by the sharing economy is a development of the interaction experienced in a social network (Piscicelli et al. 2015). The converse of this was seen in feelings of insecurity and stress – sacrifices emerging from anxiety related to unfamiliar people, places, and conditions, along with the stress of having to deal with unpleasant situations. For example, a customer could perceive some hosts as too intrusive, resulting in stressful experiences.
Finally, on the symbolic value dimension, there is one benefit (enabling of meaningful lifestyles) and one sacrifice (embarrassment). In general, symbolic value is bound up with the meanings embedded in the object that customers want to attach to themselves or communicate to others (Rintamäki et al. 2007; Sheth et al. 1991). Some respondents found the possibilities opened by Airbnb and the underlying concept of the sharing economy especially meaningful. For instance, they saw the sharing economy as a way to reflect a new lifestyle. One of the informants said that Airbnb allowed her to live someone else's life in a posh neighbourhood. Customers also are able to use the sharing economy to reflect their personality and as a way to communicate it to others. Using modern collaborative-consumption initiatives instead of conventional service providers allows people to express themselves as independent customers who favour a small carbon footprint or enjoy new, authentic experiences. Consumers' ability to behave in accordance with their environmental consciousness has been identified as one of the benefits most readily available from the sharing economy (Bardhi and Eckhardt 2012; Katzev 2003). In the case of Airbnb, customers prefer the sharing economy on the symbolic dimension for the positive environmental effect associated with utilising unused rooms, minimising unnecessary costs, and saving resources. Conversely, the customer-identified drawback of embarrassment emerged as a potential source of symbolic sacrifice. Although peer-to-peer interaction between customers and hosts can result in social bonding and unique, pleasant, and positive experiences, it can also negatively influence customer' privacy.
This discussion and the customer comments in Table 3 reveal the diversity of perceived value connected with the sharing economy as evidenced in the case of Airbnb. These not only articulate the benefits emerging from use of the sharing economy but also identify the sacrifices that help to shape the overall perception of value. Together, these benefits and sacrifices illustrate both the characteristics and the potential of the sharing economy. From a theoretical standpoint, our results also bridge two scholarly perspectives on the sharing-economy platform, that of companies and that of customers. Customer value is at the core of strategic management, for it explains why customers buy and where they do so. Once we understand the role of the benefits and sacrifices characterising sharing-economy platforms, the strengths and weaknesses of those platforms from a strategic angle will become more evident.
Managerial Implications
For existing companies that have established business models based on the sharing-economy ethos, the benefits perceived by customers serve as a valid starting point for strategy planning. Companies should focus on strengthening and communicating the benefits that fundamentally characterise the sharing economy. These can include monetary savings, convenience, experience, and engagement for customers. Conventional providers may be able to replicate the combination of reasonable prices and convenience, but building the levels of authenticity and social engagement that customers experience with the sharing economy can be much more difficult. However, traditional companies could more clearly emphasise that their system is free of many of the sacrifices that often characterise a sharing economy. For example, additional focus could be put on the fact that customers rarely experience insecurity, embarrassment, and stress with conventional hotels. Awareness of the benefits and sacrifices that characterise both traditional and sharing-economy business models is a promising starting point for further development.
The theoretical approach of considering costs and benefits in combination with the dimensions of customer value confers better understanding of customer behaviour and reveals the reasons behind user choices. From the managerial point of view, firms should focus on either increasing benefits or reducing sacrifices (Zeithaml 1998). They should aim to build high value on at least one dimension or a unique combination along certain dimensions that their competitors would find it difficult to imitate (Rintamäki and Kirves 2017). This addressing of the relevant dimension(s) of customer value, with how well it yields benefits and reduces sacrifices, should then be communicated to both customers and personnel in the form of a customer value proposition. The social, environmental, and non-commercial characteristics of the sharing economy and its perceived value on specific dimensions can create an experience that is beyond the reach of conventional business models.
Limitations of the Study and Avenues for Future Research
As every study does, our research has limitations that should be taken into account. Firstly, although the number of informants was considered adequate for a qualitative study of this nature, the interviewer-interviewee interaction did not always take the form of face-to-face conversational dialogue. The video calls and online chat used to generate some of the data may not have achieved the richness of data possible with traditional interviews. Secondly, the informant demographics were heavily skewed towards younger customers. Therefore, the results capture especially how younger customers perceive the sharing economy; middle-aged and pension-age participants might have emphasised other benefits and sacrifices, while there could also have been significant overlap. Nevertheless, the contribution of approaching the sharing economy from the perspective of customer value's dimensions and in terms of benefits and sacrifices remains important. Finally, while qualitative enquiry yields critically important insight into an emerging phenomenon, a more quantitatively oriented approach could complement this by contributing to a better understanding of the dynamics and causal relations at play in the sharing economy. In this respect, defining new segmentation criteria for the sharing economy (see Guttentag et al. 2017), linking perceived benefits and sacrifices with the sharing economy to key corporate-performance indicators (e.g., Rintamäki and Kirves 2017), and identifying how the 'dark side' of the sharing economy affects repurchase intentions (see Malhotra and Van Alstyne 2014; Tussyadiah 2015) offer interesting avenues for future research.
Conclusion
The sharing economy, as an increasingly prominent and disruptive business model, has become a well-established but evolving phenomenon. Today, it accounts for tens of billions of dollars in revenue per year and has expanded its reach to industries such as finance, logistics, learning, and many service-based industries. The study we carried out to address this phenomenon considered the sharing economy by examining both what it is and why, when, and how sharing emerges. The vantage point we thereby gained provided complementary perspectives on the phenomenon and enriched conceptualisation of the sharing economy. Secondly, to understand why sharing emerges, we devoted attention to exploring and analysing how the sharing economy reconfigures value creation, with the dimensions of customer value chosen as a theoretical tool to address both the benefits and the sacrifices related to the sharing economy. We found that monetary savings, convenience, feelings of being at home, experiences of authenticity, social engagement, and enabling of meaningful lifestyles characterised the benefits related to the sharing economy. Conversely, risk of unreliable information, costs in time and effort, feelings of insecurity, stress, and embarrassment represented the sacrifices customers perceived as accompanying the sharing economy. Taken together, these benefits and sacrifices represent a combination along the economic, functional, emotional, and symbolic dimensions of value that may result in a unique customer experience that is beyond what conventional companies can achieve. Accordingly, it is all the more important to understand the dimensions accorded weight by customers and the benefits and sacrifices that serve as a critically important starting point for any strategic endeavour, whether within or outside the sharing economy.
Copyright information
© Springer Nature Singapore Pte Ltd. 2018