Bioprospecting of Endophytes for Agricultural and Environmental Sustainability
Abstract
The term endophytes refers to a group of endosymbionts usually bacterium, fungus or interactive bacterium-fungal species residing asymptomatically and grows within plants for at least a part of their life cycle intra- and intercelullarly in the tissues of higher plants without causing any visible manifestation of disease. The endophytes represent a potential source of novel natural and ecofriendly products for medicinal, agricultural and industrial uses with least adverse effect on the environment.
The enormous biological diversity coupled with their capability to biosynthesize bioactive secondary metabolites has provided the momentum for the researchers working on endophytes. The present review was undertaken to highlight the biotechnological processes and bioprospection of endophytes as potential antimicrobial agents, secondary metabolites, antibiotics, antagonists against disease causing phytopathogens, cytotoxic, anticancer, insecticidal, antioxidant antiviral compounds andisolation and production of bioactive compounds with potent enzymatic activities.
Endophyte enhances biodegradation and hydrolysis processes significantly important against pathogenic infection, biotransformation studies and production of compounds with immense industrial applications. The interaction of the endophytic microbiota with the plants are more protected and can withstand the adverse environmental conditions and contribute to plant growth, productivity, carbon sequestration, enhanced phytoremediation efficiencies and amelioration of metal induced toxicity. The strategies governed by the endophytes for efficient production of novel bioactive phytocompounds was comprehensively discussed.
The review envisaged the biodiversity, transmission of endophytes, plant endophyte interactions for the production of bioactive compounds for therapeutic, environmental and agricultural sustainability.
Keywords
Endophytes 
Secondary metabolites 
Antimicrobial agents 
Enzymatic activities 
Bioactive compounds 
Phytoremediation 
19.1

Biodiversity of Endophytes

Endophytes are the most diverse group of microorganisms found in virtually every plant on earth. They are widely spread in various environment conditions. Although endophytes commonly refers to mostly fungi or bacteria it has already been recognized in marine algae (Smith et al. 1989; Stanley 1992) and mosses and ferns (Petrini et al. 1992; Raviraja et al. 1996). Endophytes were reported to be chiefly isolated from plants ranging from palm to large trees, marine grasses and lichens. The biodiversity of endophytes are mainly classified into three categories such as fungal, bacterial and algal endophytes.
19.1.1

Fungal Endophytes

Fungal endophytes are most commonly studied among other endophytes. Fungi are plant like organism that lack chlorophyll, true roots, stems and leaves. An endophytic fungus lives in inter or intra cellular spaces in stem, petiole and leaves of a plant for a part or whole of their life cycle. Most endophytes isolated belong to ascomycetes and their anamorph basidiomycetes. The total biodiversity of fungal endophytes may be classified into two major categories. These include the clavicipitaceous (CE), which infect some grasses confined to cool regions and the non-clavicipitaceous endophytes (NCE), which are widely distributed and found in asymptomatic tissues of non vascular plants, conifers, ferns and angiosperms. However, NCE are reported to be restricted to Ascomycota and Basidicomycota groups (Jalgaonwala et al.

2011

; Bhardwaj and Agrawal

2014

). Symbiotic criteria used to characterize fungal endophytic classes are shown in Table

19.1

.

Table 19.1

Symbiotic criteria used to characterize fungal endophytic classes
Criteria

Clavicipitacious

Nonclavicipitaceous

Class-1

Class-2

Class-3

Classs-4

Host range

Narrow

Broad

Broad

Broad

Tissue colonized

Shoot and rhizome

Shoot, root and rhizome

Shoot

Root

Transmission

Vertical and horizontal

Vertical and horizontal

Horizontal

Horizontal

In plantacolonization

Extensive

Extensive

Limited

Extensive

In planta biodiversity

Low

Low

High

Unknown
Typically CE occurs on plant shoots where they form systemic intercellular infections. CE are fastidious in culture and are restricted to some grasses that grow in warm and cool season (Bischoff and White
2005
). NCE are primarily ascomycetes fungi recovered from land plants, terrestrial eco systems ranging from agro biosystems to biomes, that are widespread from tropic to tundra (Arnold
2007
). The examples of fungal and bacterial endophytes with their host range is shown in Tables
19.2
and
19.3
respectively.
Table 19.2
Fungal endophytes with their host range
| Fungal endophytes | Phyllum | Class | Order | Host range | Colonized part |
| --- | --- | --- | --- | --- | --- |
| Colletotrichum | Ascomycota | Sordariomycetes | Glomerellales | Wide | Shoots & roots |
| Curvularia | Ascomycota | Dothideomycetes | Pleosporales | Wide | Shoots & roots |
| Epichloë | Ascomycota | Sordariomycetes | Hypocreales | Grasses | Shoots |
| Fusarium | Ascomycota | Sordariomycetes | Hypocreales | Wide | Shoots & roots |
| Neotyphodium | Ascomycota | Sordariomycetes | Hypocreales | Grasses | Shoots |
| Piriformospora | Basidiomycota | Agaricomycetes | Sebacinales | Wide | Roots |
| Serendipita | Basidiomycota | Agaricomycetes | Sebacinales | Wide | Roots |
Table 19.3
Bacterial endophytes with their host range
| Bacterial endophytes | Examples | Host plant species | Colonizing area |
| --- | --- | --- | --- |
| Proteobacteria | Erwinia, Pseudomonas | Alfalfa (Medicago sativa L.) | Roots |
| γ -proteobacteria | Pseudomona, Serratia | Black pepper (Pipernigrum L.) | Roots |
| β-proteobacteria | β-proteobacteria | Grape (Vitis sp.) | Stems |
| Proteobacteria | Proteobacteria | Radish (Raphanus sativus L.) | Leaves and roots |
| Actinobacteria | Corynebacterium | Sugar beet (Beta vulgaris L.) | Roots |
| β-proteobacteria | Burkholderia cepacia | Wheat (Triticum aestivum L.) | Roots |
| α-proteobacteria | Erwinia., Agrobacterium | Soybean (Glycine max (L.) Merr. | Stems, leaves, roots |
19.1.2

Bacterial Endophytes

Bacterial endophytes are the second most studied endophytes after fungi. More than 16 phyla of bacterial endophytes belonging to about 200 genera were reported, most of which belong to the phyla Actinobacteria, Proteobacteria and Firmicutes (Golinska et al. 2015). Gram positive and negative bacterial species majorly contribute to the diversity of bacterial endophytes viz., Achromobacter, Acinetobacter, Agrobacterium, Bacillus , Brevibacterium, Microbacterium, Pseudomonas, Xanthomonas etc (Sun et al. 2013). These endophytes resides intracellularly in root and shoot cells of plants. In thisintracellular form bacteria loss cell wall but continue to divide and metabolize. These wall-less intracellular forms of bacteria are called L-forms (Allan et al. 2009). Actinomyces are prokaryotic organisms belonging to the phylum actinobacteria resembling mycelium like fungus and are spore producers (Chaudhary et al. 2013).
19.1.3

Algal Endophytes

Algae are simple chlorophyll bearing vascular plants. Algae are eukaryotic organisms that have no roots, stems or leaves. A number of endophytes are now known that grows within seaweeds and algae (Andrew et al. 2013). One such example is Ulvella leptochaete, which has recently been discovered from host algae including Cladophora and Laurentia from India. Recently a team led by Dr. Felix Bast, Assistant Professor, Central University of Punjab (2016), Bathinda able to discover the microscopic endophytic algae within its host seaweeds. The research involved analysis of green seaweeds, Cladophora glomerata collected from Calicut, Kerala and red seaweeds, Laurentia obtusa collected from Mandapam, Tamil Nadu.
19.2

Interaction Between the Endophytes and Their Host Plants

The endophytes, which are a major part of plant micro-ecosystems, found in healthier tissues are in an endosymbiotic relationship with the plants they invade. In a greater view it is found that these endophytes not only enhance the tolerance of the plant, in biotic or abiotic stress helps but also improves the quality as well as the quantity of the secondary phytocompounds that are used as bioactive compounds or drugs (Jia et al. 2016). Due the development of sophisticated new versatile pseudo branches of life-sciences such as proteomics, genomics and their subdivided branches such as metabolomics, trancriptomics, it became much easier to determine molecular interaction at the most nano level (Rout and Sahoo 2013; Pervez et al. 2016; Abdurakhmonov 2016). On the basis of these advanced modes of evaluations it is found that the endophytic population may greatly be affected by the age of the plant, genetic variations in the plant, or environmental background of the host plant that lies in it (Jia et al. 2016). Taking the benefits into count, further bioengineer the endophyte with desired efficiency can be designed and incorporated into the host plant to produce the required quantity of the primary, secondary phytocompounds or drugs. Apart from the growth of the host plant, proper uptake of the nutrients by the host plant the disease resistance of the host plant against pathogen can also be improved (Mei and Flinn 2010).
19.3

Transmission of Endophytes

Endophytes which lives inside plants for a part or whole of their life cycle can be transmitted from parents to offspring or between two individual plants in a community. There are basically two types of transmission.
19.3.1

Vertical Transmission

Vertical transmission is a method of direct transfer from parents to offspring. Vertically transmitted fungal endophytes are typically considered clonal and transmit via fungal hyphae penetrating the embryo within the host's seeds (e.g., seed transmitting forms of Epichloe) (White et al. 1993; David and Manish 2011).
19.3.2

Horizontal Transmission

Horizontal transmission is among individual plants in a community. Reproduction through asexual or sexual spores leads to horizontal transmission, where endophytes may spread between plants in a population or community (Mariusz et al. 2014). Most fungi are terrestial, growing as hyphae and producing thick walled non motile spores. Spores are single-celled propagules which separate from the organism and can get dispersed. In both sexual and asexual transmission fungi produce spores that disperse among plants via air or through animals.
19.3.3

Transmission of Fungal Endophytes

A fungal hyphae is a long branching filamentous structure required for its vegetative growth. In vertical transmission endophyte is found in the embryo of infected seed. As the seed germinates, the endophyte grows into emerging leaf and finally grows up the stem and into the seed head of the reproductive plant.
19.3.4

Transmission of Bacterial Endophytes

Mostly bacterial endophytes are originated from rhizosphere or phyllosphere, however some are transmitted through seeds Rhizosphere is the narrow region of the soil that is directly influenced by root secretions and associated soil microorganisms. Endophytic bacteria have been isolated from monocotyledaneous [Miscanthus giganteus, Iris pseudacorus, Phragmites australis, Lythrum salicaria and Cladium mariscus], dicotyledonous [Gosspium hirsutum, Cucumis sativis and Beta vulgaris] to herbaceous plants. The root system secrets chemical exudates (flavinoids, amino acids, carbohydrates, organic acids). Bacterial endophytes attracted towards these chemicals and by chemotactic movement it gets attached to the root. Various molecules like cellulose, pectinase, superoxide dismutase etc. secreted by bacteria to colonize plants. Finally bacteria enter through roots and spread to other parts. Plant roots exude many organic compounds that stimulates microbial growth and can have major impact on the composition of rhizosphere microbiome (Grayston et al. 1998; Miethling et al. 2000).

Endophyte distribution within plants depends on a combination of ability to colonize and allocation of plant resources. Root endophytes often colonize and penetrate the epidermis at sites of lateral root emergence, below the root hair zone, and in root cracks (Dong et al. 2003; Compant et al. 2005; Zakria et al. 2007). These colonizers are capable of establishing populations both inter- and intracellularly (Hurek et al. 1994; Zakria et al. 2007). After initial colonization, some endophytes can move to other areas of the plant by entering the vascular tissues and spreading systemically (Compant et al. 2005; Zakria et al. 2007; David and Manish 2011). Using endophytes labeled with green-fluorescent-protein (GFP), David and Manish (2011) demonstrated the transport of the endophytes from seeds into plant roots and tissues, and endophytes injected into stems moved into the roots and rhizosphere, suggesting that there may be a continuing movement of organisms throughout the root microbiome.
19.4

Endophytes for Environment and Agriculture Sustainability

Endopytes which live a part or full of their life cycle inside the host plant and secrete wide variety of compounds essential for the growth of plants and protection from environmental conditions. Bioactive compounds are of enormous importance to plants as well as human are produced by endophytes. The phytocompounds secreted by the endophytes acts as biocontrol agent by exerting protective action of the plants from repeated grazing of herbivores on same plant. The compounds produced by endophytes are of immense importance as antibiotics, drugs or medicinal compounds useful for food industry and the compounds of high relevance in research. Endohytes are involved in phytoremediation, biodegradation, and nutrient cycling and thus reduces use of pesticides in agriculture and protect our environment from hazardioaus chemicals. Summarising the profound applications of endophytes and its impact on plants, human and environment, they have been proved to be a boon and not a ban and have potential to sustain the agriculture in a better way. Various application of endophytes by means of which it promote plant growth as well as sustain the environment and agriculture are given below.
19.5

Applications of Endophytes

The efficiency of endophytes to produce novel bioactive compounds with unique structures and bioactivities have proven to be helpful in agricultural sustainability, environmental conservation and ecotoxicological importance is currently being explored to their maximum extent. In lieu of a huge reservoir, these vast potentialities of secondary products, as well as their exploitation for agricultural and environmental benefaction, are scanty. The current development in endophytic research is mainly focused on evaluating endophytic microbial populations inhabiting plants, which enhances plant growth, disease resistance and the ability to tolerate or withstand the external environment. It can be assumed that these humble researches will emerge as a boon and would certainly leave a wide impact on agricultural science, environmental sustainability as well as for the welfare of mankind through their personification in technological advancement in phytological technologies. The impact of endophytes that enhances plant growth, disease resistance, agricultural and environmental sustainability as well as its ecotoxicological importance is shown in Table

19.4

.

Table 19.4

Impact of endophytes in agricultural and environmental sustainability
Function

Plants

Endophytic organism

Bioactive compounds/Phytocompounds

Function

References

Bacteria

Phytostimulation

Phragmites communis, Potamogeton crispus, Nymphaea tetragona and Najas marina

Aeromonas caviae, A. salmonicida, Bacillus niacin, B. aryabhattai, B. sphaericus, B. simplex, Delttia tsuruhatensis, Paenibacillus lautus, Enterobacter hormaechei, Flavobacterium oceanosedimentum, Klebsiella terrigena, Lactococcus lactis, Microbacterium flavescens, Paenibacillus barcinonensis, Pantoea agglomerans, Pseudomonas jessenii, P. taiwanensis, P. xanthomarina, Staphylococcus epidermidis

Aromatic phytocompounds

Biodegradation (Chlorpyrifos Fenpropathrin Naphthalene Bifenthrin) and P-solubilization

Chen et al. (2012)

 

Arabidopsis thaliana, Platycladus orientalis

Phyllobacterium brassicacearum, B. subtilis

Abscisic acid (ABA)

Decrement of leaf transpiration (A. thaliana), stomatal conductance (P. orientalis)

 

Glycine max

P. putida,

Gibberellin

Growth promotion

Armada et al. (2014)

 

Lavandula dentate

B. thuringiensis

Indole-3-acetic acid (IAA)

 

Vitis vinifera L cv.

Bacillus, Mirococcus and Pantoa genera

Ammonia, IAA, IAA-like molecules, siderophores and lytic enzyme

Phosphate solubilization and growth promotion

Baldan et al. (2015)

 

Z. mays L., Solanum lycopersicum L., Citrullus lanatus Thunb.

B. cereus, B. licheniformis, B. pumilus, B. simplex, Bacillus sp., B. thuringiensis, Burkholderia gladioli, B. gladioli pv. Alliicola, Paracoccus halophilus, Stenotrophomonas maltophilia, and Stenotrophomonas sp.

Growth hormones

Growth promotion

Xia et al. (2015)

 

Phaseolus vulgaris L.

Trichoderma polysporum, Trichoderma atroviridae and Trichoderma harzianum

Proteolytic enzymes and phosphate solubilization factors

Phytoactivation and/or phytoinhibition

Pierre et al. (2016

 

A. thaliana

Kosakonia radicincitans

20S proteasome alpha-3 subunit

Growth promotion

Witzel et al. (2017)

 

Simmondsia chinensis

Bacillus sp., Streptomyces sp., Methylobacterium aminovorans, Rhodococcus pyridinivorans and Oceanobacillus kimchi

Growth hormones

Growth promotion

Perez-Rosales et al. (2017)

 
 

Fungus

 
 

Suaeda japonica

Penicillium sp.

Bioactive gibberellins (GAs) and other inactive GAs

Enhanced seed germination

You et al. (2012)

 

Panax ginseng

Aspergillus sp., Cladosporium sp., Engyodontium sp., Fusarium sp., Penicillium sp., Plectosphaerella sp., Verticillium sp. and Ascomycete sp.

Triterpenoid saponins and ginsenosides

Root growth and protection

Wu et al. (2013)

 

Tinospora cordifolia and Calotropis procera

Phoma sp.

Growth hormones

Growth promotion

Kedar et al. (2014)

 

Alstonia boonei, Enantia chlorantha, Kigelia africana

Aspergilus niger, Macrophomina sp., Trichoderma sp., Penicillium citrinum, P. nigricans

Secondary metabolites

Plant protection

Tolulope et al. (2015)

 

Phaseolus vulgaris

Trichoderma atroviridae, T. polysporum and T. harzianum

Proteolytic enzymes, phosphate solubilization factors, active volatile and non-volatile metabolites

Enhanced seed germination

Pierre et al. (2016)

 

Brassica campestris

Mucor sp.

Enhanced IAA, ACC deaminase and solubilize phosphate secretion

Plant growth promotion

Zahoor et al. (2017)

 
 

Actinomycetes

 
 

Z. mays L.,

Microbispora, Streptomyces and Streptosporangium

–

Plant growth promotion and protection

de Araujo et al. (2000)

 

Aloe vera, Mentha arvensis and Ocimum sanctum

Streptomyces albosporus, S. aureus, S. cinereus, S. globisporus, S. griseofuscus, S. roseosporus, S. viridis, S. griseorubruviolaceus,

Actinopolyspora sp.,

Micromonospora sp.,

Saccharopolysporasp.

Enhanced IAA, siderophore production

Plant growth promotion, phosphate solubilization

Gangwar et al. (2014)

 

Saccharum officinarum

Streptomyces sp. and Micromonospora sp.

Enhanced IAA, siderophore production

Plant growth promotion,

and biosolubilizing activities of insoluble phosphate and leonardite,

Sinma et al. (2015)

 

Triticumae stivum

Streptomyces nobilis, S. kunmingensis, S. mutabilis,

Enhanced IAA production, siderophore, and HCN and ACC deaminase production

Plant growth promotion, phosphate solubilization

Anwar et al. (2016)

 

Solanum lycopersicum

S. enissocaesilis, S. djakartensis

 

Dracaena cochinchinensis Lour.

Streptomyces sp., Nocardiopsis sp., Brevibacterium sp., Microbacterium sp., Tsukamurella sp., Arthrobacter sp., Brachybacterium sp., Nocardia sp., Rhodococcus sp., Kocuria sp., Nocardioides sp. and Pseudonocardia sp.

–

Plant growth promotion and protection

Salam et al. (2017)

Phyto-immobilization

 

Bacteria

 
 

Albizia lebbeck

Bacillus sp., Rhizobium sp., Pseudomonas sp., Xanthomonas sp., Salinococcus sp. and Marinomonas sp.

–

Phytoaccumulation of cromium

Manikandan et al. (2015)

 

Sedum plumbizincicola

Achromobacter piechaudii

–

Resistance to cadmium, zinc and lead and phosphate solubilization

Ma et al. (2016)

 

Leptochloa fusca

Pantoea stewartii, Microbacterium arborescens and Enterobacter sp.

–

Bioaugmentation, plant growth promotion, removal of both organic and inorganic pollutants

Ashraf et al. (2017)

 
 

Fungus

 
 

Festuca arundinacea and F. pratensis

Neotyphodium

–

Enhanced cadmium tolerance and partial immobilization

Soleimani et al. (2010a)

 

G. max L.

Exophiala, Metarhizium, Promicromonospora and P. funiculosum

–

Enhanced cupper tolerance

Khan and Lee (2013)

 

Triticum

Arbuscular Mycorrhizal Fungus (AMF)

–

Enhanced cupper zinc, iron and manganese tolerance

Khan et al. (2014)

 

Z. mays

Exophiala pisciphila

–

Enhanced cadmium tolerance

Wang et al. (2016)

 

Oryza sativa

Piriformospora indica

–

Modulation of the anti-oxidative enzyme system, enhanced arsenic tolerance

Mohd et al. (2017)

Phytotransformation

 

Bacteria

 
 

Achillea millefolium, Dactylis glomerata, Solidag ocanadensis and Trifolium aureum

Microbacterium foliorum and Plantibacter flavus

–

Petroleum tolerance and degredation

Lumactud et al. (2016)

Bioremediation

Lolium multiflorum

Psudomonas

Alkanes

Diesel degradation

Andria et al. (2009)

 

Zea maize

Burkholderia cepacia

Phenol, toluene

Petroleum tolerance and degredation

Wang et al. (2010)

 

Poplar

Psudomonas putida

Trichloroethylene

Co-contamination of nickel and trichloroethylene tolerance and degredation

Weyens et al. (2015)

 

Alium macrostemon

Enterobacter

Pyrenes

Pyrenes tolerance and degredation

Sheng et al. (2008)
19.6

Impact of Endophytes on Bioactive Compounds of Host Plant

Advancement proteomics, genomics studies have revolutionized the present prospective of evaluation biomolecules and their regulation, modulation as well as their impact on or within the host, both in active and in-active state. These advanced studies includes certain sophisticated instrumentations and certain gel- based approach such as 2D Gel Electrophoresis coupled with Edman Sequencing, Matrix- Assisted Laser Desorption/ionisation Time Of Flight (MALDI- TOF), Surface- Enhanced Laser Desorption/Ionization Time of Flight (MS), Electrospray Ionization (ESI)- MS/MS analysis, Multidimensional Protein Identification Technology (MudPIT), Isobaric Tags for Relative and Absolute Quantification (iTRAQ), Isotope- Coded Affinity Tag (ICAT) and Tendem Mass Tags (TMT) (Ahsan et al.

2009

; Hu et al.

2015

). The bioactive compounds of the host plants such as enzymes are one of the most significant phytocompounds that regulates almost every aspect of plant life. Much work has been done on the evaluation of enzymatic activity and their up or down-regulation based on the impact of the endophytic microbes the host plant harbor (Castro et al.

2014

). Form these evaluation it can be speculated that all phytoenzymes that have a direct or indirect heterogeneous impact on plants growth and survivable under biotic and/or abiotic stress possesses four basic enzymatic activity that is proteolytic, amilolytic/endoglucanase, lipolytic and esterasic (Table

19.5

) (Carrim et al.

2006

; Castro et al.

2014

). The mechanism, interaction and beneficial effect , of endophytes is summarized in Fig.

19.1

.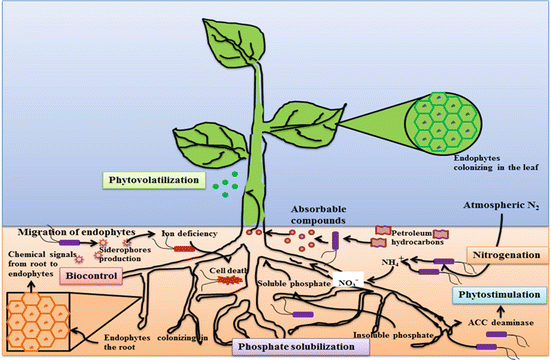 19.7

Extracellular Enzymes from Endophytes

Endophytes exhibit a complex network interact in association with the host plants were widely studied as inexhaustible sources of new bioactive natural products. Enzymes of the endophytes degrade the polysaccharides available in the host plants. Fungal strains, isolated from various plants of medicinal importance viz., Alpinia calcarata, Bixa orellana, Calophyiium inophyllum and Catharanthus roseus have been reported to produce enzymes such as amylase, cellulose, laccase, lipase, pectinase, xylanase, −1, 4- glucan, phosphotases and proteinase e, −1, 4- glucan, without lyase, phosphotases and proteinase and protease extracellularly. The hydrolytic enzymes produced through endophytes differs from species to species and depends on the interactions with host and their ecological factors (Sunitha et al. 2013).
19.8

Conclusion

Endophytes are capable of synthesizing number of bioactive metabolites which are mostly used as effective drugs against various diseases and are having profound impact on agricultural and environmental sustainability. These secondary metabolites were categorised into various functional groups, alkaloids, benzopyranones, flavonoids, phenolicsacids, quinones, steroids, saponins, tannins, tertaralones, xanthones and many others (Schulz et al. 2002; Strobel and Daisy 2003; Jalgaonwala et al. 2011; Pimentel et al. 2011; Godstime et al. 2014). Source of bioactive compounds from endophytes is presented in Table 19.5.
Copyright information
© Springer Nature Singapore Pte Ltd 2017