Abstract
Immobilization of enzymes and cells is crucial in several industrial areas. This is mainly due to the possibility to improve enzyme properties including thermal stability, substrate selectivity, and biocatalyst reuse. These modifications allow for a considerable decrease in the cost of many commercial applications. The use of polymer gels for cell and enzyme immobilization presents numerous advantages over other immobilization supports, since they allow the protein or cell entrapment to be performed in a more efficient and simpler way. The polymers used here include polysaccharides and synthetic polymers in which several industrially relevant enzymes were immobilized with positive results. In addition to the immobilization of enzymes, there are many studies reporting the immobilization of microbial cells in polymers for enzyme production. Enzyme and cell immobilization in polymer gels show potential to deliver useful and efficient strategies to make use of microbial enzymes from an industrial point of view. However, further efforts must be made to better understand and apply immobilization of biocatalysts and to develop new technologies. This chapter focuses on general aspects of polymer gels, particularly regarding the immobilization of enzymes and microbial cells in different industrial fields.
Keywords
Polymer gel 
Immobilization 
Microbial enzymes 
Whole-cells 
1

Introduction

Polymer gels comprise a great variety of different polymeric compounds that present innumerable industrial applications. Polymers can be naturally produced, in which case the most representative group is polysaccharides (Thakur and Thakur 2014a, b). This includes alginate, chitosan, and agar-agar. Some polysaccharides form gels through ionic gelation in the presence of ions like calcium (Ca2+), such as alginate or pectin, while other gels solidify in high temperatures. In addition to polysaccharides, lignin based hydrogels have recently been studied and reviewed (Thakur and Thakur 2015). On the other hand, a wide variety of synthetic polymers capable of forming gels presents different industrial applications, such as polyacrylamide and polyvinyl alcohol.

An extremely important use of polymer gels is for biocatalyst immobilization, fixing in place microbial enzymes or cells (Lahiri 2015; Wilkowska et al. 2015). In the latter case, the cells can be entrapped and used for biotransformation or they can be used for the production of enzymes with industrial interest (Kamble and Banoth 2013; Hemachander et al. 2001). Immobilization of biocatalysts takes place via the fixation of the protein or cells to a support medium through any of various means including adsorption, covalent bonding, or entrapment inside a polymeric matrix. The last technique is the main focus of this review, as several polymer gels can be used for enzyme or cell entrapment and is a method in which activity loss is low when compared to other techniques.

Enzyme or cell immobilization allows the reuse of the biocatalyst and reduces cost if the catalytic activity is maintained. Furthermore, the enzyme immobilization process is able to allow for an improvement in the stability of the enzyme (Milessi et al. 2015). Lastly, both the advantages and disadvantages of immobilizing enzymes as well as comparing this to microbial cells will be discussed.

In this chapter, various aspects of polymer gels applied to enzyme and cell immobilization will be discussed. Initially, polymer gels used for biocatalyst immobilization will be introduced, followed by a more detailed discussion on enzyme immobilization. Afterwards, the results of cell entrapment in gels will be reported.
2

Supports for Entrapment Techniques

Determining the appropriate immobilization support is an important step in the development of feasible and efficient processes. The choice of polymeric matrix determines the rigidity, absorption capacity, mechanical strength, and porosity characteristics of the beads used in immobilization. Physical entrapment of cells and enzymes within a polymeric matrix is recognized as being one of the most used immobilization techniques. The entrapment method utilizes a simple and single-step procedure for both cell and enzyme immobilization within a polymeric network. Typically, entrapment techniques utilize any of several natural and synthetic supports for efficient immobilization. The use of natural polymers such as chitosan, chitin, alginate, and many others have been applied as important matrices for immobilization (Table 

1

) (Hsuanyu

2004

; Taylor et al.

2010

; Zajkoska et al.

2013

). Natural polymeric materials used in entrapment processes demonstrate important characteristics, such as their ability to be gathered from many sources, ease of modification, and lack of pollutants. Furthermore, they have a range of functional groups and good biocompatible properties such as being non-toxic and inert to organisms that are often necessary for applications in the pharmaceutical and food industries (Zhang et al.

2013

).

Table 1

Commonly used materials for entrapment techniques
 

Compounds carriers

Formation principle

Gel geometry

Natural polymers

Alginate

Ionotropic gelation

Gel cylinder/beads

Cellulose

Ionotropic gelation

Beads

Chitosan

Ionotropic gelation

Beads

Chitin

Ionotropic gelation

Beads

Pectin

Ionotropic gelation

Beads

Pectate

Ionotropic gelation

Beads

Carrageenan

Ionotropic/thermal gelation

Gel cylinder

Gelatin

Thermal gelation

Gel cylinder

Agar

Thermal gelation

Gel cylinder/beads

Agarose

Thermal gelation

Gel cylinder

Synthetic polymers

Polyvinyl alcohol—PVA

Thermal gelation

Lentikats/gel

Polyacrylamide

Chemical gelation

Gel cylinders/beads

Polyacrylonitrile

Thermal gelation

Beads
In other science sectors, synthetic polymeric matrices are also efficiently applied for the immobilization of cells and enzymes. Synthetic polymers present several advantages: good mechanical rigidity, high specific surface area, easy alteration of their surface characteristics, and their potential for providing specific functional groups that match the individual needs of each bioprocess. Other advantages offered by synthetic polymers are that they can be synthesized in larger amounts more easily than most natural polymers, and do not suffer batch-to-batch variations like natural polymers (Zhang et al. 2013; De Vos et al. 2014). In general, polyvinyl alcohol, polyacrylamide, and polyacrylonitrile are often the most suitable synthetic matrices for gel immobilization (Table 1).
2.1

Natural Polymers
2.1.1

Immobilization in Ionic Hydrogels

A wide variety of ionic hydrogels are used as supports for cell and enzyme entrapment. Normally, ionic hydrogels used in immobilization are alginate, cellulose, chitosan, chitin, pectin, and pectate. Ionic hydrogels contain ionizable groups in their structures such as amino groups, carboxylates, sulfates, and hydroxyls that possess varying degrees of affinity with water molecules. In addition, several anionic polymers are also utilized with their own benefits and drawbacks.

Alginate is a natural anionic biomaterial formed by β-d-mannuronic acid and α-l-glucuronic acid chains. The l-glucuronic acid content present in the alginate's structure has great importance on its mechanical rigidity and can influence the stability of the gels in the presence of anti-gelling ions and calcium ion sequesters. Structurally, alginates rich in glucuronic acid exhibit high porosity and low shrinkage capacity during gel formation and do not swell when dried. In contrast, alginates showing higher mannuronic acid levels make the gels softer and more elastic (Thu et al. 1996). Alginate gels can be constructed by an ionic network in the presence of cations such as Ca2+ or other multivalent counterions (Orive et al. 2006).

Cellulose is a natural, semi-crystalline polysaccharide that is very abundant on earth, typically composed of 1,4-linked β-d-glucopyranosyl chains. Cellulose is a very useful matrix for enzyme immobilization due to its low cost and commercial availability both in fibrous and granular forms. However, this support is accompanied by some drawbacks, such as susceptibility to hydrolysis by microbial enzymes (cellulases) and low particle size, which impairs their use in rapid high-pressure applications (Hsuanyu 2004; Agbor et al. 2011).

Chitosan is a polymer obtained from deacetylated chitin chains, and is the second most abundant support compound that can obtained from nature after cellulose. It is a natural product, non-toxic, biocompatible, biodegradable, and inexpensive, making it very important, both economically and environmentally. Chitosan is a polymer that has a molecular structure similar to cellulose, only differing in a few specific functional groups. The main difference between these biopolymers is the presence of amino groups (−NH2) in the chitosan structure. Chitosan is recognized for its solubility in dilute acid media, forming a polymer with cationic characteristics due to the protonation of the amino group, generating an ammonium (−NH3+) ion, which gives special properties to this biomaterial (Berger et al. 2004; Mendes et al. 2011).

Carrageenans are described as a family of linear, sulfated polysaccharides and are isolated from certain species of red seaweed. These polysaccharides are inexpensive and possess distinct, flexible helical structures that give them the capacity to form a variety of distinct gels. The formation of carrageenan gels can be carried out either by cooling or by interacting with an aqueous solution containing cations (i.e. K+, Cu2+, Fe3+, Mg2+, NH4+, Ca2+, and Mn2+), amine-containing compounds, and\or water-miscible organic solvents (Van De Velde et al. 2002; Zajkoska et al. 2013).

Pectins are one of the main water-soluble structural polysaccharides present in plant cell walls. Structurally, pectins are formed by biopolymers of 1,4-α-d-galacturonic acid partially linked by methyl esterification. The process of pectin gelation is carried out by connection between the divalent cations and polygalacturonate structure. The gelling reaction is depicted using the egg-box model where the divalent cations form non-covalent interpolymer associations with clusters of two or sometimes four adjacent polygalacturonate structures (Braccini and Pérez 2001; Müller-Maatsch et al. 2016).
2.1.2

Immobilization in Thermogels

Gelatin consists of proteins and peptides derived from the partial hydrolysis of collagen extracted from skin and bones. The proteins found in gelatin are applicable in various sectors in the food industry due to their physical properties, such as a melting point similar to physiological temperatures. The gelatin-based immobilization process has already been developed for the immobilization of different cells and enzymes. The gelation process of gelatin can occur reversibly with temperature; however, when solutions are cooled to 30–35 °C, more efficient immobilization occurs. However, some techniques have been described as achieving an irreversible gelation process, for example, using cross-linking compounds (Tanriseven and Doǧan 2002; Yang and Ou 2005; Górecka and Jastrzębska 2011).

Agar and agarose are polysaccharides used as entrapment supports for cells and enzymes. Agar is an inert polymer composed of two principal components: agarose and agaropectin. Agarose is a heteropolysaccharide with neutral properties that has a strong ability for gelation. Agar and agarose are both advantageous in their price, availability, acid tolerance, and low reactivity with other biomolecules (Duckworth and Yaphe 1971). However, their use is limited by their low melting points (Zajkoska et al. 2013).
2.2

Synthetic Polymers

Among synthetic gels, polyacrylamide was the first matrix used for cell immobilization and is currently the most used matrix for enzyme entrapment. The polyacrylamide matrix has the advantage of being nonionic and the properties of immobilized enzymes are only minimally altered when in its gel matrix. However, the initiator of the polymerization process, dimethylaminopropionitrile, is highly toxic and requires great care (Hsuanyu 2004).

An alternative is polyvinyl alcohol (PVA), a non-toxic thermoplastic polymer, and is biodegradable, water-soluble, and biocompatible. Polyvinyl alcohol is commercially obtained from polyvinyl acetate, in which the vinyl acetate is hydrolyzed to form vinyl alcohol groups. PVA is completely insoluble in organic solvents with the exception of ethanol, in which it exhibits low solubility. As a thermoplastic polymer, it can be converted to different structures by freeze-thawing processes and as such, the gelation of PVA is performed through repeated freeze-thawing cycles (Qi et al. 2004; Vrana et al. 2009).

Polyacrylonitrile is a synthetic polymer that has attracted considerable attention due to some important features, such as chemical resistance, abrasion resistance, and thermal stability. However, a major obstacle to the long-term use of a polyacrylonitrile matrix is its biodegradability and low hydrophilicity (Stoilova et al. 2010; Potvorova et al. 2012; Feng et al. 2013).
3

Enzyme Immobilization in Polymer Gels

Polymer gels, whether natural or synthetic, can be used for entrapment by utilizing the porous matrix of the gel. In this context, biocatalyst immobilization is rising as a useful and robust technology to facilitate and improve many bioconversion processes based on whole cells or enzymes. Among the many advantages of this technology are the following: (i) increase of the robustness of the biocatalyst, (ii) possibility of reuse, (iii) improvement of the product yield, and (iv) reduction or even elimination of hazardous and toxic substances from the process (Zajkoska et al. 2013; Kras et al. 2016).

According to IUPAC (1997), biocatalyst immobilization is the fixation of a cell or its derivatives (e.g. organelles and proteins) into or onto a support to increase their stability and prolong their use. In other words, the immobilized structure may be inside or alongside a support depending on the desired purpose and type of immobilization method applied. Likewise, the cells and their derivatives may be retained by a membrane (Kras et al. 2016). In choosing the best method of immobilization, four criteria must be considered: (1) the substrates that will be used for biotransformation or production and the type of biocatalyst used (enzyme or whole-cell); (2) the equipment to be used for the biocatalysis reaction; (3) the downstream-process technology necessary for the purification of the product(s); and (4) how to avoid the release of compounds toxic to humans or the environment (Bianchini et al. 2015).

In this section, different studies on enzyme immobilization using various polymer gels are discussed.
4

Immobilization of Whole Cells Using Polymer Gels Applied to Biocatalysis and Biotransformation

Immobilized cells in gelatinous and porous matrices have been extensively employed in the last decades, with reports dating back to before the 1960s. In 1960, Hattori and Furusaka published a work evaluating cells of the bacterium Escherichia coli in relation to the changes in its chemical activity after immobilization in a resin. They observed a decrease in substrate oxidation activity that persisted even after the detachment of the adsorbed cells. In 1974, a strategy was announced for the use of immobilized cells for the continuous fermentation of l-aspartic acid (Chibata et al. 1974a, b; Ramakrishna and Prakasham 1999; Martins et al. 2013).

The ability to immobilize microorganisms like bacteria, yeasts, and fungi (Meunier et al. 2010) combined with their capacity to display the functional properties of their proteins on the cell surface or at the intracellular microenvironment has made it possible for many species to be used for cell immobilization. In addition, this has been accomplished in diverse types of natural (agar, agarose, and pectin), synthetic (PVA and polyacrylamide), and hybrid supports (derived from the incorporation of organic and inorganic materials) (Ramakrishna and Prakasham 1999; Fukuda et al. 2008; Desimone et al. 2009; Léonard et al. 2011). For immobilization, filamentous fungi and yeasts have often been chosen as some of the most resistant cell biocatalyst systems for industrial purposes, such as the filamentous fungi Rhizopus niveous, Rhizopus chinensis, Mucor circinelloides, Rhizomucor miehei, Trichoderma reesei, Aspergillus niger, and the yeasts Saccharomyces cerevisiae and Yarrowia lipolytica (Kumakura et al. 1989; Ramakrishna and Prakasham 1999; Fukuda et al. 2008; Robles-Medina et al. 2009; Andrade 2012).

In this section, special attention will be given to whole-cell immobilization. Basically, an immobilization process consists of the attachment of cells to a solid phase (matrix or membrane support), enabling the exchange of nutrients and gases between the cells and the broth medium (Ramakrishna and Prakasham 1999).

Cell immobilization techniques have been described for many plant and mammalian cells (Seifert and Phillips

1997

; Uludag et al.

2000

; Murthy et al.

2014

), as well as bacterial and fungal strains, with positive results for both natural and genetically modified types (Shriver-Lake et al.

2002

; Prasad et al.

2005

; Mrudula and Shyam

2012

; Bisht et al.

2013

). As previously mentioned, the main methods used are adsorption, covalent bonding/cross-linking, entrapment, and encapsulation (Fig. 

1

). Cell-matrix interaction, biocompatibility of the carrier, mass transfer, and aeration of the cells are some of the factors that affect whole-cell immobilization (Nedovic and Willaert

2004

; Liu and Wang

2010

) and thus influence the parameters for an experiment. Each method has its pros and cons, making one more suited for a specific application than another (Desimone et al.

2009

; Pajic-lijakovic et al.

2015

), but entrapment is the most used cell immobilization method (Trelles and Rivero

2013

).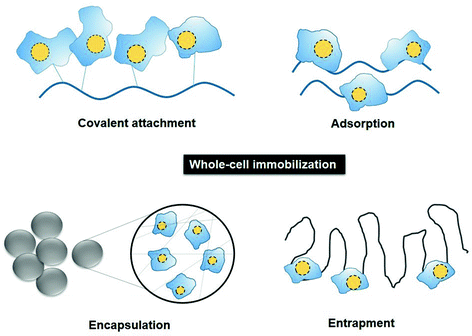 Some studies have been carried out to understand the physiological and morphological changes that cells may undergo when they are immobilized (Omar et al. 1992; Niu et al. 2013). Due to various physical characteristics of supports, the choice of polymer may also influence cell productivity, seemingly even differing across microorganisms (Bisht et al. 2013; Chandorkar et al. 2014). Further building upon that data, attempts to attain the optimal conditions for a particular product's production or bioconversion (Chen et al. 2012) as well as studies focusing on the development of new polymer gels with different characteristics (Niu et al. 2013) were also carried out.
4.1

Whole-Cell Immobilization Versus Enzyme Immobilization

In contrast with individual enzymes, whole-cell immobilization is preferred for having all the needed catalysts and cofactor regeneration for a specific reaction (Bianchini et al. 2015). This technology is cheaper than enzyme immobilization and has excellent operational stability, providing a valid alternative to improve industrial processes (Fukuda et al. 2008). Likewise, immobilization is exceptionally useful for certain microorganisms that exhibit different morphologies throughout their life cycles, as is the case of fungi (Prasad et al. 2005). These cells can be immobilized in a morphological state that allows their highest catalytic activity, therefore assuring the maintenance of their highest productivity form for a longer period (Covizzi et al. 2007). In addition, immobilized cells can work in a higher concentration than free cells, which increases fermentation speed and throughput, guarantees the synthesis of the metabolites, and protects the living cells from environmental stress factors that might arise from the process such as pH changes, high concentrations of the end-products, or phenols and other toxic compounds (Bisht et al. 2013; Martins et al. 2013; Vilela et al. 2013; Lin et al. 2015).

Still, the major advantage of cell immobilization, often cited in literature, is that they are easily recovered and can be reused for many cycles, remaining nearly just as effective as in the first use for a long period (Pradella 2001). Additionally, continuous systems can be operated above the usual µmax (maximum specific growth rate) observed for free cells. In this sense, Chandorkar et al. (2014) observed that lipase production by A. niger entrapped in sodium alginate remained almost the same after 4 cycles, whereas Bisht et al. (2013) described the maintenance of lipase activity by Pseudomonas aeruginosa for 7 cycles in a bioreactor. In another study (Duarte et al. 2013), S. cerevisiae cells were evaluated for ethanol production through the fermentation of glucose and sucrose after immobilization using two different substrates, calcium alginate and calcium alginate covered with chitosan. In both cases, the immobilized cells could withstand 8 fermentation cycles of 10 h each, with no observed contamination.

In contrast with the easier whole-cell recovery, enzyme immobilization is an expensive technology due to the enzyme recovery and purification steps that are required to obtain the desired products from the fermentation broth. Furthermore, there may be losses during the enzyme purification process, as well as catalytic activity reduction (Sührer et al. 2015). Conversely, some disadvantages of whole-cell immobilization must be considered, namely: (1) it can generate undesired byproducts and/or toxic metabolites which might damage the cell biocatalyst; (2) possibility of cell leakage from the carrier; and (3) alteration in the physiology and growth kinetics of the cells (Hattori and Furusaka 1959; Mattiasson and Hahn-Hägerdal 1982; Robles-Medina et al. 2009; Martins et al. 2013; Sührer et al. 2015). Mattiasson and Hahn-Hägerdal (1982) discussed that many studies had demonstrated that immobilized cells have alterations in metabolism in comparison to the same free cells. According to these authors, while in some cases growth rates might be reduced, specific metabolites can become highly produced, of which industrial processes take advantage. They propose that the microenvironment of entrapped cells might be responsible for such changes, more specifically due to a decreased water activity and/or oxygen deficiency. Vilela et al. (2013) also discuss that the interior of the polymer beads, having a limited access to the substrate, does not promote cellular growth. The authors point to other studies that suggest it is the microenvironment inside the gelatinous bead—and not the polymer itself—that causes changes in the entrapped microbial cell physiology.

The advances in the understanding of the metabolism and physiology of microorganisms and cells and the development of new matrices allowed the use of cell immobilization for various applications, predominantly the production of ethanol, biodiesel and alcohols, organic acids, antibiotics and enzymes; aroma formation; the bioremediation of waste residues; and biosensors. Some of these practical applications are described below, concretely showing the vast potential of this technology.
4.2

Applications of Whole-Cell Immobilization
5

Conclusions and Future Perspectives

As described in this chapter, polymer gels show tremendous potential for the immobilization of industrially relevant enzymes, such as lipases, amylases, and xylanases. In general, it can be expected that enzyme immobilization results in increased enzyme stability, reaction efficiency, and reusability. All of these factors are involved in the cost reduction of enzyme-related industrial processes. To achieve the best results, the enzyme immobilization must be individually optimized, using simple and low-cost supports and processes.

In addition, depending on the conditions and goal, whole-cell immobilization appears to be an effective and less expensive strategy, while remaining just as efficient as other methods. Different types of cells can be immobilized in several matrices for biocatalytic reactions. Their applicability ranges from environmental issues, like heavy metal and pesticide contamination of the soil, to more industrial and clinical uses, like complex chemical production and biosensors for medical tests.

Despite many efforts to better understand and optimize whole-cell immobilization, including better understanding cell physiology and metabolism, selecting the type of matrix, dealing with inhibitory compounds released during biocatalysis steps, and optimizing cell growth conditions, a lot has yet to be done to best benefit from this technology and promote more efficient applications in all fields. Genetic improvement of microorganisms, development of new materials for support, and perfecting growth conditions are just some of the details that deserve more attention to translate the preliminary results into industrial reality.
Copyright information
© Springer Nature Singapore Pte Ltd. 2018