Abstract
Liquorice foliage
Synonyms
Glycyrrhiza brachycarpa Boiss., Glycyrrhiza glabra var. caduca X.Y. Li, Glycyrrhiza glabra var. glabra, Glycyrrhiza glabra subsp. glandulifera (Waldst. & Kit.) Ponert, Glycyrrhiza glabra var. glandulifera (Waldst. & Kit.) Regel & Herder, Glycyrrhiza glabra var. glandulifera (Waldst. & Kit.) Boiss., Glycyrrhiza glabra var. glandulosa X.Y. Li, Glycyrrhiza glabra var. laxifoliolata X.Y. Li, Glycyrrhiza glabra var. typica L., Glycyrrhiza glabra var. violacea (Boiss. & Noe) Boiss., Glycyrrhiza glandulifera Waldst. & Kit., Glycyrrhiza hirsuta Pall., Glycyrrhiza pallida Boiss. & Noe, Glycyrrhiza pallida Boiss., Glycyrrhiza violacea Boiss. & Noe
Common/English Names
Black Sugar, Common Liquorice, Licorice, Licorice-Root, Liquorice, Liquorice Root, Persian Licorice, Rhizoma Glycyrrhizae, Russian Licorice, Russian Liquorice, Si-Pei Licorice, Sinkiang Licorice, Spanish Juice, Spanish Licorice, Spanish Liquorice Sweet Root, Sweet Wood, Sweet Wood Liquorice, True Licorice, True Liquorice
Vernacular Names
Afrikaans: Drop

Albanian: Gliciriza E Shogët, Glicirizë

Arabic: Irq As-Sus, Irqu As-Sus, Irqu Al-Sus, Sous, Sus

Armenian: Madoodag, Matutak

Azeri: Biyanlıq

Basque: Erregaliz, Gotxerro, Makilgoxo

Belarusian: Lakryčnik

Brazil: Alcaçuz (Portuguese)

Breton: Regalis

Bulgarian: Sladnik, Sladuk Koren

Burmese: Noekiyu

Catalan: Regaléssia

Chinese: Gān Cǎo, Gam Chou, Guangguo–Gancao, Kan Tsau, Xi-Bei, Yang Gan Cao

Croatian: Sladki Korijen, Slatki Sladić

Czech: Lékořice, Lékořice Lysá, Sladký Dřevo

Danish: Glat Lakrids, Lakrids, Lakrids Rod, Lakridsrod, Lakridsplante

Dutch: Zoethout

Esperanto: Glicirizo

Estonian: Lagrits, Lagritsa-Magusjuur, Magusjuur

Farsi: Shirin Bayan

Finnish: Lakritsi, Lakritsijuuri, Lakritsikasvi

French: Bois Sucré, Régalisse, Reglisse, Réglisse Glabre

Gaelic: Carra-Meille, Carrchan, Maide-Milis

German: Gemeines Süssholz, Kahles Süssholz, Lacrisse, Lakritz, Lakritze, Lakritzeholz, Lakritzenwurzel, Lakritzpflanze, Lakrizenwurzel, Spanisches Süssholz, Süsscholz, Süssholz, Süsswurz

Greek: Glikoriza, Glykoriza, Glykyrrhiza

Hebrew: Shush, Shush Kireah

Hungarian: Édesfa, Igazi Édesgyökér

Icelandic: Lakkrís, Lakkrísrót

India: Jesthimadhu, Yeshtmadhu, Zostimodhu (Assamese), Jaishbomodhu, Yashthimadhu (Bengali), Veymui (Dhivehi), Mulethi (Dogri), Jethimadha, Jethimard, Jethimadh, Jethimadhu (Gujarati), Jetimadh, Jethimadhu, Jethimadh, Jothi-madh, Mulathi, Mulethi, Mulaithi, Mulhathi, Yashtimadhu (Hindi), Atimadhura, Jestamadu, Jyeshtamadhu, Madhuka, Yasthimadhu (Kannada), Multhi (Kashimiri), Mauddh (Maithili), Etthimadhiram, Iradimadhuram, Irattimadhuram, Madhugam, Yashtimadhugam (Malayalam), Jestamadha (Marathi), Jatimadhu, Jasthimadhu (Oriya), Jethimadh, Malathi, Mulathi (Punjabi), Madhuuka, Madhuyasti, Yashti, Yastika, Yashtimadhu, Yashtomadhu (Sanskrit), Athimadhuram, Atimaduram (Tamil), Atimadhuramane, Atimadhuramu, Yastimadhu, Yashtimadhukkam (Telugu), Asl-us-sus, Mulhati, Mulethi (Urdu)

Indonesian: Akar Manis, Licorice

Irish: Liocras

Italian: Liquirizia, Liquirizia Commune, Regalizia, Regolizia

Japanese: Nankin-Kanzō, Nankin-Kanzo, Rikorisu, Kanzō, Kanzo

Kazakh: Mïya, Qızılmïya

Korean: Kamcho, Rikeorisu, Rikorisu

Laotian: Sa-Em, Sa-Em Thet

Latvian: Lakrica

Lithuanian: Saldymedis, Paprastasis Saldymedis

Macedonian: Sladok Koren

Malaysia: Akar Likuoris

Mongolian: Chiher Övs

Nepal: Istami, Jethimadhu (Nepali), Istivi (Nepalbhasa)

Norwegian: Lakrisplante, Lakrisrot

Pashto: Shireen Buya

Polish: Korzeń Lukrecji, Lukrecja Gładka

Portuguese: Alcaçuz

Provençal: Recalicé, Recalissi

Romanian: Lemn Dulce, Rădăcină Dulce, Reglisă

Russian: Koren Solodki, Lakrichnik, Lakritsa, Solodka

Serbian: Konjeda, Slacić, Sladić, Slatki Koren, Slatko Drvce

Slovak: Sladké Drievko, Sladovka Hladkoplodá

Slovenian: Golostebelni Sladki Koren, Sladki Koren, Sladki Koren Golostebelni

Spanish: Alcazuz, Orozus, Orozuz, Paloduz, Regaliz

Sri Lanka: Atimaduram, Valmi (Sinhala)

Swahili: Susu

Swedish: Äkta Lakrits, Lakrits, Lakritsrot, Lakritsväxt, Sötlakrits

Thai: Cha-Em Thet

Tibetan: Shi Na Ma Ngar, Shina ngar

Turkish: Biyam, Meyan, Meyankökü, Piyan, Tatlı Kök, Tatlı Meyan

Ukrainian: Lokrytsya, Solodkyj Korin, Solodka Hola

Uzbek: Miya, Qizilmiya

Vietnamese: Cam Thảo

Yiddish: Lakrets, Ziswortsl
Origin/Distribution
Glycyrrhiza glabra
is native to Eurasia, in central and south-western Asia and the Mediterranean region (Plate
2
). According to Hayashi (
2009
), Hayashi and Sudo (
2009
),
G. glabra
is found in South Europe (Spain, Italy), Turkey, Iran, Iraq, Central Asia and the north-western part of China, while
G. uralensis
is found in Central Asia, Mongolia and north-western and north-eastern parts of China, and
G. inflata
is found only in the north-eastern part, the Xinjiang Uygur Autonomous Region of China.
G. glabra
is divided into two varieties:
G. glabra
var.
typica
(Spanish licorice) and
G. glabra
var.
glandulifera
(Russian licorice) (Hayashi and Sudo
2009
). Three varieties of
G. glabra
have been reported; the Spanish and Italian licorice, assigned to
G. glabra
var.
typica
; Russian licorice to
G. glabra
var.
glandulifer
a; Persian and Turkish licorice to
G. glabra
var.
violace
a (Nomura et al.
2002
).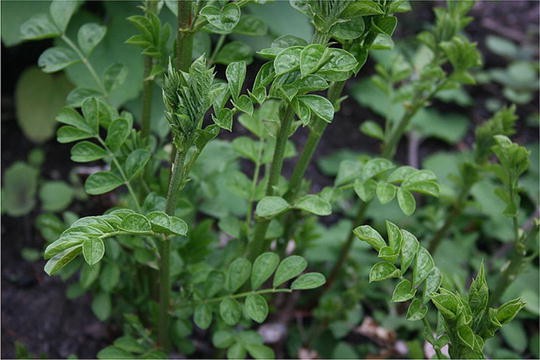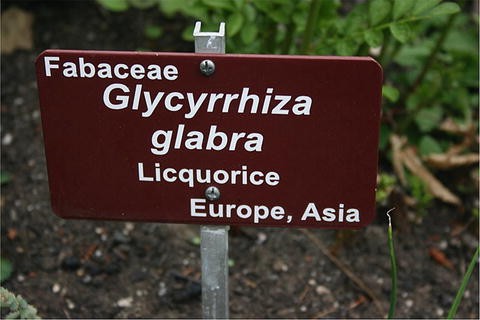 Countries producing liquorice include Iran, Afghanistan, the People's Republic of China, Pakistan, Iraq, Azerbaijan, Uzbekistan, Turkmenistan and Turkey. In China, commercial licorice is produced from the three afore-mentioned species.
Agroecology
Licorice grows well in temperate, warm and sub-tropical climate. It thrives best in well-limed, well-drained, composted, loose, friable, deep soil, preferably in full sun. Licorice is not bothered by frosts, as it is dormant in winter, and actually benefits by the defined cold period, which induces the translocation of properties to the underground rhizomes. They are easily grown from divisions or root cuttings.
Edible Plant Parts and Uses
Fresh liquorice root when washed is externally of a bright yellowish-brown colour and is chewed fresh or dried as a mouth freshener, for teething in children and also as a tooth cleaner (Chiej 1984). Dried liquorice root can be chewed as a sweet. The extract of liquorice in rolls is glossy black in colour, often used in cough lozenges and pastilles. In Calabria a popular liqueur is made from pure liquorice extract. Liquorice is also very popular in Syria and Egypt, where it is sold as a drink, in shops as well as by the street vendors. Liquorice is used by brewers to flavour and colour porter classes of beers, and the enzymes in the root also stabilize the foam heads produced by beers brewed with it. Licorice powder used in sweets, baked goods, ice cream, soft drinks, etc., and the powdered root is also used as a sweetener in other herbal teas (Facciola 1990). The leaves are used as a tea substitute in Mongolia (Facciola 1990).
The licorice root contains glycyrrhizin, a substance that is 50 times sweeter than sucrose (Hill 1952; Facciola 1990; Bown 1995). Glycyrrhizin imparts a sweet taste to foods; moreover, it has salt-softening and flavour-enhancing properties and is also heat stable (Hayashi and Sudo 2009). Most Japanese people do not like the long-lasting sweet taste of glycyrrhizin; however, a more acceptable sweetness can be created by using a combination of glycyrrhizin and natural sugars or other sweeteners. Therefore, glycyrrhizin and licorice extracts are used as food additives in a variety of foods such as snacks, instant noodles, sausages and sauces. Glycyrrhizin is used in sweet foods such as sweet snacks, sweets and candies, ice creams and sherbets to enhance their sweetness. It is also used to reduce the saltiness of salty foods such as soy sauce, other sauces, savoury snacks, 'kamaboko' (boiled fish paste), tsukudani (fish boiled in soy sauce), 'tsukemono' (Japanese pickles) and sausages in Japan. In Japan, enzymatically modified licorice extract (a-glycosyl-glycyrrhizin) and enzymatically hydrolysed licorice extract (glycyrrhetinic acid 3-O-glucuronide) are also used as sweeteners (Hayashi and Sudo 2009). Most liquorice is used as a flavouring agent for tobacco. Licorice not only imparts a sweet taste but also an aroma of tobacco, which makes it mild (Nieman 1959). It also prevents the desiccation of tobacco. The licorice extracts used in the tobacco industry are supplied by an American company, namely, MAFCO. Licorice extracts were first used for flavouring confectionery products in England during the eighteenth century in Pontefract in Yorkshire; it was blended with sugar, flour and other ingredients to make Pontefract cakes (Nieman 1959). Nowadays, licorice confectionery is widely available in western countries, and large quantities of licorice are used in the confectionery industry. In the Netherlands, where liquorice candy ('drop') is one of the most popular forms of sweets, only a few of the many forms that are sold contain aniseed, although mixing it with mint, menthol or with laurel is quite popular. Glycyrrhiza glabra root is one of the common traditional Chinese medicines and used as flavouring and sweetening agents for tobaccos, chewing gums, candies, toothpaste and beverages (Dong et al. 2007).
Botany
A herbaceous perennial, with stem 0.5–1.5 m high, woody at base, densely scaly glandular punctuate with stoloniferous roots. Leaves imparipinnate, 7–15 cm long with 9–17 ovate-oblong, oblong-lanceolate, or elliptic leaflets 1.7–4.0 by 0.8–2.0 cm, abaxially densely scaly glandular punctate and pubescent on veins, adaxially glabrescent or pilose (Plate 1). Stipules caducous, linear, 1–2 mm. Inflorescence open, racemose, many flowered. Flowers 0.8–1.2 cm long. Calyx campanulate, 5–7 mm, 5-toothed, upper 2 teeth mostly joined; corolla purple or pale whitish blue, 9–12 mm, standard ovate or oblong, 1–1.1 cm, base clawed, wings 8–9 mm, keel straight, 7–8 mm; ovary glabrous. Fruit oblong, flat, glabrous or sparsely hairy legume, 2–3 cm long, containing 2–8, dark green, smooth seeds, 2 mm across.
Nutritive/Medicinal Properties
Other Uses
Liquorice extracts (in pharmacy called succus liquiritiae) are currently used mainly in the tobacco, pharmaceutical and confectionery industries (Fenwick et al. 1990). Licorice plant yields a substance that is used for etching steel sections in photomicrographic work (Hill 1952). Extracts from the root are used as a foaming agent in beers and fire extinguishers (Bown 1995). A fibre obtained from the roots is used for insulation, wallboard, boxboard, etc. (Hill 1952; Grieve 1971). The fibres can be used after the medicinal and flavouring constituents of the root have been extracted (Grieve 1971).
The world's leading manufacturer of liquorice products is M&F Worldwide, which manufactures more than 70 % of the worldwide liquorice flavours sold to end-users. Mafco Worldwide produces a variety of licorice products from licorice root, intermediary licorice extracts produced by others and certain other ingredients (M & F Worldwide Corp 2010). Approximately 63 % of Mafco Worldwide's licorice product sales are to the worldwide tobacco industry for use as tobacco flavour enhancing and moistening agents in the manufacture of American blend cigarettes, moist snuff, chewing tobacco and pipe tobacco. Mafco Worldwide also sells licorice products to food processors, confectioners, cosmetic companies and pharmaceutical manufacturers for use as flavouring or masking agents, including its Magnasweet brand flavour enhancer, which is used in various brands of chewing gum, energy bars, non-carbonated beverages, lip balm, chewable vitamins, aspirin and other products. In addition, Mafco Worldwide sells licorice root residue as garden mulch under the name Right Dress. Mafco Worldwide also sells licorice products worldwide to food processors, confectioners, cosmetic companies and pharmaceutical manufacturers for use as flavouring and masking agents, including its Magnasweet brand flavour enhancer, which is used in various brands of chewing gum, lip balm, energy bars, non-carbonated beverages, chewable vitamins, aspirin and other products.
Licorice extracts and many glycyrrhizin derivatives are widely used in the preparation of cosmetics in Japan (Hayashi and Sudo 2009). Glycyrrhizin as well as powdered Glycyrrhiza roots, licorice extracts, glycyrrhetinic acid, stearyl glycyrrhetinate, pyridoxine glycyrrhetinate and glycyrrhetinic acid 3-β-O-hemisuccinate (carbenoxolone) are used in cosmetics for their anti-inflammatory action. Furthermore, glabridin-containing glycyrrhiza flavonoids isolated from G. glabra are used in cosmetic preparations owing to their skin-whitening, anti-sensitizing and anti-inflammatory properties (Yokota et al. 1998).
Glycyrrhiza glabra was liquefied by ethanol and acetone in an autoclave under high pressure using potassium hydroxide or sodium carbonate as the catalyst, as well as without catalyst at various temperatures (250, 270 and 290 °C) for producing bio-oil (Durak 2014). The maximum bio-oil yield was obtained in acetone (79 %) at 290 °C without catalyst. GC–MS identified 131 and 147 different compounds in the bio-oils obtained at 270 and 290 °C, respectively.
G. glabra was found to be a good carbon source in the biological denitrification of drinking water (Ovez et al. 2006). Complete denitrification was achieved with G. glabra. It was found that the nitrate removal rate of G. glabra was 6.96 mg/L/day.
Mohammadi et al. (2014) prepared high surface area-activated carbon from Glycyrrhiza glabra residue by ZnCl2 activation for removal of Pb(II) and Ni(II) from water samples. High values of intra-particle rate constants calculated show the high tendency of activated carbon for removal of lead and nickel ions. Studies showed that G. glabra root could be used as an adsorbent of toluene vapour from gaseous media (Mohammadi-Moghadam et al. 2013). Licorice adsorbent is a waste material with a sorption capacity of 2.2 mg/g. In comparison with other natural sorbents (e.g., compost, diatomaceous earth and chaff), licorice root appeared to be a cost-effective sorbent in the removal of toluene vapour.
G. glabra foliage has potential as animal feed. Kamalak (2006) found that G. glabra leaves harvested at the proper stage of maturity offered considerable potential as a high quality forage for ruminant during critical period in the semi-arid and arid regions. Neutral detergent fibre (NDF), acid detergent fibre (ADF) and condensed tannin (CT) contents of G. glabra leaves increased with increasing maturity whereas the crude protein decreased. Gas production, dry matter (DM) and crude protein (CP) disappearance and estimated parameters also decreased with increasing maturity. CP, ADF and CT contents ranged from 16.19 to 26.93 %, from 20.74 to 29.07 % and from 1.57 to 10.83 %, respectively. The potential gas production and metabolizable energy ranged from 65.34 to 72.12 ml/0.200 g of DM and from 10.14 to 12.12 MJ/kg DM, respectively. The effective DM degradability (EDMD) and effective CP degradability (ECPD) ranged from 58.70 to 70.59 % and from 57.32 to 73.72 %.
Comments
In Chinese Pharmacopoeia, three Glycyrrhiza species Glycyrrhiza uralensis, G. glabra and G. inflata are listed as licorice. While in Japanese Pharmacopoeia, two species G. uralensis and G. glabra are prescribed as licorice. Three varieties of G. glabra have been reported the Spanish and Italian licorice, assigned to G. glabra var. typica, Russian licorice to G glabra var. glandulifera, Persian and Turkish licorice to G. glabra var. violacea (Nomura et al. 2002).
Commercial licorice is derived from three Glycyrrhiza species, G. glabra L., G. uralensis, Fisch., and G. inflata Batal. in the family Fabaceae, which are indigenous to Asia and the Mediterranean region (Shibata 2000).
Selected References
Abe N, Ebina T, Ishida N (1982) Interferon induction by glycyrrhizin and glycyrrhetinic acid in mice. Microbiol Immunol 26(6):535–539

PubMed

CrossRef

Google Scholar

Ablise M, Kasimu R, Ma SY, Ioppinet V, Siest G (2007) Isolation and antioxidant property of glabridin. Nat Prod Res Dev 19(4):675–682

Google Scholar

Acharya SK, Dasarathy S, Tandon A, Joshi YK, Tandon BN (1993) A preliminary open trial on interferon stimulator (SNMC) derived from

Glycyrrhiza glabra

in the treatment of subacute hepatic failure. Indian J Med Res 98:69–74

PubMed

Google Scholar

Achliya GS, Wadodkar SG, Avinash KD (2004) Neuropharmacological actions of panchagavya formulation containing

Emblica officinalis

Gaerth and

Glycyrrhiza glabra

Linn in mice. Indian J Exp Biol 42(5):499–503

PubMed

Google Scholar

Adamyan TI, Gevorkyan ES, Minasyan SM, Oganesyan KR, Kirakosyan KA (2005) Effect of licorice root on peripheral blood indexes upon vibration exposure. Bull Exp Biol Med 140(2):197–200

PubMed

CrossRef

Google Scholar

Afchar D, Cave A, Vaquette J (1980) Etudes des reglisses d'Iran. I. Flavonoides de

Glycyrrhiza glabra

var.

glandulifera

. Plant Med Phytother 14(1):46–50 (In French)

Google Scholar

Agabeĭli RA (2012) Genetic effects of root extracts of

Glycyrrhiza glabra

L. in different test systems. Tsitol Genet 46(5):297–301 (In Russian)

Google Scholar

Agarwal R, Wang ZY, Mukhtar H (1991) Inhibition of mouse skin tumor-initiating activity of DMBA by chronic oral feeding of glycyrrhizin in drinking water. Nutr Cancer 15(3–4):187–193

PubMed

CrossRef

Google Scholar

Agarwal A, Gupta D, Yadav G, Goyal P, Singh P, Singh U (2009) An evaluation of the efficacy of licorice gargle for attenuating postoperative sore throat: a prospective, randomized, single blind study. Anesth Analg 109:77–81

PubMed

CrossRef

Google Scholar

Ahn JY, Lee HJ, Jang JY, Kim SN, Ha TY (2013) Anti-obesity effects of glabridin-rich supercritical carbon dioxide extract of licorice in high-fat-fed obese mice. Food Chem Toxicol 51:439–445

PubMed

CrossRef

Google Scholar

Aida K, Tawata M, Shindo H, Onaya T, Sasaki H, Yamaguchi T, Chin M, Mitsuhashi H (1990) Isoliquiritigenin: a new aldose reductase inhibitor from glycyrrhizae radix. Planta Med 56(3):254–258

PubMed

CrossRef

Google Scholar

Ajagannanavar SL, Battur H, Shamarao S, Sivakumar V, Patil PU, Shanavas P (2014) Effect of aqueous and alcoholic licorice (

Glycyrrhiza glabra

) root extract against

Streptococcus mutans

and

Lactobacillus acidophilus

in comparison to chlorhexidine: an in vitro study. J Int Oral Health 6(4):29–34

PubMedCentral

PubMed

Google Scholar

Akao T (1999) Influence of various bile acids on the metabolism of glycyrrhizin and glycyrrhetic acid by

Ruminococcus

sp. PO1-3 of human intestinal bacteria. Chem Pharm Bull 22(8):787–793

CrossRef

Google Scholar

Akao T (2000a) Competition in the metabolism of glycyrrhizin with glycyrrhetic acid mono-glucuronide by mixed

Eubacterium

sp. GLH and

Ruminococcus

sp. PO1-3. Biol Pharm Bull 23:149–154

Google Scholar

Akao T (2000b) Effects of glycyrrhizin and glycyrrhetic acid on the growth, glycyrrhizin beta-D-glucuronidase and 3 beta-hydroxysteroid dehydrogenase of human intestinal bacteria. Biol Pharm Bull 23(1):104–107

PubMed

CrossRef

Google Scholar

Akao T, Kobashi K (1988) Glycyrrhizin stimulates growth of

Eubacterium

sp. strain GLH, a human intestinal anaerobe. Appl Environ Microbiol 54(8):2027–2030

PubMedCentral

PubMed

Google Scholar

Akao T, Akao T, Kobashi K (1987) Glycyrrhizin β-D-glucuronidase of

Eubacterium

sp. from human intestinal flora. Chem Pharm Bull 35(2):705–710

PubMed

CrossRef

Google Scholar

Akao T, Akao T, Hattori M, Kanaoka M, Yamamoto K, Namba T, Kobashi K (1991) Hydrolysis of glycyrrhizin to 18β-glycyrrhetyl monoglucuronide by lysosomal β-D-glucuronidase of animal livers. Biochem Pharmacol 41(6):1025–1029

PubMed

CrossRef

Google Scholar

Al-Qarawi AA, Abdel-Rahman HA, Ali BH, El Mougy SA (2002) Liquorice (

Glycyrrhiza glabra

) and the adrenal-kidney-pituitary axis in rats. Food Chem Toxicol 40(10):1525–1527

PubMed

CrossRef

Google Scholar

Ammosov AS, Litvinenko VI (2007) Phenolic compounds of the genera Glycyrrhiza L. and Meristotropis Fisch. et Mey. (review). Pharm Chem J 41(7):372–395

CrossRef

Google Scholar

Anderson DM, Smith WG (1961) The antitussive activity of glycyrrhetinic acid and its derivatives. J Pharm Pharmacol 13(1):396–404

PubMed

CrossRef

Google Scholar

Aoki F, Nakagawa K, Tanaka A, Matsuzaki K, Arai N, Mae T (2005) Determination of glabridin in human plasma by solid-phase extraction and LC–MS/MS. J Chromatogr B 828(1–2):70–74

CrossRef

Google Scholar

Aoki F, Honda S, Kishida H, Kitano M, Arai N, Tanaka H, Yokota S, Nakagawa K, Asakura T, Nakai Y, Mae T (2007a) Suppression by licorice flavonoids of abdominal fat accumulation and body weight gain in high-fat diet-induced obese C57BL/6J mice. Biosci Biotechnol Biochem 71(1):206–214

PubMed

CrossRef

Google Scholar

Aoki F, Nakagawa K, Kitano M, Ikematsu H, Nakamura K, Yokota S, Tominaga Y, Arai N, Mae T (2007b) Clinical safety of licorice flavonoid oil (LFO) and pharmacokinetics of glabridin in healthy humans. J Am Coll Nutr 26(3):209–218

PubMed

CrossRef

Google Scholar

Arase Y, Ikeda K, Murashima N, Chayama K, Tsubota A, Koida I, Suzuki Y, Saitoh S, Kobayashi M, Kumada H (1997) The long term efficacy of glycyrrhizin in chronic hepatitis C patients. Cancer 79:1494–1500

PubMed

CrossRef

Google Scholar

Arias-Castro C, Seragg AH, Rodriguez-Mendiola MA (1993) The effect of cultural conditions on the accumulation of formononetin by suspension cultures of

Glycyrrhiza glabra

. Plant Cell Tissue Organ Cult 34(1):63–70

CrossRef

Google Scholar

Arino A, Herrera M, Estopanan G, Juan T (2007) High levels of ochratoxin A in licorice and derived products. Int J Food Microbiol 114(3):366–369

PubMed

CrossRef

Google Scholar

Armanini D, Lewicka S, Pratesi C, Scali M, Zennaro MC, Zovato S, Gottardo C, Simoncini M, Spigariol A, Zampollo V (1996) Further studies on the mechanism of the mineralocorticoid action of licorice in humans. J Endocrinol Invest 19(9):624–629

PubMed

CrossRef

Google Scholar

Armanini D, Fiore C, Mattarello MJ, Bielenberg J, Palermo M (2002) History of the endocrine effects of licorice. Exp Clin Endocrinol Diabetes 110(6):257–261

PubMed

CrossRef

Google Scholar

Armanini D, De Palo CB, Mattarello MJ, Spinella P, Zaccaria M, Ermolao A, Palermo M, Fiore C, Sartorato P, Francini-Pesenti F, Karbowiak I (2003) Effect of licorice on the reduction of body fat mass in healthy subjects. J Endocrinol Invest 26(7):646–650

PubMed

CrossRef

Google Scholar

Armanini D, Mattarello MJ, Fiore C, Bonanni G, Scaroni C, Sartorato P, Palermo M (2004) Licorice reduces serum testosterone in healthy women. Steroids 69(11–12):763–766

PubMed

CrossRef

Google Scholar

Armanini D, Nacamulli D, Francini-Pesenti F, Battagin G, Ragazzi E, Fiore C (2005) Glycyrrhetinic acid, the active principle of licorice, can reduce the thickness of subcutaneous thigh fat through topical application. Steroids 70(8):538–542

PubMed

CrossRef

Google Scholar

Armanini D, Castello R, Scaroni C, Bonanni G, Faccini G, Pellati D, Bertoldo A, Fiore C, Moghetti P (2007) Treatment of polycystic ovary syndrome with spironolactone plus licorice. Eur J Obstet Gynecol Reprod Biol 131:61–67

PubMed

CrossRef

Google Scholar

Asada Y, Li W, Yoshikawa T (1997) Constituents of hairy root cultures of licorice. In: 117th annual meeting of Pharmaceutical Society of Japan, Abstract Papers, part 2, p 117. Tokyo, March 1997

Google Scholar

Asada Y, Li W, Yoshikawa T (1998) Isoprenylated flavonoids from hairy root cultures of

Glycyrrhiza glabra

. Phytochemistry 47(3):389–392

CrossRef

Google Scholar

Asada Y, Li W, Yoshikawa T (1999) The first prenylated biaurone, licoagrone from hairy root cultures of

Glycyrrhiza glabra

. Phytochemistry 50(6):1015–1019

CrossRef

Google Scholar

Asada Y, Li W, Yoshikawa T (2000) Biosynthesis of the dimethylallyl moiety of glabrol in

Glycyrrhiza glabra

hairy root cultures via a non-mevalonate pathway. Phytochemistry 55(4):323–326

PubMed

CrossRef

Google Scholar

Asano T, Ishihara K, Morota T, Takeda S, Aburada M (2003) Permeability of the flavonoids liquiritigenin and its glycosides in licorice roots and davidigenin, a hydrogenated metabolite of liquiritigenin, using human intestinal cell line Caco-2. J Ethnopharmacol 89(2–3):285–289

PubMed

CrossRef

Google Scholar

Asgary S, Jafari Dinani N, Madani H, Mahzoni P, Naderi GH (2007) Effect of

Glycyrrhiza glabra

extract on aorta wall atherosclerotic lesion in hypercholesterolemic rabbits. Pak J Nutr 6(4):313–317

CrossRef

Google Scholar

Asha MK, Debraj D, Prashanth D, Edwin JR, Srikanth HS, Muruganantham N, Dethe SM, Anirban B, Jaya B, Deepak M, Agarwal A (2013) In vitro anti-

Helicobacter pylori

activity of a flavonoid rich extract of

Glycyrrhiza glabra

and its probable mechanisms of action. J Ethnopharmacol 145(2):581–586

PubMed

CrossRef

Google Scholar

Astaf'eva OV, Sukhenko LT (2014) Comparative analysis of antibacterial properties and chemical composition of

Glycyrrhiza glabra

L. from Astrakhan region (Russia) and Calabria region (Italy). Bull Exp Biol Med 156(6):829–832

PubMed

CrossRef

Google Scholar

Ayabe S, Takano H, Fujita T, Furuya T, Hirota H, Takahashi T (1990) Triterpenoid biosynthesis in tissue cultures of

Glycyrrhiza glabra

var.

glandulifera

. Plant Cell Rep 9(4):181–184

PubMed

CrossRef

Google Scholar

Azimov MM, Zakirov UB, Radzhapova SD (1988) Pharmacological study of the anti-inflammatory agent glyderinine. Farmakol Toksikol 51(4):90–93 (In Russian)

PubMed

Google Scholar

Baba M, Shigeta S (1987) Antiviral activity of glycyrrhizin against varicella-zoster virus in vitro. Antiviral Res 7(2):99–107

PubMed

CrossRef

Google Scholar

Badam L (1997) In vitro antiviral activity of indigenous glycyrrhizin, licorice and glycyrrhizic acid (Sigma) on Japanese encephalitis virus. J Commun Dis 29(2):91–99

PubMed

Google Scholar

Bafna PA, Balaraman R (2005) Antioxidant activity of DHC-1, an herbal formulation, in experimentally-induced cardiac and renal damage. Phytother Res 19(3):216–221

PubMed

CrossRef

Google Scholar

Baltina LA, Serdyuk NG, Flekhter OB, Krasnova LV, Davydova VA, Ismagilova AF, Zarudii FS, Tolstikov G (1996) Isomerization of glycyrrhizic acid: antiulcer activity. Pharm Chem J 30(10):613–616

CrossRef

Google Scholar

Baltina LA, Stolyarova OV, Baltina LA, Kondratenko RM, Plyasunova OA, Pokrovskii AG (2010) Synthesis and antiviral activity of 18α-glycyrrhizic acid and its esters. Pharm Chem J 44(6):299–302

CrossRef

Google Scholar

Basso A, Dalla Paola L, Erle G, Boscaro M, Armanini D (1994) Licorice ameliorates postural hypotension caused by diabetic autonomic neuropathy. Diabetes Care 17:1356

PubMed

CrossRef

Google Scholar

Batirov EK, Kiyamitdinova F, Malikov VM (1986) Flavonoids of the epigeal part of

Glycyrrhiza glabra

. Chem Nat Comp 22(1):107–108

CrossRef

Google Scholar

Beaton JM, Spring FS (1956) Triterpenoids Part LI. The isolation and characterisation of glabric acid, a new triterpenoid acid from liquorice root. J Chem Soc:2417–2419

Google Scholar

Belinky PA, Aviram M, Fuhrman B, Rosenblat M, Vaya J (1998a) The antioxidative effects of the isoflavan glabridin on endogenous constituents of LDL during its oxidation. Atherosclerosis 137(1):49–61

PubMed

CrossRef

Google Scholar

Belinky PA, Aviram M, Mahmood S, Vaya J (1998b) Structural aspects of the inhibitory effect of glabridin on LDL oxidation. Free Radic Biol Med 24(9):1419–1429

PubMed

CrossRef

Google Scholar

Belous YN, Matyukhina LG, Ryabinik AA (1965) Uralenic acid. Zhurn Obshchei Khim (USSR) 35:401. (In Russian).

Google Scholar

Bennett A, Melhuish PB, Stamford IF (1985) Carbenoxolone and deglycyrrhized liquorice have little or no effect on prostanoid synthesis by rat gastric mucosa ex vivo. Br J Pharmacol 86(3):693–695

PubMedCentral

PubMed

CrossRef

Google Scholar

Berlango Jiménez A, Jiménez Murillo L, Montero Pérez FJ, Muñoz Avila JA, Torres Murillo J, Calderón de la Barca Gázquez JM (1995) Acute rhabdomyolysis and tetraparesis secondary to hypokalemia due to ingested licorice. An Med Interna 12(1):33–35 (In Spanish)

PubMed

Google Scholar

Bernardi M, D'Intino PE, Trevisani F, Cantelli-Forti G, Raggi MA, Turchetto E, Gasbarrini G (1994) Effects of prolonged ingestion of graded doses of liquorice by healthy volunteers. Life Sci 55(11):863–872

PubMed

CrossRef

Google Scholar

Bhardwaj DK, Murari R, Seshadri TR, Singh R (1976a) Liqcoumarin, a novel coumarin from

Glycyrrhiza glabra

. Phytochemistry 15(7):1182–1183

CrossRef

Google Scholar

Bhardwaj DK, Murari R, Seshadri TR, Singh R (1976b) Occurrence of 2-methylisoflavones in

Glycyrrhiza glabra

. Phytochemistry 15(2):352–353

CrossRef

Google Scholar

Bhardwaj DK, Seshadri TR, Singh R (1977) Glyzarin, a new isoflavone form

Glycyrrhiza glabra

. Phytochemistry 16(3):402–403

CrossRef

Google Scholar

Bhattacharjee S, Bhattacharjee A, Majumdar S, Majumdar SB, Majumdar S (2012) Glycyrrhizic acid suppresses Cox-2-mediated anti-inflammatory responses during

Leishmania donovani

infection. J Antimicrob Chemother 67(8):1905–1914

PubMed

CrossRef

Google Scholar

Bijlsma JA, Van Vloten P, Van Gelderen CEM, Mensinga TjT, Mout HA, Elvers LH, Van Leeuwen FXR, Stolker AAM, Van Ginkel LA, Looman CWN, Van der Maas PJ, Koomans HA, Savelkoul TJF (1996) Onderzoek naar de effecten van verschillende doseringen glycyrrhizine bij gezonde vrouwelijke vrijwilligers. [Study into the effects of different dosages of glycyrrhizin in health female volunteers; in Dutch]. RIVM report 348801004, RIVM, Bilthoven

Google Scholar

Biondi DM, Rocco C, Ruberto G (2003) New dihydrostilbene derivatives from the leaves of

Glycyrrhiza glabra

and evaluation of their antioxidant activity. J Nat Prod 66(4):477–480

PubMed

CrossRef

Google Scholar

Biondi DM, Rocco C, Ruberto G (2005) Dihydrostilbene derivatives from

Glycyrrhiza glabra

leaves. J Nat Prod 68(7):1099–1102

PubMed

CrossRef

Google Scholar

Birari RB, Gupta S, Mohan CG, Bhutani KK (2011) Antiobesity and lipid lowering effects of

Glycyrrhiza

chalcones: experimental and computational studies. Phytomed 18(8-9):795–801

CrossRef

Google Scholar

Bisoni V, Rossi GP, Calò LA (2014) Apparent mineralcorticoid excess syndrome, an often forgotten or unrecognized cause of hypokalemia and hypertension: case report and appraisal of the pathophysiology. Blood Press 23(3):189–192

CrossRef

Google Scholar

Blumenthal M (2000) Licorice root herbal medicine. Expanded Commission E monographs. Am Bot Council, Austin, pp 233–239

Google Scholar

Böcker D, Breithardt G (1991) Induction of arrhythmia by licorice abuse. Z Kardiol 80:389–391

PubMed

Google Scholar

Bogatkina VF, Murav'ev IA, Stepanova EF, Kir'yalov NP (1975) Triterpene compounds from the epigeal mass of

Glycyrrhiza glabra

. Chem Nat Comp 11(1):114–115

CrossRef

Google Scholar

Bordbar N, Karimi MH, Amirghofran Z (2012) The effect of glycyrrhizin on maturation and T cell stimulating activity of dendritic cells. Cell Immunol 280(1):44–49

PubMed

CrossRef

Google Scholar

Bowe WP, Pugliese S (2014) Cosmetic benefits of natural ingredients. J Drugs Dermatol 13(9):1021–1025

PubMed

Google Scholar

Bown D (1995) Encyclopaedia of herbs and their uses. Dorling Kindersley, London, 424 pp

Google Scholar

Brayley J, Jones J (1994) Life-threatening hypokalemia associated with excessive licorice ingestion. Am J Psychiatry 151(4):617–618

PubMed

Google Scholar

Calò L, Zaghetto F, Pagnin E, Davis P, De Mozzi P, Sartorato P, Martire G, Fiore C, Armanini D (2004) Effect of aldosterone and glycyrrhetinic acid on the protein expression of PAI-1 and p22(phox) in human mononuclear leukocytes. J Clin Endocrinol Metab 89:1973–1976

PubMed

CrossRef

Google Scholar

Campana A, Manzo M, Brigante M, Marrazzo N, Melchiorre G (2003) An unusual cause of cardiac arrest. Ital Heart J Suppl 4:510–513 (In Italian)

PubMed

Google Scholar

Canciu-Dobrea C, Kaycsa A, Dehelean C, Şoica C, Antal D (2012)

Glycyrrhiza glabra

and

Glycyrrhiza echinata

– sources of low hemotoxic saponins. Acta Med Marisiensis 58(3):150–152

Google Scholar

Canonica L, Danielli B, Manitto P, Russo G (1966a) Triterpenes of

Glycyrrhiza glabra

. III. Structure of isoglabrolide. Gazz Chim Ital 96:843–851

Google Scholar

Canonica L, Russo G, Bombardelli E (1966b) Triterpenes of

Glycyrrhiza glabra

. 2. Liquiritic acid. Gazz Chim Ital 96:833–842

Google Scholar

Canonica L, Russo G, Bonati A (1966c) Triterpenes of

Glycyrrhiza glabra

. I. Two new lactones with an oleanane structure. Gazz Chim Ital 96:772–785

Google Scholar

Canonica L, Danielli B, Manitto P, Russo G, Bombardelli E (1967a)

Glycyrrhiza glabra

triterpenes V. Glycyrrhetol and 21

α

-hydroxyisoglabrolide. Gazz Chim Ital 97:1347–1358

Google Scholar

Canonica L, Danielli B, Manitto P, Russo G, Bonati A, Bombardelli E (1967b)

Glycyrrhiza glabra

triterpenes VI. 23-Hydroxyglycyrrhetic acid and 24-hydroxy-11-deoxyglycyrrhetic acid. Gazz Chim Ital 97:1359–1369

Google Scholar

Canonica L, Danielli B, Russo G, Bonati A (1967c) Triterpenes from

Glycyrrhiza glabra

IV. 18

α

-Hydroxyglycyrrhetic acid. Gazz Chim Ital 97:769–786

Google Scholar

Canonica L, Danielli B, Manitto P, Russo G, Bombardelli E, Bonati A (1968)

Glycyrrhiza glabra

triterpenes VIL 24-Hydroxyliquiritic acid (30,24-dihydroxy-11-oxo-olean-12-en-29-oic acid) and liquiridolic acid (3

β

, 21

α

,24-trihydroxy-olean-12-en-29-oic acid). Gazz Chim Ital 98:712–728

Google Scholar

Cantelli-Forti G, Maffei F, Hrelia P, Bugamelli F, Bernardi M, D'Intino P, Maranesi M, Raggi MA (1994) Interaction of licorice on glycyrrhizin pharmacokinetics. Environ Health Perspect 102(Suppl 9):65–68

PubMedCentral

PubMed

CrossRef

Google Scholar

Cantelli-Forti G, Raggi MA, Bugamelli F, Maffei F, Villari A, Trieff NM (1997) Toxicological assessment of liquorice: biliary excretion in rats. Pharmacol Res 35(5):463–470

PubMed

CrossRef

Google Scholar

Cao J, Chen X, Liang J, Yu XQ, Xu AL, Chan E, Wei D, Huang M, Wen JY, Yu XY, Li XT, Sheu FS, Zhou SF (2007) Role of P-glycoprotein in the intestinal absorption of glabridin, an active flavonoid from the root of

Glycyrrhiza glabra

. Drug Metab Dispos 35(4):539–553

PubMed

CrossRef

Google Scholar

Cao N, Chen T, Guo ZP, Qin S, Li MM (2014) Monoammonium glycyrrhizate suppresses tumor necrosis factor-α induced chemokine production in HMEC-1 cells, possibly by blocking the translocation of nuclear factor-κB into the nucleus. Can J Physiol Pharmacol 92(10):859–865

PubMed

CrossRef

Google Scholar

Caradonna P, Gentiloni N, Servidei S, Perrone G, Greco A, Russo M (1992) Acute myopathy associated with chronic licorice ingestion: reversible loss of myoadenylate deaminase activity. Ultrastruct Pathol 16(5):529–535

PubMed

CrossRef

Google Scholar

Carmines EL, Lemus R, Gaworski CL (2005) Toxicologic evaluation of licorice extract as a cigarette ingredient. Food Chem Toxicol 43(9):1303–1322

PubMed

CrossRef

Google Scholar

Cataldo F, Di Stefano P, Violante M, Traverso G, Mulè M (1997) Pseudohyperaldosteronism secondary to licorice poisoning associated with hemorrhagic gastritis. Pediatr Med Chir 19(3):219–221 (In Italian)

PubMed

Google Scholar

Celik MM, Karakus A, Zeren C, Demir M, Bayarogullari H, Duru M, Al M (2012) Licorice induced hypokalemia, edema, and thrombocytopenia. Hum Exp Toxicol 31(12):1295–1298

PubMed

CrossRef

Google Scholar

Ceremelli C, Portolani M, Cotombari B, Castelli M, Baggio G, Galatulas I (1996) Activity of glycyrrhizin and its diasterioisomers against two new human herpes virus: HHV-6 and HHV-7. Phytochem Res 10:527–528

Google Scholar

Chakravarthi KK, Avadhani R (2014) Enhancement of hippocampal CA3 neuronal dendritic arborization by

Glycyrrhiza glabra

root extract treatment in Wistar albino rats. J Nat Sci Biol Med 5(1):25–29

PubMedCentral

PubMed

CrossRef

Google Scholar

Chan HT, Chan C, Ho JW (2003) Inhibition of glycyrrhizic acid on aflatoxin B1-induced cytotoxicity in hepatoma. Toxicology 188(2-3):211–217

PubMed

CrossRef

Google Scholar

Chandrasekaran CV, Deepak HB, Thiyagarajan P, Kathiresan S, Sangli GK, Deepak M, Agarwal A (2011a) Dual inhibitory effect of

Glycyrrhiza glabra

(GutGard™) on COX and LOX products. Phytomed 18(4):278–284

CrossRef

Google Scholar

Chandrasekaran CV, Sundarajan K, Gupta A, Srikanth HS, Edwin J, Agarwal A (2011b) Evaluation of the genotoxic potential of standardized extract of

Glycyrrhiza glabra

(GutGard™). Reg Toxicol Pharmacol 61(3):373–380

CrossRef

Google Scholar

Cheel J, Van Antwerpen P, Tůmová L, Onofre G, Vokurková D, Zouaoui-Boudjeltia K, Vanhaeverbeek M, JeanNève J (2010) Free radical-scavenging, antioxidant and immunostimulating effects of a licorice infusion (

Glycyrrhiza glabra

L.). Food Chem 122(3):508–517

CrossRef

Google Scholar

Cheel J, Tůmová L, Areche C, Van Antwerpen P, Nève J, Zouaoui-Boudjeltia K, Martin AS, Vokřál I, Wsól V, Neugebauerová J (2013) Variations in the chemical profile and biological activities of licorice (

Glycyrrhiza glabra

L.), as influenced by harvest times. Acta Physiol Plant 35(4):1337–1349

CrossRef

Google Scholar

Chen G, Hu X, Zhang W, Xu N, Wang FQ, Jia J, Zhang WF, Sun ZJ, Zhao YF (2012) Mammalian target of rapamycin regulates isoliquiritigenin-induced autophagic and apoptotic cell death in adenoid cystic carcinoma cells. Apoptosis 17(1):90–101

PubMed

CrossRef

Google Scholar

Cheng HS, Kong JM, Ng AX, Chan WK, Ton SH, Abdul Kadir K (2014) Novel inhibitory effects of glycyrrhizic acid on the accumulation of advanced glycation end product and its receptor expression. Nat Prod Bioprospect 4(6):325–333

PubMedCentral

CrossRef

Google Scholar

Chiej R (1984) The Macdonald encyclopaedia of medicinal plants. Macdonald & Co, London, 447 pp

Google Scholar

Chintharlapalli S, Papineni S, Jutooru I, McAlees A, Safe S (2007) Structure-dependent activity of glycyrrhetinic acid derivatives as peroxisome proliferator-activated receptor [gamma] agonists in colon cancer cells. Mol Cancer Ther 6(5):1588–1598

PubMed

CrossRef

Google Scholar

Cho SM, Park JH, Pae AN, Han DS, Kim DS, Cho NC, No KT, Yang HY, Yoon MS, Lee CH, Shimizu M, Baek NI (2012) Hypnotic effects and GABAergic mechanism of licorice (

Glycyrrhiza glabra

) ethanol extract and its major flavonoid constituent glabrol. Bioorg Med Chem 11(1):3493–3501

CrossRef

Google Scholar

Choi EM (2005) The licorice root derived isoflavan glabridin increases the function of osteoblastic MC3T3-E1 cells. Biochem Pharmacol 70(3):363–368

PubMed

CrossRef

Google Scholar

Choi EM, Suh KS, Lee YS (2014) Liquiritigenin restores osteoblast damage through regulating oxidative stress and mitochondrial dysfunction. Phytother Res 28(6):880–886

PubMed

CrossRef

Google Scholar

Chopra PKPG, Saraf BD, Inam F, Deo SS (2013) Antimicrobial and antioxidant activities of methanol extract roots of

Glycyrrhiza glabra

and HPLC analysis. Int J Pharm Pharm Sci 5(S2):157–160

Google Scholar

Chowdhury B, Bhattamisra SK, Das MC (2013) Anti-convulsant action and amelioration of oxidative stress by

Glycyrrhiza glabra

root extract in pentylenetetrazole-induced seizure in albino rats. Indian J Pharmacol 45(1):40–43

PubMedCentral

PubMed

CrossRef

Google Scholar

Chu XT, de la Cruz J, Hwang SG, Hong H (2014) Tumorigenic effects of endocrine-disrupting chemicals are alleviated by licorice (

Glycyrrhiza glabra

) root extract through suppression of AhR expression in mammalian cells. Asian Pac J Cancer Prev 15(12):4809–4813

PubMed

CrossRef

Google Scholar

Chubachi A, Wakui H, Asakura K, Nishimura S, Nakamoto Y, Miura AB (1992) Acute renal failure following hypokalemic rhabdomyolysis due to chronic glycyrrhizic acid administration. Intern Med 31(5):708–711

PubMed

CrossRef

Google Scholar

Cinatl J, Morgenstern B, Bauer G, Chandra P, Rabenau H, Doerr HW (2003) Glycyrrhizin, an active component of liquorice roots, and replication of SARS-associated coronavirus. Lancet 361(9374):2045–2046

Google Scholar

Classen-Houben D, Schuster D, Da Cunha T, Odermatt A, Wolber G, Jordis U, Kueenburg B (2009) Selective inhibition of 11beta-hydroxysteroid dehydrogenase 1 by 18alpha-glycyrrhetinic acid but not 18beta-glycyrrhetinic acid. J Steroid Biochem Mol Biol 113(3–5):248–252

PubMed

CrossRef

Google Scholar

Conn JW, Rovner DR, Cohen EL (1968) Licorice-induced pseudoaldosteronism. Hypertension, hypokalemia, aldosteronopenia, and suppressed plasma renin activity. JAMA 205(7):492–496

PubMed

CrossRef

Google Scholar

Cooper H, Bhattacharya B, Verma V, McCulloch AJ, Smellie WSA, Heald AH (2007) Liquorice and soy sauce, a life-saving concoction in a patient with Addison's disease. Ann Clin Biochem 44(4):397–399

PubMed

CrossRef

Google Scholar

Corsi FM, Galgani S, Gasparini C, Giacanelli M, Piazza G (1983) Acute hypokalemic myopathy due to chronic licorice ingestion: report of a case. Ital J Neurol Sci 4(4):493–497

PubMed

CrossRef

Google Scholar

Costello CH, Lynn EV (1950) Estrogenic substances from plants: I.

Glycyrrhiza

. J Pharm Sci 39(3):177–180

CrossRef

Google Scholar

Crance JM, Lévêque F, Biziagos E, van Cuyck-Gandré H, Jouan A, Deloince R (1994) Studies on mechanism of action of glycyrrhizin against hepatitis A virus replication in vitro. Antiviral Res 23(1):63–76

PubMed

CrossRef

Google Scholar

Cui YM, Ao MZ, Li W, Yu LJ (2008) Effect of glabridin from

Glycyrrhiza glabra

on learning and memory in mice. Planta Med 74(4):377–380

PubMed

CrossRef

Google Scholar

Cuspidi C, Gelosa M, Moroni E, Sampieri L (1981) Pseudo-Conn's syndrome after habitual ingestion of liquorice. Report on various clinical cases. Minerva Med 72(13):825–830 (In Italian)

PubMed

Google Scholar

Dai XH, Li HE, Lu CJ, Wang JF, Dong J, Wei JY, Zhang Y, Wang X, Tan W, Deng XM, Zhao SH, Zhang MJ (2013) Liquiritigenin prevents

Staphylococcus aureus

-mediated lung cell injury via inhibiting the production of α-hemolysin. J Asian Nat Prod Res 15(4):390–399

PubMed

CrossRef

Google Scholar

Datla R, Rao SR, Murthy KJ (1981) Excretion studies of nitrofurantoin and nitrofurantoin with deglycyrrhizinated liquorice. Indian J Physiol Pharmacol 25(1):59–63

PubMed

Google Scholar

Davidson JS, Baumgarten IM (1988) Glycyrrhetinic acid derivatives: a novel class of inhibitors of gap-junctional intercellular communication. Structure-activity relationships. J Pharmacol Exp Ther 246(3):1104–1107

PubMed

Google Scholar

Davidson JS, Baumgarten IM, Harley EH (1986) Reversible inhibition of intercellular junctional communication by glycyrrhetinic acid. Biochem Biophys Res Commun 134(1):29–36

PubMed

CrossRef

Google Scholar

De Klerk G, Nieuwenhuis M, Beutler J (1997) Hypokalaemia and hypertension and another 35 year old woman with profound hypokalaemia and hypertension ssociated with use of liquorice flavoured chewing gum. Br Med J 314:731–732

CrossRef

Google Scholar

Dehpour AR, Zolfaghari ME, Samadian T, Vahedi Y (1994) The protective effect of liquorice components and their derivatives against gastric ulcer induced by aspirin in rats. J Pharm Pharmacol 46(2):148–149

PubMed

CrossRef

Google Scholar

Demizu S, Kajiyama K, Takahashi K, Hiraga Y, Yamamoto S, Tamura Y, Okada K, Kinoshita T (1988) Antioxidant and antimicrobial constituents of licorice: isolation and structure elucidation of a new benzofuran derivative. Chem Pharm Bull 36(9):3474–3479

PubMed

CrossRef

Google Scholar

Denisova SB, Galkin EG, Danilov VT, Murinov YI (2003) Mono- and dioses of

Glycyrrhiza glabra

root. Chem Nat Comp 39(3):237–239

CrossRef

Google Scholar

Denisova SB, Galkin EG, Murinov YI (2006) Isolation and GC-MS determination of flavonoids from

Glycyrrhiza glabra

root. Chem Nat Comp 42(3):285–289

CrossRef

Google Scholar

Denisova SB, Danilov VT, Yunusova SG, Davydova VA, Murinov YI, Zarudii FS (2007) Isolation and biological activity of lipids from licorice (

Glycyrrhiza glabra

) roots. Pharm Chem J 41(9):489–491

CrossRef

Google Scholar

Dhingra D, Sharma A (2006) Antidepressant-like activity of

Glycyrrhiza glabra

L. in mouse models of immobility tests. Prog Neuropsychopharmacol Biol Psychiatry 30(3):449–454

PubMed

CrossRef

Google Scholar

Dhingra D, Parle M, Kulkarni SK (2004) Memory enhancing activity of

Glycyrrhiza glabra

in mice. J Ethnopharmacol 91(2–3):361–365

PubMed

CrossRef

Google Scholar

Dirican E, Turkez H (2014) In vitro studies on protective effect of

Glycyrrhiza glabra

root extracts against cadmium-induced genetic and oxidative damage in human lymphocytes. Cytotechnology 66(1):9–16

PubMedCentral

PubMed

CrossRef

Google Scholar

Dong SJ, Inoue A, Zhu Y, Tanji M, Kiyama R (2007) Activation of rapid signaling pathways and the subsequent transcriptional regulation for the proliferation of breast cancer MCF-7 cells by the treatment with an extract of

Glycyrrhiza glabra

root. Food Chem Toxicol 45(12):2470–2478

PubMed

CrossRef

Google Scholar

Dong Y, Zhao MM, Zhao TT, Feng MY, Chen HP, Zhuang MZ, Lin LZ (2014) Bioactive profiles, antioxidant activities, nitrite scavenging capacities and protective effects on H2O2-injured PC12 cells of

Glycyrrhiza glabra

L. leaf and root extracts. Molecules 19(7):9101–9113

PubMed

CrossRef

Google Scholar

Dong Y, Zhao MM, Sun-Waterhouse D, Zhuang MZ, Chen HP, Feng M, Lin LZ (2015) Absorption and desorption behaviour of the flavonoids from

Glycyrrhiza glabra

L. leaf on macroporous adsorption resins. Food Chem 168:538–545

PubMed

CrossRef

Google Scholar

Dorisse P, Gleye J, Loiseau P, Puig P, Edy AM, Henry M (1988) Papaverine biotransformation in plant cell suspension cultures. J Nat Prod 51(3):532–536

PubMed

CrossRef

Google Scholar

Durak H (2014) Bio-oil production from

Glycyrrhiza glabra

through supercritical fluid extraction. J Supercrit Fluids 95:373–386

CrossRef

Google Scholar

Dzhumamuratova A, Seitmuratov E, Rakhimov DA, Ismailov ZF (1978) Polysaccharides of some species of

Glycyrrhiza

. Chem Nat Comp 14(4):437–437

CrossRef

Google Scholar

El Magd NFA, El-Karel A, El-Shishtawy MM, Eissa LA (2015) Hepatoprotective effects of glycyrrhizin and omega-3 fatty acids on nuclear factor-kappa B pathway in thioacetamide-induced fibrosis in rats. Egyptian J Basic Appl Sci 2(2):65–74

Google Scholar

Elgamal MHA, El-Tawil BA (1975) Constituents of local plants. XVIII. 28-hydroxyglycyrrhetic acid, a new triterpenoid isolated from the roots of

Glycyrrhiza glabra

. Planta Med 27(2):159–163

PubMed

CrossRef

Google Scholar

Elgamal MHA, Fayez MBE (1968) Structure of glabric acid a further triterpenoid constituent of

Glycyrrhiza glabra

. Acta Chim (Budapest) 58(1):75–84

Google Scholar

Elgamal MHA, Fayez MBE (1972) Isolation of formononetin from the root of

Glycyrrhiza glabra

L. collected locally. Indian J Chem 10(1):128

Google Scholar

Elgamal MHA, Fayez MBE (1975) A new triterpenoid from the roots of

Glycyrrhiza glabra

L. Naturwissenschaften 62(4):183–183

CrossRef

Google Scholar

Elgamal MHA, Fayez MBE, Snatzke G (1965) Constituents of local plants – VI roots of

Glycyrrhiza glabra

L.: liquoric acid, a new triterpenoid from the roots of

Glycyrrhiza glabr

a L. Tetrahedron 21(8):2109–2115

CrossRef

Google Scholar

Elgamal MHA, Hady FK, Hanna AG, Mahran GH, Duddeck H (1990) A further contribution to the triterpenoid constituents of

Glycyrrhiza glabra

L. Z Naturforsch C 45(9-10):937–941

PubMed

Google Scholar

Elinav E, Chajek-Shaul T (2003) Licorice consumption causing severe hypokalemic paralysis. Mayo Clinic Proc 78(6):767–768

CrossRef

Google Scholar

El-Tahawy NF, Ali AH, Saied SR, Abdel-Wahab Z (2011) Effect of glycyrrhizin on lipopolysaccharide/D-galactosamine-induced acute hepatitis in albino rats: a histological and immunohistochemical study. Egypt J Histol 34(3):518–527

CrossRef

Google Scholar

Ercisli S, Coruh I, Gormez A, Sengul M, Bilena S (2008) Total phenolics, mineral contents, antioxidant and antibacterial activities of

Glycyrrhiza glabra

L. roots grown wild in Turkey. Ital J Food Sci 20(1):91–99

Google Scholar

Esmaeili S, Naghibi F, Mosaddegh M, Nader N (2010) Determination of 18β-glycyrrhetinic acid in

Glycyrrhiza glabra

L. extract by HPLC. Iran J Pharm Res 5(2):137–141

Google Scholar

European Commission Scientific Committee on Food (2003) Opinion of the Scientific Committee on food on glycyrrhizinic acid and its ammonium salt. European Commission Heath and Consumer Protection Directorate General, Brussel, Belgium.

http://ec.europa.eu/food/fs/sc/scf/out186_en.pdf

Facciola S (1990) Cornucopia. A source book of edible plants. Kampong Publ., Vista, 677 pp.

Google Scholar

Farag MA, Wessjohann LA (2012) Volatiles profiling in medicinal licorice roots using steam distillation and solid-phase microextraction (SPME) coupled to chemometrics. J Food Sci 7(11):C1179–C1184

CrossRef

Google Scholar

Farag MA, Porzela A, Wessjohann LA (2012) Comparative metabolite profiling and fingerprinting of medicinal licorice roots using a multiplex approach of GC–MS, LC–MS and 1D NMR techniques. Phytochemistry 76:60–72

PubMed

CrossRef

Google Scholar

Farese S, Kruse A, Pasch A, Dick B, Frey BM, Uehlinger DE, Frey FJ (2009) Glycyrrhetinic acid food supplementation lowers serum potassium concentration in chronic hemodialysis patients. Kidney Int 76(8):877–884

PubMed

CrossRef

Google Scholar

Fatima A, Gupta VK, Luqman S, Negi AS, Kumar JK, Shanker K, Saikia D, Srivastava S, Darokar MP, Khanuja SP (2009) Antifungal activity of

Glycyrrhiza glabra

extract and its active constituent glabridin. Phytother Res 23(8):1190–1193

PubMed

CrossRef

Google Scholar

Fenwick GR, Lutomski J, Nieman C (1990) Liquorice,

Glycyrrhiza glabra

L.- composition, uses and analysis. Food Chem 38(2):119–143

CrossRef

Google Scholar

Ferrari P (2009) Licorice: a sweet alternative to prevent hyperkalemia in dialysis patients? Kidney Int 76(8):811–812

PubMed

CrossRef

Google Scholar

Ferrari P, Sansonnens A, Dick B, Frey FJ (2001) In vivo 11beta-HSD-2 activity: variability, salt-sensitivity, and effect of licorice. Hypertension 38(6):1330–1336

PubMed

CrossRef

Google Scholar

Fiore C, Eisenhut M, Krausse R, Ragazzi E, Pellati D, Armanini D, Bielenberg J (2008) Antiviral effects of

Glycyrrhiza

species. Phytother Res 22(2):141–148

PubMed

CrossRef

Google Scholar

Forslund T, Fyhrquist F, Frøseth B, Tikkanen I (1989) Effects of licorice on plasma atrial natriuretic peptide in healthy volunteers. J Intern Med 225(2):95–99

PubMed

CrossRef

Google Scholar

Franceschelli S, Pesce M, Vinciguerra I, Ferrone A, Riccioni G, Antonia P, Grilli A, Falaco M, Speranza L (2011) Licocalchone-C extracted from

Glycyrrhiza glabra

inhibits lipopolysaccharide-interferon-γ inflammation by improving antioxidant conditions and regulating inducible nitric oxide synthase expression. Molecules 16(7):5720–5734

PubMed

CrossRef

Google Scholar

Francischetti IM, Monteiro RQ, Guimaraes JA (1997) Identification of glycyrrhizin as a thrombin inhibitor. Biochem Biophys Res Commun 235(1):259–263

PubMed

CrossRef

Google Scholar

Fraunfelder F (2004) Ocular side effects from herbal medicines and nutritional supplements. Am J Ophthalmol 138:639–647

PubMed

CrossRef

Google Scholar

Frazier MC, Jackson KM, Jankowska-Stephens E, Anderson MG, Harris WB (2004) Proteomic analysis of proteins altered by dibenzoylmethane in human prostatic cancer LNCaP cells. Proteomics 4(9):2814–2821

PubMed

CrossRef

Google Scholar

Fu Y, Hsieh TC, Guo JQ, Kunicki J, Lee MYWT, Darzynkiewicz Z, Wu JM (2004) Licochalcone-A, a novel flavonoid isolated from licorice root (

Glycyrrhiza glabra

), causes G2 and late-G1 arrests in androgen-independent PC-3 prostate cancer cells. Biochem Biophys Res Commun 322(1):263–270

PubMed

CrossRef

Google Scholar

Fuggersberger-Heinz R, Franz G (1984) Formation of glycyrrhizinic acid in

Glycyrrhiza glabra

var.

typica

. Planta Med 50(5):409–413

PubMed

CrossRef

Google Scholar

Fuhrman B, Buch S, Vaya J, Belinky PA, Coleman R, Hayek T, Aviram M (1997) Licorice extract and its major polyphenol glabridin protect low-density lipoprotein against lipid peroxidation: in vitro and ex vivo studies in humans and in atherosclerotic apolipoprotein E-deficient mice. Am J Clin Nutr 66(2):267–275

PubMed

Google Scholar

Fuhrman B, Volkova N, Rosenblat M, Aviram M (2000) Lycopene synergistically inhibits LDL oxidation in combination with vitamin E, glabridin, rosmarinic acid, carnosic acid, or garlic. Antioxid Redox Signal 2(3):491–506

PubMed

CrossRef

Google Scholar

Fukai T, Nishizawa J, Yokoyama M, Tantai L, Nomura T (1994) Five new isoprenoid-substituted flavonoids, kanzonols M, P and R, from two

Glycyrrhiza

species. Heterocycles 38(5):1089–1098

CrossRef

Google Scholar

Fukai T, Cai BS, Horikoshi T, Nomura T (1996a) Isoprenylated flavonoids from underground parts of

Glycyrrhiza glabra

. Phytochemistry 43(5):1119–1124

CrossRef

Google Scholar

Fukai T, Tantai L, Nomura T (1996b) Isoprenoid-substituted flavonoids from

Glycyrrhiza glabra

. Phytochemistry 43(2):531–532

CrossRef

Google Scholar

Fukai T, Cai BS, Maruno K, Miyakawa Y, Konishi M, Nomura T (1998) An isoprenylated flavanone from

Glycyrrhiza glabra

and rec-assay of licorice phenols. Phytochemistry 49(7):2005–2013

CrossRef

Google Scholar

Fukai T, Cai BS, Nomura T (2001) Flavonoids from Kirghiz licorice (

Glycyrrhiza glabra

). Nat Med 55(6):311

Google Scholar

Fukai T, Marumo A, Kaitou K, Kanda T, Terada S, Nomura T (2002a) Anti

Helicobacter pylori

flavonoids from licorice extract. Life Sci 71(12):1449–1463

Google Scholar

Fukai T, Marumo A, Kaitou K, Kanda T, Terada S, Nomura T (2002b) Antimicrobial activity of licorice flavonoids against methicillin-resistant

Staphylococcus aureus

. Fitoterapia 73(6):536–539

PubMed

CrossRef

Google Scholar

Fukai T, Satoh K, Nomura T, Sakagami H (2003) Preliminary evaluation of antinephritis and radical scavenging activities of glabridin from

Glycyrrhiza glabra

. Fitoterapia 74(7):624–629

PubMed

CrossRef

Google Scholar

Fukui H, Goto K, Tabata M (1988) Two antimicrobial flavanones from the leaves of

Glycyrrhiza glabra

. Chem Pharm Bull 36:4174–4176

PubMed

CrossRef

Google Scholar

Gao XY, Wang WQ, Wei SL, Li WD (2009) Review of pharmacological effects of

Glycyrrhiza

radix and its bioactive compounds. Zhongguo Zhong Yao Za Zhi 34(21):2695–2700 (In Chinese)

PubMed

Google Scholar

Gaur R, Yadav KS, Verma RK, Yadav NP, Bhakuni RS (2014) In vivo anti-diabetic activity of derivatives of isoliquiritigenin and liquiritigenin. Phytomedicine 21(4):415–422

PubMed

CrossRef

Google Scholar

Gaware R, Khunt R, Czollner L, Stanetty C, Da Cunha T, Kratschmar DV, Odermatt A, Kosma P, Jordis U, Classen-Houben D (2011) Synthesis of new glycyrrhetinic acid derived ring A azepanone, 29-urea and 29-hydroxamic acid derivatives as selective 11β-hydroxysteroid dehydrogenase 2 inhibitors. Bioorg Med Chem 19(6):1866–1880

PubMed

CrossRef

Google Scholar

Geetha RV, Roy A (2013) In vitro evaluation of anti mycotic activity of ethanolic extract of

Glycyrrhiza glabra

. Asian J Pharm Clin Res 6(3):205–206

Google Scholar

Ghalayani P, Emami H, Pakravan F, Nasr Isfahani M (2014) Comparison of triamcinolone acetonide mucoadhesive film with licorice mucoadhesive film on radiotherapy-induced oral mucositis: a randomized double-blinded clinical trial. Asia Pac J Clin Oncol (in press) DOI: 10.1111/ajco.12295

Google Scholar

Ghannad MS, Mohammadi A, Safiallahy S, Faradmal J, Azizi M, Ahmadvand Z (2014) The effect of aqueous extract of

Glycyrrhiza glabra

on Herpes Simplex Virus 1. Jundishapur J Microbiol 7(7):1–6

Google Scholar

Gomez-Sanchez EP, Gomez-Sanchez CE (1992) Central hypertensinogenic effects of glycyrrhizic acid and carbenoxolone. Am J Physiol 263(6 Pt 1):E1125–E1130

PubMed

Google Scholar

Gong G, Xiang L, Yuan LB, Hu L, Wu W, Cai L, Yin L, Dong HL (2014) Protective effect of glycyrrhizin, a direct HMGB1 inhibitor, on focal cerebral ischemia/reperfusion-induced inflammation, oxidative stress, and apoptosis in rats. PLoS One 9(3), e89450

PubMedCentral

PubMed

CrossRef

Google Scholar

Gorecki P, Drozdzynska M, Segiet-Kujawa E (1991) Isolation and determination of flavonoids and chalcones in

Glycyrrhiza glabra

roots. Planta Med 57:A118

CrossRef

Google Scholar

Goultschin J, Palmon S, Shapira L, Brayer L, Gedalia I (1991) Effect of glycyrrhizin-containing toothpaste on dental plaque reduction and gingival health in humans. J Clin Periodontol 18:210–212

PubMed

CrossRef

Google Scholar

Grieve M (1971) A modern herbal, 2 vols. Penguin/Dover Publications, New York, 919 pp

Google Scholar

Gross E, Dexter J, Roth R (1966) Hypokalemic myopathy with myoglobinuria associated with licorice ingestion. N Engl J Med 274:602–606

PubMed

CrossRef

Google Scholar

Gu XJ, Xu J, Ma BY, Chen G, Gu PY, Wei D, Hu WX (2014) Effect of glycyrrhizin on traumatic brain injury in rats and its mechanism. Chin J Traumatol 17(1):1–7

PubMed

Google Scholar

Gujral ML, Sareen KN, Tangri KK, Roy AK, Gupta GP, Amma MK (1959) Antiarthritic activity of

Glycyrrhiza glabra

Linn. Indian J Psychol 3(1):39–47

PubMed

Google Scholar

Gumpricht E, Dahl R, Devereaux MW, Sokol RJ (2005) Licorice compounds glycyrrhizin and 18beta-glycyrrhetinic acid are potent modulators of bile acid-induced cytotoxicity in rat hepatocytes. J Biol Chem 280(11):10556–10563

PubMed

CrossRef

Google Scholar

Gupta VK, Fatima A, Faridi U, Negi AS, Shanker K, Kumar JK, Rahuja N, Luqman S, Sisodia BS, Saikia D, Darokar MP, Khanuja SPS (2008) Antimicrobial potential of

Glycyrrhiza glabra

roots. J Ethnopharmacol 116(2):377–380

PubMed

CrossRef

Google Scholar

Gyémánt G, Lenkey B, Nánási P (2001) Comparative study of

Glycyrrhiza glabra

L. and

Glycyrrhiza echinata

L. of different origin. Medicinal plant polysaccharides III. Acta Pharm Hung 71(3):325–328 (In Hungarian)

PubMed

Google Scholar

Hall R, Clemett R (2004) Central retinal vein occlusion associated with liquorice ingestion. Clin Exp Ophthalmol 32:341

CrossRef

Google Scholar

Han JC, Yu J, Gao YJ (2014) Lipidomics investigation of reversal effect of glycyrrhizin (GL) towards lithocholic acid (LCA)-induced alteration of phospholipid profiles. Pharm Biol 52(12):1624–1628

PubMed

CrossRef

Google Scholar

Harada T, Ohtaki E, Misu K, Sumiyoshi T, Hosoda S (2002) Congestive heart failure caused by digitalis toxicity in an elderly man taking a licorice-containing Chinese herbal laxative. Cardiology 98:218

PubMed

CrossRef

Google Scholar

Haraguchi H, Yoshida N, Ishikawa H, Tamura Y, Mizutani K, Kinoshita T (2000) Protection of mitochondrial functions against oxidative stresses by isoflavans from

Glycyrrhiza glabra

. J Pharm Pharmacol 52(2):219–223

PubMed

CrossRef

Google Scholar

Hasan S, Khan R, Ali N, Khan A, Rehman M, Tahir M, Lateef A, Nafees S, Mehdi S, Rashid S, Shahid A, Sultana S (2015) 18-β Glycyrrhetinic acid alleviates 2-acetylaminofluorene-induced hepatotoxicity in Wistar rats: role in hyperproliferation, inflammation and oxidative stress. Hum Exp Toxicol 34(6):628-641.

Google Scholar

Hasegawa J, Suyama Y, Kinugawa T, Morisawa T, Kishimoto Y (1998) Echocardiographic findings of the heart resembling dilated cardiomyopathy during hypokalemic myopathy due to licorice-induced pseudoaldosteronism. Cardiovasc Drugs Ther 12:599–600

PubMed

CrossRef

Google Scholar

Hatano T, Yasuhara T, Miyamoto K, Okuda T (1988) Anti-human immunodeficiency virus phenolics from licorice. Chem Pharm Bull 36(6):2286–2288

PubMed

CrossRef

Google Scholar

Hatano T, Yasuhara T, Fukuda T, Noro T, Okuda T (1989) Phenolic constituents of licorice. II. Structures of licopyranocoumarin, licoarylcoumarin and glisoflavone, and inhibitory effects of licorice phenolics on xanthine oxidase. Chem Pharm Bull 37(11):3005–3009

PubMed

CrossRef

Google Scholar

Hatano T, Fukuda T, Liu YZ, Nor T, Okuda T (1991a) Phenolic constituents of licorice. IV. Correlation of phenolic constituents and licorice specimens from various sources, and inhibitory effects of licorice extracts on xanthine oxidase and monoamine oxidase. Yakugaku Zasshi 111(6):311–321 (In Japanese)

PubMed

Google Scholar

Hatano T, Fukuda T, Miyase T, Noro T, Okuda T (1991b) Phenolic constituents of licorice. III. Structures of glicoricone and licofuranone, and inhibitory effects of licorice constituents of monoamine oxidase. Chem Pharm Bull 39(5):1238–1243

PubMed

CrossRef

Google Scholar

Hattori M, Sakamoto T, Yamagishi T, Sakamoto K, Konishi K, Kobashi K, Namba T (1985) Metabolism of glycyrrhizin by human intestinal flora. II. Isolation and characterization of human intestinal bacteria capable of metabolizing glycyrrhizin and related compounds. Chem Pharm Bull 33(1):210–217

PubMed

CrossRef

Google Scholar

Hattori M, Miyachi K, Shu YZ, Kaikiuchi N, Namba T (1986) Studies on dental caries prevention by traditional medicines. 9. Potent antibacterial action of coumarin derivatives from licorice roots against

Streptococcus mutan

s. Shoyakugaku Zasshi 40:406–412

Google Scholar

Hayashi H (2009) Molecular biology of secondary metabolism: case study for

Glycyrrhiza

plants. In: Kirakosyan A, Kaufman PB (eds) Recent advances in plant biotechnology. Springer, New York/Dordrecht, pp 89–103

Google Scholar

Hayashi H, Fukui H, Tabata M (1988) Examination of triterpenoids produced by callus and cell suspension cultures of

Glycyrrhiza glabra

. Plant Cell Rep 7:508–511

PubMed

CrossRef

Google Scholar

Hayashi H, Fukui H, Tabata M (1990a) Biotransformation of 18β-glycyrrhetinic acid by cell suspension cultures of

Glycyrrhiza glabra

. Phytochemistry 29(7):2149–2152

PubMed

CrossRef

Google Scholar

Hayashi H, Sakai T, Fukui H, Tabata M (1990b) Formation of soyasaponins in licorice cell suspension cultures. Phytochem 29(10):3127–3129

CrossRef

Google Scholar

Hayashi H, Yamada K, Fukui H, Tabata M (1992a) Metabolism of exogenous 18β-glycyrrhetinic acid in cultured cells of

Glycyrrhiza glabra

. Phytochemistry 31(8):2724–2733

CrossRef

Google Scholar

Hayashi R, Maruyama T, Maruyama K, Yanagawa S, Tako K, Yanagisawa N (1992b) Myotonic and repetitive discharges in hypokalemic myopathy associated with glycyrrhizin-induced hypochloremia. J Neurol Sci 107(1):74–77

PubMed

CrossRef

Google Scholar

Hayashi H, Fukui H, Tabata M (1993a) Distribution pattern of saponins in different organs of

Glycyrrhiza glabra

. Planta Med 59:351–353

PubMed

CrossRef

Google Scholar

Hayashi H, Hanaoka S, Tanaka S, Fukui H, Tabata M (1993b) Glycyrrhetinic acid 24-hydroxylase activity in microsomes of cultured licorice cells. Phytochemistry 34:1303–1307

CrossRef

Google Scholar

Hayashi H, Honda G, Tabata M, Yamamoto H, Yeşilada E, Sezik E (1995) A survey of distribution and characteristics of

Glycyrrhiza glabra

L. in Turkey. Nat Med 49(2):129–132

Google Scholar

Hayashi H, Hiraoka N, Ikeshiro Y (1996a) Molecular cloning and functional expression of cDNAs for

Glycyrrhiza glabra

squalene synthase. Biol Pharm Bull 19(10):1387–1389

PubMed

CrossRef

Google Scholar

Hayashi H, Hiraoka N, Ikeshiro Y, Yamamoto H (1996b) Organ specific localization of flavonoids in

Glycyrrhiza glabra

L. Plant Sci 116(2):233–238

CrossRef

Google Scholar

Hayashi H, Nishiyama Y, Tomizawa N, Hiraoka N, Ikeshiro Y (1996c) UDP-glucuronic acid: triterpene glucuronosyltransferase activity in cultured licorice cells. Phytochemistry 42:665–666

CrossRef

Google Scholar

Hayashi H, Yasuma M, Hiraoka N, Ikeshiro Y, Yamamoto H, Yeşilada E, Sezik E, Honda G, Tabata M (1996d) Flavonoid variation in the leaves of

Glycyrrhiza glabra

. Phytochemistry 24(3):701–704

CrossRef

Google Scholar

Hayashi K, Hayashi H, Hiraoka N, Ikeshiro Y (1997) Inhibitory activity of soyasaponin II on virus replication in vitro. Planta Med 63(2):102–105

PubMed

CrossRef

Google Scholar

Hayashi H, Hiraoka N, Ikeshiro Y, Yamamoto H, Yoshikawa T (1998a) Seasonal variation of glycyrrhizin and isoliquiritigenin glycosides in the root of

Glycyrrhiza glabra

L. Biol Pharm Bull 21(9):987–989

PubMed

CrossRef

Google Scholar

Hayashi H, Shibano M, Kusano G, Yamamoto H, Ikeshiro Y (1998b) A field survey of

Glycyrrhiza glabra

L in Sicily and Spain. Nat Med 52(3):259–264

Google Scholar

Hayashi H, Hirota A, Hiraoka N, Ikeshiro Y (1999) Molecular cloning and characterization of two cDNAs for

Glycyrrhiza glabra

squalene synthase. Biol Pharm Bull 22:947–950

PubMed

CrossRef

Google Scholar

Hayashi H, Hiraoka N, Ikeshiro Y, Kushiro T, Morita M, Shibuya M, Ebizuka Y (2000a) Molecular cloning and characterization of a cDNA for

Glycyrrhiza glabra

cycloartenol synthase. Biol Pharm Bull 23(2):231–234

PubMed

CrossRef

Google Scholar

Hayashi H, Hosono N, Kondo M, Hiraoka N, Ikeshiro Y, Shibano M, Kusano G, Yamamoto H, Tanaka T, Inoue K (2000b) Phylogenetic relationship of six

Glycyrrhiza

species based on rbcL sequences and chemical constituents. Biol Pharm Bull 23(5):602–606

PubMed

CrossRef

Google Scholar

Hayashi H, Huang P, Kirakosyan A, Inoue K, Hiraoka N, Ikeshiro Y, Kushiro T, Shibuya M, Ebizuka Y (2001) Cloning and characterization of a cDNA encoding beta-amyrin synthase involved in glycyrrhizin and soyasaponin biosyntheses in licorice. Biol Pharm Bull 24(8):912–916

PubMed

CrossRef

Google Scholar

Hayashi H, Hattori S, Inoue K, Khodzhimatov O, Ashurmetov O, Ito M, Honda G (2003a) Field survey of

Glycyrrhiza

plants in Central Asia (3). Chemical characterization of

G. glabra

collected in Uzbekistan. Chem Pharm Bull 51(11):1338–1340

PubMed

CrossRef

Google Scholar

Hayashi H, Hattori S, Inoue K, Sarsenbaev K, Ito M, Honda G (2003b) Field survey of

Glycyrrhiza

plants in central Asia (1). Characterization of

G. uralensis

,

G. glabra

and the putative intermediate collected in Kazakhstan. Biol Pharm Bull 26(6):867–871

Google Scholar

Hayashi H, Huang P, Inoue K (2003c) Up-regulation of soyasaponin biosynthesis by methyl jasmonate in cultured cells of

Glycyrrhiza glabra

. Plant Cell Physiol 44(4):401–411

CrossRef

Google Scholar

Hayashi H, Huang P, Takada S, Obinata M, Inoue K, Shibuya M, Ebizuka Y (2004) Differential expression of three oxidosqualene cyclase mRNAs in

Glycyrrhiza glabra

. Biol Pharm Bull 27(7):1086–1092

PubMed

CrossRef

Google Scholar

Hayashi H, Hiraoka N, Ikeshiro Y (2005) Differential regulation of soyasaponin and betulinic acid production by yeast extract in cultured licorice cells. Plant Biotechnol 22(3):241–244

CrossRef

Google Scholar

Heidemann HT, Kreuzfelder E (1983) Hypokalemic rhabdomyolysis with myoglobinuria due to licorice ingestion and diuretic treatment. Kline Wochenschr 61(6):303–305

CrossRef

Google Scholar

Heikens J, Fliers E, Endert E, Ackermans M, van Montfrans G (1995) Liquorice-induced hypertension-a new understanding of an old disease: case report and brief review. A Neth J Med 47(5):230–234

PubMed

CrossRef

Google Scholar

Helmy WA, El-Kheir ZAA, AbdelHady MS, El-Hameid ARA (2013) Biological activities of aqueous extracts and their sulfated derivatives from licorice (

Glycyrrhiza glabra

L.). J Appl Res 9(6):3638–3645

Google Scholar

Hendricks JM, Hoffman C, Pascual DW, Hardy ME (2012) 18β-glycyrrhetinic acid delivered orally induces isolated lymphoid follicle maturation at the intestinal mucosa and attenuates rotavirus shedding. PLoS One 7(11), e49491

PubMedCentral

PubMed

CrossRef

Google Scholar

Hill AF (1952) Economic botany, 2nd edn. McGraw-Hill Book Co., New York, 560 pp

Google Scholar

Hocaoglu AB, Karaman O, Erge DO, Erbil G, Yilmaz O, Bagriyanik A, Uzuner N (2011) Glycyrrhizin and long-term histopathologic changes in a murine model of asthma. Curr Ther Res 72(6):250–261

PubMedCentral

PubMed

CrossRef

Google Scholar

Honda K, Kamisoyama H, Tominaga Y, Yokota S, Hasegawa S (2009) The molecular mechanism underlying the reduction in abdominal fat accumulation by licorice flavonoid oil in high fat diet-induced obese rats. Anim Sci J 80(5):562–569

PubMed

CrossRef

Google Scholar

Honda H, Nagai Y, Matsunaga T, Saitoh S, Akashi-Takamura S, Hayashi H, Fujii I, Miyake K, Muraguchi A, Takatsu K (2012) Glycyrrhizin and isoliquiritigenin suppress the LPS sensor toll-like receptor 4/MD-2 complex signaling in a different manner. J Leukoc Biol 91(6):967–976

PubMed

CrossRef

Google Scholar

Honda H, Nagai Y, Matsunaga T, Okamoto N, Watanabe Y, Tsuneyama K, Hayashi H, Fujii I, Ikutani M, Hirai Y, Muraguchi A, Takatsu K (2014) Isoliquiritigenin is a potent inhibitor of NLRP3 inflammasome activation and diet-induced adipose tissue inflammation. J Leukoc Biol 96(6):1087–1100

PubMed

CrossRef

Google Scholar

Hong YK, Wu HT, Ma T, Liu WJ, He XJ (2009) Effects of

Glycyrrhiza glabra

polysaccharides on immune and antioxidant activities in high-fat mice. Int J Biol Macromol 45(1):61–64

PubMed

CrossRef

Google Scholar

Hou YC, Lin SP, Chao PD (2012) Liquorice reduced cyclosporine bioavailability by activating P-glycoprotein and CYP 3A. Food Chem 135(4):2307–2312

PubMed

CrossRef

Google Scholar

Hsia SM, Yu CC, Shih YH, Chen MY, Wang TH, Huang YT, Shieh TM (2015) Isoliquiritigenin causes DNA damage and inhibits ATM expression leading to G2/M phase arrest and apoptosis in oral squamous cell carcinoma. Head Neck doi: 10.1002/hed.24001. (in press)

Google Scholar

Hu CH, He J, Eckert R, Wu XY, Li LN, Tian Y, Lux R, Shuffer JA, Gelman F, Mentes J, Spackman S, Bauer J, Anderson MH, Shi WY (2011) Development and evaluation of a safe and effective sugar-free herbal lollipop that kills cavity-causing bacteria. Int J Oral Sci 3(1):13–20

PubMedCentral

PubMed

CrossRef

Google Scholar

Hua H, Liang ZF, Li WW, Meng YM, Li X, Zhang ZJ, Lu CL, Meng JJ, Shan FP (2012) Phenotypic and functional maturation of murine dendritic cells (DCs) induced by purified glycyrrhizin (GL). Int Immunopharmacol 12(3):518–525

PubMed

CrossRef

Google Scholar

Huang RY, Chu YL, Huang QC, Chen XM, Jiang ZB, Zhang X, Zeng X (2014) 18β-Glycyrrhetinic acid suppresses cell proliferation through inhibiting thromboxane synthase in non-small cell lung cancer. PLoS One 9(4), e93690

PubMedCentral

PubMed

CrossRef

Google Scholar

Hughes J, Sellick S, King R, Robbé IJ (2003) Re: "preterm birth and licorice consumption during pregnancy". Am J Epidemiol 158(2):190–191

PubMed

CrossRef

Google Scholar

Hwang IK, Lim SS, Choi KH, Yoo KY, Shin HK, Kim EJ, Yoon-Park JH, Kang TC, Kim YS, Kwon DY, Kim DW, Moon WK, Won MH (2006) Neuroprotective effects of roasted licorice, not raw form, on neuronal injury in gerbil hippocampus after transient forebrain ischemia. Acta Pharmacol Sin 27(8):959–965

PubMed

CrossRef

Google Scholar

Iida K, Uematsu Y, Suzuki K, Yasuno T, Hirata K, Ito K (2007) Properties of commercial licorice extracts used as a food additive. Shokuhin Eiseigaku Zasshi 48(4):112–117 (In Japanese)

PubMed

CrossRef

Google Scholar

Ikeda K (2007) Glycyrrhizin injection therapy prevents hepatocellular carcinogenesis in patients with interferon‐resistant active chronic hepatitis C. Hepatol Res 37(s2):S287–S293

PubMed

CrossRef

Google Scholar

Ikeda K, Arase Y, Kobayashi M, Saitoh S, Someya T, Hosaka T, Sezaki H, Akuta N, Suzuki Y, Suzuki F, Kumada H (2006) A long-term glycyrrhizin injection therapy reduces hepatocellular carcinogenesis rate in patients with interferon-resistant active chronic hepatitis C: a cohort study of 1249 patients. Dig Dis Sci 51(3):603–609

PubMed

CrossRef

Google Scholar

Ingham JL (1977) An isoflavan phytoalexin from leaves of

Glycyrrhiza glabra

. Phytochemistry 16(9):1457–1458

CrossRef

Google Scholar

Irani M, Sarmadi M, Bernard F, Ebrahimi Pour GH, Shaker Bazarnov H (2010) Leaves antimicrobial activity of

Glycyrrhiza glabra

L. Iran J Pharm Res 9(4):425–428

PubMedCentral

PubMed

Google Scholar

Isbrucker RA, Burdock GA (2006) Risk and safety assessment on the consumption of Licorice root (

Glycyrrhiza

sp.), its extract and powder as a food ingredient, with emphasis on the pharmacology and toxicology of glycyrrhizin. Regul Toxicol Pharmacol 46(3):167–192

PubMed

CrossRef

Google Scholar

Ishiguchi T, Mikita N, Iwata T, Nakata H, Sato H, Higashimoto Y, Fujimoto H, Yoshida S, Itoh H (2004) Myoclonus and metabolic alkalosis from licorice in antacid. Intern Med 43(1):59–62

PubMed

CrossRef

Google Scholar

Ishikawa S, Kato M, Tokuda T, Momoi H, Sekijima Y, Higuchi M, Yanagisawa N (1999) Licorice-induced hypokalemic myopathy and hypokalemic renal tubular damage in anorexia nervosa. Int J Eat Disord 26(1):111–114

PubMed

CrossRef

Google Scholar

Ito M, Nakashima H, Baba M, Pauwels R, De Clercq E, Shigeta S, Yamamoto N (1987) Inhibitory effect of glycyrrhizin on the in vitro infectivity and cytopathic activity of the human immunodeficiency virus [HIV (HTLV-III/LAV)]. Antiviral Res 7(3):127–137

PubMed

CrossRef

Google Scholar

Ito M, Sato A, Hirabayashi K, Tanabe F, Shigeta S, Baba M, De Clercq E, Nakashima H, Yamamoto N (1988) Mechanism of inhibitory effect of glycyrrhizin on replication of human immunodeficiency virus (HIV). Antiviral Res 10(6):289–298

PubMed

CrossRef

Google Scholar

Ito C, Oi N, Hashimoto T, Nakabayashi H, Aoki F, Tominaga Y, Yokota S, Hosoe K, Kanazawa K (2007) Absorption of dietary licorice isoflavan glabridin to blood circulation in rats. J Nutr Sci Vitaminol (Tokyo) 53(4):358–365

CrossRef

Google Scholar

Jackson KM, DeLeon M, Verret CR, Harris WB (2002) Dibenzoylmethane induces cell cycle deregulation in human prostate cancer cells. Cancer Lett 178(2):161–165

PubMed

CrossRef

Google Scholar

Jain E, Pandey RK, Khanna R (2013) Liquorice root extracts as potent cariostatic agents in pediatric practice. J Indian Soc Pedod Prev Dent 231:146–152

Google Scholar

Jeong HG, You HJ, Park SJ, Moon AR, Chung YC, Kang SK, Chun HK (2002) Hepatoprotective effects of 18beta-glycyrrhetinic acid on carbon tetrachloride-induced liver injury: inhibition of cytochrome P450 2E1 expression. Pharmacol Res 46(3):221–227

PubMed

CrossRef

Google Scholar

Jhanji V, Liu HM, Law K, Lee VYW, Huang SH, Pang CP, Yam HHF (2011) Isoliquiritigenin from licorice root suppressed neovascularisation in experimental ocular angiogenesis models. Br J Ophthalmol 95:1309–1315

PubMed

CrossRef

Google Scholar

Jin SX, Fu SS, Han J, Jin SY, Lv QY, Lu Y, Qi JP, Wu W, Yuan HL (2012) Improvement of oral bioavailability of glycyrrhizin by sodium deoxycholate/phospholipid-mixed nanomicelles. J Drug Target 20(7):615–622

PubMed

CrossRef

Google Scholar

Jirawattanapong W, Saifah E, Patarapanich C (2009) Synthesis of glabridin derivatives as tyrosinase inhibitors. Arch Pharm Res 32(5):647–654

PubMed

CrossRef

Google Scholar

Johns C (2009) Glycyrrhizic acid toxicity caused by consumption of licorice candy cigars. Can J Emer Med 11:94–96

Google Scholar

Jung GD, Yang JY, Song ES, Par JW (2001) Stimulation of melanogenesis by glycyrrhizin in B16 melanoma cells. Exp Mol Med 33(3):131–135

PubMed

CrossRef

Google Scholar

Kageyama Y (1992) A case of pseudoaldosteronism induced by glycyrrhizin. Nihon Jinzo Gakkai Shi 34(1):99–102

PubMed

Google Scholar

Kageyama K, Watanobe H, Nishie M, Imamura K, Suda T (1997) A case of pseudoaldosteronism induced by a mouth refresher containing licorice. Endocr J 44(4):631–632

PubMed

CrossRef

Google Scholar

Kalaiarasi P, Kaviarasan K, Pugalendi KV (2009) Hypolipidemic activity of 18β-glycyrrhetinic acid on streptozotocin-induced diabetic rats. Eur J Pharmacol 612(1-3):93–97

PubMed

CrossRef

Google Scholar

Kalani K, Agarwal J, Alam S, Khan F, Pal A, Srivastava SK (2013a) In silico and in vivo anti-malarial studies of 18β glycyrrhetinic acid from

Glycyrrhiza glabra

. PLoS One 8(9), e74761

PubMedCentral

PubMed

CrossRef

Google Scholar

Kalani K, Kushwaha V, Verma R, Murthy PK, Srivastava SK (2013b) Glycyrrhetinic acid and its analogs: a new class of antifilarial agents. Bioorg Med Chem Lett 23(9):2566–2570

PubMed

CrossRef

Google Scholar

Kamalak A (2006) Determination of nutritive value of leaves of a native grown shrub,

Glycyrrhiza glabra

L. using in vitro and in situ measurements. Small Ruminant Res 64(3):268–278

CrossRef

Google Scholar

Kameoka H, Nakai K (1987) Components of the essential oil from the root of

Glycyrrhiza glabra

. Nippon Nogeikagaku Kaishi 61(9):1119–1121

CrossRef

Google Scholar

Kanazawa M, Satomi Y, Mizutani Y, Ukimura O, Kawauchi A, Sakai T, Baba M, Okuyama T, Nishino H, Miki T (2003) Isoliquiritigenin inhibits the growth of prostate cancer. Eur Urol 43(5):580–586

PubMed

CrossRef

Google Scholar

Kang SW, Choi JS, Choi YJ, Bae JY, Li J, Kim DS, Kim JL, Shin SY, Lee YJ, Kwun IS, Kang YH (2010) Licorice isoliquiritigenin dampens angiogenic activity via inhibition of MAPK-responsive signaling pathways leading to induction of matrix metalloproteinases. J Nutr Biochem 21(1):55–65

PubMed

CrossRef

Google Scholar

Kao TC, Shyu MH, Yen GC (2009) Neuroprotective effects of glycyrrhizic acid and 18beta-glycyrrhetinic acid in PC12 cells via modulation of the PI3K/Akt pathway. J Agric Food Chem 57(2):754–761

PubMed

CrossRef

Google Scholar

Kao TC, Shyu MH, Yen GC (2010) Glycyrrhizic acid and 18beta-glycyrrhetinic acid inhibit inflammation via PI3K/Akt/GSK3beta signaling and glucocorticoid receptor activation. J Agric Food Chem 58(15):8623–8629

PubMed

CrossRef

Google Scholar

Kashiwada Y, Hashimoto F, Cosentino LM, Chen CH, Garrett PE, Lee KH (1996) Betulinic acid and dihydrobetulinic acid derivatives as potent anti-HIV agents. J Med Chem 39:1016–1017

PubMed

CrossRef

Google Scholar

Kato H, Kanaoka M, Yano S, Kobayashi M (1995) 3-Monoglucuronyl-glycyrrhetinic acid is a major metabolite that causes licorice-induced pseudoaldosteronism. J Clin Endocrinol Metab 80(6):1929–1933

PubMed

Google Scholar

Kattaev NS, Nikonov GK (1972) Glabranin, a new flavanone from

Glycyrrhiza glabra

. Chem Nat Comp 8(6):790–791

CrossRef

Google Scholar

Kattaev NS, Nikonov GK (1974) Flavonoids of

Glycyrrhiza glabra

. Chem Nat Comp 10(1):94–95

CrossRef

Google Scholar

Kaur P, Kaur S, Kumar N, Singh B, Kumar S (2009) Evaluation of antigenotoxic activity of isoliquiritin apioside from

Glycyrrhiza glabra

L. Toxicol In Vitro 23(4):680–686

PubMed

CrossRef

Google Scholar

Kaur P, Kumar M, Singh B, Kumar S, Kaur S (2012a) Amelioration of oxidative stress induced by oxidative mutagens and COX-2 inhibitory activity of umbelliferone isolated from

Glycyrrhiza glabr

a L. Asian Pac J Trop Biomed 2(1):S120–S126

CrossRef

Google Scholar

Kaur P, Sharma N, Singh B, Kumar S, Kaur S (2012b) Modulation of genotoxicity of oxidative mutagens by glycyrrhizic acid from

Glycyrrhiza glabra

L. Pharmacogn Res 4(4):189–195

CrossRef

Google Scholar

Kawakami Z, Ikarashi Y, Kase Y (2010) Glycyrrhizin and its metabolite 18β-glycyrrhetinic acid in

Glycyrrhiza

, a constituent herb of yokukansan, ameliorate thiamine deficiency-induced dysfunction of glutamate transport in cultured rat cortical astrocytes. Eur J Pharmacol 626(2–3):154–158

PubMed

CrossRef

Google Scholar

Kent UM, Aviram M, Rosenblat M, Hollenberg PF (2002) The licorice root-derived isoflavan glabridin inhibits the activities of human cytochrome P450s 3A4, 2B6, and 2C9. Drug Metab Dispos 30(6):709–715

PubMed

CrossRef

Google Scholar

Khalaf I, Vlase L, Lazar D, Corciovă A, Ivănescu B, Lazăr D (2010) HPLC-MS study of phytoestrogens from

Glycyrrhiza glabr

a. Farmacia 58(1):89–94

Google Scholar

Khalaf I, Corciovă A, Vlase L, Ivănescu B, Lazăr D (2011) LC/MS anlayis of sterolic compounds from

Glycyrrhiza glabra

. Studia Univ Babes-Bolyai Chem 56(3):97–102

Google Scholar

Khalaf I, Vlase L, Lazar D, Ivănescu B, Lazăr D, Corciovă A (2012) HPLC analysis of polyphenolic compounds, phytoestrogens and sterols from

Glycyrrhiza glabra

L. tincture. Studia Univ Babes-Bolyai Chem 57(2):113–118

Google Scholar

Khanom F, Kayahara H, Tadasa K (2000) Tyrosinase inhibitory activity of Bangladeshi indigenous medicinal plants. Biosci Biotechnol Biochem 64(9):1967–1969

PubMed

CrossRef

Google Scholar

Khattak KF, Simpson TJ (2010) Effect of gamma irradiation on the antimicrobial and free radical scavenging activities of

Glycyrrhiza glabra

root. Radiat Phys Chem 79(4):507–512

CrossRef

Google Scholar

Khor TO, Yu S, Barve A, Hao X, Hong JL, Lin W, Foster B, Huang MT, Newmark HL, Kong AN (2009) Dietary feeding of dibenzoylmethane inhibits prostate cancer in transgenic adenocarcinoma of the mouse prostate model. Cancer Res 69(17):7096–7102

PubMed

CrossRef

Google Scholar

Kim DH, Jang IS, Lee HK, Jung EA, Lee KY (1996) Metabolism of glycyrrhizin and baicalin by human intestinal bacteria. Arch Pharm Res 19(4):292–296

CrossRef

Google Scholar

Kim DH, Lee SW, Han MJ (1999) Biotransformation of glycyrrhizin to 18beta-glycyrrhetinic acid-3-O-beta-D-glucuronide by

Streptococcu

s LJ-22, a human intestinal bacterium. Biol Pharm Bull 22(3):320–322

PubMed

CrossRef

Google Scholar

Kim SC, Byun SH, Yang CH, Kim CY, Kim JW, Kim SG (2004) Cytoprotective effects of Glycyrrhizae radix extract and its active component liquiritigenin against cadmium-induced toxicity (effects on bad translocation and cytochrome c-mediated PARP cleavage). Toxicology 197(3):239–251

PubMed

CrossRef

Google Scholar

Kim YW, Ki SH, Lee JR, Lee SJ, Kim CW, Kim SC, Kim SG (2006) Liquiritigenin, an aglycone of liquiritin in Glycyrrhizae radix, prevents acute liver injuries in rats induced by acetaminophen with or without buthionine sulfoximine. Chem Biol Interact 61(2):125–138

CrossRef

Google Scholar

Kim JY, Park SJ, Yun KJ, Cho YW, Park HJ, Lee KT (2008a) Isoliquiritigenin isolated from the roots of

Glycyrrhiza uralensis

inhibits LPS-induced iNOS and COX-2 expression via the attenuation of NF-kappaB in RAW 264.7 macrophages. Eur J Pharmacol 584(1):175–184

PubMed

CrossRef

Google Scholar

Kim YW, Zhao RJ, Park SJ, Lee JR, Cho IJ, Yang CH, Kim SJ, Kim SC (2008b) Antiinflammatory effects of liquiritigenin as a consequence of the inhibition of NF-kappaB dependent iNOS and pro inflammatory cytokines production. Br J Pharmacol 154(1):165–173

PubMedCentral

PubMed

CrossRef

Google Scholar

Kim YW, Kang HE, Lee MG, Hwang SJ, Kim SC, Lee CH, Kim SG (2009) Liquiritigenin, a flavonoid aglycone from licorice, has a choleretic effect and the ability to induce hepatic transporters and phase-II enzymes. Am J Physiol Gastrointest Liver Physiol 296(2):G372–G381

PubMed

CrossRef

Google Scholar

Kim YM, Kim TH, Kim YW, Yang YM, Ryu DH, Hwang SJ, Lee JR, Kim SC, Kim SG (2010) Inhibition of liver X receptor-α-dependent hepatic steatosis by isoliquiritigenin, a licorice antioxidant flavonoid, as mediated by JNK1 inhibition. Free Rad Biol Med 49(11):1722–1734

PubMed

CrossRef

Google Scholar

Kim SW, Jin YC, Shin JH, Kim ID, Lee HK, Park SH, Han PYL, Lee JK (2012) Glycyrrhizic acid affords robust neuroprotection in the postischemic brain via anti-inflammatory effect by inhibiting HMGB1 phosphorylation and secretion. Neurobiol Dis 46(1):147–156

PubMed

CrossRef

Google Scholar

Kim HS, Suh KS, Ko A, Sul D, Choi D, Lee SK, Jung WW (2013) The flavonoid glabridin attenuates 2-deoxy-D-ribose-induced oxidative damage and cellular dysfunction in MC3T3-E1 osteoblastic cells. Int J Mol Med 31(1):243–251

PubMed

Google Scholar

Kim JS, Park MR, Lee SY, Kim DK, Moon SM, Kim CS, Cho SS, Yoon G, Im HJ, You JS, Oh JS, Kim SG (2014a) Licochalcone A induces apoptosis in KB human oral cancer cells via a caspase-dependent FasL signaling pathway. Oncol Rep 31(2):755–762

PubMedCentral

PubMed

Google Scholar

Kim SJ, Kwon SS, Jeon SH, Yu ER, Park SN (2014b) Enhanced skin delivery of liquiritigenin and liquiritin-loaded liposome-in-hydrogel complex system. Int J Cosmet Sci 36(6):553–560

PubMed

CrossRef

Google Scholar

Kim SH, Yang M, Xu JG, Yu X, Qian XJ (2015) Role of licochalcone A on thymic stromal lymphopoietin expression: implications for asthma. Exp Biol Med (Maywood) 240(1):26–33

CrossRef

Google Scholar

Kinoshita T, Saitoh T, Shibata S (1978) A new 3 arylcoumarin from licorice root. Chem Pharm Bull 26(1):135–140

CrossRef

Google Scholar

Kinoshita T, Kajiyama K, Hiraga Y, Takahashi K, Tamura Y, Mizutani K (1996a) Isoflavan derivatives from

Glycyrrhiza glabr

a (licorice). Heterocyles 43:581–588

CrossRef

Google Scholar

Kinoshita T, Kajiyama K, Hiraga Y, Takahashi K, Tamura Y, Mizutani K (1996b) The isolation of new pyrano-2-arylbenzofuran derivatives from the root of

Glycyrrhiza glabra

. Chem Pharm Bull 44(6):1218–1221

CrossRef

Google Scholar

Kinoshita T, Tamura Y, Mizutani K (1997) Isolation and synthesis of two new 3-arylcoumarin derivatives from the root of

Glycyrrhiza glabra

(licorice), and structure revision of an antioxidant isoflavonoid glabrene. Nat Prod Res 9(4):289–296

Google Scholar

Kinoshita T, Tamura Y, Mizutani K (2005) The isolation and structure elucidation of minor isoflavonoids from licorice of

Glycyrrhiza glabra

origin. Chem Pharm Bull 53(7):847–849

PubMed

CrossRef

Google Scholar

Kir'yalov NP, Murav'ev IA, Stepanova EF, Bogatkina VF (1970) Triterpene compounds of the herbage of

Glycyrrhiza glabra

. Chem Nat Comp 6(6):787–787

CrossRef

Google Scholar

Kiss T, Gyémánt G, Dános B, Nánási P (1998) Polysaccharides of

Glycyrrhiza glabra

L. and

Glycyrrhiza echinata

L. Medicinal plants II. Acta Pharm Hung 68(5):263–268 (In Hungarian)

PubMed

Google Scholar

Kitagawa K, Nishino H, Iwashima A (1984) Inhibition of 12-O-tetradecanoylphorbol-13-acetate-stimulated 3-O-methyl-glucose transport in mouse Swiss 3T3 fibroblasts by glycyrrhetic acid. Cancer Lett 24(2):157–163

PubMed

CrossRef

Google Scholar

Kitagawa K, Nishino H, Iwashima A (1986) Inhibition of the specific binding of 12-O-tetradecanoylphorbol-13-acetate to mouse epidermal membrane fractions by glycyrrhetic acid. Oncology 43(2):127–130

PubMed

CrossRef

Google Scholar

Kitagawa I, Chen WZ, Hori K, Harada E, Yasuda N, Yoshikawa M, Ren J (1994) Chemical studies of Chinese licorice-roots. I. Elucidation of five new flavonoid constituents from the roots of

Glycyrrhiza glabra

L. collected in Xinjiang. Chem Pharm Bull 42(5):1056–1062

PubMed

CrossRef

Google Scholar

Kobayashi S, Miyamoto T, Kimura I, Kimura M (1995) Inhibitory effect of isoliquiritin, a compound in licorice root, on angiogenesis in vivo and tube formation in vitro. Biol Pharm Bull 18(10):1382–1386

PubMed

CrossRef

Google Scholar

Kolbe L, Immeyer J, Batzer J, Wensorra U, tom Dieck K, Mundt C, Wolber R, Stäb F, Schönrock U, Ceilley RI, Wenck H (2006) Anti-inflammatory efficacy of Licochalcone A: correlation of clinical potency and in vitro effects. Arch Dermatol Res 298(1):23–30

PubMed

CrossRef

Google Scholar

Kondo M, Minamino H, Okuyama G, Honda K, Nagasawa H, Otani Y (1986) Physicochemical properties and applications of α and β-glycyrrhizins, natural surface active agents in licorice root extract. J Soc Cosmet Chem 37:177–189

Google Scholar

Kondo K, Shiba M, Nakamura R, Morota T, Shoyama Y (2007) Constituent properties of licorices derived from G

lycyrrhiza uralensis

,

G. glabra

, or

G. inflata

identified by genetic information. Boil Pharm Bull 30(7):1271–1277

CrossRef

Google Scholar

Krähenbühl S, Hasler F, Krap R (1994) Analysis and pharmacokinetics of glycyrrhizic acid and glycyrrhetinic acid in humans and experimental animals. Steroids 59(2):121–126

PubMed

CrossRef

Google Scholar

Kratschmar DV, Vuorinen A, Da Cunha T, Wolber G, Classen-Houben D, Doblhoff O, Schuster D, Odermatt A (2011) Characterization of activity and binding mode of glycyrrhetinic acid derivatives inhibiting 11β-hydroxysteroid dehydrogenase type 2. J Steroid Biochem Mol Biol 125(1–2):129–142

PubMed

CrossRef

Google Scholar

Krausse R, Bielenberg J, Blaschek W, Ullmann U (2004) In vitro anti-

Helicobacter pylori

activity of extractum liquiritiae, glycyrrhizin and its metabolites. J Antimicrob Chemother 54(1):243–246

PubMed

CrossRef

Google Scholar

Kroes BH, Beukelman CJ, van den Berg AJ, Wolbink GJ, van Dijk H, Labadie RP (1997) Inhibition of human complement by beta-glycyrrhetinic acid. Immunology 90(1):115–120

PubMedCentral

PubMed

CrossRef

Google Scholar

Kumada H (2002) Long-term treatment of chronic hepatitis C with glycyrrhzin [Stronger Neo-Minophagen C (SNMC)] for preventing liver cirrhosis and hepatocellular carcinoma. Oncology 62(S1):94–100

PubMed

CrossRef

Google Scholar

Kuo S, Shankel DM, Telikepalli H, Mitscher LA (1992)

Glycyrrhiza glabra

extract as an effector of interception in

Escherichia coli

K12+. Mut Res Lett 282(2):93–98

CrossRef

Google Scholar

Kuriyama Y, Takano T, Okada F, Nukada T (1975) Hypersensitivity to glycyrrhizin. A case report. Med J Osaka Univ 26:75–78

PubMed

Google Scholar

Kuroda M, Mimaki Y, Honda S, Tanaka H, Yokota S, Mae T (2010) Phenolics from

Glycyrrhiza glabra

roots and their PPAR-γ ligand-binding activity. Bioorg Med Chem 18(2):962–970

PubMed

CrossRef

Google Scholar

Kuroda N, Inoue K, Ikeda T, Hara Y, Waka K, Sato T (2014) Apoptotic response through a High Mobility Box 1 protein-dependent mechanism in LPS/GalN-induced mouse liver failure and glycyrrhizin-mediated inhibition. PLoS One 9(4), e92884

PubMedCentral

PubMed

CrossRef

Google Scholar

Kusano A, Nikaido T, Kuge T, Ohmoto T, Monache G, Botta B, Botta M, Saitoh T (1991) Inhibition of adenosine 3′,5′ -cyclic monophosphate phosphodiesterase by flavonoids from licorice roots and 4-arylcoumarins. Chem Pharm Bull 39(4):930–933

PubMed

CrossRef

Google Scholar

Kusano G, Shibano M, Watanabe H, Ozaki K (2003) Pharmaceutical botanical studies on some

Glycyrrhiza

species. Yakugaku Zasshi 123(8):619–631 (In Japanese)

PubMed

CrossRef

Google Scholar

Kwon HM, Choi YJ, Choi JS, Kang SW, Bae JY, Kang IJ, Jun JG, Lee SS, Lim SS, Kang YH (2007) Blockade of cytokine-induced endothelial cell adhesion molecule expression by licorice isoliquiritigenin through NF-kappaB signal disruption. Exp Biol Med (Maywood) 232(2):235–245

Google Scholar

Kwon GT, Cho HJ, Chung WY, Park KK, Moon A, Park JH (2009) Isoliquiritigenin inhibits migration and invasion of prostate cancer cells: possible mediation by decreased JNK/AP-1 signaling. J Nutr Biochem 20(9):663–676

PubMed

CrossRef

Google Scholar

Laconi S, Madeddu MA, Pompei R (2014) Autophagy activation and antiviral activity by a licorice triterpene. Phytother Res 28(12):1890–1892

PubMed

CrossRef

Google Scholar

Larkworthy W, Holgate PF (1975) Deglycyrrhizinized liquorice in the treatment of chronic duodenal ulcer. A retrospective endoscopic survey of 32 patients. Practitioner 215(1290):787–792

PubMed

Google Scholar

Lateef M, Iqbal L, Fatima N, Siddiqui K, Afza N, Zia-ul-Haq M, Ahmad M (2012) Evaluation of antioxidant and urease inhibition activities of roots of

Glycyrrhiza glabra

. Pak J Pharm Sci 25(1):99–102

PubMed

Google Scholar

Latif S, Conca T, Morris D (1990) The effects of the licorice derivative, glycyrrhetinic acid, on hepatic 3 alpha- and 3 beta-hydroxysteroid dehydrogenases and 5 alpha- and 5 beta-reductase pathways of metabolism of aldosterone in male rats. Steroids 55:52–58

PubMed

CrossRef

Google Scholar

Launert E (1981) Edible and medicinal plants. Hamlyn, London

Google Scholar

Lee CK, Kk P, Lim SS, Park JH, Chung WY (2007) Effects of the licorice extract against tumor growth and cisplatin-induced toxicity in a mouse xenograft model of colon cancer. Bio Pharm Bull 30(11):2191–2195

CrossRef

Google Scholar

Leskinen MH, Hautaniemi EJ, Tahvanainen AM, Koskela JK, Päällysaho M, Tikkakoski AJ, Kähönen M, Kööbi T, Niemelä O, Mustonen J, Pörsti IH (2014) Daily liquorice consumption for two weeks increases augmentation index and central systolic and diastolic blood pressure. PLoS One 9(8), e105607

PubMedCentral

PubMed

CrossRef

Google Scholar

Li W, Asada Y, Yoshikawa T (1998) Antimicrobial flavonoids from

Glycyrrhiza glabra

hairy root cultures. Planta Med 64(8):746–747

PubMed

CrossRef

Google Scholar

Li W, Asada Y, Yoshikawa T (2000) Flavonoid constituents from

Glycyrrhiza glabra

hairy root cultures. Phytochemistry 55(5):447–456

PubMed

CrossRef

Google Scholar

Li DF, Wang ZH, Chen HM, Wang JY, Zheng QS, Shang J, Li J (2009) Isoliquiritigenin induces monocytic differentiation of HL-60 cells. Free Rad Biol Med 46(6):731–736

PubMed

CrossRef

Google Scholar

Li HY, Xu W, Su J, Zhang X, Hu LW, Zhang WD (2010) In vitro and in vivo Inhibitory effects of glycyrrhetinic acid on cytochrome P450 3A activity. Pharmacology 86(5–6):287–292

PubMed

CrossRef

Google Scholar

Li Y, Zhao HX, Wang YZ, Zheng H, Yu W, Chai HY, Zhang J, Falck JR, Guo AM, Yue J, Peng RX, Yang J (2013) Isoliquiritigenin induces growth inhibition and apoptosis through downregulating arachidonic acid metabolic network and the deactivation of PI3K/Akt in human breast cancer. Toxicol Appl Pharmacol 272(1):37–48

PubMed

CrossRef

Google Scholar

Li JY, Cao HY, Liu P, Cheng GH, Sun MY (2014) Glycyrrhizic acid in the treatment of liver diseases: literature review. Biomed Res Int 2014:872139

PubMedCentral

PubMed

Google Scholar

Liao WC, Lin YH, Chang TM, Huang WY (2012) Identification of two licorice species,

Glycyrrhiza uralensis

and

Glycyrrhiza glabra

, based on separation and identification of their bioactive components. Food Chem 132(4):2188–2193

CrossRef

Google Scholar

Liao YF, Tzeng YM, Hung HC, Liu GY (2015) Dibenzoylmethane, hydroxydibenzoylmethane and hydroxymethyldibenzoylmethane inhibit phorbol-12-myristate 13-acetate-induced breast carcinoma cell invasion. Mol Med Rep 11(6):4597-4604.

Google Scholar

Lin JC (2003) Mechanism of action of glycyrrhizic acid in inhibition of Epstein-Barr virus replication in vitro. Antiviral Res 59(1):41–47

PubMed

CrossRef

Google Scholar

Lin SH, Yang SS, Chau T, Halperin ML (2003) An unusual cause of hypokalemic paralysis: chronic licorice ingestion. Am J Med Sci 325(3):153–156

PubMed

CrossRef

Google Scholar

Lin SP, Tsai SY, Hou YC, Chao PD (2009) Glycyrrhizin and licorice significantly affect the pharmacokinetics of methotrexate in rats. J Agric Food Chem 57(5):1854–1859

PubMed

CrossRef

Google Scholar

Litvinenko VI (1964) Chalcone glycosides from

Glycyrrhiza glabra

L. Dokl Akad Nauk SSSR155:600-2 (In Russian)

Google Scholar

Litvinenko VI (1966) Glyphoside, a new flavonoid glycoside obtained from

Glycyrrhiza glabra

. Rast Resur 2:531–536 (In Russian)

Google Scholar

Litvinenko VI, Kovalev IP (1967) Glycoflavonoids of

Glycyrrhiza glabra

I. Saponaretin and vitexin. Chem Nat Comp 3(1):47–48

CrossRef

Google Scholar

Litvinenko VI, Nadezhina TP (1972) Flavonoids from the aboveground part of

Glycyrrhiza glabra

. Rastit Resur 8(1):35–42 (In Russian)

Google Scholar

Litvinenko VI, Obolentseva GV (1964) Chemical and pharmacological investigation of flavonoids from licorice

Glycyrrhiza glabra

L. and

Glycyrrhiza uralensis

Fisch. Med Prom SSSR 18:20–23 (In Russian)

PubMed

Google Scholar

Litvinenko VI, Maksyutina NP, Kolesnikov IG (1963a) Flavonoid compounds of

Glycyrrhiza glabra

. Zhurn Obshchei Khimii (USSR) 33(1):296–299

Google Scholar

Litvinenko VI, Maksyutina NP, Kolesnikov IG (1963b) Flavonoidal compounds of

Glycyrrhiza glabra

. I. Flavonoid L-l. Zhurn Obshchei Khimii (USSR) 33(12):4014–4018

Google Scholar

Liu HM, Sugimoto N, Akiyama T, Maitani T (2000) Constituents and their sweetness of food additive enzymatically modified licorice extract. J Agric Food Chem 48(12):6044–6047

PubMed

CrossRef

Google Scholar

Liu RT, Zou LB, Fu JY, Lu QJ (2010a) Effects of liquiritigenin treatment on the learning and memory deficits induced by amyloid beta-peptide (25–35) in rats. Behav Brain Res 210(1):24–31

PubMed

CrossRef

Google Scholar

Liu RT, Zou LB, Fu JY, Lu QJ (2010b) Promotion of rat brain-derived progenitor cell neurogenesis by liquiritigenin treatment: underlying mechanisms. Neurosci Lett 481(3):139–143

PubMed

CrossRef

Google Scholar

Liu RT, Tang JT, Zou LB, Fu JY, Lu QJ (2011) Liquiritigenin attenuates the learning and memory deficits in an amyloid protein precursor transgenic mouse model and the underlying mechanisms. Eur J Pharmacol 669(1-3):76–83

PubMed

CrossRef

Google Scholar

Liu Y, Sirou X, Wang Y, Luo K, Wang Y, Cai Y (2012) Liquiritigenin inhibits tumor growth and vascularization in a mouse model of HeLa cells. Molecules 17(6):7206–7216

PubMed

CrossRef

Google Scholar

Liut HM, Akiyama T, Sugimoto N, Maitani T (2001) Isolation and identification of main constituents in an enzymatically hydrolysed licorice extract sweetener. Food Addit Contam 18(4):281–284

PubMed

CrossRef

Google Scholar

Lozano P, Flores D, Martínez S, Artigues I, Rimbau EM, Gómez F (2000) Upper limb ischemia induced by chronic licorice ingestion. J Cardiovasc Surg (Torino) 41(4):631–632

Google Scholar

Luchon L, Meyrier A, Paillard F (1993) Hypokalemia without arterial hypertension by licorice poisoning. Nephrologie 14(4):177–181 (In French)

PubMed

Google Scholar

Luo L, Jin YC, Kim ID, Lee JK (2014) Glycyrrhizin suppresses HMGB1 inductions in the hippocampus and subsequent accumulation in serum of a kainic acid-induced seizure mouse model. Cell Mol Neurobiol 34(7):987–997

PubMed

CrossRef

Google Scholar

M & F Worldwide Corp (2010) M & F Worldwide Corp. Annual report on Form 10-K for the Year Ended December 31, 2010

Google Scholar

Ma CH, Ma ZQ, Liao XL, Liu JP, Fu Q, Ma SP (2013) Immunoregulatory effects of glycyrrhizic acid exerts anti-asthmatic effects via modulation of Th1/Th2 cytokines and enhancement of CD4+CD25+Foxp3+ regulatory T cells in ovalbumin-sensitized mice. J Ethnopharmacol 148(3):755–762

PubMed

CrossRef

Google Scholar

Maatooq GT, Marzouk AM, Gray AI, Rosazza JP (2010) Bioactive microbial metabolites from glycyrrhetinic acid. Phytochemistry 71(2–3):262–270

PubMed

CrossRef

Google Scholar

Makino T, Okajima K, Uebayashi R, Ohtake N, Inoue K, Mizukami H (2012) 3-Monoglucuronyl-glycyrrhretinic acid is a substrate of organic anion transporters expressed in tubular epithelial cells and plays important roles in licorice-induced pseudoaldosteronism by inhibiting 11β-hydroxysteroid dehydrogenase 2. J Pharmacol Exp Ther 342(2):297–304

PubMed

CrossRef

Google Scholar

Malek Jafarian M, Ghazvini K (2007) In vitro susceptibility of

Helicobacter pylori

to licorice extract. Iran J Pharm Res 6:69–72

Google Scholar

Malekinejad H, Farshid AA, Mirzakhani N (2011a) Liquorice plant extract reduces ochratoxin A-induced nephrotoxicity in rats. Exp Toxicol Pathol 63(1–2):125–130

PubMed

CrossRef

Google Scholar

Malekinejad H, Mirzakhani N, Razi M, Cheraghi H, Alizadeh A (2011b) Protective effects of melatonin and

Glycyrrhiza glabra

extract on ochratoxin A—induced damages on testes in mature rats. Hum Exp Toxicol 30(2):110–123

PubMed

CrossRef

Google Scholar

Man SL, Wang J, Gao WY, Guo SB, Li YY, Zhang LM, Xiao PG (2013) Chemical analysis and anti-inflammatory comparison of the cell culture of

Glycyrrhiza

with its field cultivated variety. Food Chem 136(2):513–517

PubMed

CrossRef

Google Scholar

Mancia MD, Reid ME, DuBose ES, Campbell JA, Jackson KM (2014) Qualitative identification of dibenzoylmethane in licorice root (

Glycyrrhiza glabra

) using gas chromatography-triple quadrupole mass spectrometry. Nat Prod Commun 9(1):91–94

PubMed

Google Scholar

Manns MP, Wedemeyer H, Singer A, Khomutjanskaja N, Dienes HP, Roskams T, Goldin R, Hehnke Y, Inoue H, European SNMC Study Group (2012) Glycyrrhizin in patients who failed previous interferon alpha-based therapies: biochemical and histological effects after 52 weeks. J Viral Hepat 19(8):537–546

PubMedCentral

PubMed

CrossRef

Google Scholar

Martin MD, Sherman J, van der Ven P, Burgess J (2008) A controlled trial of a dissolving oral patch concerning glycyrrhiza (licorice) herbal extract for the treatment of aphthous ulcers. Gen Dent 56(2):206–210

PubMed

Google Scholar

Matsumoto Y, Matsuura T, Aoyagi H, Matsuda M, Hmwe SS, Date T, Watanabe N, Watashi K, Suzuki R, Ichoinpose S, Wake K, Suzuki T, Miyamura T, Wakita T, Aizaki H (2013) Antiviral activity of glycyrrhizin against hepatitis C virus in vitro. PLoS One 8(7), e68992

PubMedCentral

PubMed

CrossRef

Google Scholar

Mattarello MJ, Benedini S, Fiore C, Camozzi V, Sartorato P, Luisetto G, Armanini D (2006) Effect of licorice on PTH levels in healthy women. Steroids 71(5):403–408

PubMed

CrossRef

Google Scholar

Maurya SK, Raj K, Srivastava AK (2009) Antidyslipidaemic activity of

Glycyrrhiza glabra

in high fructose diet induced dsyslipidaemic Syrian golden hamsters. Indian J Clin Biochem 24(4):404–409

PubMedCentral

PubMed

CrossRef

Google Scholar

Mazumder PM, Pattnayak S, Parvani H, Sasmal D, Rathinavelusamy P (2012) Evaluation of immunomodulatory activity of

Glycyrrhiza glabra

L roots in combination with zinc. Asian Pac J Trop Biomed 2(1):S15–S20

Google Scholar

Meena AK, Singh A, Sharma K, Kumari S, Rao MM (2010) Physicochemical and preliminary phytochemical studies on the rhizomes of

Glycyrrhiza glabra

Linn. Int J Pharmacy Pharm Sci 2(2):48–50

Google Scholar

Mendes-Silva W, Assafim M, Ruta B, Monteiro RQ, Guimaraes JA, Zingali RB (2003) Antithrombotic effect of glycyrrhizin, a plant-derived thrombin inhibitor. Thromb Res 112(1–2):93–98

PubMed

CrossRef

Google Scholar

Menegazzi M, Di Paola R, Mazzon E, Genovese T, Crisafulli C, Dal Bosco M, Zou ZZ, Suzuki H, Cuzzocrea S (2008) Glycyrrhizin attenuates the development of carrageenan-induced lung injury in mice. Pharmacol Res 58(1):22–31

PubMed

CrossRef

Google Scholar

Meng FR, Liu R, Gao M, Wang YH, Yu XY, Xuan ZH, Sun JL, Yang F, Wu CF, Du GH (2011) Pinocembrin attenuates blood-brain barrier injury induced by global cerebral ischemia-reperfusion in rats. Brain Res 1391:93–101

PubMed

CrossRef

Google Scholar

Messier C, Grenier D (2011) Effect of licorice compounds licochalcone A, glabridin and glycyrrhizic acid on growth and virulence properties of

Candida albicans

. Mycoses 54(6):e801–e806

PubMed

CrossRef

Google Scholar

Messier C, Epifano F, Genovese S, Grenier D (2012) Licorice and its potential beneficial effects in common oro-dental diseases. Oral Dis 18(1):32–39

PubMed

CrossRef

Google Scholar

Methlie P, Husebye EES, Hustad S, Lien EA, Løvås K (2011) Grapefruit juice and licorice increase cortisol availability in patients with Addison's disease. Eur J Endocrinol 165(5):761–769

PubMed

CrossRef

Google Scholar

Michel HE, Tadros MG, Abdel-Naim AB, Khalifa AE (2013) Prepulse inhibition (PPI) disrupting effects of

Glycyrrhiza glabra

extract in mice: a possible role of monoamines. Neurosci Lett 544:110–114

PubMed

CrossRef

Google Scholar

Miething H, Speicher-Brinker A (1989) Neolicuroside a new chalcone glycoside from the roots of

Glycyrrhiza glabra

. Archiv Pharm (Weinheim, Ger) 322(3):141–143

CrossRef

Google Scholar

Minasian SM, Adamian TI, Gevorkian ES (2007) Changes of morphological indicators of blood from vibration and liquorice effect. Ross Fiziol Zh Im I M Sechenova 93(9):1035–1042 (In Russian)

PubMed

Google Scholar

Ming LG, Jin F, Huang P, Luo HL, Liu WJ, Zhang LL, Yuan W, Zhang YJ, Jin Y (2014) Licochalcone A up-regulates of FasL in mesenchymal stem cells to strengthen bone formation and increase bone mass. Sci Rep 4:7209

PubMedCentral

PubMed

CrossRef

Google Scholar

Mitscher LA, Park YH, Clark D, Beal JL (1980) Antimicrobial agents from higher plants. Antimicrobial isoflavanoids and related substances from

Glycyrrhiza glabra

L. var.

typica

. J Nat Prod 43(2):259–269

PubMed

CrossRef

Google Scholar

Mohammadi SZ, Hamidian H, Moeindini Z (2014) High surface area-activated carbon from

Glycyrrhiza glabra

residue by ZnCl2 activation for removal of Pb(II) and Ni(II) from water samples. J Ind Eng Chem 20(6):4112–4118

CrossRef

Google Scholar

Mohammadi-Moghadam F, Amin MM, Khiadani M, Momenbeik F, Nourmoradi H, Hatamipour MS (2013) Application of

Glycyrrhiza glabra

root as a novel adsorbent in the removal of toluene vapors: equilibrium, kinetic, and thermodynamic study. J Environ Public Health 2013:1–7

CrossRef

Google Scholar

Momeni A, Rahimian G, Kiasi A, Amiri M, Kheiri S (2014) Effect of licorice versus bismuth on eradication of

Helicobacter pylori

in patients with peptic ulcer disease. Pharmacogn Res 6(4):341–344

CrossRef

Google Scholar

Montoro P, Maldini M, Russo M, Postorino S, Piacente S, Pizza CJ (2011) Metabolic profiling of roots of liquorice (

Glycyrrhiza glabra

) from different geographical areas by ESI/MS/MS/ and determination of major metabolites by LC-ESI/MS and LC-ESI/MS/MS. J Pharm Biomed Anal 54(3):535–544

PubMed

CrossRef

Google Scholar

Moon A, Kim SH (1997) Effect of

Glycyrrhiza glabr

a roots and glycyrrhizin on the glucuronidation in rats. Planta Med 63(2):115–119

PubMed

CrossRef

Google Scholar

Morteza-Semnani K, Saeedi M, Shahnavaz B (2002) Comparison of antioxidant activity of extract from roots of licorice (

Glycyrrhiza glabra

L.) to commercial antioxidants in 2 % hydroquinone cream. J Cosmet Sci 54(6):551–558

Google Scholar

Motsei ML, Lindsey KL, van Staden J, Jäger AK (2003) Screening of traditionally used South African plants for antifungal activity against

Candida albicans

. J Ethnopharmacol 86(2–3):235–241

PubMed

CrossRef

Google Scholar

Mousa NA, Siaguru P, Wiryowidagdo S, Wagih ME (2007) Establishment of regenerative callus and cell suspension system of licorice (

Glycyrrhiza glabra

) for the production of the sweetener glycyrrhizin in vitro. Sugar Technol 9(1):72–82

CrossRef

Google Scholar

Mukherjee M, Bhaskaran N, Srinath R, Shivaprasad HN, Allan JJ, Shekhar D, Agarwal A (2010) Anti-ulcer and antioxidant activity of GutGard. Indian J Exp Biol 48(3):269–274

PubMed

Google Scholar

Mukhopadhyay M, Panja P (2008) A novel process for extraction of natural sweetener from licorice (

Glycyrrhiza glabra

) roots. Sep Purif Technol 63(3):539–545

CrossRef

Google Scholar

Muller B, Aparin PG, Stoclet JC, Kleschyov AL (2014) Glycyrrhetinic acid reverses the lipopolysaccharide-induced hypocontractility to noradrenaline in rat aorta: implications to septic shock. J Pharmacol Sci 125(4):422–425

PubMed

CrossRef

Google Scholar

Muralidharan P, Balamurugan G, Babu V (2009) Cerebroprotective effect of

Glycyrrhiza glabra

Linn. root extract. Bangladesh J Pharmacol 4(1):60–64

Google Scholar

Nagumo S, Fukuju A, Takayama M, Nagai M, Yanoshita R, Samejima Y (1999) Inhibition of lysoPAF acetyltransferase activity by components of licorice root. Biol Pharm Bull 22(10):1144–1146

PubMed

CrossRef

Google Scholar

Nakagawa K, Kishida H, Arai N, Nishiyama T, Mae T (2004) Licorice flavonoids suppress abdominal fat accumulation and increase in blood glucose level in obese diabetic KK-A(y) mice. Biol Pharm Bull 27(11):1775–1778

PubMed

CrossRef

Google Scholar

Nakagawa K, Hidaka T, Kitano M, Asakura M, Kamigaito T, Noguchi T, Hosoe K (2008a) Genotoxicity studies on licorice flavonoid oil (LFO). Food Chem Toxicol 46(7):2525–2532

PubMed

CrossRef

Google Scholar

Nakagawa K, Kitano M, Kishida H, Hidaka T, Nabae K, Kawabe M, Hosoe K (2008b) 90-Day repeated-dose toxicity study of licorice flavonoid oil (LFO) in rats. Food Chem Toxicol 46(7):2349–2357

PubMed

CrossRef

Google Scholar

Nakagiri R, Oda H, Kamiya T (2003) Small scale rat hepatocyte primary culture with applications for screening hepatoprotective substances. Biosci Biotechnol Biochem 67(8):1629–1635

PubMed

CrossRef

Google Scholar

Nam C, Kim S, Sim Y, Chang I (2003) Anti-acne effects of Oriental herb extracts: a novel screening method to select anti-acne agents. Skin Pharmacol Appl Skin Physiol 16(2):84–90

PubMed

CrossRef

Google Scholar

Nasrollahi V, Mirzaie-asl A, Piri K, Nazeri S, Mehrabi R (2014) The effect of drought stress on the expression of key genes involved in the biosynthesis of triterpenoid saponins in liquorice (

Glycyrrhiza glabra

). Phytochemistry 103:32–37

Google Scholar

Nielsen ML, Pareek M, Andersen I (2012) Liquorice-induced hypertension and hypokalaemia. Ugeskr Laeger 174(15):1024–1025 (In Danish)

PubMed

Google Scholar

Nishino H, Kitagawa K, Iwashima A (1984) Antitumor-promoting activity of glycyrrhetic acid in mouse skin tumor formation induced by 7,12-dimethylbenz[a]anthracene plus teleocidin. Carcinogenesis 5(11):1529–1530

PubMed

CrossRef

Google Scholar

Nishino H, Yoshioka K, Iwashima A, Takizawa H, Konishi S, Okamoto H, Okabe H, Shibata S, Fujiki H, Sugimura T (1986) Glycyrrhetic acid inhibits tumor-promoting activity of teleocidin and 12-O-tetradecanoylphorbol-13-acetate in two-stage mouse skin carcinogenesis. Jpn J Cancer Res 77(1):33–38

PubMed

Google Scholar

Nitalikar MM, Munde KC, Dhore BV, Shikalgar SN (2010) Studies of antibacterial activities of

Glycyrrhiza glabra

root extract. Int J Pharm Tech Res 2(1):899–901

Google Scholar

Nokhodchi A, Nazemiyeh H, Ghafourian T, Hassan-Zadeh D, Valizadeh H, Bahary LA (2002) The effect of glycyrrhizin on the release rate and skin penetration ofdiclofenac sodium from topical formulations. Farmaco 57(11):883–888

PubMed

CrossRef

Google Scholar

Nomura T, Fukai T (1998) Phenolic constituents of licorice (

Glycyrrhiza

species). In: Herz W, Kirby GW, Moore RE, Steglich W, Tamm C (eds) Fortschritte der Chemie organischer Naturstoffe/Progress in the chemistry of organic natural products. Springer, Vienna, pp 1–140

CrossRef

Google Scholar

Nomura T, Fukai T, Akiyama T (2002) Chemistry of phenolic compounds of licorice (

Glycyrrhiza

species) and their estrogenic and cytotoxic activities. Pure Appl Chem 74(7):1199–1206

CrossRef

Google Scholar

Nose M, Terawaki K, Oguri K, Ogihara Y, Yoshimatsu K, Shimomura K (1998) Activation of macrophages by crude polysaccharide fractions obtained from shoots of

Glycyrrhiza glabra

and hairy roots of

Glycyrrhiza uralensis

in vitro. Biol Pharm Bull 21(10):1110–1112

PubMed

CrossRef

Google Scholar

Nugmanova ML, Kalitina NF (1979) Case of contact dermatitis caused by licorice. Vestn Dermatol Venerol 11:62–64 (In Russian)

PubMed

Google Scholar

Numazaki K, Nagata N, Sato T, Chiba S (1994) Effect of glycyrrhizin, cyclosporin A, and tumor necrosis factor alpha on infection of U-937 and MRC-5 cells by human cytomegalovirus. J Leukoc Biol 55(1):24–28

PubMed

Google Scholar

O'Brian CA, Ward NE, Vogel VG (1990) Inhibition of protein kinase C by the 12-O-tetradecanoylphorbol-13-acetate antagonist glycyrrhetic acid. Cancer Lett 49(1):9–12

PubMed

CrossRef

Google Scholar

O'Connell K, Kinsella J, McMahon C, Holian J, O'Riordan S (2014) Posterior reversible encephalopathy syndrome (PRES) associated with liquorice consumption. Irish J Med Sci DOI: 10.1007/s11845-014-1214-0 (in press)

Google Scholar

Oda M, Tamararaggi et Y, Mizutani K, Tanaka O (1995) Biological activity and constituents of cell cultures of licorice. In: 42nd Annual meeting of Japanese Society of Pharmacognosy, Abstract Papers, Fukuyama, September 1995, p 168

Google Scholar

Oganesyan KR (2002) Antioxidant effect of licorice root on blood catalase activity in vibration stress. Bull Exp Biol Med 134(2):135–136

PubMed

CrossRef

Google Scholar

Ohtake N, Kido A, Kubota K, Tsuchiya N, Morita T, Kase Y, Takeda S (2007) A possible involvement of 3-monoglucuronyl-glycyrrhetinic acid, a metabolite of glycyrrhizin (GL), in GL-induced pseudoaldosteronism. Life Sci 80(17):1545–1552

PubMed

CrossRef

Google Scholar

Ojha S, Golechha M, Kumari S, Bhatia J, Arya DS (2013)

Glycyrrhiza glabra

protects from myocardial ischemia–reperfusion injury by improving hemodynamic, biochemical, histopathological and ventricular function. Exp Toxicol Pathol 65(1-2):219–227

PubMed

CrossRef

Google Scholar

Okada K, Kobayashi S, Tsunematsu T (1987) A case of Sjögren's syndrome associated with hypokalemic myopathy due to glycyrrhizin. Nippon Naika Gakkai Zasshi 76(5):744–745 (In Japanese)

PubMed

CrossRef

Google Scholar

Okada K, Tamura Y, Yamamoto M, Inoue Y, Takagaki R, Takahashi K, Demizu S, Kajiyama K, Hiraga Y, Kinoshita T (1989) Identification of antimicrobial and antioxidant constituents from licorice of Russian and Xinjiang origin. Chem Pharm Bull 37(9):2528–2530

PubMed

CrossRef

Google Scholar

Okuma Y, Liu K, Wake H, Liu R, Nishimura Y, Hui Z, Teshigawara K, Haruma J, Yamamoto Y, Yamamoto H, Date I, Takahashi HK, Mori S, Nishibori M (2014) Glycyrrhizin inhibits traumatic brain injury by reducing HMGB1-RAGE interaction. Neuropharmacol 85:18–26

CrossRef

Google Scholar

Olukoga A, Donaldson D (2000) Liquorice and its health implications. J R Soche Promot Health 120(2):83–89

CrossRef

Google Scholar

Omer MO, AlMalki WH, Shahid I, Khuram S, Altaf I, Imran S (2014) Comparative study to evaluate the anti-viral efficacy of

Glycyrrhiza glabra

extract and ribavirin against the Newcastle disease virus. Pharmacogn Res 6(1):6–11

CrossRef

Google Scholar

Orazizadeh M, Fakhredini F, Mansouri E, Khorsandi L (2014) Effect of glycyrrhizic acid on titanium dioxide nanoparticles-induced hepatotoxicity in rats. Chem Biol Interact 220:214–221

PubMed

CrossRef

Google Scholar

Orlent H, Hansen BE, Willems M, Brouwer JT, Huber R, Kullak-Ublick GA, Gerken G, Zeuzem S, Nevens F, Tielemans WCM, Zondervan PE, Lagging M, Westin J, Schalm SW (2006) Biochemical and histological effects of 26 weeks of glycyrrhizin treatment in chronic hepatitis C: a randomized phase II trial. J Hepatol 45(4):539–546

PubMed

CrossRef

Google Scholar

Orujei Y, Shabani L, Sharifi-Tehrani M (2013) Induction of glycyrrhizin and total phenolic compound production in licorice by using arbuscular mycorrhizal fungi. Russ J Plant Physiol 60(6):855–860

CrossRef

Google Scholar

Ovez B, Ozgen S, Yuksel M (2006) Biological denitrification in drinking water using

Glycyrrhiza glabra

and

Arunda donax

as the carbon source. Process Biochem 41(7):1539–1544

CrossRef

Google Scholar

Ozaki Y, Noguchi M, Kamakura H, Harada M (1990) Studies on concentration of glycyrrhizin in plasma and its absorption after oral administration of licorice extract and glycyrrhizin. Yakugaku Zasshi 110(1):77–81 (In Japanese)

PubMed

Google Scholar

Panossian AG, Shirinian EA, Barikian ML, Avakian OM (1988) 9,12,13-Trihydroxy-(10E)-octadecenoic and 9,12,13-trihydroxy-10,11-epoxy-octadecanoic acids – new anti-stress compounds from licorice. Isvestiya Academii Nauk USSR 6:932–935

Google Scholar

Paris R, Guillot M (1955) Liquiritoside, flavonoside from root of licorice,

Glycyrrhiza glabra

L. Ann Pharm Fr 13(9–10):592–595 (In French)

PubMed

Google Scholar

Park HY, Park SH, Yoon HK, Han MJ, Kim DH (2004) Anti-allergic activity of 18beta-glycyrrhetinic acid-3-O-beta-D-glucuronide. Arch Pharm Res 27(1):57–60

PubMed

CrossRef

Google Scholar

Park JM, Park SH, Hong KS, Han YM, Jang SH, Kim EH, Hahm KB (2014a) Special licorice extracts containing lowered glycyrrhizin and enhanced licochalcone A prevented

Helicobacter pylori

-initiated, salt diet-promoted gastric tumorigenesis. Helicobacter 19(3):221–236

PubMed

CrossRef

Google Scholar

Park SY, Kim EJ, Choi HJ, Seon MR, Lim SS, Kang YH, Choi MS, Lee KW, Yoon Park JH (2014b) Anti-carcinogenic effects of non-polar components containing licochalcone A in roasted licorice root. Nutr Res Pract 8(3):257–266

PubMedCentral

PubMed

CrossRef

Google Scholar