Abstract
The current treatments offered to patients with chronic respiratory diseases are being re-evaluated based on the loss of potency during long-term treatments or because they only provide significant clinical benefits to a subset of the patient population. For instance, glucocorticoids are considered the most effective anti-inflammatory therapies for chronic inflammatory and immune diseases, such as asthma. But they are relatively ineffective in asthmatic smokers, and patients with chronic obstructive pulmonary disease (COPD) or cystic fibrosis (CF). As such, the pharmaceutical industry is exploring new therapeutic approaches to address all major respiratory diseases. The previous chapters demonstrated the widespread influence of purinergic signaling on all pulmonary functions and defense mechanisms. In Chap. 8, we described animal studies which highlighted the critical role of aberrant purinergic activities in the development and maintenance of chronic airway diseases. This last chapter covers all clinical and pharmaceutical applications currently developed based on purinergic receptor agonists and antagonists. We use the information acquired in the previous chapters on purinergic signaling and lung functions to scrutinize the preclinical and clinical data, and to realign the efforts of the pharmaceutical industry.
Keywords
Airway obstruction 
Bronchoconstriction 
Ischemia-reperfusion 
Lung transplant 
Pulmonary fibrosis 
9.1

Introduction

For nearly 30 years, extracellular purines have been suspected to play important roles in the pathogenesis of chronic respiratory diseases. In the 1980s, Cushley et al. reported that inhaled ADO causes bronchoconstriction in asthmatic patients, but not in healthy subjects [1]. Later, it was discovered that asthmatics maintain high airway ADO levels, which is further raised following a challenge [2, 3]. In the past 5 years, the list of respiratory diseases with aberrant airway ADO and/or ATP regulation was extended to CF, COPD and idiopathic pulmonary fibrosis [4, 5, 6] (see  Chap. 4 for details). Also, the recent finding that ADO induces bronchoconstriction in smokers with COPD supports a role in the "overlapping syndrome" [7, 8, 9]. Such widespread occurrence of excess airway ADO motivated scientists and clinicians to investigate the implications of this metabolic aberrance in all aspects of chronic respiratory diseases.

The consequences of excess ADO for lung homeostasis were clearly demonstrated by mice lacking adenosine deaminase (ADA) (review: [10]). These ADA−/− mice develop bronchial hyperresponsiveness (BHR), severe lung inflammation, mucin hypersecretion, sub-epithelial fibrosis, basement membrane thickening, smooth muscle cell hyperplasia and a disruption of the alveolar network typical of emphysema (see  Chap. 8 for details). This stunning discovery launched a series of initiatives to identify which ADO and ATP receptors promote, or attenuate, lung complications. The previous chapters were carefully organized to describe all purinergic receptors, their properties, distribution and roles on the lung resident, immune and inflammatory cells.  Chapter 8 described the animal studies that were conducted to compare their impact on lung homeostasis and the potential of selective ligands for the treatment of chronic respiratory diseases.

This final chapter describes the progress made, over the past 15 years, in this new field of drug development. First, evidence is provided for the higher diagnostic stringency of ADO-induced BHR for asthma, with respect to histamine and methacholine. Then, we tell the tale of Adagen (Enzon Pharmaceuticals), which was designed for the treatment of ADA-related severe combined immunodeficiency (ADA-SCID), but shows considerable potential for the correction of airway ADO levels in chronic airway diseases. Finally, this chapter covers the ADO and ATP receptor ligands selected by pharmaceutical companies for the treatment of acute lung injury and chronic respiratory diseases, and to improve the outcome of lung transplant. Based on the current understanding of purinergic signaling in the respiratory system, this section offers a critical view on the design of the ligands and the delivery route, which may assist the pharmaceutical industry in future drug discovery.
9.2

AMP Challenges: Diagnostic Tool and Signaling Pathways

Airflow obstruction is a characteristic feature of airway diseases, including asthma and COPD. Adenine nucleotides and nucleosides have been shown to trigger immediate airflow obstruction in asthmatic patients following aerosolized administration. Since the bronchoconstriction does not occur in normal subjects, adenosine monophosphate (AMP) has been used worldwide to detect and monitor bronchial hyperresponsiveness (BHR), as a tool to diagnose asthma and guide therapy. In this section, we review the clinical use of AMP challenges, and the current knowledge on the mechanism of action.
9.2.1

Using AMP as a Diagnostic Tool

In 1983, Cushley, Tattersfield and Holgate were the first to report that inhalational exposure to ADO resulted in a concentration-dependent bronchoconstriction in allergic and non-allergic asthmatic patients [1]. In contrast, ADO concentrations up to 30-fold higher had no effect on the airway caliber of normal subjects [11]. Adenine nucleotides, ADP and AMP, also elicited airway narrowing in asthmatics, while the ADO metabolite, inosine, did not induce bronchoconstriction [12]. The airway epithelial surfaces express ectonucleotidases which rapidly dephosphorylate adenine nucleotides into ADO (see  Chap. 2 for details). While it is well accepted that the effects of these nucleotides on airway caliber are mediated by ADO, AMP remains the drug of preference for solubility purposes (review: [13]).

Prior to the observations of Cushley et al. [1], pharmacological tests for BHR relied on direct airway challenges with methacholine or histamine. These substances activate M3 muscarinic receptors and H1 histamine receptors on airway smooth muscle (ASM) to elicit bronchoconstriction in asthmatics at concentrations having no effect in the airways of normal subjects. While the sensitivity and negative predictive values of methacholine and histamine challenges approach 100%, their specificity and positive predictive values for asthma are very low [14, 15, 16, 17]. In fact, adult COPD patients and children with bronchiectasis, bronchiolitis obliterans or CF, typically develop BHR in response to methacholine and histamine [18, 19, 20, 21, 22]. In contrast, non-smoking adults with COPD and children with airway diseases other than asthma are less responsive to an AMP challenge [7, 8, 9, 22, 23]. This higher specificity for asthma suggests that aerosol AMP may constitute a powerful diagnostic test to differentiate these airway diseases in children and non-smoking adults. Furthermore, contrary to methacholine, the magnitude of the BHR response to AMP is highly correlated with the degree of underlying airway inflammation in asthmatics [24, 25].

For these reasons, measurement of BHR by AMP challenge has been endorsed by the European Respiratory Society Task Force on indirect airway challenges [26]. It is more specific for asthma than methacholine and histamine challenges [22, 27], correlates more closely with the degree of inflammation in the lower airways [24, 25], and may be used to evaluate the efficacy and potency of inhaled steroids [28, 29, 30, 31]. However, the sensitivity of an AMP challenge to detect asthma is limited, the rate of AMP responsiveness varying from 39% to 95.5% in children [32, 33, 34, 35] and 50% to 89% in adults [24, 36]. The studies reporting a high degree of sensitivity included large numbers of atopic asthmatics. Accordingly, a study designed to elucidate the determinants of AMP responsiveness revealed that atopic sensitization, assessed by positive skin prick testing, was the major variable affecting AMP sensitivity [32]. Compared to non-atopic asthmatics, atopic asthmatics exhibit exaggerated mast cell activation by antigens and allergens. Consequently, these cells have been the focus of intense investigation to better understand the mechanisms of ADO-induced bronchoconstriction.
9.2.2

Signaling Pathways of Bronchoconstriction

The signaling pathways responsible for AMP-induced BHR have been extensively investigated using its active metabolite: ADO. This ubiquitous signaling molecule has been shown to regulate the activities of all mammalian cell types through the activation of cell surface G protein-coupled receptors. Four P1 receptors have been identified and are widely expressed: A

1

Rs, A

2A

Rs, A

2B

Rs, and A

3

Rs. The studies conducted in humans and animals support three potential mechanisms for ADO-induced bronchoconstriction targeting different cell types: mast cells, ASM and neurons (Fig. 

9.1

).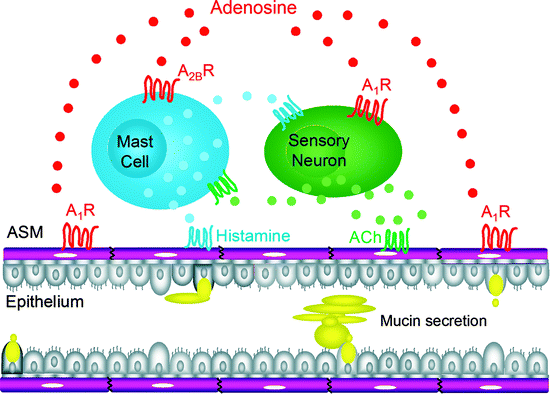 The first argument supporting a mast cell-dependent mechanism was provided by a clinical study reporting the accumulation of histamine in the airways of asthmatic patients in response to endobronchial ADO [37]. Accordingly, ADO-induced BHR was attenuated by mast cell stabilizing agents (i.e. nedocromil) [38, 39, 40] and antagonists of the histamine receptor (i.e. terfenadine) [41, 42, 43] or leukotriene receptor (i.e. Montelukast) [44]. These studies led many to believe that ADO-induced bronchoconstriction results from mast cell activation. In rodents, the P1 receptor causing mast cell degranulation was identified as the A3R [45, 46, 47, 48], whereas this role was ascribed to the A2BR in human mast cells [49, 50, 51]. Nonetheless, aerosolized treatment with a dual A2BR/A3R antagonist (QAF805) failed to affect PC20 (provocative concentration required to induce a 20% fall in lung function) in asthmatics [52], suggesting that ADO induces bronchoconstriction by other mechanisms.
Human and animal studies suggest that A1Rs located on ASM mediate the ADO-induced bronchoconstriction. On cultures of human ASM, A1R activation stimulated cell contraction by the mobilization of intracellular Ca2+ stores [53]. Their tissue expression was confirmed by immunolocalization in biopsy sections, which also showed that A1Rs are overexpressed in the airway epithelium and ASM of asthmatics [54]. Furthermore, the incubation of normal ASM cultures with serum from asthmatic patients induced the up-regulation of A1Rs [55]. Incidentally, animal studies conducted with A1R agonists and antagonists also support a role for A1Rs located on ASM in ADO-induced BHR [56, 57, 58]. The use of knockout mice targeting each P1 receptor revealed that only A1R−/− mice fail to react to an ADO challenge [59]. On the other hand, ADO-induced bronchoconstriction was abolished following bilateral vagotomy [59], suggesting a role for sensory neurons.
In asthmatic patients, AMP-mediated BHR was attenuated by the anticholinergic drug ipratropium, and by depletion of contractile neuropeptides with bradykinin [60, 61]. These studies support a role for cholinergic neural pathways in the bronchoconstrictor response to ADO. In allergic (not naïve) guinea pigs, the fact that bilateral vagotomy or capsaicin strongly inhibited airway obstruction to AMP (75%), or an A1R agonist (N(6)-cyclopentyladenosine; CPA) (50%), suggests that cholinergic neural input to the ASM is critical for A1R-mediated bronchoconstriction [62]. In human airways, acetylcholine can activate muscarinic receptors on ASM and mast cells (review: [63]). Whether cholinergic mediators induce ASM contraction directly, or through mast cell activation, has not been determined.
9.2.3

Summary

Recent studies on the signaling pathways responsible for ADO-induced BHR have revealed important clues about the airway pathophysiology of asthma, by uncovering a complex interplay between mast cells, neurons and ASM. The continuous investigation of the mechanisms by which nucleotides and nucleosides influence airway caliber in the asthmatic lung may lead to the exploitation of these pathways for therapeutic approaches. For instance, future studies comparing the relative impact of A1R and A2BR antagonists on AMP-mediated BHR may reveal a more prominent role for A2BR-mast cell signaling in the atopic asthmatic patients. Meanwhile, AMP challenges remain an important tool for clinicians and researchers sharing common interests in the diagnosis and treatment of asthma and other respiratory disease.
9.3

Adenosine Deaminase Replacement Therapies
9.4

Clinical Trials Involving Adenosine Receptors

There are dozens of ADO receptor ligands currently designed by various research laboratories and pharmaceutical companies. This activity has provided pharmacological tools to distinguish the roles of each ADO receptor in the regulation of airway defenses. For details on the strategies behind their structural design, the readers are redirected to excellent reviews for A1Rs [94], A2ARs [95, 96], A2BRs [97, 98] and A3Rs [99]. This chapter focuses on the ligands selected for preclinical and clinical evaluation. In each case, the experimental designs (animal models, delivery routes) chosen to evaluate their therapeutic potential are weighed against the knowledge we have acquired in the first eight chapters of this book, regarding ADO regulation and cell-specific functions.
9.5

Clinical Trials Involving ATP Receptors

The vast majority of the P2 receptor ligands selected for clinical applications are P2Y12R antagonists which target cardiovascular disorders and coagulation, including PLAVIX (clopidogrel; Sanofi Aventis/Bristol-Myers Squibb), Cangrelor (The Medicines Co.), Ticagrelor (AstraZeneca) and Eelinogrel (Portola/Norvatis). Among the receptors expressed along the airways, only one P2Y2R ligand is currently the subject of clinical trials for chronic respiratory diseases: denufosol (Inspire Pharmaceutical). This section also describes the first application of soluble apyrases to the treatment of lung injury.
9.5.1

The P2Y2R Agonist Denufosol and Airway Clearance

The most promising therapeutic approaches currently developed for the treatment of CF are designed to improve mucociliary clearance (MCC), a process which combines the activities of ion channels and transporters expressed at the surface of airway epithelia (see  Chap. 5 for details). This disease is driven by a severe dehydration of the airway surfaces due to mutations in the cystic fibrosis transmembrane regulator (CFTR). The restoration of airway surface hydration would facilitate cilia beating, dislodge adhesive mucus plaques and facilitate MCC (review: [178]). The current strategy explored by the company Inspire Pharmaceutical is centered on P2Y2Rs, because their engagement can bypass the defective CFTR Cl− channel by activating the Ca2+-activated Cl− channel. The resulting osmotic gradient causes water to leave the cells to hydrate the surface.

A decade of research conducted in collaboration between Inspire Pharmaceutical and the Cystic Fibrosis Pulmonary Research/Treatment Center (NC, USA) demonstrated the therapeutic potential of metabolically-stable P2Y2R agonists (review: [179]). Their original work showed that the endogenous selective agonist, UTP, is highly unstable on human airway surfaces [180]. Therefore, they turned to dinucleotides because the tertiary structure offers more stability to the phosphate chain. From this first round of synthesis, they selected the potent P2Y2R agonist: Up4U (INS365; diquafosol). This molecule was further stabilized by substituting one uridine moiety by a deoxycytidine, which generated dCP4U (INS37217; denufosol) [180, 181]. The affinity of denufosol for the P2Y2R (EC50 = 0.3 μM) is over five times higher than for the other P2 receptors activated by uridine-based agonists on airway epithelia, namely the P2Y4R (EC50 = 1.2 μM) and the P2Y6R (EC50 = 16.0 μM) [181]. Preclinical studies demonstrated that denufosol restores normal surface hydration on cultures of human airway epithelial cells from CF patients, and also improves MCC in animals with impaired clearance [180, 181].

Given the severe lung complications experienced by CF patients, the tolerability of aerosolized denufosol was first tested in healthy subjects and smokers. The randomized double-blind placebo-controlled study, conducted with a wide concentration range (20–200 mg), provided evidence of tolerability and set the stage for clinical testing in CF.

In 2005, they conducted a double-blind, placebo-controlled, multicenter clinical trial to test the safety and tolerability of aerosolized denufosol in adult and pediatric (5–17 years of age) CF subjects [182]. Ascending single doses (10, 20, 40, and 60 mg) were followed by twice-daily administration of the maximum tolerated dose for 5 days. In summary, doses up to 60 mg of denufosol were well-tolerated by most subjects.

In 2007, Inspire Pharmaceutical and the Therapeutics Development Network of the Cystic Fibrosis Foundation presented results of a multicenter Phase 2 safety and efficacy clinical trial for denufosol inhalation in CF subjects with mild disease (FEV1 > 75% of predicted) [183]. The randomized, double-blind, placebo-controlled study showed that 20–60 mg denufosol significantly improved lung functions during ≥28 days. This study provided the first evidence of clinical benefit for denufosol.

In 2008, a placebo-controlled Phase 3 clinical trial (TIGER-1) tested the impact of 60 mg denufosol on 350 adolescent CF patients with FEV1 ≥75% of predicted. Results showed that TIGER-1 met the primary end-point, with significant improvement of FEV1 from baseline compared to the placebo group, and with limited systemic exposure. This study supports the therapeutic potential of early interventions with denufosol, in young CF patients, to prevent the accelerated loss of lung function.

In November 2009, Inspire Pharmaceuticals completed the patient enrollment for the second Phase 3 clinical trial (TIGER-2). This randomized, double-blind, placebo-controlled study of 48 days will test the long-term clinical benefits of 60 mg aerosolized denufosol in 450 patients with mild CF lung disease (FEV1 ≥75% of predicted). Results are expected to become available in the first quarter of 2011.
9.5.2

APT102: A Soluble Apyrase for Acute Lung Injury

Endothelial cells are well known to express the membrane-bound surface enzyme named the ecto nucleoside diphosphate triphosphohydrolase1 (NTPDase1; CD39). This enzyme is responsible for limiting thrombus formation through dephosphorylation of the circulating ATP/ADP released by activated platelets and red blood cells (review: [184]). Numerous in vivo and in vitro studies showed that oxidative stress caused by ischemia-reperfusion causes a dramatic down-regulation of endothelial CD39 (review: [185]). The potential of enzyme replacement therapy for cardiovascular and pulmonary diseases was originally tested using a soluble form of CD39 (apyrase) derived from the potato [186]. Eventually, the growing interest for therapeutic applications motivated the development of soluble human CD39 (review: [184]).

In 2006, Medina et al. generated a soluble recombinant apyrase named APT102 [187]. They demonstrated that APT102 inhibits tumor cell-induced platelet aggregation in colon cancer, which provided evidence of functional expression.

In 2008, APT Therapeutics determined the pharmacokinetic properties of APT102. [188]. Rats received a bolus intravenous injection (0.75 mg/kg), then serum samples were collected over time to monitor the metabolism of ATP and ADP using a malachite green assay. After 24 h, the enzyme activity remained tenfold above baseline, with a half-life of about 20 h. This study demonstrated the potential of a bolus injection of APT102 for the prevention of acute lung injury caused by trauma or extensive surgical procedures.

This success prompted APT Therapeutics to test whether APT102 could protect the lungs during their transport and transplant [189]. They preserved rat lungs in cold low K+ dextrose solution in the absence or presence of APT102 for 18 h before transplant. After the procedure, the recipients received a bolus dose of saline or APT102. Four hours later, the lungs that received APT102 showed significantly less damage (apoptotic endothelial cells and pulmonary edema) and were better oxygenated than the untreated transplanted lungs. The apyrase also attenuated lung inflammation, in terms of neutrophil infiltration and BAL fluid concentrations of pro-inflammatory mediators and myeloperoxidase. This study supports that APT102 can limit lung damage during prolonged cold storage and significantly improve the outcome of lung transplantation.

In 2009, APT Therapeutics received an award to evaluate therapeutic applications of human apyrase.
9.6

Conclusion

This final chapter is a testimony to the concerted efforts of research laboratories and pharmaceutical companies to develop therapeutic approaches safe and effective for the entire asthmatic population, as well as patients with COPD or fibrotic lung diseases. We have reached a point where we can learn from success stories and failures to refine our drug development strategies. For instance, we heard about the potential of the "low-hanging fruits", like Adagen (PEG-ADA) initially developed for ADA-SCID. The tale of the A1R antagonist, Theophylline, shows how revisiting the properties of an inefficient bronchodilator lead to the discovery of a well-tolerated anti-inflammatory drug currently prescribed to asthmatics, in combination with a β-adrenergic bronchodilator. While A2AR agonists were once perceived as the most promising anti-inflammatory drugs for chronic respiratory diseases, the frequent reports of cardiovascular side-effects are redirecting these compounds toward surgical applications, to prevent the hypertension and acute lung injury resulting from ischemia-reperfusion. Our gaze is turned toward A2BR antagonists for the suppression of airway hyperresponsiveness. Furthermore, animal studies suggest that long-term treatments could reverse airway remodeling and fibrosis in chronic airway diseases. Finally, clinical trials support the benefits of A3R agonists for inflammatory disorders and acute lung injury. Therapeutic applications for ATP receptor ligands are also emerging. For instance, denufosol has entered the final stage of clinical evaluation for the improvement of P2Y2R-mediated airway clearance in CF patients. And animal studies suggest that P2X7R antagonists may suppress the production of the "first wave" pro-inflammatory mediator, IL-1β, as well as tissue damage by apoptosis. In conclusion, we are clearly witnessing the maturation of a young field of clinical research which will, no doubt, continue to fascinate and surprise us for years to come.
Copyright information
© Springer Science+Business Media B.V. 2011