Abstract
Traditionally, children in the Jarawa community (South and Middle Andamans) play games that replicate the movements of animals their parents hunt in the forest. Jarawa children and adolescents grow up observing adults' activities and incorporating them into their play. Boys often replicate the hunting practices of adults by making replicas of the bow and arrow. Jarawa adults view children as complete individuals and assume that children will, of their own accord, begin contributing to the political economy of the band when they are ready to do so. This also implies that children learn on their own not just finite skills but through play learn to negotiate diverse situations in their changing world. Since 1999 the world of the Jarawas has undergone a rapid transformation. The outward hostility and self-imposed isolation of the Jarawa community have eroded, and the young boys have begun hanging out at the major road passing through the reserve forest. This paper considers changes that have occurred in Jarawa children's play since 2001 with the influence of traffic, tourists, and a more visible state authority. Drawing on ethnographic fieldwork, this chapter illustrates various aspects of children's play: the different ways in which play facilitates the articulation and maintenance of, as well as challenges to, power relations between the Jarawa and elements of encroaching modernity. In this sense, play is revealed to be far from just "hanging out at the roadside" but an activity through which children develop and learn to conduct new politico-economic relations in a place where outsiders, state, forest, and Jarawas collide.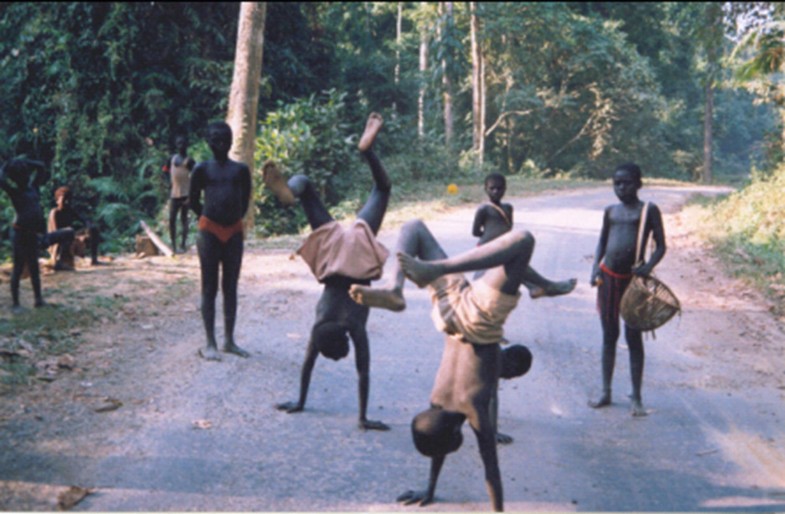 Keywords
Jarawas 
Andaman Islanders 
Hunter-gatherers 
Forms of play 
Work 
Political economy 
Copyright information
© Springer Japan 2016
Open Access This chapter is licensed under the terms of the Creative Commons Attribution-NonCommercial 2.5 International License (http://creativecommons.org/licenses/by-nc/2.5/), which permits any noncommercial use, sharing, adaptation, distribution and reproduction in any medium or format, as long as you give appropriate credit to the original author(s) and the source, provide a link to the Creative Commons license and indicate if changes were made.
The images or other third party material in this chapter are included in the chapter's Creative Commons license, unless indicated otherwise in a credit line to the material. If material is not included in the chapter's Creative Commons license and your intended use is not permitted by statutory regulation or exceeds the permitted use, you will need to obtain permission directly from the copyright holder.