Zusammenfassung
Die Beurteilung der Bebauungsmöglicbkeit im Bergbausenkungsgebiet in Heilbronn-Böckingen. In Heilbronn-Böckingen wurde in einem Gebiet von etwa 2000 m Länge und 1000 m Breite in einer Tiefe von 230–250 m Salz durch Auslaugung abgebaut. Das Gelände senkte sich bis zu 2,7 m. Außerdem traten Einbrüche von 1–1,5 m Tiefe auf.
In den sechziger Jahren wurde eine Bebauung des Geländes mit Bauten bis zu 14 Stockwerken und bis zu 74 m Länge geplant. Wegen der Senkungen und Einbrüche traten Bedenken hinsichtlich der Standsicherheit der geplanten Bauwerke auf. Durch Untersuchungen konnte festgestellt werden, daß die Senkungen ausklingen und daß die Einbrüche nicht auf größere Hohlräume in der Tiefe zurückzuführen waren. Sie waren eine Folge der durch die Senkungsbewegungen eingetretenen Scherverformungen in den oberflächennahen Schichten. Die dadurch entstandenen Haarrisse verbreiterten sich bei Trockenheit. Durch Oberflächenwasser entstanden Ausspülungen und "Einbrüche". Die Bebauung konnte aufgrund dieser Untersuchungen uneingeschränkt vorgenommen werden.
Summary
The Assessment of Possibility to Build upon the Settlement Mining Area at Heilbronn-Böckingen. At Heilbronn-Böckingen in an area of about 2000 m in length and 1000 m in breadth salt had been extruded by leaching out of a depth of 230 to 250 m. The terrain settled as far as to a depth of 2,7 m. Moreover subsidences to a depth of 1 to 1.5 m occurred.
In the sixties a development of the area for buildings up to 14 stories and 75 m in length was planned. On account of the settlements and subsidences doubts arose with regard to the stability of the planned buildings. Investigations showed that the settlements die away and that the subsidences could not be attributed to larger cavities in the depth. They occurred in consequence of shearing deformations in the strata near the ground surface due to settlement movements. The thus originated hair cracks widened in dry periods. Surface water caused erosions and "subsidences". Persuant to these investigations it was possible to build on the said area without limitation.
Résumé
Jugement sur la possibilité de construire dans la zone d'affaissement minier à Heilbronn-Böckingen. A Heilbronn-Böckingen il a été exploité du sel, de 230 à 250 m de profondeur, par délavage, dans un périmètre de 2000 à 1000 m. Le terrain s'affaissait de 2,7 m au maximum. En outre, des fonds de 1 à 1,5 m profondeur sont observés.
Dans les années 60, une urbanisation du terrain était prévue, comportant des immeubles allant jusqu'à 14 étages et 75 m de longueur. A cause des affaissements et des fontis, la stabilité des immeubles prévus fut mise en cause. Une campagne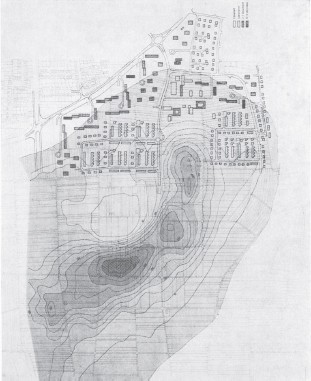 de reconnaissance a permis de constater que les tassements se stabilisaient et que les fontis n'étaient pas provoqués par des cavités d'une certaine importance, en profondeur. Ils étaient entrainés par les distorsions dues aux tassements, dans les couches superficielles. Les fissures fines ainsi produites, s'élargissaient par temps sec. Les eaux superficielles provoquaient délavages et "fonds". Suite à ces investigations, l'urbanisation était rendue possible, sans limitations.
Copyright information
© Springer-Verlag Wien 1975