Zusammenfassung
Erfahrungen beim Bau eines seichtliegenden Tunnels in tertiären Mergeln. Ein 800 m langer Abschnitt einer neuen Vorortelinie südlich von Paris wird unterirdisch, als zweigleisiger Eisenbahntunnel mit geringer Überlagerung (8 bis 16 m), geführt. Der nördliche, gegen das Seinetal hin abfallende Bereich ist überbaut. Das anstehende Gebirge besteht aus tertiären Mergeln und Tonen, die insbesondere im Hangbereich stark aufgelockert sind und zum Teil extrem kurze Standzeiten aufweisen.
Die in den ersten Monaten der Bauzeit gesammelten Erfahrungen veranlaßten Bauherrn und Firmengruppe, von einer traditionellen Bauweise auf die Nöt umzustellen. Die den Entwurf und die Ausführung bestimmenden Faktoren werden erläutert, Rechen- und Meßergebnisse einander gegenübergestellt.
Während die Bauarbeiten im südlichen Tunnelbereich (auf einem Plateau gelegen) nach einer Einarbeitungszeit ohne größere Schwierigkeiten zügig voranschritten, bereitete der im Hang gelegene und überbaute nördliche Abschnitt erhebliche Schwierigkeiten, deren Bewältigung abschließend geschildert wird.
Summary
Experiences from the Construction of a Shallow Tunnel in Tertiary Marls. An 800 m long section of a new suburban rapid transit line south of Paris is to be built underground as double track railway tunnel with small cover (8 to 16 m). The northern area, sloping down to the Seine valley, is covered with buildings. The in-situ rock mass is consisting of tertiary marls and clay, which are heavily loosened especially in the slope area, partly showing extremely short standing-times.
The experiences made during the first months of the construction period induced the Owner and the Joint Venture of contractors to change from the traditional method to the New Austrian Tunnelling Method. The factors determining design and construction are explained, results of calculations and monitoring are compared with each other.
Whereas after a certain initial period the construction works in the southern tunnel heading (situated on a plateau) made good progress without greater problems, the northern section situated in the slope and covered with buildings brought about considerable difficulties; concluding, the author illustrates how these problems could be overcome.
Résumé
Expériences faites lors du creusement d'un tunnel à faible profondeur dans des marnes tertiaires
. Un tronçon de 800 m d'une nouvelle ligne de banlieue, située au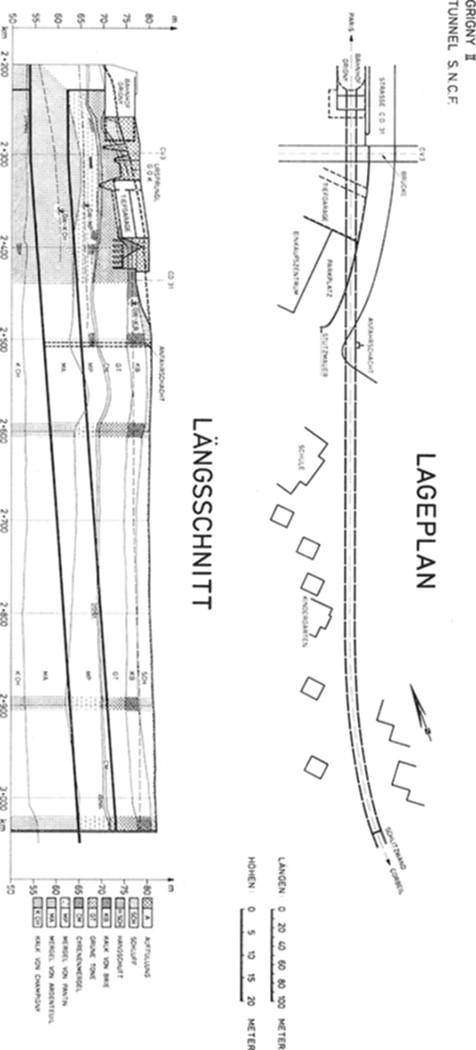 Sud de Paris est exécuté en souterrain en tant que tunnel ferroviaire à deux voies, à faible profondeur (8 à 16 m de couverture). La partie Nord, c'est-à-dire située sur le versant donnant sur la vallée de la Seine, est construite. Le terrain consiste en marnes tertiaires et argiles, particulièrement décomprimées dans le versant et ayant partiellement des durées de tenue sans soutènement extrêmement courtes.
Les expériences faites pendant les premiers mois des travaux portaient Maïtre de l'Oeuvre et Entreprise à abandonner la méthode traditionnelle adoptée au profit de la Nouvelle Méthode Autrichienne. Les paramètres définissant le projet et l'exécution sont expliqués et les résultats de calculs comparés à ceux d'auscultations. Tandis que les travaux avançaient bien, après le rôdage nécessaire, dans le tronçon Sud du tunnel (situé sur un plateau), l'attaque Nord à exécuter dans le versant, partiellement construit par ailleurs, causait maintes difficultés; la façon dont cellesci ont été surmontées, est décrite.
Copyright information
© Springer-Verlag Wien 1975