Electron microscopy of protein crystals related to Bacillus alesti
Abstract
The organism,
Bacillus alesti
, was originally isolated from diseased silk worms
Hannay
and
Fitz
-
James
(
1
) originally noted that the cells contained spores and crystals. The crystals appeared to be protein in composition
Hannay
studied some of these crystals in the electron microscope, after shadowing, and observed a regular ridging on some of them, although it was not clear whether this was a surface topographical feature or an artefact produced by the electron beam. In this work we hoped to obtain further information about this structure by use of replica techniques. The crystals proved to be regular and easily reproducible in good yield. These characteristics are not always encountered in the electron microscopy of protein crystals and it was thought that these crystals afforded a convenient material for a bolder approach than is normally possible in this field.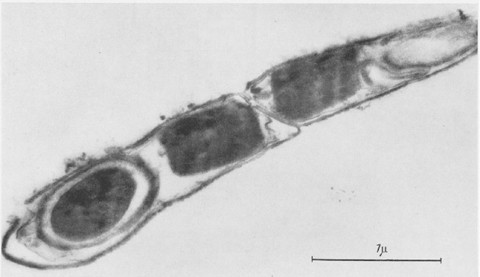 Copyright information
© Springer-Verlag Berlin Heidelberg 1960