An electron microscopical study: The structure and morphology of ultramicroscopic dendrites of alpha iron
Abstract
The three papers by Dr.
Michael
W.
Freeman
and myself describe the role of electron microscopy in the determination of certain properties of ultramicroscopic crystals of alpha iron and in the assessment of their uses. The crystals are produced in a unique process of controlled electrolysis under conditions which favor the deposition of single particles in discrete locations rather than in continuous plated layers. All of the crystals to be described are inherently dendritic regardless of their specific morphology (
1
). In addition, we have reason to believe that they are monolithic and of the same nature as "whiskers", except for their greatly reduced dimensions. Although the dendrites were examined extensively by the more usual electron microscopical methods, it was not until carbon replication with partial etching was applied to them (
2
), coupled with stereoscopy, that a structure was determined which was consistent with certain chemical kinetics of the reaction, as well as with the crystal structure itself of this body-centered, cubic material.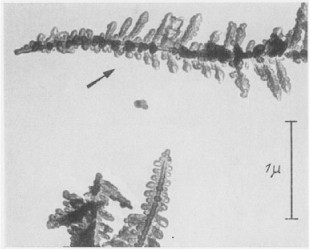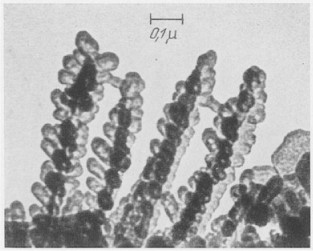 References
1.

Freeman, M. W., and J. H. L. WATSON: Proc. of 2nd Conf. on Magnetism and Magnetic Materials, T-91, AIEE, 1956, p. 163.

Google Scholar

2.

3.
Copyright information
© Springer-Verlag Berlin Heidelberg 1960