SARS Coronavirus Accessory Gene Expression and Function
Abstract
Coronavirus genomes are single-stranded positive-sense RNA that are transcribed into a nested set of 3′ coterminal subgenomic RNAs for gene expression. Members of the Coronaviridae express canonical polymerase genes, as well as structural genes, including S, E, M, and N, but also express a highly divergent set of accessory genes whose open reading frames are interspersed among the structural genes within the 3′ one-third of the viral genome. The accessory genes are thought to contain "luxury" functions that are often not required for in-vitro virus replication. The severe acute respiratory syndrome coronavirus (SARS-CoV) expresses eight such accessory genes (ORF3a, -3b, -6, -7a, -7b, -8a, -8b, and -9b), the most of any known coronavirus. This chapter will review our current knowledge of expression, structure, and function of each of the SARS-CoV accessory genes.
Keywords
Accessory Gene 
Severe Acute Respiratory Syndrome 
Syrian Golden Hamster 
Mouse Hepatitis Virus 
Severe Acute Respiratory Syndrome Coronavirus 
These keywords were added by machine and not by the authors. This process is experimental and the keywords may be updated as the learning algorithm improves.
10.1

Introduction

Coronaviruses have large, positive-stranded, RNA genomes ranging from 27 to 31 kb in size (Fig.

10.1

). The 3′ end of the genome contains open reading frames (ORFs) encoding for canonical structural proteins including envelope (E), membrane (M), spike (S), and the nucleocapsid protein (N). Interspersed among the structural genes are novel ORFs that encode additional virus-specific proteins. The novel ORFs have been aptly renamed "accessory genes." Coronavirus genomes differ greatly in number, location, and size of the accessory genes; as detailed in Fig.

10.1

, viruses such as hCoV-NL63 can express as few as one, or in the case of SARS-CoV and the recently identified whale coronavirus (Mihindukulasuriya et al.

2008

), as many as eight accessory proteins.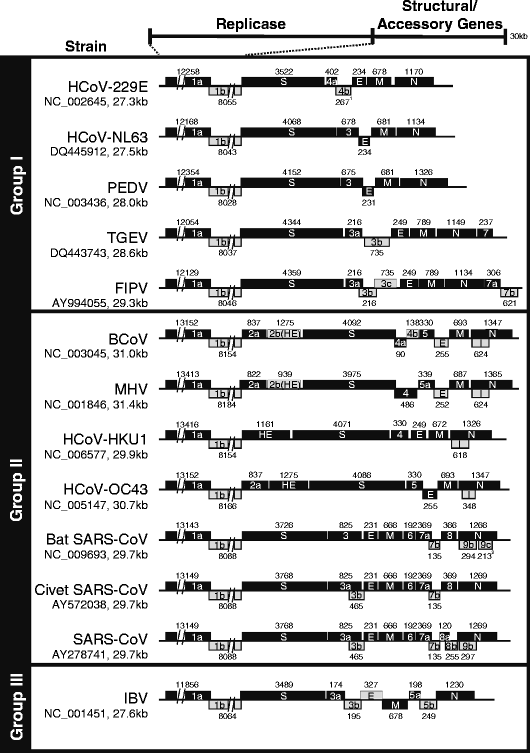 Three independent reports simultaneously detailed the SARS-CoV genomic sequence and annotations (Marra et al.
2003
; Rota et al.
2003
; Thiel et al.
2003
), which led to some confusion regarding the nomenclature of the accessory genes. Annotations by Thiel et al. were the least stringent and identified the eight currently accepted accessory genes; additionally, nomenclature consistent with other coronaviruses was given to them which will be used throughout this chapter. Numerous studies have reported on the expression of all eight SARS-CoV accessory genes. Few polymorphisms have been identified in the more than 100 sequenced SARS-CoV isolates, suggesting a selective pressure to maintain their expression. This chapter will review current data regarding the expression, structure, function, and molecular biology of the SARS-CoV accessory genes (Table
10.1
).
Table 10.1
Expression and subcellular localization of SARS-CoV accessory proteins
Viral gene

Size

Subcellular localization

Structure

Coding strategy

ORF3a

37 kDaa, 31 kDa

274aa

Golgi, plasma membrane

C-endo, triple membrane-spanning protein

Direct translation

ORF3b

18 kDa

154aa

Nucleolusb, mitochondria

Unknown

Unknown

ORF6

7.5 kDa

63aa

ER, Golgi

N-endo:C-endo, amphipathic N-terminus membrane associated

Direct translation

ORF7a

17.5 kDac, 15 kDa

122aa

Golgi

Type I integral membrane protein, seven-stranded beta sandwich ectodomain

Direct translation

ORF7b

5.5 kDa

44aa

Golgi

C-endo, single transmembrane domain

Leaky scanning

ORF8abd

14.0 kDae

122aa

ER

N-terminal signal sequence, membrane associated

Direct translation

ORF8a

5.3 kDa

39aa

Cytoplasm, mitochondria

N-terminal signal sequence, unknown

Direct translation

ORF8b

9.6 kDa

84aa

Cytoplasm

Unknown

Unknown

or not translated

ORF9b

11 kDa

98aa

ER

Dimeric tent-like beta structure with central hydrophobic cavity

Unknown
10.2

SARS-CoV Accessory Gene Expression and Function
10.3

Conclusions

The large genetic diversity among coronaviruses raises questions regarding the origins of the accessory genes. Have they been acquired through horizontal transfer from host cellular genetic material or heterologous viruses? Have they been acquired through gene duplication and subsequent mutation within the virus's own genome? Evidence has been presented pointing to both possibilities. For example, the group 2 coronavirus hemagglutinin esterase (HE) genes have approximately 30% amino acid identity with the influenza C virus (ICV) HE-1 subunit of the HEF gene; it has been suggested that an early group 2 coronavirus captured HE from ICV during a mixed infection (Luytjes et al. 1988). For the latter theory, several of the SARS-CoV accessory genes may have originated from internal duplication, fusion, or shifting events (Inberg and Linial 2004). ORF3a may have arisen through gene duplication and mutation of the M ORF (Inberg and Linial 2004; Masters 2006; Oostra et al. 2006). Furthermore, ORF7b and ORF8a have some amino acid sequence similarity to ORF3a, suggesting that the larger ORF3a may have given rise to ORF7b and ORF8 (Inberg and Linial 2004). Regardless of the origins of the SARS-CoV accessory genes, the severe disease caused by the virus highlights the need to study the functions of its eight accessory genes.

The observation that the SARS-CoV accessory proteins are dispensable for virus replication in vitro is not uncommon among coronaviruses (Yount et al. 2005). It is striking that a virus lacking each of the accessory proteins, either individually or in combination, replicates efficiently in BALB/c mice. This finding may indicate that other animal models for the in-vivo analysis of accessory gene function are required. It is also possible that some or all of the accessory genes play a more important role during infection of humans, bats or other animal reservoirs of the virus. Identifying the functions of these accessory proteins may prove beneficial not only for further understanding of SARS-CoV pathogenesis, but also for better understanding and preparedness for future viral infectious diseases.
Copyright information
© Springer-Verlag Berlin Heidelberg 2010