Shock-tube study of ethanol pyrolysis
Abstract
The high temperature pyrolysis of ethanol was studied behind reflected shock waves using a single-pulse (reaction time between 0.7 and 3.9 ms), time-resolved IR-absorption (3.39 μm) method. The studies were done using mixtures, 5.0%, 2.5% and 1.0% C
2
H
5
OH diluted with Ar, in the temperature range 1000 – 1700 K at total pressures between 1.4 and 3.6 atm. From a computer-simulation study, a 153-reaction mechanism that could explain all our data was constructed. The rate constant expressions of reactions (1) – (16) at high temperatures in the ethanol pyrolysis were discussed. It was found that, in the ethanol pyrolysis under our experimental conditions, reactions (1) and (3) played an important role as the initiation reaction, and reaction (7) was indispensable to interpret our data.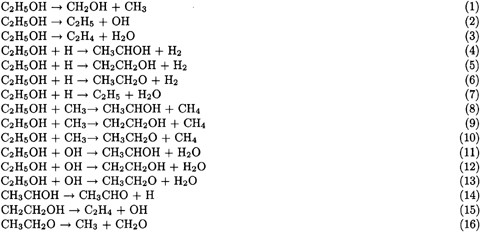 Keywords
Shock Tube 
Thermochemical Data 
Reflect Shock Wave 
High Temperature Pyrolysis 
JANAF Thermochemical Table 
These keywords were added by machine and not by the authors. This process is experimental and the keywords may be updated as the learning algorithm improves.
Copyright information
© Tsinghua University Press and Springer-Verlag Berlin Heidelberg 2005