Medical-Legal Partnerships in Cancer Care
Abstract
This chapter provides an overview of the medical-legal partnership (MLP) service delivery model, which integrates legal services into healthcare settings as a means of addressing the legal aspects of patients' social determinants of health. It introduces the underlying concepts that drive MLPs, including the five "I-HELP" legal needs categories, and contextualizes them in the world of cancer care. The chapter then provides a basic introduction to the cancer-specific legal needs of low-income cancer patients for each of the five categories: income, housing, education and employment, legal status, and personal and familial stability. Each legal "snapshot" discusses the legal principles of each need, how those principles apply to cancer patients, and how an interdisciplinary MLP model can use those principles to address the needs of its patients. The discussion is intended to educate cancer providers on the MLP model as well as provide practical advocacy tips. It concludes with two case vignettes that demonstrate how MLP intervention can improve patient's overall well-being and quality of life.
Keywords
Medical-legal partnerships 
Social determinants of health 
Legal needs 
Cancer 
Legal determinants of health 
Law 
Legal aid and health 
National Center for Medical-Legal Partnerships 
Abbreviations
ACA

Patient Protection and Affordable Care Act

ACP

Advance care planning

ADA

Americans with Disabilities Act

ALJ

Administrative law judge

BCCPTA

Breast and Cervical Cancer Prevention and Treatment Act

CAL

Compassionate allowance

CHIP

Child health insurance program

FDCPA

Fair Debt Collection Practices Act

FHA

Fair Housing Act

FMLA

Family Medical Leave Act

FPL

Federal poverty level

HCPOA

Healthcare power of attorney

IEP

Initial enrollment period

I-HELP

Income, housing and utilities, education and employment, legal status, personal and familial stability

LPR

Legal permanent resident

MA

Medicare advantage

MAGI

Modified adjusted gross income

MLP

Medical-legal partnership

National Center

National Center for Medical-Legal Partnerships

OOP

Out-of-pocket expenses

POA

Financial power of attorney

PRUCOL

Permanent residence under color of law

PRWORA

Personal responsibility and work opportunity reconciliation action

SDH

Social determinants of health

SGA

Substantial gainful activity

SSA

Social security administration

SSDI

Social security disability

SSI

Supplemental security income

TANF

Temporary assistance for needy families

TERI

Terminal illness cases

TWP

Trial work period
Introduction to the Medical-Legal Partnership (MLP) Model
Medical-legal partnerships (MLP) are a service delivery model that integrates legal services into the daily functions of healthcare institutions and practices in order to address the health-harming legal needs of low-income individuals and improve outcomes at the patient, institutional, and population levels [1]. The model is both a result and driver of health care's broader shift towards addressing the overall social determinants of health (SDH) [2]. At their core, MLPs seek to (1) provide patients direct legal intervention and advocacy, such as assistance with public benefits and representation in court hearing; (2) implement institutional-level changes, such as creating hospital-wide legal need screening protocols; and (3) affect broader policy changes, such as advocating for increased enforcement of lead laws in identified at-risk communities [3].
The MLP model formally began in the Department of Pediatrics at Boston Medical School in 1993. Since then MLPs have spread to 294 healthcare institutions in 41 states [4]. The National Center for Medical-Legal Partnerships (National Center) develops tools and resources for stakeholders interested in establishing a MLP. Among these resources is the "MLP Toolkit," which offers an in-depth stepwise guide for healthcare and legal providers that seek to collaborate on a new MLP initiative.
Typically, MLPs consist of a partnership between a healthcare institution or practice and a nonprofit legal aid clinic with the goal of incorporating legal aid services directly into the regular practice of the healthcare partner. However, one of the key strengths of the model is its flexibility in adapting to the particular circumstances of each partnership and community. As a result, there is a wide variety of MLP types and an even broader variety of potential clinical partners such as acute care hospitals, hospice centers, federally qualified health centers, cancer centers, pediatric primary care offices, and community-based health clinics [5]. Legal partners can be pro-bono attorneys offering free services, local nonprofit legal aid organizations, and law schools providing student support. Other MLP partners can range from state departments of health and aging, nonprofit service organizations, and local community organizations to large corporate sponsors. MLPs cultivate and reward creative approaches and seemingly unlikely partnerships.
Clinical and Legal Models That Incorporate Medical-Legal Partnership Services into Cancer Care
The practical realities of resource allocation and funding that providers and MLP advocates often face require partners to implement innovative approaches when integrating legal services into a cancer setting.
From a clinical practice perspective, the flexibility of the MLP model allows it to be introduced into most cancer treatment venues. One particularly fruitful area of integration is introducing MLP services into a patient navigation model. Patient navigation is generally understood to mean the "individualized assistance offered to patients, families and caregivers to overcome health care system barriers and facilitate timely access to quality medical and psycho-social care from pre-diagnosis through all phases of the cancer experience" [6]. Despite the recent growth and success of the model, providers that operate in a patient navigation system have expressed frustration with their inability to handle certain legal and system needs of patients [7]. The MLP model can integrate legal services within the patient navigation process, using tools and services that most effectively assist this distinct populations [8].
From a legal practice perspective, the types of legal resources that can be utilized in a cancer MLP can vary widely and are dependent on the resources available in the particular community. Some of the common cancer MLP delivery models include the following:
Hotline
A legal hotline is a service designed to provide legal advice and information by telephone [9]. This includes programs that provide answers to clients' legal questions, analysis of their legal problems, and advice on solving those problems. Some hotlines may perform brief services such as making phone calls, writing letters, or preparing documents on behalf of clients. Hotlines may also provide referrals to other programs or serve as an intake for a full-service program. Hotline call handlers may be attorneys, paralegals, or law students, working under an attorney's direct supervision. The Cancer Legal Line of Minnesota is a strong example of an organization leveraging limited resources to best assist their community needs.
Law School Partnerships
Oncology practices with access to law schools can create a partnership that incorporates law students. Often, this is done by developing a clinical practice course within the law school that provides specialized training to the law students on practicing in this type of environment. Prime examples of legal needs that lend themselves to this type of model are advance care planning documents and social security disability benefit cases. The students must be supervised by licensed attorneys, which are usually faculty members of the law school, or local legal aid attorneys. Incorporating law students provides for a more didactic and interactive approach to the treatment of legal needs in a cancer setting.
Pro-Bono Partnerships
Many medical-legal partnerships (MLPs) rely on local pro-bono attorneys to partner with them and assist with caseloads and specialized case types. For example, an MLP that primarily focuses on public benefits and housing may nevertheless require assistance with family law and immigration issues. Local attorneys that are willing to partner with the MLP and take on these cases provide an invaluable resource at filling the gaps that typical MLP services cannot fill. Alternatively, in locations where other legal services are limited, cancer centers can consider partnering with local attorneys to provide limited services, such as monthly advance care planning document clinics or general "know-your-rights" education sessions.
On-Site Integration
The ideal cancer MLP incorporates an attorney on-site into the practice of a cancer center. The attorney, usually an employee of a legal aid agency, sees patients referred to them by the providers and works collaboratively to address their legal needs. They also train providers on how to identify those legal needs and work to implement institutional- and population-level interventions. Just as any provider on the healthcare team, an MLP attorney's efficacy is directly connected to the degree of integration into the practice, so healthcare providers are encouraged to consider the attorneys as an essential part of the care team.
Deciding on the type of appropriate delivery model for a particular treatment environment requires, in large part, an assessment of (1) the unique legal needs of the patient population and (2) the institutional and community resources available to address those needs. While the process of developing these assessments is outside the scope of this chapter, providers or entities interested in starting a cancer MLP should refer to the National Center's MLP toolkit for further assistance, which is available on their website [4].
Medical-Legal Partnership: Addressing Social and Legal Determinants of Health
The primary goal of MLPs is to improve patient well-being by addressing social determinants of health and eliminating legal and regulatory barriers to care. An MLP's ability to address the legal needs of its patient population relies upon a comprehensive understanding of the types of unique legal barriers that the population faces and how those barriers relate to the overall social determinants of patient health.
A combination of factors impacts the health of individuals and communities. Social determinants of health are structural constructs and conditions in which people are born, grow, live, work, and age that have an impact on the overall well-being and quality of life of individuals [10]. There is growing consensus on the negative impact that SDH can have on health equity, particularly as they relate to the poor and underserved as well as those suffering from chronic health conditions.
The "law," which in this context is a broad term referring to local, state, and federal statutes and codes, judicial case law, administrative regulations, and relevant institutional policies and procedures, can often serve as both an intentional architect and indirect agent of SDH. The law interacts with SDH by "(1) helping structure and perpetuate the social conditions that we describe as 'social determinants' and (2) as a mechanism or mediator through which social structures are transformed into levels and distributions of health" [11]. As an example, adjustments in eligibility criteria for the Supplemental Nutrition Assistance Program (SNAP —previously known as food stamps) or other public benefits can have direct consequences on the overall well-being of individuals [3]. A more distal example is child education laws, which can be considered to impact population-level health when you consider the link between health and education level [1]. In both cases the underlying legal frameworks mold much of the health-related social and environmental realities of the individuals' lives.
Generally, the types of legal issues that impact the well-being of low-income individuals can be separated into five categories using the National Center's acronym "I-HELP" [
12
]. These categories include income, housing and utilities, education and employment, legal status, and personal and family stability. Figure
11.1
outlines the five categories and highlights how MLPs can assist providers in addressing the legal needs associated with them.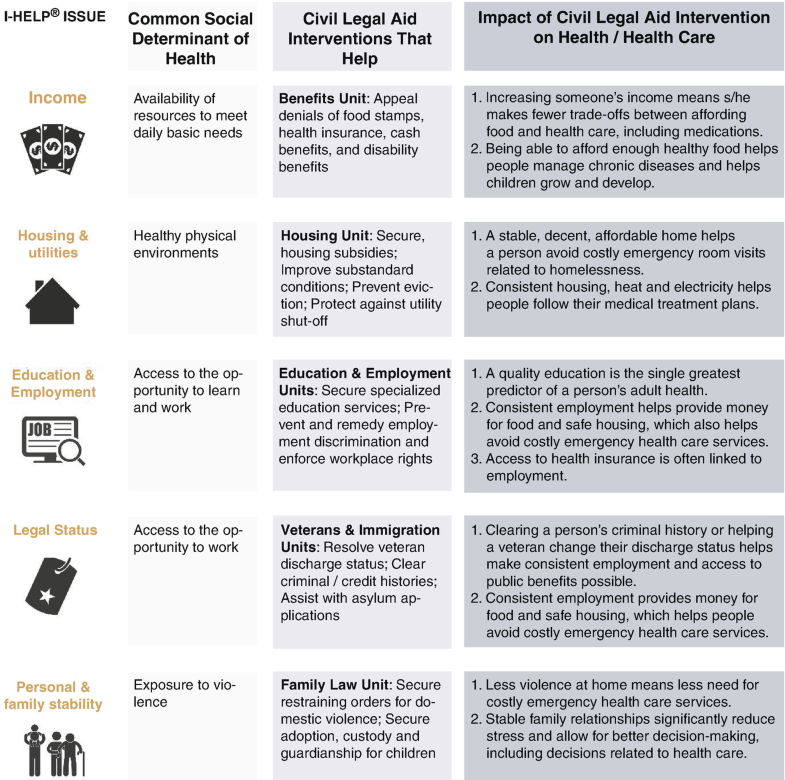 Within the context of individual MLPs, the five I-HELP categories are likely to present themselves through idiosyncratic sets of legal needs. For example, the legal needs of young families in an outpatient pediatric setting tend to focus on special education issues and denials of public benefits [14], whereas the needs of individuals in an outpatient oncology setting, as discussed further below, usually focus on advance planning documents and financial security [15]. For the former group, the primary I-HELP categories are "education and employment" as well as "income." For the oncology group, the emphasized I-HELP categories are "personal and family stability" and "income." While there is commonality between the groups' overall categorical needs, each patient population expresses those needs in a distinct fashion. This unique expression of overall legal needs can be understood as the "legal determinants" of that population's health.
Each MLP partnership must adjust their services and practice flow to match their patient populations' particular needs. This general principle also applies to cancer-focused MLPs, which must come to understand how the particular legal needs of their patients can exacerbate the physical, mental, and emotional impact of a cancer diagnosis. By understanding the distinct legal needs of cancer patients, MLP teams can work to accomplish their goal of improving the overall health of cancer patients.
Legal Needs of Cancer Patients
A 2007 study that drew on responses from 50 mixed-site cancer patients showed that the patients reported cancer-specific legal needs as having a significant impact on their quality of life and that despite this impact those needs were not being met through the course of their treatment [15]. The patients identified and rated 30 medically related legal needs on their impact on quality of life and the degree to which patients felt those needs were being addressed in their care. The researchers grouped the legal needs into broad categories based on initial groupings provided by patients. The resulting four categories were health care related (healthcare proxies, advance directives, etc.), employment related (FMLA, insurance rights, disability issues, etc.), financial related (social security, pensions, IRS, financial planning, etc.), and estate planning (wills, inheritance, probate, custody issues, etc.). Almost uniformly, each category of need had a perceived significant impact on quality of life and was viewed as largely unaddressed in care.
Comparing the National Center's I-HELP categories in Fig. 11.1 to the four cancer-specific categories from the Zevon et al. study further shows how patient populations tend to retain the general themes of the I-HELP categories, albeit in their own unique fashions. Both sets of categories include express concerns around financial, familial, and personal stability. However, the cancer study's highest ranked category with respect to impact on quality life, the "health-related" category , focused almost exclusively on advance care planning matters, including advance directives, do-not-resuscitate orders, and powers of attorney. These are legal needs that would only be a small part of the broader "personal and family stability" I-HELP category. Yet for cancer patients, the need for advance care planning is the primary manifestation of patients' concerns around personal and familial stability, and is subsequently perceived as having a significant impact on quality of life.
In this section we provide specific insights into the most common health-harming legal issues that cancer patients face. These issues should be the starting point of any cancer MLP's legal needs assessment and can reasonably be expected to make up a significant portion of its practice. Each main section represents one of the I-HELP categories and its cancer-specific component legal needs. The legal needs snapshots include an introduction to the basic underlying legal principles, how those principles apply to cancer patients, and practice tips for cancer MLP advocates.
Conclusion
As cancer treatment continues to shift towards an ambulatory setting, oncology care will be required to contend with the broader social and environmental circumstances impacting patients' lives. The services that MLP attorneys provide can aid not only with acute, emergency needs, but also with chronic and systemic issues. The MLP model is therefore uniquely situated to help augment the scope of patient care in order to address many of the short-term and long-term social determinants of patient health.
Copyright information
© Springer International Publishing AG, part of Springer Nature 2018