Human Subjects Research in Bioemergencies
Abstract
Bioemergencies present unique ethical and operational challenges to performing clinical research with human subjects. Patient care, public health protection, and responder safety are paramount in these situations, which often involve high biosafety level pathogens and containment conditions. While working to halt the spread of disease, research is necessary to understand the ongoing outbreak as well as increase response capabilities in the face of future threats. Research in bioemergencies has novel and unexpected challenges that vary greatly depending on the type of studies being conducted and data being collected. This chapter will provide an understanding of basic principles, challenges, and regulatory components of human subjects research during bioemergencies, as well as ongoing practical components of these studies.
Keywords
Research 
Ethics 
Novel pathogen 
Clinical trial 
Biorepository 
Institutional review board 
Human subjects research 
Publication 
Data 
Public health 
Confidentiality 
Introduction
The nature of clinical care in bioemergencies presents distinct ethical and operational challenges for both patient care and research. While the most pressing concern at the onset of a bioemergency is always implementing clinical and public health measures to mitigate impact and stop the spread of disease, research is still needed to support this goal and improve our capacity to respond to the next threat.
As research within the context of containment care (i.e., patient care within a clinical biocontainment unit) remains a relatively new domain, novel and unexpected challenges present themselves as research opportunities that are approached in each new bioemergency. These challenges will vary greatly depending on the type of research being conducted. Understanding basic broad principles of the human subjects research relevant to studies conducted in acute care settings, as well as the growing experiences of investigators in these unique settings, will develop an informed foundation for containment care investigators.
Recent pandemic threats (severe acute respiratory syndrome (SARS), avian influenza H5N1, pandemic influenza H1N1, and the 2014 Ebola virus disease outbreak) have highlighted the challenges in conducting clinical research in disease outbreaks, particularly involving novel or (re)emerging pathogens, particularly those about which limited systematic or high-quality data are available. Moreover, a debate has arisen regarding the ethical basis of the clinical and public health research being conducted during these emergencies. Research opportunities in bioemergencies are ample, and a number of considerations must be taken into account to ensure patient, public, and care worker safety. Conducting effective research in these environments requires making the distinction between it and public health practice or operational response [1].
Research Opportunities in Clinical Biocontainment Units
Clinical biocontainment units provide a novel but challenging platform for research in bioemergencies. Despite the broadly recognized importance of this research, international and domestic ethics guiding principles, as well as basic human rights, must be upheld and protected. Critical to these efforts is distinguishing the difference between data collection and analysis for effective response and clinical practice in an operational response and human subjects research for generalizable knowledge. To make this distinction, one must address the intent of the activity, which easily becomes blurred during emergencies [1]. For example, in a recent outbreak of Middle East respiratory syndrome coronavirus (MERS Co-V), epidemiologic and clinical data were collected and analyzed to determine the most effective infection control measures. The goal of this investigation was to effectively reduce transmission of MERS Co-V; however, the data will ultimately inform broader research questions outside of the context of the outbreak.
A critical priority for clinical and public health researchers, particularly those who are also practitioners, is understanding how to determine what activities are human subjects research versus a "standard" clinical operational response . To answer this question, the investigator must determine his or her goal. The Health and Human Services Office for Human Research Protections provides guidance on whether an activity is human subjects research [
2
]. Figure
15.1
demonstrates a decision tree for determining whether or not an individual is performing human subjects research. If the goal of the investigation is to develop or contribute to generalizable knowledge, this is fundamentally research and must progress down the regulatory path associated with research.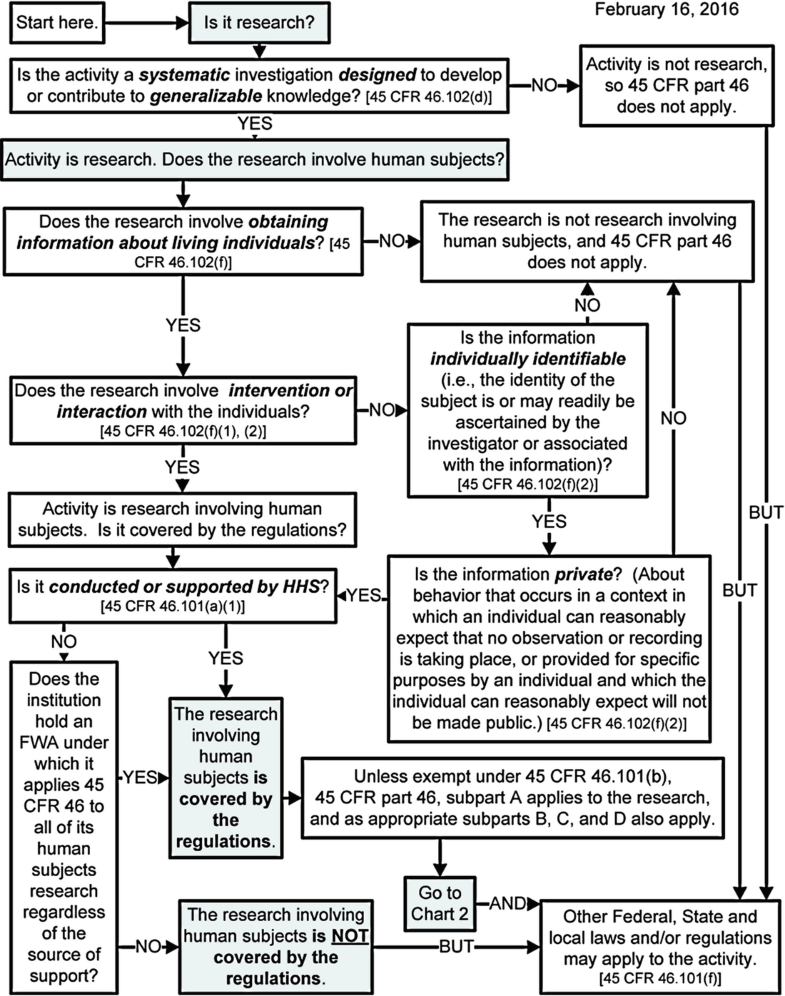 Research Types
There are several research activities that can be conducted in bioemergencies. In this chapter, we will focus primarily on clinical research, particularly as it relates to human subjects participation in bioemergencies. Among the various types of clinical research, treatment studies are the most likely, as they generally involve analyzing the effects of a countermeasure, therapeutic, or other intervention on affected or at-risk individuals.
Additionally, research related to vaccine or postexposure prophylaxis development and trials in an at-risk population, such as healthcare workers, may be conducted, with the goal of developing therapeutics and other tools for prevention of future outbreaks/infections. Other examples of research may involve collection of biospecimens for use in future research efforts or quarantine or containment research to understand infection and transmission dynamics. Research specimens are highly valuable in informing downstream laboratory analysis for better understanding of infectious diseases. Finally, diagnostic and screening research seeks to detect specific diseases or individuals afflicted by them. These studies offer new information on a critical component of research in outbreaks and pandemics, as it focuses on preventing further spread of the infection.
Other research is necessary for an effective clinical and public health response beyond clinical research. Operational or implementation research in bioemergencies often focuses on real-time improvements to the clinical or health system response. This may include epidemiological studies focused on identification of causes, effects, or simply cases of a specific infection and may include looking for patterns during an outbreak for improved response, and many of these cases may not constitute human subjects research.
Regulatory Oversight of Human Subjects Research in Bioemergencies
The basic protections for human subjects of research are promulgated in the Common Rule, published in 1991, and based on the HHS regulations at 45 Code of Federal Regulations [CFR] part 46 [3]. The Common Rule applies to research conducted or supported by any of the departments and agencies that are signatories to the rule. Additional regulations at 21 CFR 50 (Protection of Human Subjects) and 21 CFR 56 (IRBs) cover clinical investigations using FDA-regulated products and differ only slightly from the HHS regulations.
These rules generally lay out the specific requirements for Institutional Review Board (IRB) operations and the conditions under which human subjects research may occur. This includes, among other things, the specific criteria for approval of research by the IRB, the process of obtaining informed consent from human subjects, and the elements of information that must be part of that process.
The IRB must assure that certain conditions are met before approving human subjects research. These criteria for approval are based on the ethical principles of respect for persons, beneficence, and justice, as laid out in the Belmont Report [3]. The IRB must judge that risks to subjects are minimized, that the risks are reasonable in relation to anticipated benefits to subject or to society, that subject selection is equitable, that informed consent is obtained, and that additional safeguards have been included to protect the vulnerable subjects, as well as other requirements.
Research conducted in the setting of a bioemergency presents challenges to both the investigator and to the IRB in assuring that these ethical and regulatory requirements are met so that critical research can be conducted.
Practical Issues
One of the biggest challenges of conducting research in bioemergencies is that they often involve novel disease-causing agents or pathogens. When the pathogen is novel, predetermined study design and pre-identification of affected populations and countermeasures is almost impossible [14]. This challenge represents situations where research, particularly clinical studies, is most needed as novel diseases often do not have associated therapeutics that are far enough down the drug discovery pipeline. Because of this, there are often not preapproved drug or treatment clinical trial protocols in place, ready to be implemented.
Conclusion
Researchers are responsible for maintaining the public's confidence and upholding this trust through appropriate conduct of research, and this is especially important in the role of clinician scientist. The stakes are particularly high in the context of a bioemergency, a setting with opportunities for conducting clinically novel and critical research but also considerable challenges. Affected populations are inherently vulnerable, and all aspects of conducting research in this emergency environment are challenging. Careful adherence to the high standards set for human subjects research helps to ensure that the rights and welfare of individuals are protected in bioemergencies and that all persons maintain trust in the research relationship and process.
Copyright information
© Springer International Publishing AG, part of Springer Nature 2018