Abstract
With the development and diffusion of EMRs and EHRs, it is necessary for healthcare providers and hospital executives to have a systematic and efficient way to quickly evaluate different EMRs and EHRs to ensure the one they select is best for their specific needs. This chapter proffers McFarlan's Strategic Grid as an appropriate tool in this regard and discusses how it could be modified to enable systematic, effective, and efficient assessments of EMRs and EHRs.
Keywords
EMRs, EHRs, Systematic framework, McFarlan's strategic grid, EMR/EHR workflow 
25.1

Background

Electronic medical records (EMRs) are health information systems that gather, store, process, and retrieve patient information from multiple sources. EMRs were created to enhance legibility, organization, and access in an industry that historically was responsible for handling massive amounts of data, created by record keeping, compliance and regulatory notes, and patient care (Raghupathi 2010). The US healthcare system is infamous for its high cost and modest population health outcomes compared to other developed countries. Increased US healthcare cost is due to the liberal use of medical tests and imaging technologies accompanied by fewer frequent primary care interactions. These results are further exacerbated by the limited attention given to US social services which directly influence population health outcomes negatively. According to the Organization for Economic Cooperation and Development (OECD), in 2013 US healthcare spending was 17.1% of the GDP, while France healthcare expenditure consumed only 11.6% of the GDP, and in UK the share was even lower, at 8.8% (Fund 2013). Although public healthcare programs in the USA only covered 34% of the population (in 2013), per capita spending was recorded at $4197 which is one of the highest among all developed countries. Healthcare system in the UK on the other hand covers the entire population with a per capita spending of $2802 annually. One of the main reasons for US high healthcare spending is the higher consumption of diagnostic technology. In 2013, US clinicians prescribed 240 CT exams per 1000 people, while the number of prescribed tests for the same number of the population was only at 193 in France. Compared to the OECD median of 136, both countries were considered as above average. The USA is expected to consume more resources in health care and ultimately result in higher cost. However, the health outcomes of Americans do not reflect such expenditure trends. Life expectancy in the USA was recorded at 78.8 years in 2013, which is lower than the median of the OECD recorded at 81.2 years. Also infant mortality in the USA in the same year was reported at a higher rate of 6.1 deaths per 1000 live births which was higher than the median of the OECD rate of 3.5 deaths. Poor health indicators for Americans in addition to faded presence of social programs are associated with higher rates of obesity which leads to chronic conditions such as hypertension and cardiovascular diseases. However, there are factors that even for healthy Americans who are nonsmokers and who maintain a healthy lifestyle, risks of morbidity and mortality are higher than their OECD counterparts which could be justified by limited support for social determinants of health in the USA.

The effect of EMR on overall patient healthcare outcomes is categorized within three different classes: (1) Enhancing the quality of care, (2) Reducing healthcare cost, and (3) Resolving medical errors (Linder et al. 2007). With the immense impact of modern technology in the field of medicine and health, all facets of healthcare delivery (diagnosis, treatment, patient-physician interaction, and clinical communication) are rapidly transforming and causing the formation of newly designed standards of care. From wristbands that indicate the level of patient activity to sensors monitoring the cardiac patient's heart rate periodically, clinicians are presented with a large breadth and volume of data/information that needs organization and application. Furthermore, highly complex transplant surgeries and the utilization of robotic technology in many of healthcare treatment plans are continuously increasing patient (and their caregivers) expectations. Finally, new forms of communication and the free availability of medical knowledge are enhancing the patient-physician and clinician-clinician communication standards and resulting in new models that promote transparency and group evaluation. Higher level of care standards is accompanied with the need for reliable communication. Most healthcare encounters are sufficiently adequate to improve patient care outcomes; however timely communication and patient care coordination are major challenges in the treatment process. Failure in the efficient delivery of care promotes redundancy in lab tests and wasteful drug consumption, which in turn drives the cost of health care to uncontrollable levels.

Clinical communication relying on handwritten notes unquestionably increases the potential for error and medical flaws. EMR systems are designed to reduce and eventually eliminate human-based errors, however.
25.2

EMR History

Prior to the nineteenth century, medical diagnosis was mostly based on the subjective evaluation of patient-presented symptoms instead of a comprehensive physical evaluation. This trend dramatically changed when the quantitative measurements in clinical practice were introduced by French Clinical School and German laboratory medicine's systematic recording methods of clinical interactions, which in turn enhanced the volume and need for organization of clinical data, which ultimately was enhanced into paper files in nineteenth century medical centers of Paris and Berlin (Gillum 2013).

In the nineteenth century, the New York Hospital was preserving copies of physician notes related to patient disease history, its cause, and treatments provided in the library for future references. By the end of same century, medical record's role evolved to serve as legal documentation in insurance and malpractice disputes. This development urged hospital officials to exert detailed supervision on the process of gathering and preserving patient medical records (Siegler 2010). Harvard Medical School modeled the case history method utilized in Harvard Law School to organize patient medical records that included family history, patient habits, previous illnesses, present illness, physical examination, admission urine and blood analyses, routine daily medical notes, and discharge notes. Another model promoting medical data organization was developed in the beginning of the twentieth century by Henry S. Plummer who was dissatisfied by the long delays associated with obtaining medical notes from physicians regarding each given patient. This dissatisfaction motivated Dr. Plummer to enhance both education and patient care by creating efficient medical records through his dossier model that is still being utilized at Mayo Clinic. The model simply followed basic privacy and accessibility-enhancing techniques through assigning numbered envelopes to each patient and placing all patient-related information into the given envelope that is safely reserved in a centralized location within the clinic (Camp et al. 2008).

The earliest concept of computerized record keeping including patient medical record information was materialized as early as the 1960s by Larry Weed. The idea promoted a problem-oriented medical record that will encompass more than just patient diagnosis and will potentially enable third party clinical staff to independently review patient cases and treatment. In 1969 Larry Weed introduced the problem-oriented medical record (POMR) concept to enhance the record keeping knowledge to the cause of medical conditions instead of a narrow focus on the treatment process. These systems were also known as clinical information systems. Accompanied with the POMR trend was the development of Health Evaluation through Logical Processing (HELP) system which promoted the use of patient medical data/information to assist clinicians with decision support systems.

In the 1980s many hospitals and care organizations experienced the benefits of EMRs and EHRs and thus formed technical teams to pursue a customized standardization of the new method (Atherton 2011).

In 1991, the Institute of Medicine published a comprehensive report encouraging clinical practices to adopt the clinical data management tool introduced under EMR and EHR models, which mainly focused on the safe conversion of paper-based medical records into EHRs. Furthermore in 2000, the IOM published another report that aimed at addressing medical errors under the title "To Err is Human" that emphasized the role of EHRs in the safe storage and retrieval of patient records (Atherton 2011). In 2004 in his State of the Union address, President Bush mentioned the importance of medical records management in reducing cost, enhancing efficiency, and avoiding medical errors (Post 2004). In 2009, President Obama merged the EHR requirement into the American Recovery and Reinvestment Act (ARRA) to be ultimately included in the Health Information Technology for Economic and Clinical Health Act (HITECH) which promoted the technology by rewarding practices (who can prove meaningful use of EHRs) with financial reimbursements.
25.2.1

Problems in EMR/EHR

EMRs and EHRs are considered computerized medical information systems that are responsible for collecting, gathering, and displaying patient information and patient-clinician documented interaction/encounter details. As evident by the name of the newly introduced systems, EMRs and EHRs were designed and implemented to introduce the appropriate contribution of informatics in the healthcare industry. However many obstacles have proven to hinder the progress and adoption of the medical record systems:
Health care is one of the most heavily regulated and complex industries in the USA that consumes more than 17% of the annual national GDP. The introduction of Medicare and Medicaid in the 1960s, although a commendable effort by US government to provide medical coverage to the elderly and disabled in the country, sharply increased the demand on an industry that unfortunately was left with a stagnant if not decreasing levels of supply/resources. The Patient Protection and Affordable Care Act, also known as Obamacare, unfortunately added to this imbalance by expanding coverage to include most of the uninsured population while only modestly succeeding in the implementation of cost reduction policies. On the other hand, cost inflation in health care was impacted by legislator interference almost in all aspects of health care. Different administrations on both sides of the isle have continuously introduced new regulations to either nationalize or monopolize healthcare resources since 1910. Restricting the medical licensure, enforcing the federal certificate-of-need for construction of medical facilities, and monopolizing prescription drugs by enhancing and extending patent duration contributed in the shrinking of the resource pool of the medical industry, nationalizing health care for a large portion of the population in the USA (elderly and disabled) through Medicare and Medicaid, and monopolization of payers by exempting the large health insurance companies from most federal regulation like the antitrust laws.

EMR and EHR workflow adoption challenges create resistance among clinicians and especially physicians who mostly control care cost. Physicians are expecting for EMR systems to increase the accurate flow of information in the diagnosis and treatment processes which will ultimately enhance their service delivery performance. However many physicians have a customized routine for providing care, and furthermore they trickle down a certain structure of delegated responsibilities to their staff. EMRs are created mostly by software companies who consider certain requirements mandated by the "Meaningful Use" act, but they fail to incorporate configuration and customization to the degree that allows clinics and hospitals to continue their tasks with minimal interruption.

Introducing EMR/EHR systems has a negative impact on clinical communication. Physicians are required to enter patient-related data and details regarding patient interaction in the short patient visit time that is on average less than 15 min. This reduction in the quality of physician-patient communication influences patient education and the human factor that is vital for building a reliable relationship with patients. Robust physician-patient communication will result in improved decision-making and healthcare outcomes.

Training during and before the implementation of EMR/EHR could be time-consuming and costly in the adoption process. To replace the existing paper-based or less efficient computerized medical information system with a new EMR/EHR system, organizational leadership encounters resistance from physicians and other clinical staff. It is vital for the training phase to identify the computer skills of staff members to target sufficient training on an individual basis. Also it is important to provide system implementation pilot periods that will facilitate a smooth transition. Factors such as responsive customer service team, feedback solicitation from users, and video/audio training tools embedded or accompanied with the system could improve the adoption process.

Interoperability issues between different EMR/EHR systems could pose major challenges in the implementation process. Communication between EMR systems is not fully standardized yet, and the Department of Health and Human Services plans to have full interoperability between all disparate EMR systems by 2024. However different care organizations set up similar EMR systems differently, and in many cases physician practices utilize EMR systems based on their parent organization preference which could create more interoperability issues between their office and other clinical organizations that are regularly communicating with them.

Adoption of EMR system adds new tasks to an already busy clinical staff. Entering data and retrieving information from different pages of a given EMR system take precious time away from clinical staff that are already overwhelmed with a high volume of patients and heavy schedules. Physicians are required to divide their time between clinical care, answering patient phone calls, and reviewing prescription and lab order requests. The newly introduced tasks by the EMR system add to this workload with a promise of long-term efficiency results.
25.3

Most Popular EMR/EHR Systems

After the enforcement of several phases of the "Meaningful Use" act, many providers have been under extreme pressure to comply with the implementation of electronic medical records and complying with the requirements of supervisory healthcare information system bodies. According to Practice Fusion blog, there are over 1000 vendors that develop EMR/EHR systems in the current market. The top selection points of the current EMR/EHR systems are their compliance with meaningful use regulations, leaving a large area of medical practice requirements unfulfilled and creating a significant proportion of the clinical staff unsatisfied. The top five EHR vendors are Epic, eClinicalWorks LLC, Allscripts, Practice Fusion, and NextGen Healthcare (Shay

2016

) (Fig.

25.1

).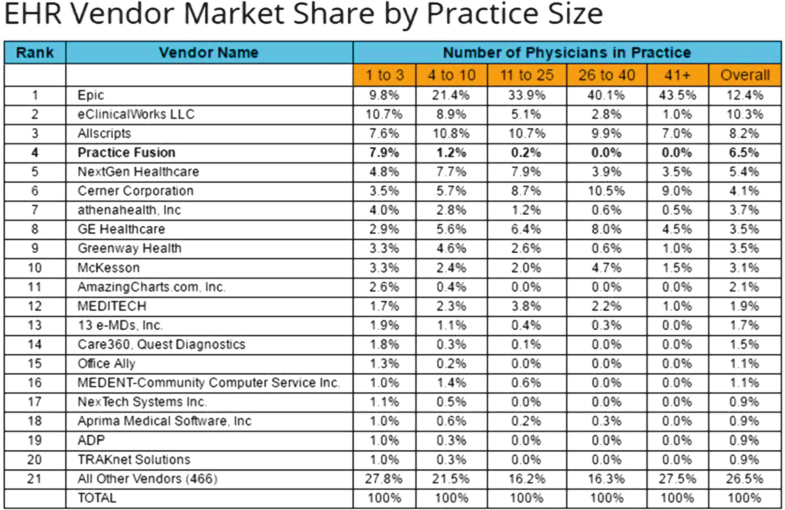 25.3.1

Epic

Founded in 1979 by its current CEO, Judy Faulkner, Epic is one of the most popular (if not the most popular) patient record health information system in the market. Some of its clients are Oakland, Calif.- based Kaiser Permanente, Cleveland Clinic, Johns Hopkins Medicine in Baltimore, UCLA Health in Los Angeles, Arlington-based Texas Health Resources, Massachusetts General Hospital in Boston, Mount Sinai Health System in New York City, and Duke University Health System in Raleigh, NC. It is estimated that about 51% of Americans have an Epic record. Epic has a good reputation among its users and has achieved the No. 1 Overall Software Suite for 2013 by KLAS Research. Unlike its competitors Epic has not joined the CommonWell Health Alliance that is active in increasing interoperability between EHR platforms; instead Epic has partnered with health industry leaders like Kaiser Permanente, Walgreens, and Surescripts to form Carequality. Carequality is an effort to increase data exchange between hospitals, physicians, payers, retail clinics, and other healthcare stakeholders. Epic is also considered as one of the more expensive EMR products in the market which require a significant investment on the healthcare organization part. It has been estimated that Epic system implementation in Duke University Health System had a price tag of $700 million, and for Kaiser Permanente the cost reached the $4 billion mark (Gregg 2014).
25.3.2

eClinicalWorks EHR Suite

Founded in 1999, eClinicalWorks has attempted at replacing paper-based communication between physician practice and healthcare entities that are involved with patient care such as pharmacies, test labs, and hospitals. With its cloud-based EHR system, eClinicalWorks covers about 800,000 medical staff/users. Some of the benefits offered by the EHR system are their free conversion (from any other EHR system to eClinicalWorks), free on-site training, and free startup implementation. However as a web-based product, eClinicalWorks does not provide the opportunity for organizations to host their own data and EHR system. Pricing of eClinicalWorks starts at $375/monthly per each provider for practices that include from 1 to 9 providers. In 2014, according to KLAS rating report, the average EHR system scored a 6.3, when eClinicalWorks rated a 7 for meeting ACO requirements (ctsguides 2016). One of the main advantages of the eClinicalWorks EHR is that it serves small, medium, and large healthcare organizations.
25.3.3

Allscripts

Allscripts is a Chicago-based company that was founded in the 1980s. With 180,000 physicians and 45,000 practices utilizing their product, it is considered as one of the more popular EHR systems currently available in the market. Allscripts provides a wide range of templates to a variety of specialties which motivates healthcare organizations active in different aspects of care to consider their product. Another main advantage of the system is its interoperability aspect. Allscripts is capable of communicating with over 50,000 pharmacies for e-prescribing and more laboratories (according to the company claims) than any other EHR systems available in the market. According to their website, Allscripts has won the No. 1 top Ambulatory EHR Vendor in user satisfaction pool from Black Book Rankings and the 2014 No. 1 Best Global Acute EMR and KLAS Category Leader. Allscripts also uses different speech recognition tools to extract patient and physician input with minimum effort; furthermore the system also parses the data entered to identify structured data that are relevant in billing and practice processes (Capterra 2015).
25.3.4

Practice Fusion

Founded in 2005 Practice Fusion is a cloud-based and web-based medical health record platform provider for healthcare organizations. Practice Fusion has a client base of 30,000 physician practices and a large integrated system that can connect to a variety of labs, imaging centers, billing solutions, and third-party applications. The EHR system does not restrict its clients to number of users or number of patient records. User feedback indicates a deficiency in the customized templates that are beneficial to specialties. A major advantage of the system is its free support in addition to assigned and dedicated support personal to given users. Practice Fusion is keen in providing dedicated training videos to different layers of clinical staff (physicians, nurses, physician assistants, and administrative staff), and it provides a tool to enable practices in their Meaningful Use evaluation process. Offering a unique pricing model, Practice Fusion is a free EHR service that follows the Google model, by providing free services to its users and utilizing them as the marketing base for its advertisements (AKA revenue source).
25.3.5

NextGen Healthcare

NextGen Healthcare was established 25 years ago to assist providers with solutions that enhance health information system technology and to facilitate a smooth transition to value-based purchasing. A main indicator of the company success is their significant cliental presence of 33% in Accountable Care Organizations (ACOs), and another 40% of the primary care physicians who purchase the NextGen products are accredited by Patient-Centered Medical Homes (PCMHs). Such contribution is mainly attributed to the use of health quality measures in the product which is helpful in value-based purchasing. With such high user numbers of 150 million patients, receiving care from NextGen Healthcare offered interoperable solutions that integrate a wide variety of care facilities, and 40 million patients regularly use their patient portal to communicate with physicians; the system claims both user-friendliness and easy adoption of clinical processes (NexGen Healthcare 2016). The system is considered expensive and does not offer many customization options; instead it requires its future clients to be already upgraded to ICD-10 which could be considered as a limitation (Parker n.d.).
25.4

EMR/EHR Rubric Systems

With the universal demand for healthcare applications, many challenges emerge that need to be addressed. Complex medical systems that include diagnostic and treatment procedures along with bulky administrative transactions often dictate specific system customization. In addition, many health facilities render a unique combination of health services under given diagnostic codes with specific clinical staff preferences that create an exclusive need for system management. To address such challenges and enhance the performance of clinical facilities, system engineers and application developers are designing sophisticated applications that are tailored to their clients' needs and obligations. In the process of such development, it is imperative to consider the healthcare privacy laws such as HIPAA and recognize elevated patient expectations due to medical modernization. To satisfy all the requirements with few comprehensive systems, essential rubric items need to be considered and measured in all developed applications:
Seamless integration of developed applications with healthcare procedures : Identifying perfect systems require a smooth conversion from existing EMRs or paper-based systems to newly adopted systems. Achieving such conversion demands a clear understanding of the necessary requirements of a given facility combined with the skill set of the clinical and administrative staff. Gathering existing procedural flow and business model-related data must incorporate organizational reporting methods, structures, and preferences. Adopting software systems without taking such details into consideration will cause staff resistance and costly procedural redundancy. Clinical and administrative staff usually continue conducting their daily tasks with familiar and more preferable methods and resist adding additional workload to their daily obligations. Organizations that do not consider such disadvantages usually experience failed software adoption processes and are in risk of spending additional funds and effort for a minimal return.

Designing and developing configurable healthcare systems : Hectic clinical operations usually demand certain prioritization in the organizational workflow, and clinicians are led by medical emergencies and patient needs to organize their daily routines. However, certain healthcare applications (EMRs and EHRs) limit their users into a controlled set of options that determine and operate in opposition to existing routines. These constraints will ultimately lead to either abandoning time-consuming operations that are not configurable to a given organizational clinical preferences or circumnavigating such processes and repurposing tasks to fit them in their daily workload. In both of these conditions, risks of redundancy, staff resistance, and prolonged implementation periods will deplete organizational resources and negatively impact performance measures.

Including patient care coordination in EMR/EHR systems: Newly adopted systems are more successful when they include and track patient participation in the process of care (treatment and follow-up). Many healthcare applications are limiting their patient coordination by incorporating electronic communication with patients or their caregiver. Although patient communication in the process of treatment is critical, it is not sufficient based on the new demands imposed by care coordination provisions and tightly coupled reimbursement regulations with healthcare outcome measures. To satisfy care coordination, EMRs/EHRs need to introduce a classification of services provided and determine the level of coordination necessary within each class. Measuring patient-clinician coordination will establish reasonable clinical outcome expectations and assist clinical staff in determining the next appropriate steps and increase overall satisfaction. Such measures should be implemented via the inclusion of clinical data and expert input.

Enhancing user-friendliness in healthcare applications: Intuitive user interface (UI) features such as touch screen monitors, mobile applications, self-describing UI labels, and audio/video training systems that are accompanied with superb costumer service commitment are all essential user interaction components that are pursued in most healthcare applications. EMR/EHR systems that are not responsive to the technological advances usually fail to recognize the exact needs of their users and subsequently become detached from their client base. Technological advances play a major role in enhancing the performance of healthcare clinicians. Duplicating monotonous tasks that are both time-consuming and costly to the clinician workload by user-friendly devices that both measure and record patient status will increase the overall outcome and enhance efficiency dramatically. Clinicians are overwhelmed with hectic schedules, and they normally perform identical set of tasks such as measuring patient vital signs per each given visitation; utilizing precise handheld devices will enhance their performance and provide busy clinicians with much needed free time to interact with their patients and boost their clinical training. Also administrative staff will be able to interact at a faster and more reliable manner with their designated web pages which ultimately enhances clinical efficiency and increases strategic visibility into the organizational tasks.

System interoperability and data sharing : Communication within different layers of healthcare facilities and functioning units regularly poses genuine challenges. EMR/EHR systems that plan interoperability and communication features within their applications are recognizing such a sincere demand and being responsive to their user's needs. Accountable Care Organizations, Physician groups, emergency care centers, and state governing organizations are in constant and urgent need for continuous and reliable communication. To satisfy their need, it is essential for EMR/EHR systems to provide accurate and comprehensive mapping tools that allow clinicians and administrative staff to interpret and convert large amount of clinical data into transferrable files (in accordance to established standards) that are communicable in a short amount of time. On another hand scanning tools that incorporate intelligent text recognition features could remarkably enhance system usability and clinical efficiency.

Healthcare application rollout strategies: Newly implementation software applications require many preparation steps in order to ensure a successful adoption process. Organized rollout implementation phases are usually improved by more experienced systems. Evaluating targeted user computer skills and their availability is the first and possibly most important rollout consideration in the case of any newly adopted system. EMR/EHR systems that have a proven record of success and verified user satisfaction should be considered as superior systems to their counterparts. Supportive customer service is another important concept in the process of software rollout. Users measure system success by level of their success and speed of their interaction with given application features. If the process of the initial human interaction is hindered by numerous unresponsive questions and scenarios, users lose interest and desire in training and becoming better familiarized with the new application.
Copyright information
© Springer International Publishing AG, part of Springer Nature 2018