Abstract
This chapter introduces infectious diseases faced by many populations in the world. The role of the environment and how and why these diseases are transmitted as well as prevention strategies are also discussed. The story takes place at a disco funeral in Kenya, where HIV prevalence is high and risky sexual behavior takes place.
Keywords
Infectious disease 
HIV/AIDS 
TB 
Malaria 
Prevention 
Kenya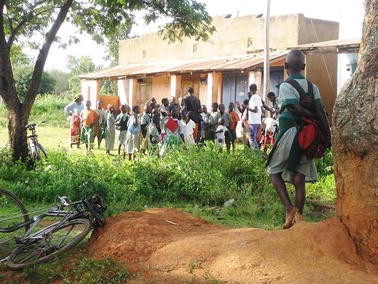 Microorganisms capable of causing disease are called pathogens, though not all microorganisms cause disease [1]. Many microorganisms can provide immunological protection by creating direct competition against other harmful organisms [1]. A true pathogen is a microorganism that causes disease in any susceptible host, while an opportunistic pathogen only causes disease in immune-compromised individuals [1]. An infection occurs when a pathogen invades a host and begins to grow, which ultimately results in the disease—or the consequence of tissue or cell impairment [1]. Finally, an infectious disease is caused by a microorganism, specifically bacteria, viruses, parasites, or fungi, that are directly or indirectly spread between people [1].
Once a person contracts an infectious disease, health effects vary and symptoms can be chronic or acute and can range from mild to severe or even death. Some infectious pathogens are less contagious, while others are easily transmitted [1]. Some pathogens are virulent and cause disease and other ones rarely cause disease [1]. For example, polio infects most people who come in contact with it, but only 5–10% develop symptoms, which range from flu-like symptoms for a couple of days to meningitis and paralysis [1, 2]. Alternatively, if someone comes into contact with virulent Ebola virus disease, their survival rate is only 10–50% and patients can suffer from fever, abdominal pain, and hemorrhaging, although Ebola is not as easily transmitted [1, 3]. Thus, the worst infectious diseases are easily transmitted or contagious and are extremely virulent [1]. The combination of virulence and contagiousness in infectious diseases has caused a myriad of outbreaks and epidemics in history.
Some of the worst infectious diseases in the world are tuberculosis (TB), human immunodeficiency virus or acquired immunodeficiency syndrome (HIV/AIDS), and malaria, although lower respiratory tract infections (e.g. pneumonia) are currently the most deadly in the world, causing around 3.2 million deaths [4]. There are other infectious diseases that have made visible marks in history books by killing millions of people; these outbreaks included the bubonic plague, influenza (flu), and smallpox. Then, there are more infamous diseases that become known for their alarming symptoms or disfigurement, such as Ebola virus disease, leprosy, and rabies. The list of infectious diseases is wide-ranging and has the potential to affect nearly every single person.
These diseases are labeled under various classifications, such as emerging infectious pathogens or diseases, emerging and re-emerging tropical diseases, neglected tropical diseases, or communicable diseases. There is some confusion regarding these terms. A communicable disease is caused by a harmful agent or toxin through direct or indirect transmission of the infectious agent by the infected person, animal, vector, or inanimate environment that can act as a host [5]. Most infectious diseases are communicable diseases, but not all communicable diseases are infectious diseases. Lyme disease, a disease caused by ticks, is an example of a communicable disease that is not contagious or spread person to person. HIV/AIDS is an infectious disease that is also a communicable disease, as it is transmitted person to person. Tetanus is the final example of a disease that is non-communicable, but is an infectious disease, and is caused by toxins in the environment. Separately, tropical diseases encompass all diseases that occur in hot, humid conditions. This list includes malaria, leishmaniasis, schistosomiasis, onchocerciasis (river blindness), lymphatic filariasis, Chagas disease, African trypanosomiasis, and dengue hemorrhagic fever [5]. Neglected tropical diseases have become a more widely accepted global health term that also describes the diverse group of diseases in tropical and subtropical conditions that are largely neglected in terms of their worldwide attention; this list includes the aforementioned diseases as well as ascariasis, hookworm, leprosy, trachoma, yaws, dracunculiasis (guinea-worm disease), Buruli ulcer, and more [6].
Despite the vast nomenclature, the environment has a significant role in the transmission of each and every one of these diseases [7]. Water supply, sanitation, food, and climate change are all environmental factors that influence the spread of these diseases [8]. Poor water and sanitation or contaminated food can contribute to diarrheal disease outbreaks, such as cholera, while climate change can affect the distribution and population of disease vectors; for example, flooding and standing water wetlands can cause malaria outbreaks [8]. Public health strategies focus on understanding how to control environmental drivers of infectious diseases, which contributes to disease prevention [7]. Because infectious disease traits and outcomes are so varied, the collaboration between health policy, access to healthcare, and the environment are important in order to determine how these efforts can best be aligned to make a difference in counteracting these diseases [7]. The interaction needed between these types of efforts alongside an understanding of the culture can create positive interventions and curb disease rates; however, if unheeded, adverse consequences can arise and contribute to disease transmission, as was the case with HIV/AIDS in Western Kenya.