Respiratory Diseases of Pregnancy
Abstract
Respiratory complaints in the gravid patient are often difficult to identify as a disease state, expected physiologic changes of pregnancy or both. Understanding the underlying pulmonary physiologic changes that come with pregnancy as well as those conditions which are unique to the pregnant patient will help arrive at the correct diagnosis and management. Recognizing that the gravid patient has other physiologic changes that contribute to decreased respiratory reserve, increased risk of aspiration, infection, and difficult airway can help in managing these patients acutely.
Keywords
Pregnancy 
Pulmonary edema-non-cardiogenic 
Tocolytic pulmonary edema 
Obstructive sleep apnea 
Adult Respiratory Distress Syndrome (ARDS) 
Pneumonia-viral 
Pneumonia-bacterial 
Pre-eclampsia 
Ovarian hyper stimulation syndrome 
Asthma 
Mechanical ventilation 
Extracorporeal Membrane Oxygenation 
Prone positioning 
Pulmonary embolism 
Cystic fibrosis 
Case Presentation
A 26 year-old gravida 3 para 2 with no known prior medical history presents at 34 weeks gestation to the emergency room with shortness of breath that worsened in the last 24 h. She had been sick for the last week and had been to her primary care provider who treated her symptomatically. Vital signs are remarkable for an oxygen saturation of 88 % on room air and tachycardia. On exam she appears to be tachypneic, using accessory muscles of respiration. Coarse breath sounds are heard on auscultation. She has mild pedal edema. A rapid flu test comes back positive. Chest X-ray shows diffuse interstitial infiltrates (Fig.
89.1
). She is admitted to the intensive care unit and started on supplemental oxygen and oseltamivir. A blood gas obtained an hour after admission shows a PCO
2
of 40 and a PaO
2
of 70 on an FIO
2
of 100 %.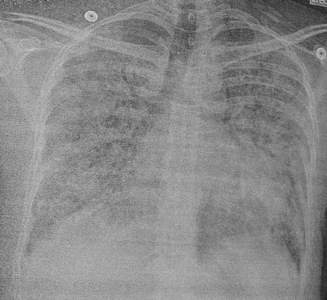 Question
What is her diagnosis?
Answer
ARDS associated with Influenza pneumonia.
Question
What will you do next?
Answer
Intubate the patient with precautions for possible difficulty airway and initiate mechanical ventilation. Initiate empiric antibacterial therapy along with neuraminidase inhibitors.
Evidence Contour
The critically ill pregnant patient requires a multidisciplinary approach and early inclusion of obstetrical expertise is paramount in managing these patients especially in the third trimester.
Ventilation Strategies in the Pregnant Patient
Challenges
Pregnant women have hypocapnia due to hyperventilation at baseline. Thus, the arterial carbon dioxide tension (PaCO2) tends to be lower in a pregnant woman, and a normal PaCO2 is a sign of impending respiratory failure. Intubation may be difficult during pregnancy and the peripartum period due to upper airway edema and diminished airway caliber, especially late in pregnancy.
Goals of Ventilation
The goal is to rest the fatigued respiratory muscles while providing suitable gas exchange. Respiratory muscle rest involves institution of invasive or noninvasive mechanical support, and the ventilator must overcome pressures related to airway resistance and elastic properties of the lung to allow adequate ventilation and gas exchange.
Non-invasive Ventilation
A trial of NIV can be instituted early on in patients with pulmonary edema. Favorable outcomes have been reported in case reports and series [34].
Mechanical Ventilation
Low tidal ventilation strategy is recommended [35]. PEEP improves oxygenation and should be used to provide a PaO2 > 65 mmHg while administering the least FiO2. The target PaCO2 is 30–32 mmHg since this is the normal level during pregnancy. Marked respiratory alkalosis should be avoided because it may decrease uterine blood flow. Maternal permissive hypercapnia may also be deleterious to the fetus because of resultant fetal respiratory acidosis although this mode of ventilation has been used safely in pregnant women in small trials.
Propofol remains the first choice for sedation in these patients and if paralytics are clinically of cisatracurium would be the preferred agent [36].
Extra Corporeal Membrane Oxygenation (ECMO)
This technique has been used a rescue therapy for refractory ARDS with reported maternal and fetal survival rates between 80 % and 70 %, respectively [37, 38]. Most of the published literature is from the 2009 H1N1 influenza pandemic. Early institution with careful patient selection and judicial management of anticoagulation might improve successful outcomes [38, 39].
Prone Ventilation
Use of prone positioning in the third trimester has not been widely studied however case reports have appeared in the literature with apparently acceptable results. As in other severe ARDS patients, proning requires careful attention to inadvertent decannulation of lines or extubation. The pressure points especially eyes need to be protected and no hyperextension of joints. There needs to be adequate room for the abdomen to expand passively. This can be achieved by the use of appropriately sized bolsters at chest and hip level to help elevate the patient above the mattress. This also allows for anterior displacement of uterus off of the inferior vena cava which is necessary for adequate venous return after 20 weeks gestation. Close monitoring of mother and fetus including continuous fetal cardiotocography should be in place if fetus of viable age [40, 41].
Copyright information
© Springer International Publishing Switzerland 2017