Etiopathogenesis and Pathophysiology of Malaria
Abstract
Malaria is a parasitic disease caused by Plasmodium protozoan parasites and transmitted by Anopheles mosquitoes. The disease is diffused in tropical areas, where it is associated with high morbidity and mortality. P. falciparum is the most dangerous species, mainly affecting young children. The parasite cycle occurs both in humans (asexual stages) and in mosquitoes (sexual stages). In humans, Plasmodium grows and multiplies within red blood cells using hemoglobin as essential source of nutrients and energy. However, this process generates toxic heme that the parasite aggregates into an insoluble inert biocrystal called hemozoin. This molecule sequesters in various organs (liver, spleen, and brain), potentially contributing to the development of malaria immunopathogenesis. Uncomplicated falciparum malaria clinical frame ranges from asymptomatic infection to classic symptoms such as fever, chills, sweating, headache, and muscle aches. However, malaria can also evolve into severe life-threatening complications, including cerebral malaria, severe anemia, respiratory distress, and acute renal failure.
Keywords
Acute Respiratory Distress Syndrome 
Cerebral Malaria 
Anopheles Mosquito 
Placental Malaria 
Severe Malarial Anemia 
These keywords were added by machine and not by the authors. This process is experimental and the keywords may be updated as the learning algorithm improves.
1

Introduction

According to the latest estimates, World Health Organization (WHO) officially registered a decline in malaria mortality rates by about 42 % globally and by 49 % in the WHO African Region between 2000 and 2012. During the same period, malaria incidence rates declined by 25 % around the world and by 31 % in the African Region. However, this progress, a likely consequence of the global eradication program launched by charity foundations (Khadjavi et al. 2010), is no cause for complacency. The absolute numbers of malaria cases and deaths are not going down as fast as they could. The disease still took an estimated 627,000 lives in 2012, mostly those of children under 5 years of age in Africa among more than 200 million clinical cases worldwide, of which 91 % were due to Plasmodium falciparum (WHO 2013). Malaria remains an alarming emergency in developing countries: an estimated 3.4 billion people were at risk of malaria in 2012. Of this total, 2.2 billion were at low risk (<1 reported case per 1,000 population), of whom 94 % were living in geographic regions other than the African Region. The 1.2 billion at high risk (>1 case per 1,000 population) were living mostly in the African Region (47 %) and the Southeast Asia Region (37 %) (WHO 2013). In 2007, the Bill and Melinda Gates Foundation, rapidly endorsed by the WHO and the Roll Back Malaria association, claimed for malaria eradication as the primary goal to be prosecuted (Roberts and Enserink 2007).

Malaria is a parasitic disease confined mostly to the tropical areas, caused by parasites of the genus Plasmodium and transmitted by mosquitoes of the genus Anopheles. Annually, nearly a 2.37 billion people are estimated to be at risk of infection by P. falciparum, the most virulent among Plasmodia (Khadjavi et al. 2010). Cyclical fever has always been considered as a typical symptom of malaria, long before the identification of Plasmodium parasites as the etiological agents of the disease. As reported by Oakley and colleagues (Oakley et al. 2011): "…early records of fever that can be attributed to malaria can be found in Bronze Age texts from China, India and Greece that include the writings of Huang Ti, the Atharvaveda, and early Greek medical works. In these accounts, there are references to symptoms such as tertian and quartan fevers, enlarged spleen, and the association of the disease with monsoon weather. Definitive accounts of malaria occur in classical Indic (Charaka and Sushuruta) and Greek (Hippocrates) medical texts. These texts not only document the classification of malaria fevers but also the association of these fevers with residence in marshy places."

Responsible for human infections are typically four species of Plasmodium, P. malariae, P. ovale, P. vivax, P. falciparum (Tilley et al. 2011), that can affect humans in more than 90 countries, inhabited by 40 % of the global population. In some of these areas, over 70 % of residents are continuously infected by the most deadly form of the parasite, P. falciparum, able to provoke the majority of death and the most severe clinical manifestation (Rowe et al. 2009). Surviving children develop various levels of natural immunity; however, it does not protect them from repeated infections and illness throughout life. In 2008, a fifth species, P. knowlesi, has been associated to infection in human in Southeast Asia with P. falciparum, vivax, and malariae (Cox-Singh et al. 2008). In Northern Africa malaria is not particularly widespread and it is caused by P. vivax. In Eastern and Central Africa predominant is P. falciparum but P. vivax and P. malariae are also present while in Western Africa predominant is P. falciparum but also present are P. ovale and P. vivax. In India predominant is P. vivax but it is possible to find also P. falciparum while in Central America and in island of Pacific Ocean there are P. vivax and P. falciparum (Tan et al. 2014).

The malaria parasite was observed for the first time in the blood cells of people with malaria in 1880 by Alphonse Laveran, at Costantina in Algeria, who also demonstrated the link between the disease and the protozoa, winning the Nobel Prize for medicine in 1907 (see Biography of Alphonse Laveran, The Nobel Foundation). In 1886, in Pavia (Italy), Camillo Golgi (Nobel Prize in 1906) was the first one associating malaria fever with the cyclical release of malaria parasites during schizont rupture of red blood cells (RBCs) and demonstrating that P. vivax was responsible for benign tertian fever (every 48 h) and P. malariae for quartan fever (every 72 h) (Golgi 1886). Subsequently Ettore Marchiafava, Angelo Celli, Amico Bignami, and Giuseppe Bastianelli, in Rome, recognized the existence of P. falciparum, responsible for malignant tertian fever. In 1894, Patrick Manson, in China, was the first one to hypothesize that the Plasmodium vector was a mosquito. This thesis was demonstrated in 1897 by Ronald Ross (Nobel Prize 1902), in India (see Biography of Ronald Ross, The Nobel Prize Foundation). In 1898, Anopheles species of mosquitoes were identified in Rome as the vector of the disease by Giovanni Battista Grassi, who described also the parasite cycle in the different species of Plasmodia (Grassi 1900).
2

Plasmodium falciparum Life Cycle

As schematized in Fig.

1.1

,

P. falciparum

life cycle involves stages either in mosquito vector (sexual reproduction) or in human host (asexual replication), where in particular the "blood stage" is responsible for much of the disease pathology. Parasites are transmitted to humans by the females of the

Anopheles

mosquito species. There are about 460 species of

Anopheles

mosquitoes, but only 68 transmit malaria.

Anopheles gambiae

, found in Africa, is one of the major malaria vectors. It is long living, prefers feeding on humans, and lives in areas near human habitation (Rogier and Hommel

2011

).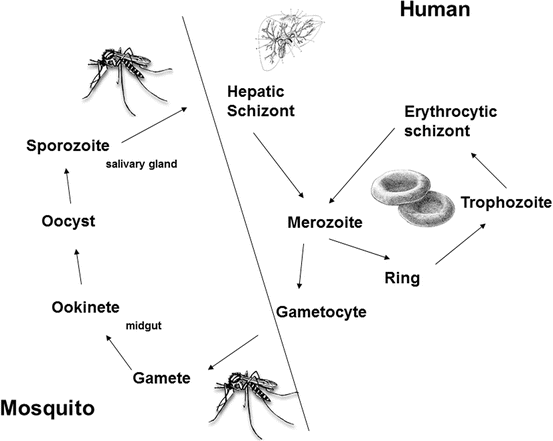 The intensity of malaria parasite transmission varies geographically according to vector species of Anopheles mosquitoes. Risk is measured in terms of exposure to infective mosquitoes, with the heaviest annual transmission intensity ranging from 200 to >1,000 infective bites per person. Interruption of transmission is technically difficult in many parts of the world because of limitations in approaches and tools for malaria control.
The malarial infection begins when the sporozoite stage of the parasite that resides within the salivary gland of the mosquito halts in the host liver (Ménard 2005). This happens when an infected female bites a healthy person and takes its blood meal, injecting a small amount of saliva into the skin wound. Male mosquito does not feed on blood, hence only female serves as a vector. The saliva contains antihemostatic and anti-inflammatory enzymes disrupting the clotting process and inhibiting the pain reaction. Typically, each infected bite contains 5–200 sporozoites which proceed to infect the human vector. Sporozoites stay for prolonged time in the skin before reaching the blood stream. Only the parasites surviving to phagocytes can rapidly enter the human bloodstream through a blood vessel, where they circulate for a matter of minutes before infecting liver cells (Ejigiri and Sinnis 2009).
2.1

Liver Stage in Man

After circulating in the bloodstream, the sporozoites migrate to the liver and finally infect a hepatocyte, after crossing several Kupffer cells and hepatocytes (Mota et al. 2001). The sporozoites rapidly grow in size absorbing nourishment to form a large round schizont. The schizont divides by schizogony, a type of asexual reproduction, in which multiple fissions result in the formation of a number of small, spindle-shaped uninucleate cells called merozoites (Rogier and Hommel 2011). After schizonts rupture, merozoites are released into the sinusoids or venous passages of the liver. This phase of asexual reproduction is called preerythrocytic schizogony. The merozoites are immune to medicines and host natural resistance. After a development stage in liver, during which there are no clinical symptoms of the disease, merozoites are released into the blood and enter the erythrocytic portion of their life cycle. A single schizont can produce thousands of merozoites by asexual reproduction.

In P. falciparum and P. malariae, schizont development and rupture occur rapidly, and merozoites can begin the erythrocyte invasion 1 or 2 weeks after the invasion of hepatocytes. This phase of the cycle is different in P. ovale and in P. vivax where parasites can stay in the liver as dormant cells (hypnozoites) for months or years before returning to schizont form and relapse the initial infection (Markus 2011).

The invasion of erythrocytes by merozoites involves some proteins originating from both parasites and RBCs. In particular, major merozoite surface proteins (MSP)-1 and -9 bind to erythrocyte band 3 protein (Kariuki et al. 2005), the merozoite orients its apical end towards the erythrocyte surface through merozoite apical membrane antigen-1 transmembrane protein (Mitchell et al. 2004) and penetrates in the RBC involving erythrocyte binding antigens and the P. falciparum reticulocyte-binding homologs, which binds glycophorins and other unknown receptors (Baum et al. 2005). In P. vivax, reticulocyte invasion occurs after interaction with the Duffy blood group antigen, the erythrocyte receptor for the chemokine Interleukin-8/CXCL8. This antigen is generally missing in African population that is why P. vivax results more common in tropical areas other than Africa, such as Southern Asia and Malaysia (Horuk et al. 1993). By invading the erythrocytes, the merozoites initiate the blood stage of the asexual cycle. The blood stage takes around 48 h to be completed. During this period, the parasites develop through several stages (ring, trophozoite, and schizont forms, respectively), characterized by different structures and specialized stage-specific features (Bannister et al. 2000).
2.2

Erythrocytic Stage in Man

The merozoites feed on erythrocytes, become rounded and gradually modify into trophozoites. During growth, a vacuole appears in the center of merozoites and the nucleus is pushed to one side; this modification, that is known as "ring stage," gives it a ring-like appearance in Giemsa-stained blood smears. The parasite by its cytostome feeds on hemoglobin and other nutrient taken from the plasma. The food vacuole secretes some digestive enzymes, which break down hemoglobin into proteins and hematin. Proteins are used by the parasite as nourishment source, whereas hematin is converted into a waste product called hemozoin (Hz).

As the ring form of the parasite enlarges, it begins to synthesize some stage-specific molecules, which can be exported into the RBC (Das 1994), modifying the RBC membrane which now begins to adhere to the linings of visceral and other blood vessels, including those of the placenta (Pouvelle et al. 2000). The parasite eventually grows into the more rounded trophozoite form. During this stage most active feeding, growth, and RBC modifications occur. New molecules are exported into the RBC: some of them assemble into flat membranous sacs of various forms, including Maurer's clefts, which are visible in stained smears (Aikawa et al. 1986; Atkinson and Aikawa 1990). Other proteins interact with the RBC membrane and cytoskeleton to form small knobs (Atkinson and Aikawa 1990; Cooke 2000) on its surface. Some molecules such as P. falciparum erythrocyte membrane protein (PfEMP)1 allow the infected RBC to adhere to the vascular endothelium, thus counteracting the action of immune defenses aimed at removing parasites from the blood stream through the spleen. As a consequence of infected RBC cytoadherence to brain–blood vessel walls, some malaria complications may occur, including cerebral malaria (Adams 2002) and placental malaria (Scherf et al. 2001). Other exported molecules increase RBC permeability to nutrients. The parasite continues feeding on hemoglobin, and the heme products derived from hemoglobin digestion are converted into dark crystal particles to form the malarial pigment (Hz), which is scattered within the digestive vacuole (Bannister and Mitchell 2003).

During their growth, the trophozoites metamorphose into schizonts (Rogier and Hommel 2011). Schizonts appear after a period of about 36–40 h of growth and represent the full-grown trophozoites. Schizonts carry out some nuclear divisions and an intense synthesis and assembly of molecules to organize RBC invasion. The nucleus of the schizont divides in the following 6–8 h to form from 12 to 24 daughter nuclei of new merozoite cells in the erythrocyte. This phase of asexual multiplication is known as erythrocytic schizogony. Finally the RBC membrane and parasitophorous vacuolar membrane are lysed through a protease-dependent process (Salmon et al. 2001) and the merozoites burst from the RBC, proceeding to infect other erythrocytes.

Free merozoites are very small (1.2 mm of length). Still, they contain all the tools deemed necessary to invade new RBCs as detailed by Bannister and Mitchell (Bannister and Mitchell

2003

). A single erythrocytic cycle is completed in 48 h (see Fig.

1.2

). Parasite remain in the bloodstream for roughly 60 s before entering into another erythrocyte, restarting the process (Cowman and Crabb

2006

).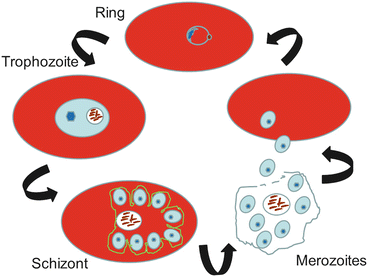 The infection cycle occurs in a highly synchronous fashion, with roughly all of the parasites throughout the blood at the same stage of development. The toxins are liberated into the blood along with the liberation of merozoites and then deposed into the liver and the spleen or under the skin, so that the host gets a sallow color.
The accumulated toxins cause malaria fever: the patient suffers from chills, shivering, sweating, high temperature headache, abdominal and back pain, nausea, diarrhea, and sometimes vomiting. The fever lasts for 6–10 h and then it comes again after every 48 h with the liberation of a new generation of merozoites. During the erythrocytic stage, some merozoites increase in size to form two types of gametocytes, the macrogametocytes and microgametocytes. The macrogametocytes (female) are large, round with the food-laden cytoplasm and a small eccentric nucleus. The microgametocytes (male) are small, with clear cytoplasm and a large central nucleus. This process is called gametocytogenesis. The specific factors underlying this sexual differentiation are largely unknown. The gametocytes take roughly 8–10 days to reach full maturity and do not develop further until they get sucked by the appropriate species of mosquito. If this does not happen, they degenerate and die, since they require lower temperature for further development (Prato et al. 2011).
2.3

Life Cycle in Mosquito

When a female Anopheles sucks the blood of a malaria patient, the gametocytes enter along with blood, reaching the stomach and leading to formation of gametes (Aly et al. 2009). Only the gametocytes survive inside the stomach, while the other forms of the parasites, as well as the erythrocytes, are digested. Two types of gametes are formed: microgametocyte (male) and the macrogametocyte (female). The microgametocytes become active and their nucleus divides to produce 6–8 haploid daughter nuclei. The nuclei arrange at the periphery. The cytoplasm gives out the same number of flagella-like projections. A daughter nucleus enters in each projection. These projections separate from the cytoplasm. This process of formation of microgametes is called exflagellation. From each microgametocyte, 6–8 flagella-like active microgametes are formed. The megagametocyte undergoes some reorganization and forms the megagametes. Fertilization of the female gamete by the male gamete occurs rapidly after gametogenesis. The fertilization event produces a zygote that remains inactive for some time and then elongates into a worm-like ookinete or vermicule. The zygote and ookinete are the only diploid stages. The ookinete penetrates the wall of the stomach and comes to lie below its outer epithelial layer. It gets enclosed in a cyst formed partly by the zygote and partly by the stomach of mosquito. The encysted zygote is called oocyst. The oocysts absorb nourishment and grow to about five times in size. They protrude from the surface of the stomach as transparent rounded structures. Over a period of 1–3 weeks, the oocyst grows to a size of tens to hundreds of micrometers. During this time, multiple nuclear divisions occur. As a consequence of oocyst maturation, the oocyst divides to form multiple haploid sporozoites. Each oocyst may contain thousands of sporozoites and groups of sporozoites get arranged around the vacuoles. This phase of asexual multiplication is known as sporogony. In the mosquito, the whole sexual cycle is completed in 10–21 days. Finally the oocyst bursts and sporozoites are liberated into the hemolymph of the mosquito. They spread throughout the hemolymph and eventually reach the salivary glands and enter the duct of the hypopharynx. The mosquito now becomes infective and the sporozoites get inoculated or injected into the human blood when the mosquito bites, starting a new life cycle. It is estimated that a single infected mosquito may contain as many as 200,000 sporozoites (Prato et al. 2011).
3

Hemozoin (Malarial Pigment)

During the intraerythrocytic stages (especially the trophozoite and schizont stages) of malaria infection, the parasites degrade the hemoglobin present in the cytoplasm of the RBC. This process occurs mostly inside the food vacuole of the parasite that in P. falciparum is an acidic structure with an estimated pH of 5.0–5.4 (Krogstad et al. 1985; Klonis et al. 2007). The digestive vacuole lacks the characteristic lysosomal phosphatases and glycosidases present in the vacuoles of other organisms and is dedicated almost exclusively to hemoglobin degradation. Such an event was believed to play a vital role for malaria parasites, being an essential source of nutrients and energy (Francis et al. 1997), as they had been observed to have a limited capacity to synthesize them on their own (Coronado et al. 2014). However, this process generates heme, which is highly toxic to the parasites. The parasite is unable to excrete free toxic heme and does not possess any heme oxygenases, a class of enzymes responsible for the degradation of the heme moiety. Therefore, Plasmodium aggregates the heme monomer into an insoluble inert biocrystal called malarial pigment or Hz (Slater 1992). In particular, during hemoglobin digestion, alpha-hematin (ferriprotoporphyrin IX), which is toxic to the parasite, is released (Orjih 2001) and—most possibly as a protection strategy for the parasite—transformed into Hz (chemically identical to beta-hematin), a molecule with paramagnetic properties.

The structure of Hz has been elucidated by X-ray diffraction, infrared spectroscopy, Raman spectroscopy, and chemical synthesis. The molecule was first proposed to consist of an unusual polymer of heme groups linked by bonds between the oxygen from the carboxylate of one heme and the central ferric ion of the next heme. This unusual linkage allows the heme units to be aggregated into an ordered insoluble crystal, representing a unique way of heme processing (Slater et al. 1991). It is now well known that Hz is composed of hematin molecules bonded by reciprocal iron–carboxylate bonds to the propionic side chains of each porphyrin to form dimers, which are further connected via hydrogen bonds to form a triclinic crystal (Pagola et al. 2000). This was concluded through photoacoustic spectroscopy (Balasubramanian et al. 1984) and corroborated more recently by using beta-hematin DMSO solvate, being this the first Fe(III) PPIX model of Hz studied by single crystal X-ray diffraction (Gildenhuys et al. 2013).

In the past, Hz was only considered to be a metabolic waste. However, this molecule has been shown to sequester in various organs including lung, liver, spleen, and brain, indicating that Hz can potentially contribute to the development of malaria immunopathogenesis (Francis et al. 1997; Deroost et al. 2013). It has been suggested that Hz could be related to the complications in severe malaria (see next paragraph) (Lalloo et al. 2007). Following the rupture of Plasmodium-infected RBCs, Hz is released from the parasite digestive vacuole and is rapidly engulfed by phagocytes (Olivier et al. 2014).

As a result of phagocytosis, several functions of monocytes are seriously compromised, including repeated phagocytosis and oxidative burst (Schwarzer et al. 1992), bacterial killing abilities (Fiori et al. 1993), MHC Class II expression and antigen presentation (Scorza et al. 1999), maturation to dendritic cells (Urban and Todryk 2006), and coordination of erythropoiesis (Giribaldi et al. 2004) (see also Chap.  5 for further details). However, impaired Hz-laden human monocytes do not undergo apoptosis: apparently, Hz-dependent enhanced expression of anti-apoptotic HSP-27 leads to prolonged monocyte survival, thereby contributing to maintain the impaired monocytes in the bloodstream (Giribaldi et al. 2010; Prato et al. 2010a). Moreover, Hz-fed monocytes show enhanced gene expression of a large number of proinflammatory molecules, including cytokines (TNFalpha, IL-1beta, IL-1RA) and chemokines (MIP-1alpha/CCL-3, MIP-1beta/CCL-4, GROalpha/CXCL-1, GRObeta/CXCL-2, GROgamma/CXCL-3, MCP-1/CCL-2, IL-8/CXCL-8, ENA-78/CXCL-5) (Giribaldi et al. 2010). Hz also upregulates the expression and activity of few monocytic enzymes. As more extensively reviewed previously (Prato and Giribaldi 2011), Hz was shown in a series of works to increase RNA/protein expression, protein release, and proteolytic activity of matrix metalloproteinase-9 (MMP-9), a cytokine-related proteolytic enzyme that has been proposed to participate in a mechanism that could explain the remarkable release of cytokines in malaria infection. Indeed, cytokines such as TNFalpha and IL-1beta are able to induce the expression and activity of MMP-9 in culture of monocytes after phagocytosis of Hz (Prato et al. 2005, 2008). Higher levels of MMP-9 were also found in brain of cerebral malaria-sensitive P. berghei-infected mice and it was shown by immunohistochemistry that the monocytic cells were responsible for this production (Van den Steen et al. 2006). Since MMP-9 gene transcription is induced by TNFalpha and active MMP-9 can shed membrane-bound TNFalpha into the extracellular environment through proteolytic cleavage, a pathological loop involving TNFalpha and MMP-9 is established, leading to abnormal levels of cytokine production (Prato et al. 2005). Data from in vitro cultures of human monocytes showed that some peroxidated lipids attached to Hz may play a crucial role either in enhanced MMP-9 expression and activity or in TNFalpha and IL-1beta production (Prato et al. 2008, 2010b). On the other side, it has been shown that lipid-free synthetic pigment beta-hematin is able to perform cleavage of the proform of MMP-9 in vitro suggesting that heme core may concur in its activation (Geurts et al. 2008). As such, the interaction between Hz and MMP-9 appears a promising research field for new therapies in complicated malaria, also taking in account that drugs against these enzymes are already available because of their role in other diseases, including cancer and neuroinflammation.
4

Malaria: Severe Complications

P. falciparum malaria ranges from asymptomatic infections to the classic symptoms of malaria (e.g., fever, chills, sweating, headache, and muscle aches), which in a subpopulation of cases result in severe life-threatening complications such as cerebral malaria (CM), severe malarial anemia (SMA), respiratory distress (RD), and acute renal failure (ARF) (Perkins et al. 2011). Although the pathophysiology of malaria is multifactorial and only partially understood, there are some important interactions between the parasite and the host that can determine the clinical outcome of the disease: endemicity patterns, acquisition of naturally acquired malarial immunity, parasite virulence, multiplication rate, antigenic variation, polymorphic variability in either human host or Plasmodium parasite, and age (Newton and Krishna 1998; Abdalla and Pasvol 2004). It is well known that children typically display enhanced susceptibility to SMA, while nonresident malaria naïve adults progress towards ARF and RD due to pulmonary edema (White 1998).
Copyright information
© Springer International Publishing Switzerland 2015