Surgical Management of a Dropping Nucleus
Abstract
This chapter reports about the surgical management a dropping nucleus
Keywords
Trocar surgery 
Trocar 
Pars plana 
Dropping nucleus 
Viscolevitation 
A dropped nucleus is the most dreaded complication of a cataract surgeon. If you learn this surgical technique, then you can manage the vast majority of dropped nucleus cases on your own.
This technique requires swift action. As soon as you observe a posterior capsular rent, and/or a dropping nucleus then stop phacoemulsification. If the nucleus remains stable, then insert a trocar cannula. Then insert the viscoelastic cannula through the trocar cannula, inject viscoelastics behind the nucleus and then elevate the nucleus into the anterior chamber. Remark: The maneuver is easier, if you straighten the angled viscoelastic canula.
Remark: If you have no time to insert a trocar cannula, then attach a 27G needle cannula to the viscoelastic syringe, pierce the sclera—like an intravitreal injection—and inject viscoelastics (Viscoat
®
) behind the nucleus. Then lift the nucleus into the anterior chamber (Fig.
12.1
).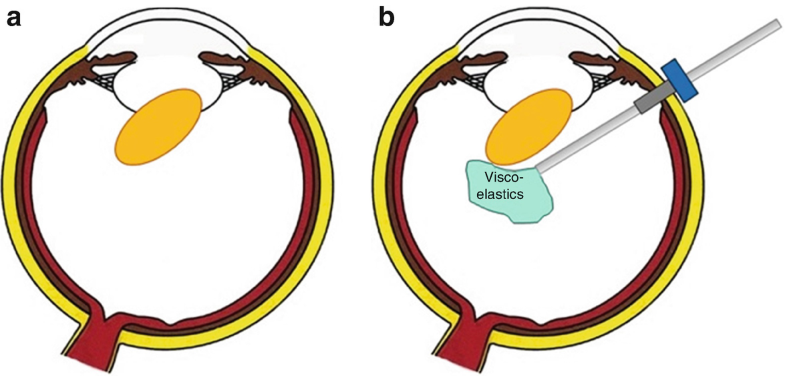 Copyright information
© Springer Nature Switzerland AG 2020