Abstract
Increasing social and political conflict in the late nineteenth century leads to the rise of the Cow Protection movement, continuing in various forms to the present day. Chapter 2 introduces four prominent figures variously related to this movement (Swami Dayananda Saraswati, M. K. Gandhi, B. R. Ambedkar, and Swami Prabhupada) to locate important features of the modern intellectual terrain on which a controversy has unfolded over textual interpretation: Was animal sacrifice actually performed in ancient Vedic rites, and if so, what relation did those practices have with scriptural admonitions to practice nonviolence (ahimsa)? Differing narratives impact current politics and treatment of cows in particular in India, with rhetoric often clouding balanced ethical thinking.
As with the previous chapter, I begin with an extract from an ancient Sanskrit text. But here, significantly, I draw it from a recent publication, the
Go
-
seva
(Cow Care) issue of Gita Press' Hindi journal
Kalyāṇa
(January 1995, pp. 15–21). An article therein entitled "Cow's Cosmic Form" (
Gau ka viśvarūpa
) compiles selected Sanskrit scriptural passages, beginning with one from the Atharvaveda (9.7), a hymn consisting of homologies between well-known Vedic divinities, other beings, or natural phenomena, and various features of bovines (initially of the bull, then later of the cow).
1
For example:
Prajapati and Parameshthin are the two horns [of the bull], Indra is the head, Agni the forehead, Yama the joint of the neck. King Soma is the brain, Sky is the upper jaw, Earth is the lower jaw… (trans. Griffiths 1895, p. 453; see Fig. 3.1)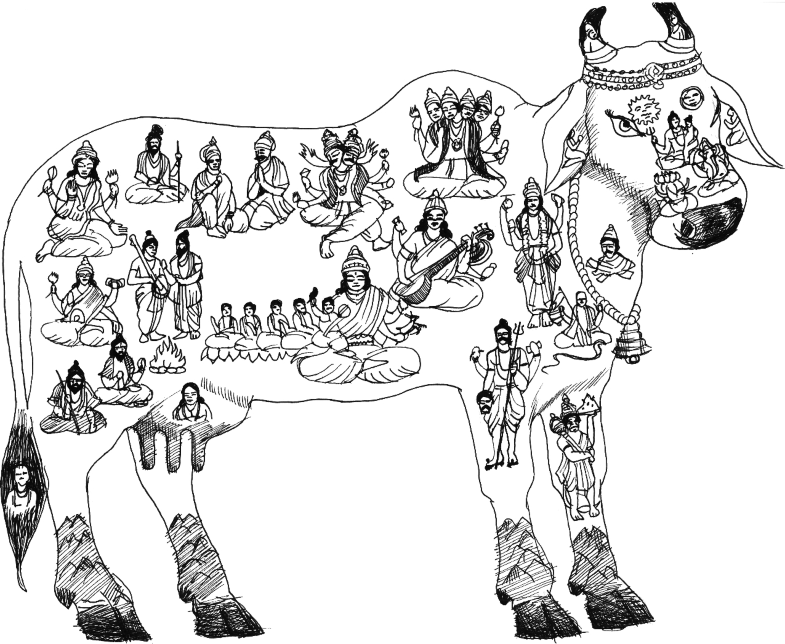 After providing a Hindi translation of the hymn, the article's unnamed compiler expresses appreciation for the nineteenth-century British Sanskritist, Prof. Ralph T. H. Griffith, who regarded this hymn as "an example of how the bull and cow are eulogized." The compiler then notes that in this hymn, in addition to several divinities, all different types of human and other beings are mentioned as having their places in this cosmic bovine.2 Thus, the hymn "shows our oneness with the body of mother cow." "Therefore," suggests the writer, "when a cow encounters harm, we also suffer; hence, with this understanding, cows and bulls should be cared for and protected." Further, a person who thus suffers due to a cow's injury "should endeavor to remove the harmed cow's suffering by making a strong retaliation." Implied is that thereby one's own suffering will also be removed.
As this Atharvaveda passage is represented in its modern context, two opposing themes are juxtaposed. On the one hand, there is the image of human diversity finding its locus of unity and presumable harmony in the body of the cow. On the other hand, knowing cows to be vulnerable to abuse, conscientious human beings are called upon to not only care for them but also to protect them, even—presumably—by force that could be violent.3 This and many similar modern assertions of the importance of cow care and protection partake of the complex history of what began in the late nineteenth and early twentieth centuries as the Cow Protection movement. This movement across northern India expanded rapidly as organizations for this purpose were created. Also, significant momentum for the movement was generated by prominent leaders such as Dayananda Saraswati and, later, Mohandas K. Gandhi.4 Popular support has led to legislation, and ongoing legal action and discourse have been integral to this history, including the inclusion of Article 48 into the Indian Constitution.5 Despite, but also because of, legal measures to protect cows and frequent lack of official enforcement, occasions of "communal" violence arise in India to the present day. These are typically acts of violence between persons identifying themselves as Hindus who regard themselves as duty-bound to protect and defend cows, and (typically) non-Hindus seen or (sometimes falsely) rumored to have slaughtered cows.
We need not delve into the complex and ongoing details of this troubled history. Suffice to consider essential contours, noting that in India the issue persists mainly whether and how Hindus' deference for cows might or might not be respected by non-Hindus or, in a related inflection, whether and how secularity and religion are at cross-purposes regarding the restriction or ban on cow slaughter. At this writing, these issues persist in the Indian public sphere, sustaining the attention of politicians and media, energizing vigilante groups to patrol Indian state border areas to catch and punish cattle smugglers (Safi 2016), and perpetuating smuggling (subjecting bovines to horribly cruel conditions during transport) and illegal slaughter practices (Narayanan 2018, pp. 17–18). On the other hand, public concern for cows also inspires thousands of cow care homes (goshalas) to be financially and organizationally supported throughout India.6
The quoted Atharvaveda passage seems to be a vision of unity and cosmic coherence, one that would eventually come to be regarded as expressive of an ideal and practice of nonviolence. Yet in the quoted Hindi article, the author positions this vision as the basis for highlighting divisiveness, the opposite of unity and harmony embodied in the cosmic bovine vision. Going a crucial step further, the author seems to urge action that could involve violence, based on identification of the Atharvaveda's cosmic bovine with actual, living bovines.
Modern divisiveness in relation to cows can be seen as latter-day versions of ancient contentions over cows' ownership. From the previous chapter's picture of Indian literary representations of bovinity, we encountered this trope. As objects of desire and ownership, cows in ancient times held, and cows today hold, special value. The Mahabharata story of Vasishtha's cow of plenty, Nandini (discussed in Chapter  2), is paradigmatic of this notion, even as the story hints at the cow's possessing agency (including giving her a name, suggesting subjectivity rather than mere objectivity). The king's attempt to claim Vasishtha's cow is foiled, as are other attempts to steal cattle (such as the Panis stealing and hiding cows) due to prevailing higher powers (Vasishtha, as a powerful brahmin sage; and Brihaspati, a powerful brahmin priest, respectively).
In this chapter, we consider the contentiousness of bovine ownership in a different register, one that draws us into present-day controversies. Lines of faith tradition and politics have been drawn and group identities (not least caste identities and "Untouchable"/Dalit identities) forged out of the controversies arising from cultural and behavioral differences. This is a long story, going back to Vedic times when cows were prized and, apparently, also ritually sacrificed, as were (apparently) other animals. I say "apparently" because precisely this has been a contentious issue in modern times, whereby in recent years claims are made that ancient textual references to ritual slaughter are either misread or interpolations. And, to complicate matters about what was or was not done in ancient or later times, in early texts we find a distinction made between killing and sacrificing such that, despite appearances to the contrary, the ritual sacrifice of animals is regarded not only as not killing, but as rewarding them with a better afterlife (Houben 1999). Further, we encounter layers of interpretation—ancient texts interpreted in later texts, and even what may be layered within individual texts—all of which are further interpreted by modern writers with varying agendas. What is more, such layering takes place amidst changing economic and cultural influences linked, in turn, to shifting ideologies unfolding in diverse practices.7
Dispute over ownership of cows has thus also become dispute over ownership of the dominant narrative of cows. In this arena, cows hold center stage in a polarity of ideologies that interact with each other variously over time and region. At one end of this polarity is the ideology of ritual sacrifice, and the ideology of nonviolence (ahimsa) represents (or is assumed to represent) the opposite end of the polarity. We need to be aware of other polarities as well. There is the opposition between high-caste and low-caste identities and sensibilities, a binary that calls attention to the socially embedded character of ideologies and, importantly in relation to bovines, to dietary practices. And more broadly, there is the opposition between the relative permanence of tradition and the flux of change that characterizes South Asia's present-day rapid transition into modern secular statehood (Larson 1995, pp. 4–6). One important expression of the aspiration for permanence in current Hindu thought is the notion of sanatana-dharma, whereby sanatana is an adjective denoting eternality, ever-existence, the everlasting. As we will see, in modern times cow veneration and protection are often identified as essential components of the constellation of notions and practices that constitutes sanatana-dharma—"eternal law," "ever-existing ethics," or "everlasting cosmic order." By contrast, in the flux of modernity, notions of unchanging dharma are viewed as archaic dreaming, best left to fade with secularization amidst a plurality of religious—particularly Abrahamic—traditions and the triumph of the marketplace. In this shifting landscape, among other loci of Indic veneration, cow sanctity becomes questioned, challenged, and spurned.
So, polarities abound in our field of inquiry. In addition to the value- and meaning-polarities emerging in the previous chapter, and the sacrifice/nonviolence polarity to be discussed in this chapter, we will encounter in this and remaining chapters yet another, what might be called a "perception polarity." On one end of this spectrum is the traditionalist perception that views cow protection as integral to sanatana-dharma (generally conceived as having been ever innocent of animal sacrificial practices, while also regarding cow milk use as sanctioned by dharma). On the other end of the spectrum is a modernist view that perceives cows as either objects for commodification and unrestricted consumption or (to be discussed in Chapter  5), alternatively, as rights-bearing subjects with moral status but no religious status.
This chapter has two parts. In the first part, "Hindus' Modern Concern for Cows," I introduce four modern figures of important and differing perspectives in relation to cow care, namely, Dayananda Saraswati (1824–1883), M. K. Gandhi (1869–1948), Bhimrao Ramji Ambedkar (1891–1956), and Bhaktivedanta Swami Prabhupada (1896–1977). Since each of these thinkers and activists make reference to early sacred texts, in the second part, "Ancient Texts, Modern Controversies," I revisit some of the texts discussed in Chapter  2 and also look at or refer to additional early texts. The additional texts are the Manusmriti (Sanskrit: Manusmṛti)—the best-known of Hindu "law books," Dharmashastras—and the Bhagavad Gita. Regarding the Bhagavad Gita, we will revisit Gandhi and Swami Prabhupada in their differing and, in some ways, common interpretations of this text. Finally, we will note Swami Prabhupada's claim, drawing from the Bhagavata Purana, that ahimsa is a "subreligious" principle. In this chapter as a whole, the aim is to show how the sacrificial and nonviolence worldviews collide today, as they seem to have collided in early Indic texts. The difference is that, unlike in ancient and premodern times, today prevails a consumer worldview served by industrial systems of animal "husbandry" (agribusiness) that are utterly removed from both sacrificial and nonviolent worldviews.
Copyright information
© The Author(s) 2020
Open Access This chapter is licensed under the terms of the Creative Commons Attribution 4.0 International License (http://creativecommons.org/licenses/by/4.0/), which permits use, sharing, adaptation, distribution and reproduction in any medium or format, as long as you give appropriate credit to the original author(s) and the source, provide a link to the Creative Commons license and indicate if changes were made.
The images or other third party material in this chapter are included in the chapter's Creative Commons license, unless indicated otherwise in a credit line to the material. If material is not included in the chapter's Creative Commons license and your intended use is not permitted by statutory regulation or exceeds the permitted use, you will need to obtain permission directly from the copyright holder.