Respiratory Diseases of Pregnancy
Abstract
Pregnant patients can suffer from the same respiratory diseases as the general population in addition to unique syndromes of pregnancy (such as pre-eclampsia and tocolytic induced pulmonary edema, and pregnancy induced cardiomyopathy). Pregnancy by itself may add certain challenges such as difficult intubation. The critically ill pregnant patient requires a multidisciplinary approach and early inclusion of obstetrical expertise is paramount in managing these patients especially in the third trimester.
Keywords
Physiological changes of pregnancy 
Respiratory failure 
Mechanical ventilation 
Acute respiratory distress syndrome (ARDS) 
Pulmonary edema 
Pulmonary infections 
Case Presentation
A 26 year-old gravida 3 para 2 with no known prior medical history presents at 34 weeks gestation to the emergency room with shortness of breath that worsened in the last 24 h. She felt ill for 1 week and had been seen by her primary care provider who treated her symptomatically. Vital signs are remarkable for an oxygen saturation of 82% on room air and tachycardia. On physical examination, she is tachypneic, using accessory muscles of respiration. Coarse breath sounds are heard on auscultation. She has mild pedal edema. A rapid flu test comes back positive. Chest X-ray shows diffuse interstitial infiltrates (Fig.
99.1
). She is admitted to the intensive care unit and started on supplemental oxygen and oseltamivir. A blood gas obtained an hour after admission shows a PCO
2
of 40 and a PaO
2
of 70 on an FIO
2
of 100%.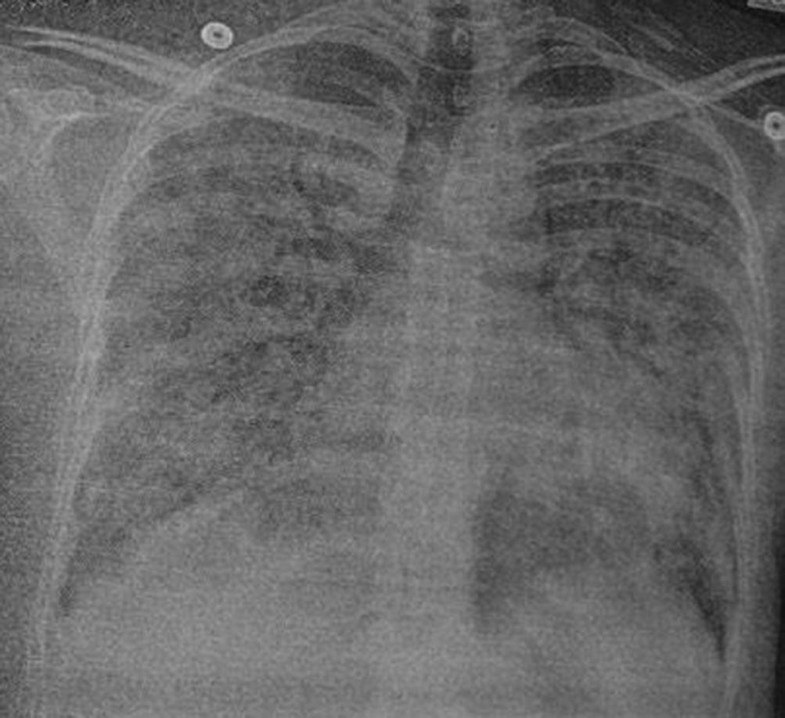 Question
What is her diagnosis and what is the next most appropriate step in management?
Answer
The patient has ARDS associated with Influenza pneumonia. Management should include intubation with precautions for possible difficulty airway. Empiric antibacterial therapy should be started in addition to continued neuraminidase inhibitors.
Principles of Management
Physiologic Respiratory Changes Seen in Pregnancy
Dyspnea on exertion is a common complaint reported by gravid patients as the pregnancy progresses. The etiology is partially explained by the physiologic increase in oxygen consumption by almost 20% (caused by fetal and uterine demands). However, the body compensates by increasing tidal volume and to a lesser extent respiratory rate [1, 2]. These changes make the partial pressure of oxygen slightly higher than normal on a blood gas, and would range from 100 to 110 mmHg. The partial pressure of carbon dioxide would be lower than normal for a non-pregnant patient and ranges from 27 to 32 mmHg [3]. Low pulmonary reserves that arise from reductions in functional residual capacity (caused by the gravid uterus and changes in the chest wall morphology) [1] and increased oxygen consumption make pregnant women develop hypoxemia more rapidly during apnea [4].
Respiratory Pathology during Pregnancy
Pulmonary Edema
Pulmonary edema can be broadly classified as cardiogenic or non-cardiogenic. Cardiac output increases very early on and is the highest in the post-partum period. Plasma volume expands due to sodium and water retention, thereby increasing preload, but afterload reduces due to vasodilation [5]. The most common causes of non-cardiogenic acute pulmonary edema in pregnancy are, fluid overload, preeclampsia, tocolytic agents, sepsis, trauma or following aspiration of gastric contents [6, 7]. Preterm labor increases the risk of pulmonary edema.
Airway Disease
Asthma is seen very frequently with a prevalence in pregnancy ranging from 1 to 8% [18]. Certain factors easily obtained by a good history can help the clinician understand who is at increased risk of complications from asthma, such as history of exacerbations, intubations, and recent steroid use. Most exacerbations are characterized by cough, wheezing, and dyspnea. The National Asthma Education and Prevention (NAEP) group recommends obtaining a baseline peak expiratory flow in order to guide further management. A target oxygen saturation should be above 90% with consideration for invasive mechanical ventilation in those who are in impending respiratory failure. A partial pressure of carbon dioxide within the normal range of 36–40 on an arterial blood gas can be an early sign of imminent respiratory failure in the gravid patient. Pharmacotherapy with inhaled beta agonists, inhaled anticholinergics and steroids are identical to that in the non-pregnant patient. Care should be taken during mechanical ventilation to avoid a short expiratory time that can cause auto peep [18]. Intravenous magnesium sulfate may be beneficial in acute severe asthma in addition to bronchodilators especially in patients with coexistent hypertension or preterm uterine contractions [18, 19].
Large airway obstruction mostly arises due to a difficult intubation and the incidence is anywhere between 0.4 and 5.5%. Intubation may be difficult during pregnancy and the peripartum period due to upper airway edema, pharyngeal mucosal friability and diminished airway caliber, especially late in pregnancy. The gravid patient, especially in the third trimester, should be considered a difficult airway patient with high risk of aspiration and decreased oxygen reserve. Other causes of airway obstruction such as tumors, hematoma and laryngeal edema are rarely encountered [20, 21].
Obstructive Sleep Apnea (OSA) in Pregnancy
Increased upper airway resistance may occur in pregnancy as a result of pharyngeal edema and increased pharyngeal tone could potentially worsen OSA in pregnant women. Incidence of OSA is estimated to be between 8.4% in the first trimester and 19.7% in the third trimester [22]. Maternal risks include increased morbidity from conditions that have been associated with OSA and underlying obesity such as preeclampsia, eclampsia, gestational hypertension, cardiomyopathy and gestational diabetes [23]. These patients are at higher risk for hypoxemia during labor, and continuous monitoring is necessary. CPAP therapy remains the first line of therapy and women are instructed to bring in their device when they come to the hospital during labor.
Pulmonary Infections in Pregnancy
Notes
Acknowledgment
Conflict of Interest: None.
Financial Support: None.
Copyright information
© Springer Nature Switzerland AG 2020