Community Acquired Pneumonia
Abstract
Early identification of patients with severe community-acquired pneumonia (SCAP) who require ICU care is important as delayed transfer is associated with increased mortality. In such patients, aggressive diagnostic testing is warranted given the increased probability of detecting a pathogen resistant to usual empirical therapy. Despite aggressive culture and other routine diagnostic testing, the majority of cases of SCAP remain without a definitive etiology. Early coverage of S. pneumoniae, methicillin-susceptible S. aureus, and L. pneumophila is crucial and adequate in the absence of risk factors for drug-resistant pathogens. Combination antibiotics with a beta-lactam and either a macrolide or fluoroquinolone are strongly recommended. When methicillin-resistant Staphylococcus aureus is suspected, linezolid is superior to vancomycin.
Several aspects of managing severe CAP remain without consensus, including risk factors for multidrug resistant pathogens, need for suppression of exotoxin production, the role of procalcitonin, and adjunctive treatment with corticosteroids and extracorporeal membrane oxygenation.
Keywords
Pneumonia 
Community acquired pneumonia 
Antibiotics 
Exotoxin 
Methicillin-resistant Staphylococcus aureus 
Linezolid 
Procalcitonin 
Corticosteroids 
Case Presentation
A 31 year old male with a history of diabetes mellitus type 1 and recent skin infection of the neck (for which he underwent incision and drainage and levofloxacin treatment) presented to the emergency department with a 3 day history of fever, cough productive of bloody sputum, and shortness of breath. He had recently returned from a trip to Asia. He was tachycardic but normotensive and had an oxygen saturation of 93% on 3 L nasal cannula. WBC count was 21.8k/μL with 90% neutrophils, BUN and creatinine were 8 mg/dL and 1.0 mg/dL, respectively, and glucose >350 mg/dL. Suspicion of cavitary pneumonia on chest radiograph was confirmed by computed tomography (Fig.
20.1
).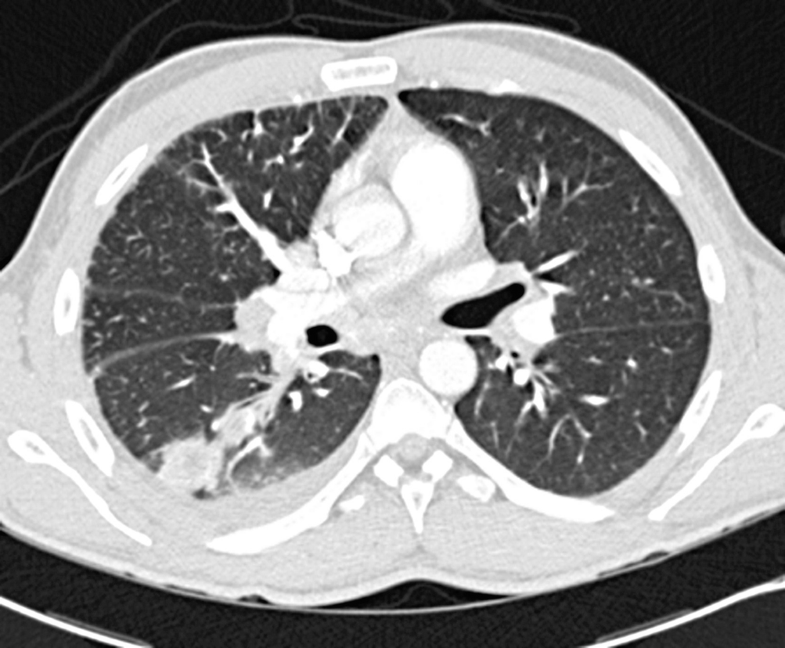 Question
What would be the best empirical therapy for this patient?
Answer
Ceftriaxone, azithromycin, and linezolid.
The patient was initially admitted to a general medicine unit. Because of concern for meliodosis based on travel history, the patient was started on ceftazidime, azithromycin, and vancomycin. He developed progressive hypoxemia and agitation, requiring intubation and mechanical ventilation. Bronchoscopic bronchoalveolar lavage (BAL) of the right lower lobe revealed 240 WBCs with 81% neutrophils. Sampling of a rapidly progressing pleural effusion showed a pleural fluid pH 6.95, glucose 44 mg/dL and LDH 1842 IU/L. Gram stain of both fluids revealed clusters of Gram positive cocci. Chest tube drainage of the right pleural space was performed. Urinary antigen testing for Streptococcus pneumoniae and fungal serologies were negative. He was empirically switched from vancomycin to linezolid. BAL and pleural fluid cultures subsequently grew methicillin-resistant Staphylococcus aureus (MRSA). Serum immunoglobulins (IGs) were found to be very low and he was given intravenous IG. After a prolonged ICU course, he was ultimately transferred to an acute rehabilitation facility and was subsequently discharged to home. He continues to receive intermittent outpatient IVIG.
Evidence Contour
Several aspects of severe CAP management remain controversial, including the assessment of risk for multidrug resistant (MDR) pathogens, other assessment tools, and adjunctive treatments.
Copyright information
© Springer Nature Switzerland AG 2020