Abstract
This paper presents a system that aims to achieve autonomous grasping for micro-controller based humanoid robots such as the Inmoov robot [
1
]. The system consists of a visual sensor, a central controller and a manipulator. We modify the open sourced objection detection software YOLO (You Only Look Once) v2 [
2
] and associate it with the visual sensor to make the sensor be able to detect not only the category of the target object but also the location with the help of a depth camera. We also estimate the dimensions (i.e., the height and width) of the target based on the bounding box technique (Fig. 
1
). After that, we send the information to the central controller (a humanoid robot), which controls the manipulator (customised robotic hand) to grasp the object with the help of inverse kinematics theory. We conduct experiments to test our method with the Inmoov robot. The experiments show that our method is capable of detecting the object and driving the robotic hands to grasp the target object.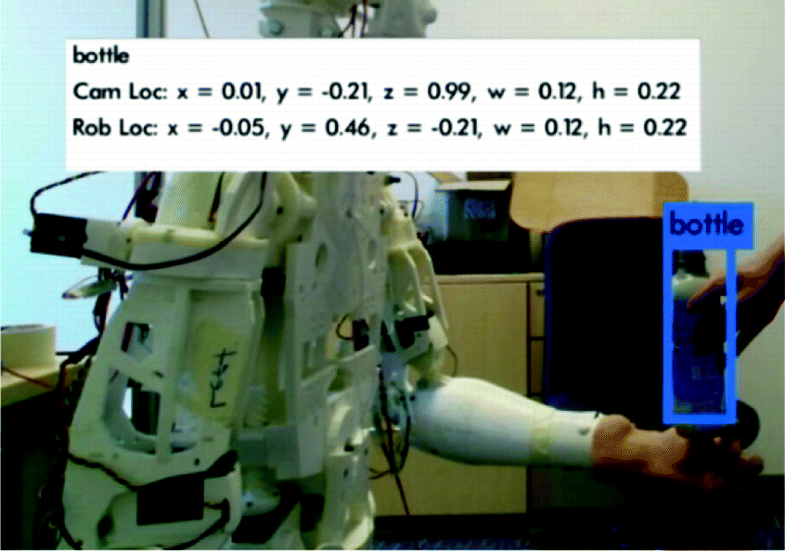 Keywords
Robotics 
Vision 
Object detection 
Motion control 
Grasping 
Notes
Acknowledgements
This research is supported by the BeingTogether Centre, a collaboration between Nanyang Technological University (NTU) Singapore and University of North Carolina (UNC) at Chapel Hill. The BeingTogether Centre is supported by the National Research Foundation, Prime Minister's Office, Singapore under its International Research Centres in Singapore Funding Initiative.
Copyright information
© Springer Nature Switzerland AG 2019