Abstract
Traditionally, Industrial Design studio classes consist of teaching Industrial Design through completing a series of projects at school. But what if there was a way to leverage existing real-world wholesale markets and manufacturing facilities outside of school to teach students about the realities of taking a design from "art to part"? This paper presents a case study in which students were challenged to design a product that could be sold at the Dallas Market, an international home goods marketplace in Dallas, TX for retailers from all over the world.
Keywords
Industrial design 
Education 
Markets 
Manufacturing 
Design entrepreneurship 
Real-world 
Teaching 
1

Introduction

In the US, Industrial Design studio courses usually teach Industrial Design fundamentals by having students complete a project or series of projects. Fundamentals of Industrial Design include topics such as research, ideation, aesthetics, product semantics, affordances, ergonomics, sustainability and manufacturing methods. Industrial Design educators often look for ways to teach these fundamentals in more effective and efficient ways but may be limited in simulating real world issues such as manufacturing constraints, production costs, product viability and competitive markets in the classroom. What if there was a way to leverage a real world designing-building-selling experience to teach Industrial Design fundamentals as well as provide students with some design entrepreneurship experience? This paper presents a case study of utilizing the Dallas Market, an international wholesale home goods marketplace in Dallas, TX as an opportunity for students to learn ID fundamentals as well as experience real world issues associated with trying to take a design from "art to part".
2

The Dallas Market

The Dallas Market Center is "…a global business-to-business trade center and the leading wholesale marketplace in North America connecting retailers and interior designers with top manufacturers in home décor, furniture, gifts, lighting and fashion. Inside its dynamic, five million square foot campus near downtown Dallas, nearly 200,000 customers from all 50 states and 85 countries seek industry trends, business education and new products via open-daily showrooms and from exhibitors participating in trade events held throughout the year" [1]. The Dallas Total Home & Gift Market is an exhibit and marketplace held several times a year and is a "…premier destination for connecting retailers and manufacturers in home décor, gifts, gourmet, housewares, accessories and lighting" [2].
3

Project Brief

31 sophomore Industrial Design students at the University of Houston were tasked with designing and making an innovative product that would be appropriate to sell at the Dallas Total Home and Gift Market (Jan 17–20, 2019). The following lists of learning objectives, constraints and final deliverables were provided to guide them as they considered potential products to design:

Learning objectives
1.

Practice designing functional, aesthetically pleasing, products with manufacturing in mind.

 

2.

Learn how the disciplines of design, manufacturing and business work together in the formation of successful product designs.

 

3.

Learn about local manufacturers' capabilities and appropriate utilization for prod uct manufacturing.

 

4.

Learn, apply and practice new methods of manufacturing.

 
Constraints
1.

Must be able to be mass-manufactured in low production quantities (at least 250).

 

2.

Must utilize manufacturing within US.

 

3.

Minimal finishing due to added cost and manufacturing time.

 

4.

If the product requires assembly, assembly instructions must be provided.

 

5.

If including hardware (i.e. screws), the bag that they are shipped in must be sourced.

 

6.

If electric/battery powered, electrical sub-assembly must be off-the-shelf and UL pre-certified.

 

7.

Must be branded and have simple, elegant, and inexpensive packaging to be shipped in.

 

8.

Size limit: must fit in a 24" cube, disassembled.

 

9.

Weight limit: 15 lbs. including packaging.

 
Final Deliverables
1.

One functional prototype to bring to the Dallas Market.

 

2.

Packaging for your product.

 

3.

Bill of materials which will include each part, its source and cost.

 

4.

ANSI D (22 x 34" portrait) Project Poster: product name, product photos, description.

 

5.

Process Book PDF (research, ideation, prototyping, solution).

 
4

Process

The overall project development process was completed in five weeks and consisted of four main phases: research, ideation, validation and production. By the end of the 4th phase, prototypes were completed and presented in a final student exhibition held on Nov 30, 2018. At the exhibition, the top student designs were selected for the Dallas Market. Four Industrial Design faculty and five students attended the Market to promote and sell the products. The following sections detail each phase:
4.1

Research

The research phase was one week in length and began with the students familiarizing themselves with the Dallas Market via their website: dallasmarketcenter.com. The main goal was to better understand the retail buyers that attend the Market and the types of products that they may be interested in purchasing. The specific market event that the students were designing for was the "Total Home and Gift Market" so they researched and brainstormed various categories of potential products that would be appropriate for that specific showcase. Once the potential product categories were established, the students found photos of existing products in each of the categories and created mood boards with them. These mood boards helped the students to identify potential areas of innovation to pursue. The students were also taken on a field trip to a couple of local high-end home furnishing stores including Kuhl-Linscomb [3] and High Fashion Home [4] to see, feel and experience home furnishing products on the market. They were also encouraged to visit other stores in town including Crate and Barrel, Pottery Barn, IKEA, Sur La Table, At Home, Home Goods, Bassett Home Furnishings, Ashley Home Store, West Elm, and Design Within Reach.

A list of local manufacturers, fabricators and makerspaces was given to the students to research as a team. Each student was tasked to select at least one local manufacturer/fabricator or maker space, research their services, prices, location and present their findings to the rest of the class. The spreadsheet served as a reference for them throughout the project and could be updated as new information was found. Most students conducted their research online, however, some called and visited the locations in person. If the students found additional manufacturers that were not on the list, they were encouraged to add them to the spreadsheet.

The students also had the responsibility of researching specific manufacturing and finishing methods including laser, plasma and water jet cutting, stereolithography, 3D printing, CNC machining, vacuum-forming, injection molding, casting, metal bending and forming, anodizing, electroplating, power-coat painting, and clear coating. This was an on-going process that was done on an as-needed basis depending on the manufacturing and finishing methods required for specific product ideas. The studio class was also taught in conjunction with a materials and manufacturing class in which the students had the opportunity to experience and practice the manufacturing methods themselves.
4.2

Ideation

The ideation phase was one week in length and consisted of two sub-phases: brainstorming and refinement. In the brainstorm phase, students were tasked with sketching at least 20 different product concepts. These 20 concepts were reviewed together in class and the top five concepts for each student were selected for further refinement and exploration in the refinement phase. The top five concepts were visualized as refined and rendered 2D sketches as well as corresponding physical sketch models. From these five concepts, one final concept was selected to be further refined. The final concept was visualized with a rendered perspective drawing, design control (technical) orthographic drawing, refined physical sketch model and a fabrication plan. The fabrication plan was intended to help the students organize all the considerations for making their specific designs. The following list of questions was given to the students to help them in developing their fabrication plans:
1.

Who will fabricate your product (at least 250 units)?

 

2.

Who is supplying the raw materials for your product? Are pre-existing, sourced products required?

 

3.

Who will finish your product (edge treatment, de-burring, grinding, sanding, electroplating, etc.)?

 

4.

Who will paint (power coating, clear coat, etc.) your product, if applicable?

 

5.

Does your product require assembly? If so, who will assemble it?

 

6.

Who will make/print your packaging?

 

7.

Who will pack your product?

 

8.

Who will ship your product?

 

9.

How much will 1 unit, 100 units, 250 units and 500 units cost? What is the cost difference?

 

10.

What is the lead time for each of the different unit amounts?

 
From here, the students moved into the validation phase.
4.3

Validation

The validation phase consisted of building proof-of-concept prototypes in the actual manufactured production materials that could be tested by potential users. This required students to contact and obtain quotes from local manufacturers to build their parts and products. Some of the quotes were too expensive and/or would not be completed within the time frame so many of the students manufactured their proof-of-concept prototypes themselves in the school shop or at a local maker space. Once the prototypes were finished, they were put in front of users for testing and feedback. Based on their feedback and faculty guidance, the students further refined their prototypes and continued their refinement into the final production phase.
4.4

Production

The production phase included finishing their prototypes for the end-of-semester student exhibition. In parallel with this, students designed and made packaging prototypes that effectively communicated what the product was, highlighted its respective features, and represented how their products would be protected during shipping and displayed in stores.

The ID faculty developed a brand called "Texas by Design" (TXD) and provided students with a logo to place on their products and packaging. The intent was to provide a consistent, unified brand for all the student designs. In the same way that IKEA is a parent company with individually named products, Texas by Design is the name of the ID program's "company" with individually named student products.

If assembly of the products was required, the students developed assembly instructions to be shipped with the product. Some of the instructions were included on the packaging itself to save on printing costs and reduce the amount of paper consumption.

The students photographed their prototypes, created posters and digital process books, which documented their whole product development process from their beginning research to their final solutions.

The students were given a Bill of Materials spreadsheet to fill out for their concept. This included the part names, corresponding manufacturers/fabricators that would make the parts, the associated costs at different production rates (i.e. 100, 250, 500 units, etc.), material costs, packaging costs and total costs.

At the end of the production phase, the final concepts were showcased at a student exhibition where the top designs were selected.
4.5

Selection

At the end-of-semester student exhibition, a committee of 10 industry professionals, faculty and staff voted on the most appropriate products to showcase at the Dallas Total Home and Gift Market. The main criteria for selection included cost, manufacturing feasibility, functionality, marketability, longevity and aesthetics.

A 10 × 10 ft. booth at the Market was reserved by the college and financial support had been provided by a grant to cover the lodging, travel, food and event fees for five students. The ID faculty desired to take as many students as possible to the Dallas Market for the students' learning benefit, however, it was not possible or practical in terms of space and cost.

With these constraints in mind, a total of 15 products were selected by the committee: 5 to sell and 10 to display. The student designers of the five products being sold were invited to attend the Dallas Market with four ID Faculty.

The 10 products on display were chosen primarily to showcase the wide variety of products created by the class, to generate interest in the ID program and provide feedback as to the types of products Market buyers may be interested in for potential future sales opportunities (Table 

1

).

Table 1.

List of the 15 selected student products for sale and display.
| Product name | Description | Sell or display |
| --- | --- | --- |
| 1. Flight | Stainless steel wall hook | Sell |
| 2. Happy whiskers | Cat dish | Sell |
| 3. Two | Incense holder | Sell |
| 4. Keeper | Recycling/trash bin | Sell |
| 5. Tape simply | Stainless steel tape dispenser | Sell |
| 6. Kaen | Tea light holder set | Display |
| 7. Kle | Keychain and letter holder | Display |
| 8. Keep stand | Cell phone holder | Display |
| 9. Three | Stool | Display |
| 10. Third coasters | Coaster set | Display |
| 11. ManKala | Game set | Display |
| 12. Vino | Stainless steel wine rack | Display |
| 13. Uni | Wooden fruit tray | Display |
| 14. Trio | Stool | Display |
| 15. Caravan | Wooden animal toys | Display |
After the selection process was complete, the five selected students were informed and invited to attend the Dallas Market to represent the ID program and to promote and sell their products in person.
5

Results

The five selected students and four ID faculty brought the 15 selected products to sell and display at the Dallas Total Home and Gift Market from January 17-20, 2019. Prior to departing for the Market, the students and college received media coverage in the school paper as well as from local television news stations. While at the Market, a substantial amount of invaluable feedback was received, many connections were made, a product was sold, several buyers expressed interest in licensing products and working further with the students and faculty to potentially bring some products to market. After the Market, the faculty and students followed up with interested buyers. The following sections provide the details of the Dallas Market results:
5.1

Media Coverage

Prior to departing for the Market, a news article was published in the school newspaper on Jan 8, 2019 about the students, their designs and their hopes for the Dallas Market. A couple of days later on Jan 10, a local television station, KHOU 11, interviewed the students and faculty and aired the interviews later the same day at 4 pm. On Jan 14, Fox Channel 26 conducted a live interview of the students and their products during their 9am morning segment.
5.2

At the Dallas Market

The ID faculty and students worked in two shifts to cover the four-day market. Every day the Market opened at 8:30am and closed at 6 pm (except for Sun, Jan 20, which closed at 4 pm). Over the four days, an abundant amount of invaluable feedback was given to the students and faculty regarding product viability and marketability, other manufacturing options, potential other shows/exhibits and websites to consider selling at and encouragement from many helpful and kind buyers. Over 30+ face-to-face connections were made with buyers and company owners, which included some people who were interested in potentially working on sponsored projects with the ID program. In addition to this, an order for six "Keeper" laser-cut aluminum recycling/trash bins was placed by Dandy Roll, a shop in Rogers, Arkansas with the goal of supplying "distinct goods for the modern home." [5] The owners of Dandy Roll also expressed interest in potentially purchasing "Two" (aluminum and brass incense holder) as well as "Caravan" (wooden animal toy set) in the future if the manufacturing could be worked out so a viable price point could be reached.

Another company that sells pet products expressed interest in licensing "Happy Whiskers", a low profile cat dish that allows cats to eat without disturbing their whiskers. In addition, an owner of a different company expressed interest in licensing "Tape Simply", a one-piece bent stainless steel tape dispenser. One buyer expressed interest in "Third Coasters", a laser-cut wooden coaster set that was on display but not for sale, with the hope of developing it further for production. The communication with Dandy Roll and the other interested buyers continued after the Market (Fig. 

1

).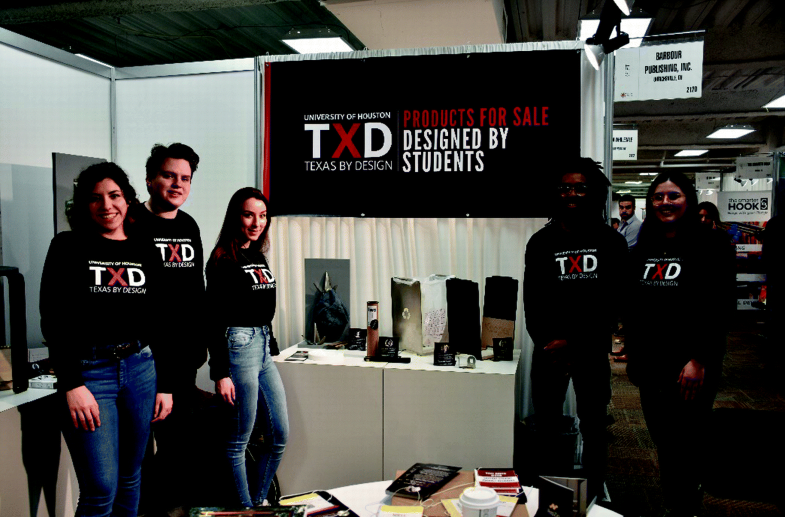 5.3

After the Dallas Market

After the Dallas Market, the ID faculty and students followed up with Dandy Roll and the other interested buyers. For the "Keeper" recycling/trash bin, a manufacturer was found that could cut the edges of the keeper bins much cleaner and smoother than what was presented at the Market while maintaining a similar price range, however, the anodizing process (for a matte finish) was much more expensive than anticipated. A proposal was made to Dandy Roll to clear coat the bins instead of anodizing to protect the raw aluminum from fingerprints and dirt. Dandy Roll agreed to the proposal and the bins were successfully completed and delivered.

The ID faculty and students are currently in discussions with the pet product company interested in licensing "Happy Whiskers" as well as the company interested in "Tape Simply". Protection of intellectual property is being pursued.

Discussions are also continuing with the connection who was interested in developing "Third Coasters" into a viable, marketable product.

The ID faculty are also continuing to work with the students who developed "Two" and "Caravan" to find less expensive manufacturers with the hope of reaching a viable price point for retailers as well as finding less expensive methods for achieving the desired matte finish on the "Keeper" bins.
6

Analysis of Results

After returning from the Market, the planning team held a debriefing meeting to discuss the results and gauge the potential of the Dallas Market in future design projects. The team unanimously agreed that it was an outstanding learning experience for both the students and faculty. For the students, the real world experience of taking their designs from concept to manufacturing, and even sales was invaluable. The realities of manufacturing constraints, costs, competitive products, markets and viable price points, packaging, shipping and selling cannot be achieved with text book learning alone.

For the faculty, the experience was invaluable to see what worked or did not work in reaching learning objectives for the class, motivating students, and the realities of a competitive product marketplace. The networking and new connections made at the Market have the potential to lead to other sponsored projects or new design work.

The Dallas Market was a great first starter venue to explore with selling and displaying student designs, however, many of the buyers gave the team feedback that the students' concepts were more contemporary and modern and may not be the right fit for all of the Dallas Market buyers. Instead, they suggested that the students' designs may have more traction and interest at the larger trade shows like AmericasMart in Atlanta, GA, NYNow Market in New York City, NY and the Licensing Expo in Las Vegas, NV.

Buyers also recommended exploring approaching online companies such as the American Design Club and The Grommet as possible venues for starting the students' design entrepreneurship careers.

Even though the sophomore students were able to complete their projects in only five weeks, the team agreed that in the future the project may be better suited for 3rd year students due to their more developed skill sets and design experience.
7

Conclusion

Dedicated Industrial Design educators continually search for more effective and engaging ways to teach students Industrial Design. Learning in the classroom is necessary but also limiting. Real world learning experiences such as the Dallas Market not only teach students Industrial Design, but they also expose them to the realities of manufacturing methods, constraints, costs, market viability, packaging, shipping, price points, selling, and all the details, considerations and effort involved in actually bringing a product to market. Even though the process is immensely challenging, the reward of real-life experience and the potential for sales or licensing can be well worth it.

The order that was placed for the "Keeper" bin may be first of many more orders and the beginning of a strong and lasting partnership with Dandy Roll and perhaps more stores interested in carrying the product. Licensing some of the students' designs may be the launching point for some of the students' careers. Further developing student designs with interested buyers and companies may yield more viable products that can reach the marketplace.

In conclusion, giving students a project that leverages real world markets such as the Dallas Market and the experience of working with real manufacturers to bring products to life can be a powerful, engaging and effective method for teaching Industrial Design.
Copyright information
© Springer Nature Switzerland AG 2020