Dilated Cardiomyopathy at the Crossroad: Multidisciplinary Approach
Abstract
Patients with dilated cardiomyopathy (DCM) can present for the first time with typical cardiac symptoms, as heart failure, arrhythmias, and syncope, with cardiomyopathy as the main presenting feature. However, DCM may be a common feature of systemic diseases or presenting in the contest of different clinical settings. Symptoms of multisystem disease may be described by patients themselves or be determined on routine examination. A cardiomyopathy-specific mindset, which combines conventional cardiologic assessment with non-cardiac clinical acumen and a systematic approach, is important, because it can be used to identify specific disorders, guide rational selection of diagnostic tests, and increase the chance that disorders with tailored management strategies can be identified. Moreover, in different clinical settings, phenotypic expression in other organs may precede cardiac manifestations, and the cardiologist's role is to search for cardiac involvement in a patient who already has a non-cardiac diagnosis.
In the present chapter, we consider DCM and ventricular dysfunction in the contest of peculiar clinical settings ranging from inflammatory or autoimmune disorders to specific forms of systemic disease, infectious disease, as well as toxin-induced DCM.
Keywords
Alcoholic cardiomyopathy 
Autoimmune cardiomyopathy 
Cardiac sarcoidosis 
Chagas disease 
Chemotherapy 
Hemochromatosis 
Lyme disease 
Neuromuscular diseases 
Abbreviations and Acronyms
ACEi

Angiotensin converting enzyme inhibitors

BMD

Becker muscular dystrophy

BNP

Brain natriuretic peptide

CK

Creatine kinase

CMR

Cardiac magnetic resonance

CS

Cardiac sarcoidosis

DCM

Dilated cardiomyopathy

DMD

Duchenne muscular dystrophy

ECG

Electrocardiogram

ECG-SA

Signal-averaged electrocardiography

EDMD

Emery-Dreifuss muscular dystrophy

HF

Heart failure

LGMD

Limb-girdle muscular dystrophy

LV

Left ventricular

LVEF

Left ventricular ejection fraction

NYHA

New York Heart Association

SLE

Systemic lupus erythematosus

TTNtv

Truncation variants in the gene encoding titin

VT

Ventricular tachycardia
Dilated cardiomyopathy (DCM) constitutes a broad cardiac phenotype that can arise from a multitude of myocardial insults. Rigorous etiological evaluation may allow to identify specific treatments, targeted to the underlying cause [
1
]. This approach requires clinical acumen (Table
15.1
) and a multidisciplinary approach, with close collaboration with other specialists, as represented in Fig.
15.1
.
Table 15.1
Clinical "red flags" and potential related DCM subgroup
 

Abnormalities

Potential specific DCM subgroup or systemic disease

Laboratory tests suggested

Medical history/physical examination

Mental retardation

Dystrophinopathies,

Mitochondrial diseases,

Myotonic dystrophy

Creatine kinase

Visual impairment

Myotonic dystrophy

Creatine kinase

Muscle weakness

Desminopathy,

Dystrophinopathies,

Sarcoglycanopathies,

Laminopathies,

Myotonic dystrophy

Creatine kinase

Myotonia

Myotonic dystrophy

Creatine kinase

Pigmentation of the skin

Hemochromatosis

Serum iron, ferritin, transferrin saturation

Uveitis; nodular erythema; arthralgias

Sarcoidosis

Serum angiotensin-converting enzyme

Malar rash, discoid rash, oral ulcers, arthritis, serositis; fibrosis and thickening of the skin

Connective tissue disorder (Systemic lupus erythematosus, scleroderma)

Autoantibody screen,

erythrocyte sedimentation rate,

proteinuria research

Chemotherapy exposure (anthracyclines, trastuzumab, etc.)

DCM related to chemotherapeutic agents

Troponin

History of amphetamines, cocaine intake

DCM related to toxic agents

Urine toxicology screen for cocaine/amphetamine abuse

Alcohol abuse

Alcoholic DCM

Liver function

Mean corpuscular volume

Pregnancy

Peripartum-DCM

 

Electrocardiography

Atrioventricular block

Myocarditis (Lyme disease, Chagas disease)

Sarcoidosis

Laminopathy

Desminopathy

Myotonic dystrophy

Emery-Dreifuss 1

Specific serum autoantibodies for suspected infection: Lyme disease, Chagas disease, etc.

Serum angiotensin-converting enzyme (sarcoidosis)

Creatine kinase

"Posterolateral infarction" pattern

Dystrophin-related cardiomyopathy,

Limb-girdle muscular dystrophy,

Sarcoidosis

Creatine kinase,

Serum angiotensin-converting enzyme (sarcoidosis)

Echocardiography

Posterolateral akinesia/dyskinesia

Dystrophin-related cardiomyopathy

Creatine kinase

Mild dilatation/segment kinetic alterations with non-coronary distribution

Myocarditis,

Sarcoidosis

Troponin (myocarditis)

Serum angiotensin-converting enzyme (sarcoidosis)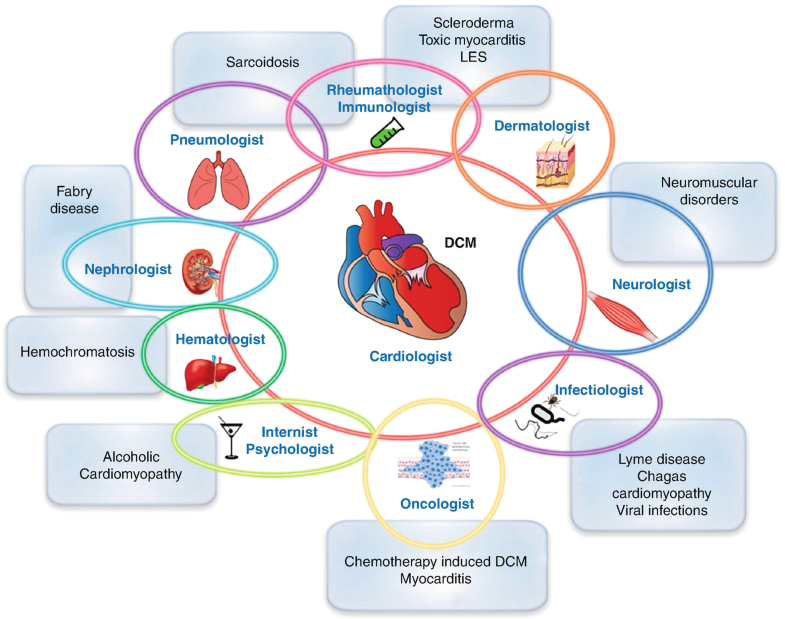 Indeed, evaluation of patients with DCM requires a thorough understanding of potential complex pathophysiology that may be different in each patient [2]. In certain cases, with the elimination of the cause and the appropriate treatment, reversal of myocardial damage and recovery of cardiac dysfunction can occur, and therefore treatment should be individualized and should target the underlying cause, when added to the standard systolic heart failure (HF) therapies.
Copyright information
© The Author(s) 2019
Open Access This chapter is licensed under the terms of the Creative Commons Attribution 4.0 International License (http://creativecommons.org/licenses/by/4.0/), which permits use, sharing, adaptation, distribution and reproduction in any medium or format, as long as you give appropriate credit to the original author(s) and the source, provide a link to the Creative Commons license and indicate if changes were made.
The images or other third party material in this chapter are included in the chapter's Creative Commons license, unless indicated otherwise in a credit line to the material. If material is not included in the chapter's Creative Commons license and your intended use is not permitted by statutory regulation or exceeds the permitted use, you will need to obtain permission directly from the copyright holder.