Abstract
Affective computing is a growing field of artificial intelligence. It focuses on models and strategies for detecting, obtaining, and expressing various affective states, including emotions, moods, and personality related attributes. The techniques and models developed in affective computing are applicable to various affective contexts, including Ambient Assisted Living. One of the hypotheses for the origin of emotion is that the primary purpose was to regulate social interactions. Since one of the crucial characteristics of Ambient Assisted Living systems is supporting social contact, it is unthinkable to build such systems without considering emotions. Moreover, the emotional capacity needed for Ambient Assisted Living systems exceeds simple user emotion detection and showing emotion expressions of the system. In addition, emotion generation and emotion mapping on rational thinking and behavior of a system should be considered. The chapter discusses the need and requirements for these processes in the context of various application domains of Ambient Assisted Living, i.e., healthcare, mobility, education, and social interaction.
Keywords
Affective computing 
Social interaction 
Healthcare 
Education 
Mobility 
1

Introduction

Ambient Assisted Living (AAL) can be described as concepts, products, and services that combine new technologies and social environment to improve the quality of life for people in all stages of their lifetime [1]. From an individual perspective, the quality of life can be considered in terms of well-being. It includes emotional (self-esteem, emotional intelligence, mindset), social (friends, family, community) and physical (health, physical safety) aspects in a person's life [2]. Humans are social beings, thus one of the most important tasks of AAL is facilitating social contact [3]. This is achievable through the implementation of affect (a generic term used to cover feelings, mood, emotions, etc.) detecting and processing mechanisms in a system. Affective data enhances a system's ability to make rational decisions and achieve its goals by serving as an extra information for detecting the context of the particular situation and as a mediator through which information can be passed.

Integration of affective capabilities in AAL systems requires knowledge from various fields, including cognitive psychology, neuroscience, medicine, and computer science. Mentioned knowledge has been of paramount importance in such artificial field (AI) field as affective computing which mainly focuses on the study and development of systems and devices that can recognize, interpret, process, and simulate human emotions [4] which has led to significant amount of research, algorithms and methods in this area. One question that has been in the center since the first affective systems appeared is related to their affective abilities; to put it simply – what kind of emotional processes does a system need? In the studies answering this question, main affective processes of affective systems have been identified (namely, emotion recognition, emotion expression, emotion generation and emotion mapping on the rational behavior); it has been argued that depending on their focus, not all systems need all these processes [5].

Another aspect of this chapter is AAL applications that are targeted to help not only older adults but also younger people (since health disorders can affect anyone at any age) to live independently and comfortably in their living environment. However, living environments do not include only users' houses but also various environments surrounding them such as city streets, schools, shops, restaurants, and other places. Therefore, these people have needs for movement, social interaction, healthcare and acquisition of knowledge and skills not only related to specific problem domains (e.g., mathematics) but also basic skills required for everyday life like eating or cleaning. To support emerging emotional, physical and mental needs in extended AAL environments, four AAL application domains, including healthcare, education (teaching/learning), mobility (transportation), and social interaction, are analyzed in terms of previously mentioned affective processes.

The chapter starts with explanations of the complexity of affective systems and advancements in affective computing field, as well as describes affective processes and their implementations in affective computing systems. Next, the need for emotions in existing AAL application areas has been discussed and a short analysis of AAL systems in the context of basic emotional processes has been provided.
2

General Emotional Processes of Affective Systems

Affective computing (AC), which started its advancement in 1997 [4], aims to endow computers with abilities to detect, recognize, interpret, process, simulate human emotions from visual, textual, and auditory sources, as well as respond appropriately [6]. AC humanizes human-computer interactions by building artificial emotional intelligence. As natural language interactions with technology continue to evolve (examples include search, bots, and personal assistants), emotion recognition is already emerging to improve advertising, marketing, entertainment, travel, customer service, and healthcare [7].

Advances in data processing speeds and disciplines of computer science, AI, machine learning, psychology, and neuroscience, are all leading to expanding of AC field [8]. Computers, cameras, and sensors can capture facial expressions, gaze, posture, gestures, tone of voice, speech, patterns of keyboard and/or mouse usage, as well as physiological states (e.g., skin temperature or conductance, heart rate and blood volume pulse) to register changes in a user's emotional state [6].

Analysis of existing studies shows that numerous computational models of emotions have been developed and applied by researchers working in the AC area. An abundant amount of various systems and applications has facilitated discussion of main affective processes and system's affective abilities in general.

One of fundamental works in this direction has been done by Hudlicka who proposed a general affective system framework [

9

]. The framework focuses on the roles of emotions and their fulfillment in artificial units. Such general approach allows systematic and organized design and implementation of necessary processes and functions, as well as enables comparison of affective mechanisms of various systems. According to AC, an abstract affective component can be identified, which executes three processes: affect recognition, affect calculation as well as affect expression [

4

]. Affect calculation may include two separate processes: emotion generation and emotion mapping on behavior [

9

]. By combining these ideas, Petrovica and Pudane [

10

] have defined processes that are needed specifically for a fully affective system that interacts with a user (see Fig. 

1

).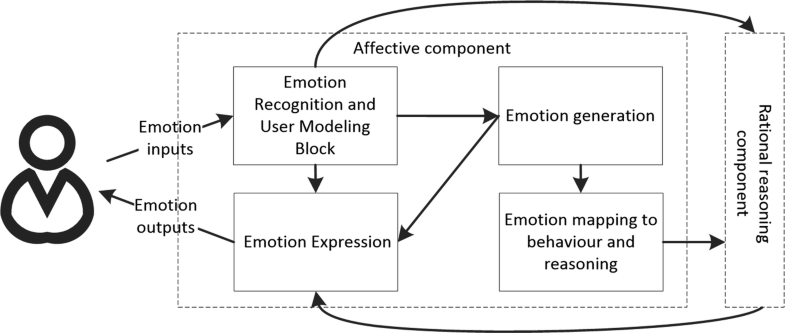 Emotion recognition is usually done by extracting emotional cues from one or more modalities, i.e., facial expressions [11], gestures [12], body postures [13], voice [14], etc. Perception of various modalities is a precondition in order to automatically detect emotions and accordingly adapt the behavior of AAL systems. In the AC field, affect detection is commonly achieved both through non-intrusive sensors, which do not require physical contact, e.g., video cameras, eye trackers, and microphones, and intrusive sensors which require physical contact with human body, e.g., physiological sensors or haptic (touch) sensors. Since the main goal of AAL field is the development of non-intrusive intelligent systems that are able to proactively support people with special needs in their daily activities, non-invasive user monitoring is an important aspect of AAL systems [15].
Emotional state generation is related to the appraisal of stimuli causing subjective emotional experience. Emotional responses are triggered by various events that are evaluated as being significant for a person's (or robot's/agent's) expectations, needs, or goals. Therefore, the same stimulus can produce distinct emotions, depending on differences in the person's interpretations [9]. In AC field, affect generation is achieved by computational emotion modeling. One of the goals for computational emotion modeling is to enrich the architecture of intelligent systems with emotion mechanisms similar to those of humans, and thus endow them with the capacity to "have" emotions. In the context of AAL, some studies exist in this direction, e.g., in [16] authors describe need-inspired emotion model applied in a HiFi agent whose emotions are generated by evaluating the situation and comparing it to agent's different needs.
Emotion mapping on cognition and behavior means defining reasoning or behavior changes caused by an emotional experience. Emotions can lead to the expression and communication of different reactions or the activation of specific actions in a person's (or agent's/robot's) body. Thus, models of emotion effects should deal with the multi-modal nature of emotion. Systems with embodied agents need to express emotions not only through behavior, but also through other modalities available in their particular embodiment (e.g., facial expressions, speech, or gestures). One of the possible approaches that can be used for mapping emotions to behavioral reactions is the application of a behavior-consequent model that allows aligning emotional state to physical actions or other direct outward or social expressions, for instance smiling when happy. Behavioral-consequent models are often used to synthesize human-like emotional or social behavior in embodied robots like Kismet [17] or in virtual agents such as Max [18]. Regarding AAL developments that are able to link emotions with behavioral effects, few projects can be found. For example, in a NICA project [19] a behavioral architecture is developed for a social empathic robot which can assist a user in the interaction with a smart home environment.
Emotion expression is focused on the system's ability to express emotions as responses to people's personality, emotions, moods, attitudes, and actions. For AAL systems, such ability could improve their functionality since many AAL systems are developed as personal assistants fulfilling two functions:
To make the virtual companions or assistants not only look realistic but also have natural and human-like behaviors, one of the key characteristics is personality and the ability to exhibit human traits and characteristics, including emotions [22]. In AC field, such functionality is achieved mainly through affective conversational agents or affective robots; in AAL systems, it is implemented in a similar way – through virtual agents embodied into a system's interface or robots. Thus, ways how emotions are expressed by AAL systems (or virtual agents) can be similar to those used by humans, i.e., facial expressions [23], voice and speech [24], behavior and body posture [25]. In other cases, a reaction to human emotions can be expressed through changes in music, color, and lighting [2].
While all four functional blocks (emotion recognition, emotion generation, emotion mapping on the rational behavior and emotion expression) if implemented properly ensure that a system is fully affective, it is assumed that a system still can perform well if it has just a few functional blocks. For example, if a system needs to adapt to a user's emotions, it will achieve its goals just by recognizing emotions and expressing them as a response to a user's emotions. Such approach is often used in intelligent tutoring systems [5].
AAL systems, in general, are complex in the sense that they need to support social interaction as well as carry out rational functions. This leads to thinking that in AAL systems, all four processes are needed: to detect emotion, to generate emotion, to map emotion on rational processes ("feel" emotion) and to express emotion.
While these components are already recognizable in existing systems, we argue that depending on the application area of AAL (as opposed to AAL systems as a whole), requirements for affective abilities differ. While rich affective model might be crucial in other cases, such as when dealing with older adults or targeting long-term interaction and/or companionship, for more specific AAL systems, full set of identified functions is not necessary. To prove this, we analyze four different areas where AAL can be used. To compare these areas, we use affective processes as a reference. It provides main functions required for AAL systems.
In the next section, various AAL application domains corresponding to requirements of AAL systems are reviewed and analyzed. Main characteristics are described for all listed application areas, as well as these characteristics are analyzed in the context of AC processes. Analysis of basic affective processes in existing AAL applications would help to develop truly affective systems supporting users not only physically but also mentally.
3

Affective Computing in AAL

AAL systems are aimed at satisfying the needs of those in care. In the research on older adults [

6

], needs have been divided into four kinds: Errand, Life curation, Emotional health and Comfort needs. Older adults are one of the major user groups of AAL, however, additional need for younger generation appears – a need for education, e.g., in autistic children cases [

26

]. We have chosen the following application areas in which AAL systems should support specific user needs:
education which supports life comfort in long-term by ensuring that basic life skills are learned;

the social interaction that supports emotional and comfort needs;

mobility supporting errand needs as well as comfort since the ability to move freely increases independence;

healthcare supporting physical (life curation) needs.
4

Analysis of Affective Requirements for AAL Application Domains

As it was described in Sect. 2, four basic affective processes (emotion recognition, affect calculation consisting of emotion generation and emotion mapping on cognition and behavior, as well as emotion expression) can be fulfilled by an affective component, a unit or a system. The main goal of this section is to provide analysis and summary of previously considered AAL systems in terms of mentioned processes.

In general, the relationship between previously analyzed AAL application domains and all four affective processes is represented in Table 

1

. If the specific affective process is of

high

importance and should be included in the development of AAL systems as a functional requirement then it is depicted with black color. If not all solutions of the specific AAL application domain require the corresponding functionality then dark grey color is used (

medium

importance). Light grey color represents cases when the process is not essential to ensure the intended functionality of the AAL system (

low

importance).

Table 1.

The relationship between affective processes and AAL application domains.
Education.
Emotion recognition and creation of a user model is an essential task of AAL systems targeting provision of educational activities since reasoning about learner's emotions and adaptation of a system's behavior (including emotion expressions of the system itself) is further required as a feedback. As an example, previously described IROMEC robot can be mentioned. It carries out user modeling (models child's abilities and emotions) and accordingly adapts itself and provides personalized feedback. In general, emotion recognition is carried out through various modalities. The most popular one, of course, is the identification of facial expressions via cameras because it is considered a non-intrusive method. However, intrusive approaches (for example, analysis of physiological data) are applied as well for emotion recognition purposes.
If we return to affective processes, in particular, to emotion generation, then for AAL applications aimed at teaching specific knowledge or skills for a short-term period it is not of particular importance to actually "feel" or generate emotions based on system's own emotion model. It can be just an imitation of emotions (e.g., feeling empathy towards learners) as predefined reactions to learner's emotions, actions and/or learning outcomes in order to increase system's (or pedagogical agent's) believability and gain learners' trust. Thus, there is no need to generate further changes in the system's rational processes and/or behavior according to felt system's emotions.
The Social Interaction.
A significant amount of effort has been dedicated to emotion recognition. Particularly, a challenge for social robots is emotion identification outside of the laboratory, i.e., "in the wild". While the most social robots recognize user's emotions from the camera, several use audio signals and body postures as well. In general, emotion recognition in AAL environment does not differ from emotion recognition that is being done away from a computer. A more interesting task is user modeling which is crucial for adapting to a user and forming a long-term friendship. While user modeling is also one of the key factors for education and healthcare, for companions it is especially crucial to develop long-term affective models, structures about a user, his interests and user's affective attitudes towards various things.
Emotion expression is also very important for companions from two aspects: first, emotional expressions should be clearly understandable for a user; secondly, they should be socially appropriate. Expressivity, in general, is much-researched topic that has resulted in the aforementioned robot Leonardo as well as other developments.
An affective ability that differs social interaction from other areas is the necessity for the calculation of a system's internal affective states, including emotion generation and mapping on cognition and behavior. Such approach allows the system to be more believable over a long time since emotional displays and emotion influence on behavior is the key to affection formation and life illusion (i.e. belief that the artificial companion is actually alive).
Mobility.
Regarding mobility and transportation in general, there can be various options depending on a system's specificity. If the solution is aimed at supporting just a walking then there is no need for the emotion integration, however, if some form of interaction is involved then emotion inclusion can become an essential task.
In case of walking assistants, emotion recognition as a system's capability not always is required since most of these developments aim to promote positive emotional outcomes (e.g., reducing the fear of getting lost) through specific actions (for example, the DALi project). The most important would be a creation of a user profile according to which a system would adapt its actions targeting emotional benefits.
If the aim is a long-term interaction and/or communication which could be the case of affect-sensitive cars, then recognition of user's emotions and generation of appropriate emotional responses for an in-car assistant via voice or facial expressions may be required. However, behavior and rational thinking of such systems should not submit to emotions since this can lead to negative outcomes, for example, car accidents, injuries, etc.
Currently, a great amount of work is already devoted to the emotion recognition from driver's voice since many cars use voice analysis and speech recognition services. Therefore, a possibility to acquire affective data in many cases is already integrated into cars only analysis of the collected data in the context of emotions should be applied. Regarding this issue, results of studies and experiments carried out with driving simulators can be used as well to analyze driver's emotions in particular situations with an aim to create corresponding drivers' profiles.
Healthcare.
When it comes to the affect integration into healthcare applications, the largest amount of research and practical studies has been linked to affect recognition. It is a logical consequence of field specifics: accurate affective state recognition underlies the entire chain of procedures that healthcare applications carry out. However, emotion recognition is not the only thing in the center of attention. User modeling and possibly forecasting his or her emotional reactions and consequently the behavior is of uttermost importance. Accurate and personalized user models would enable more precise detection of affective state and consequently would lead to more accurate evaluation of user's health condition.
In the healthcare, similarly as in educational systems it is not needed for a system to have its own affective state but rather system should be able to tailor the affective reaction for achieving particular emotion from a user. System's reasoning and decision-making processes, as can be seen from existing research, closely interact with user's emotions, monitoring and forecasting them as well as adjusting system's behavior.
Finally, some emotion expression capacities might be needed if a system performs interventions when required. In this case, functions of a healthcare system are merged with companionship functions so the system might need affective abilities vital for companions.
5

Conclusions

The chapter discusses a need of integration of AC approaches and methods in the context of AAL systems to improve their functionality in terms of rational decision making and enhancement of social interaction with people requiring the use of these systems. Four basic emotional processes forming general affective system framework have been described and analysis of various AAL systems application areas (i.e., education, social interaction, mobility, and healthcare) have been done to identify current capabilities of AAL systems in terms of listed processes.

Overall, it can be concluded that the existence of truly affective AAL system is not in the far future – separate parts of such systems already exist. Emotion detection is the most studied process in AC, therefore, various methods and algorithms have been developed which can be applied in the development of AAL systems. The analyzed AAL areas are closely merged together; it can be clearly seen that one system can have multiple functions.

Processes related to system's emotion expression can be considered as a second most developed direction not only in AC but also in the field of AAL. Many researchers are working towards intelligent and expressive social agents which display believable behavior and can be used as personal assistants, teachers, companions, etc. In many cases, such agents represent a system itself and carry out most of the system's functions aimed at direct interaction with a user, thus improving system's communicative abilities.

The research focused on affect generation and consequently – the system's endowment with abilities to "feel" emotions already exists, although it is at the very beginning of its development. Currently, most part of AAL systems just imitates abilities to "feel" emotions by using predefined emotion and/or behavior patterns as responses to user's emotions. However, one direction where "feeling" real emotions is of primary interest, is companionship and long-term social interaction. While in some areas, such as healthcare, the system's dependency on its own emotions can be unnecessary or even dangerous, in the social interaction "emotional glitches", e.g., being offended, can make companion more believable and life-like. It can be concluded that this is one of future research directions.

Another trend that is closely related to the future of AAL is personalization – personal services and personal communication with a user. This means that there is a need to store not only "rational" data, such as health condition, but also affective data and attitudes of a user – which puts various user modeling techniques (including machine learning) as a top-interest research.
Copyright information
© The Author(s) 2019
Open Access This chapter is licensed under the terms of the Creative Commons Attribution 4.0 International License (http://creativecommons.org/licenses/by/4.0/), which permits use, sharing, adaptation, distribution and reproduction in any medium or format, as long as you give appropriate credit to the original author(s) and the source, provide a link to the Creative Commons licence and indicate if changes were made.
The images or other third party material in this chapter are included in the chapter's Creative Commons licence, unless indicated otherwise in a credit line to the material. If material is not included in the chapter's Creative Commons licence and your intended use is not permitted by statutory regulation or exceeds the permitted use, you will need to obtain permission directly from the copyright holder.