Abstract
New biographical sources give fresh insight on Drummond's life and character and show the influence of his early life on his career, which was further affected by lengthy sojourns in Germany before joining the Foreign Office (FO) and by conversion to Roman Catholicism on marriage. Drummond was a contact between the FO and the British secret service, under the code-name 'Bond'. The League Secretariat was shaped by Drummond's 'sound practicality'. His character comes through strongly in the minutes of weekly meetings with his Directors, which began in August 1919. At the end of his life he was eulogized for having constructed one of the new elements of world life, the International Civil Service, which was the enduring achievement of the internationalism that emerged in 1919.
Keywords
Scotland 
Eton 
Liberal Party 
Fly-fishing 
Germany 
Roman Catholicism 
Ireland 
Anglo-American relations 
Balfour 
Impartiality 
Mussolini 
European Economic Community 
Drummond revealed little of himself to the politicians, diplomats and colleagues who were at the centre of his life and he baffled the press corps. His public image was that of a simple man, doing his duty, smoking his pipe and relaxing over fishing or a game of golf. 1 He could not be enticed to write about his 'great experiment' in promoting cooperation, peace and justice between nations, and failed to get past the first page of an autobiography or beyond a tantalising list of eleven proposed episodes of a book that would have spanned the years between the First World War and the Munich crisis of 1938. However, a fresh insight on his life and character is presented in this chapter, derived from new biographical sources.
His career was powerfully influenced by his origins and early life. He was raised in an era in which there was an ever-present consciousness of family honour and personal reputation, and in a household with a centuries-old clanship tradition, characterized by fierce loyalty to kin and causes. The qualities he showed in office may have had their roots, to some extent, in these values. A French reporter suggested so in a finely observed description of Drummond, concluding that he was a gallant man who put into practice the Scottish motto of his clan, Gang Warily—'advance with caution'. 2 Family mottos were important to Drummond: while courting his future wife, he quoted another, Prius mori quam fidem fallere, which he interpreted as 'I would rather die than break my word'. 3
He was a Scottish aristocrat, second son of Viscount Strathallan, but was not born into great wealth, rather he grew up within a relatively modest military family. His page of autobiography does not extend beyond childhood and begins by recording his birth at the White House, Fulford, near York, on 17 August 1876. His father James David Drummond was serving there as a British Army officer with the rank of Captain in a prestigious regiment, the 6th Dragoons.
His character and values were largely shaped in the imposing fifteenth century Methven Castle, and at Machany, the neighbouring Drummond family estate. His happiness as a child is evident from his recollection that
two months were regularly spent in Perthshire at Methven Castle, my mother's old home … Our annual migration took place about the middle of July and we looked forward to it immensely … Every part of the journey had a special excitement … Methven Castle was a most fascinating home for children. My grandfather and grandmother entertained large parties during the time we were there … My birthday was always passed there and was celebrated as a giant excursion, if the weather was fine. A picnic at the loch, the catching of numerous fish out of a boat … I do not think that a child's birthday could have been more happy. 4
He was educated entirely in England, first at home where the Drummond children had a German governess, Emilie Winkopp. 5 He went on to a small boarding school kept by two maiden ladies. The reserve that he displayed as Secretary-General has been attributed to his early instruction at home and to his being raised within a small social circle. 6 He then attended St. John's Royal Latin School in Buckingham, during which he avidly read books of every kind, secured several prizes and became well-grounded in French. 7 In 1891, he entered Eton College where in 1895, his final year, he won the Prince Consort's French prize. Proficiency in French was clearly a factor in his selection as Secretary-General and there was early evidence of Drummond's leadership; at Eton he was head of 'Oppidans', one of the two most senior students. He was also selected for Eton's prestigious debating society, but, alas, never demonstrated oral presentation skills in his subsequent career. 8
His family on both sides were strong Tories: the Smythe dog was taught to bay and bark for Disraeli and to growl for Gladstone. In an early display of independence of mind, young Master Drummond declared himself an ardent Liberal, which was received with horror and amusement by all the family. 9 In his later years, he sat in the House of Lords as a representative peer of Scotland (having succeeded to the Earldom of Perth in 1937) and served there as Deputy Leader of the Liberal party from 1946. 10
Sadly, his father did not survive to witness Eric's achievements—during the great storm of 1893 he went out to see the damage to his woods, fell ill, 'went to bed and never rose again'. 11 A powerful influence on his life, especially after the early tragic death of his father, was that of his mother Margaret Smythe, Lady Strathallan (see Annex 1, Drummond's family tree). In the hectic summer of 1919 when he was busy establishing the Secretariat, he sent Lady Strathallan a note saying 'I am proud of my mother'; she died shortly after his move to Geneva, at the very moment he was holding the inaugural meeting of the League of Nations. 12
His father's influence was felt, however. When Eric left school in 1895, the scholarly 19-year old followed his father's career; on 30 October, he was gazetted as Second Lieutenant in the 3rd Battalion of the Black Watch, a Highland regiment that was based near the family home in Perthshire and in which his elder step-brother Viscount Strathallan and younger brother Maurice also served. 13 He resigned his commission in December 1896. 14 Drummond seems to have sustained an injury or illness affecting his leg; on New Year's Eve 1895, he records that he 'went to see doctor because of [his] heel' and, in 1914, wrote saying 'just think I might have been there [East of the Meuse] except for my leg'. A newspaper report remarks that he played tennis, 'notwithstanding slight lameness'. 15
During the years in which he held the post of Secretary-General, a position that the first UN Secretary-General, Trygve Lie, described 'as the most impossible job in the world', his main relaxation was fishing; the recreation of the contemplative man and an art that provides the angler with 'a rest to his mind, a cheerer of his spirits, a diverter of sadness, a calmer of unquiet thought, a moderator of passions, a procurer of contentedness; … [and] habits of peace and patience'. 16 Drummond wondered if his love of fly-fishing was an inherited quality or whether it was aroused by a wonderful day on a Highland river. For more than half-a-century he maintained a 'Sportsman's Record' detailing where he fished, what he caught and who accompanied him. 17 League of Nations' staff regularly presented him with a matchbox containing the first of the season's Mayflies, hatched in Lake Geneva, as a matter worthy of immediate attention. 18
There is a sketchy record of Drummond's life in the period prior to his entry to the Foreign Service in 1900. Most of his contemporaries in these formative years were at Oxford or Cambridge, but he never went to university. The Machany estate took a good deal of his time during these years. Family papers, local records and Scottish newspapers all describe him pursuing sporting interests there. He was an enthusiast of the Scottish winter sport of curling and was a member of a team of curlers from the North of Scotland that took on a team from the South in a famous curling match in which two thousand took part. 19 When he became Secretary-General and moved to Switzerland, Drummond continued the sport and played for Gstaad.
In April 1896, he set off on a fisherman's pilgrimage and to develop proficiency in German. Taking a boat from Harwich, he journeyed to Weimar, where he fished a stretch of the river Ilm that had been stocked and attentively managed by the Edinburgh-born founder of modern fly-fishing John Horrocks. 20 He remained there until July 1896, recording that the fishing was 'far the best I have ever had and the best I can hope for is to someday to do it again'. Drummond's Sportsman's Record places him in different locations in Germany (and travelling through France) with British and German fishing companions between 1896 and 1900. He recalled in 1946 'that 45 years ago I spent a great deal of time in Germany … in the various States'. 21 According to his records, he seems to have spent three long periods there; four months in 1896, eight months in 1897–98 and nine months in 1899–1900, although it is not clear that the longer visits were continuous. After joining the Foreign Service, he made two shorter visits, to Nassau in Rhineland-Palatinate and to the city of Weimar in 1900 and 1902, respectively. 22 The claim that he had only slight experience of foreign countries before his appointment as Secretary-General is therefore not entirely true. 23 He was well-equipped in German and discoursed fluently in French, although a colleague from the Dominions remarked that there was no nonsense about his speaking it like a Frenchman. 24
On 8 October 1898, he left Scotland to attend Scoones, a London crammer for those seeking to enter the Foreign Office (FO)—a route taken by most successful candidates at the time. 25 Scoones' pupils were tutored hard in recommended texts for the entrance examination, as well as in German and French. The demands of the examination for fluency in these languages drove the majority of FO candidates to Germany and to France. 26 They were often (as in Drummond's case) second sons with an annual income. In May 1900, Drummond succeeded, entering 'after limited competition' as a Clerk on the Establishment or Attaché in the Diplomatic Service, a 'recruitment that relied on knowledge of a candidate's antecedents and character'. 27
His work as a civil servant aide to Britain's topmost political leaders began during a period of transition when political power was moving away from grandees to leaders who were more representative of the people. Drummond owed his advancement however to the grandees, Foreign Secretary Edward Grey (also a fly-fishing enthusiast); Prime Minister Herbert Asquith and Foreign Secretary (and fellow Scot) Balfour.
The name 'Ela', Drummond's future wife, appears as a fishing companion in the records of 1903. He had met Angela (Ela) Constable-Maxwell the year before at Mount Stuart, the Marquess of Bute's sumptuous home. Ela followed up their first meeting with an invitation to Eric to attend a Yeomanry Ball and to join a house party at Everingham, her parents' Yorkshire home. Her father, Lord Herries, was head of an ancient Scottish Roman Catholic family while the Drummonds, however, were Episcopalian. Shortly after Drummond departed from Everingham, Ela spoke of the seriousness of the relationship to her mother who responded that 'there were first the difficulties, religion and worldly goods'. The next day she shared her daughter's news with her husband, who wrote immediately to Drummond saying that he would never consent to a 'mixed marriage'. 28 Throughout 1903, Ela's deeply held Catholicism dominated the exchanges between the couple. In the end, Drummond overcame his long-standing difficulty with some aspects of Catholicism and converted to Ela's religion at Downside Abbey. His mother was greatly distressed at her son's conversion but was comforted that he had been so absolutely honest and straightforward. 29 The two difficulties clearly had a stressful effect on the bridegroom-to-be. Intending to write 'not to be forwarded' on an envelope to Ela, he wrote instead 'not to be married'. 30 The marriage did take place, on 20 April 1904, in the chapel at Everingham. Drummond's family was well represented—Maurice was best man and his mother also attended. One of Ela's bridesmaids was Joan 'Tiger' Howard, who served as Drummond's personal assistant throughout his tenure as Secretary-General. 31 The newly weds spent their honeymoon at Machany.
Drummond was devoted to Ela. Before their marriage, he had spelt out to Ela how he envisaged their relationship, saying 'it is always bad for a person always to have his own way but you shall have yours as much as I can manage'. 32 Ela was confident that her husband one day would head the FO. His fourteen years as Secretary-General gave him every possible qualification for this, but it was not to be, for reasons set out in the next chapter. Ela appears to have been somewhat in the shadow of her elder sister Gwen, Duchess of Norfolk, wife of the premier Duke in the English peerage and a leading Catholic. 33 There were four children of the marriage, Margaret—named after Margaret Smythe—was born in 1905, David born in Norfolk House in 1907, Angela in 1912; and Gillian, born in 1920, was a babe-in-arms when her parents moved to Geneva.
Drummond was recognized in the FO for his diligence, precision and effective communication and he progressed to serve under Britain's top Liberal and Conservative leaders, a nurturing that was good preparation for the role that was thrust upon him in 1919 (see Annex 2).
34
Prime Minister Asquith had sought the best Private Secretary in the Civil Service in 1912 and the choice fell on Drummond.
35
Margot Asquith described him as 'a most intelligent, observant, delightful man; unique in temper, humour, kindness and courage, as well as [being]
remarkably
clever'.
36
When Asquith was having to let Drummond go back to serve Foreign Minister Grey as his Private Secretary in 1915, he said that 'it will be a terrible mutilation of my staff. He is in some ways the best PS I have ever had: careful, capable, admirable in dealing with bores …'.
37
Margot echoed this, telling Drummond
I cd not believe my ears when Henry, with almost tears in his eyes, told me they were trying to take you away from us. Must this [be] so?? I don't think you have any idea how devoted Henry and I are to you – nor what sunshine you are in this household. Your delightful temper, fine spirits – devotion and amazing understanding and quickness has as Henry said been the sunshine of this house. 38
While working for Grey, Drummond advanced the idea of a 'League of Peace' and in 1916 drafted a paper that 'fused British security, international organization and legal norms into one grand synthetic view of the future international order'. 39 At that time Drummond first met US Presidential adviser Colonel Edward House 40 and he established a secret and direct means of communicating with House. 41
Working at the highest levels of the civil service, Drummond was a member of an informal group of influential colleagues who called themselves the 'Black Crows' and who dealt with problems that might impact on the government's efficient running. Drummond recalled that on one occasion he was deputized by the Crows to meet with Lloyd George to suggest that he should head a war cabinet while Asquith remained in post as Prime Minister, a suggestion that was amenable to Lloyd George but eventually rejected. 42
He used his Catholicism to advantage during the War. It became clear that the influence of Austria, Germany and Bavaria at the Vatican was doing Britain harm among Catholics in many countries, particularly America and Canada. Drummond suggested that a temporary mission should be sent to Rome as there were not only the intrigues of the Central Powers at the Vatican to counter, but also the anti-English sentiments of the Irish College. 43 Ireland was to remain a problem for Anglo-American relations throughout the war and beyond. 44 Drummond's strategy was to help keep Irish-American opinion on moderate lines, to build the foundation of better feeling on the part of American Catholics towards Britain and to help prevent the clergy and laity from siding with the Germans. Shane Leslie, Drummond's co-religionist, kept him alert as to the influence on American public opinion of Cardinals John Murphy Farley and William O'Connell—the former the Irish-born Archbishop of New York, and the latter Archbishop of Boston and a son of Irish immigrants. 45
On the dissolution of Asquith's Government in 1916, he received a knighthood and became 'Sir Eric'. 46 His career then took a wholly new turn while serving incoming Conservative Foreign Secretary, Balfour. 47 On joining Lloyd George's new coalition government, Balfour received a note from Drummond via Lord Robert Cecil, a junior FO Minister, suggesting that in the event of Belgium and France seeking a separate peace with Germany (which Cecil thought unlikely) the US President might be invited to act as mediator in 'securing fair terms for ourselves as well as for our allies, and of assuring that the Alliance of France, Russia, Italy, and ourselves shall continue after the war on its present friendly basis'. 48 This was written in the context of an apparent peace overture from the German Chancellor. Drummond followed up with a memorandum to Balfour, advising that the Chancellor be requested to announce the bases of peace on which Germany was ready to negotiate, and that the Allies should then consider these in common before sending a joint reply. 49 Drummond, later renowned for his modesty, wrote to Cecil, saying 'I hope you will be able to see the PM tomorrow & have a talk with him. I believe (don't smile) that the suggestions I made are much better than his'. 50 He also sent a private letter to the Prime Minister emphasising the points made in his memorandum. 51
As Private Secretary to the Foreign Secretary, Drummond acted as a point of contact between the FO and the British secret service. In the period before the United States entered the war, Drummond kept Balfour apprised of Washington politics through several informants. 52 Intelligence from William Wiseman, an MI-6 officer in New York and a key person in Anglo-American relations, was passed to Drummond by Arthur Murray, of the FO's Political Intelligence Department—Murray's code name for Drummond was 'Bond'. 53 Coincidentally, author Ian Fleming was to work briefly in the League of Nations (see Chapter  5). The practical advice that Drummond received from Wiseman continued after he was appointed Secretary-General. 54 Another major contact was the aristocratic spy Count Jan Horodyski, who served as a British secret service agent from the spring of 1915. 55
The United States entered the War in April 1917 and, as noted in the Prologue, Balfour immediately set out for Washington. The role of Drummond in this high-level mission of bankers, military personnel and civil servants was that of chief FO aide. They all embarked on the
RMS Olympic
in Greenock on 13 April. Drummond expressed delight that they had completed the journey from London incognito, only to be told by Balfour that he had given his autograph to hotel staff
en route
.
56
Much of the joint US/UK policy planning between President Wilson and Balfour was done with Drummond present, and a 'Drummond/House Memorandum' was approved by the President.
57
After his return (on 6 June 1917) Drummond received a letter from Washington saying
I heard on A1 authority that the President was completely captivated by Balfour, talks of England's ability always to produce a great man in the hour of need, recalls Pitt, professes himself ready to learn European politics at his feet. 58
Drummond wrote a gracious thank you letter to House saying 'you were so kind to us on the mission … You know how well the two men got on together' and he concluded, possibly with a little flattery, 'I do not like to contemplate what the position might be if [the President] were deprived, even for a short period of time, of your counsel and assistance'. 59
After the Armistice, he urged Balfour not to be rushed by the French and to resist overtures for drafting an Anglo-French agreement before the Americans arrived for the Peace Conference. While the experience of cooperation between allies during the War demonstrated the feasibility of the great organizational enterprise that was to follow, one aspect that the French put forward was unacceptable to Drummond—the proposal to exclude neutral countries from the proposed conference: he felt these nations had a strong interest in seeing a League of Nations established. 60
While serving on the British delegation to the 1919 Paris Peace Conference, Drummond bolstered his reputation 'by his sincerity, grasp of detail, procedural knowledge, and detached approach to complicated and difficult questions'.
61
This is illustrated well by Elmer Bendiner who describes how
throughout the negotiations at Paris an unassuming figure hovered at the elbow of Lord Balfour [sic]. Timely reminders would be whispered in the Foreign Minister's ear and memoranda would materialize before him, complete with the very data for which his Lordship might be fumbling. The shadowy presence operating with such unobtrusive efficiency was Sir Eric James Drummond, a lean, sad-looking, and altogether unimpressive forty-two-year-old man with a long nose, prominent Adam's apple and pale grey eyes.

Balfour had found Wilson's League fixation something of a bore, and turned over most of the work on that subject to Drummond, who responded enthusiastically – within the limits of his reserve – to the League, to Wilson and to Colonel House. The Americans came to value his judgement as well as his efficiency and treated him as a trusted confidant. 62
Wilson turned to Drummond to assist him with the diplomacy needed to steer through his ideas. 63
The British and American delegations proposed that the League should be headed by a prominent statesman with the power to take political initiatives. Greek Prime Minister Eleftherios Venizelos and Czechoslovakian President Tomas Masaryk both turned down the offer to take office as 'Chancellor'. The Great Powers decided to seek instead a Secretary-General and Cecil records that it was left to him to propose a suitable person for the position. He recounts that, after Maurice Hankey had chosen to remain Cabinet Secretary, he was extremely lucky in persuading Drummond to take it. 64 It was clearly desirable, from Cecil's perspective, for a Briton to hold the topmost post in the League since 'no matter how depoliticized the Secretary-Generalship appeared to be, the office was still intrinsically political'. 65 It was in the end the counsel of his family, rather than Cecil, that persuaded Drummond to take the post. 66
A journalist records the informality of the decision: he reported that when the Big Four met to make the choice, Clemenceau turned to Balfour saying 'why not that quiet Scotsman, Drummond, you always have with you? He would be ideal'. 67 Thus, on 28 April 1919, Wilson's Covenant was placed safely in the hands of someone who had long and keenly supported the League of Nations idea. 68 The only ground upon which criticism of Drummond's appointment was made was his comparative youth. 69
He conveyed, in office, the impression of having just wandered in from the lochs or grouse moors of Scotland: on almost all save formal occasions he wore soft collars and grey tweed, 'the heather was in his clothes'.
70
He was never at ease before photographers. The features of a long face, dark brows, military moustache, large mouth and oval chin under his civil servants' bowler hat prompted a journalist to ask 'is he as simple as he looks?' He was of medium height (1.8 metres). In the Gerald Kelley portrait that hangs in the
Palais des Nations
, Geneva he sits in a formal pose at his desk. The faint smile that he used to great effect was captured by the artist Emil Stumpp whose work is depicted in Illustration
1.1
.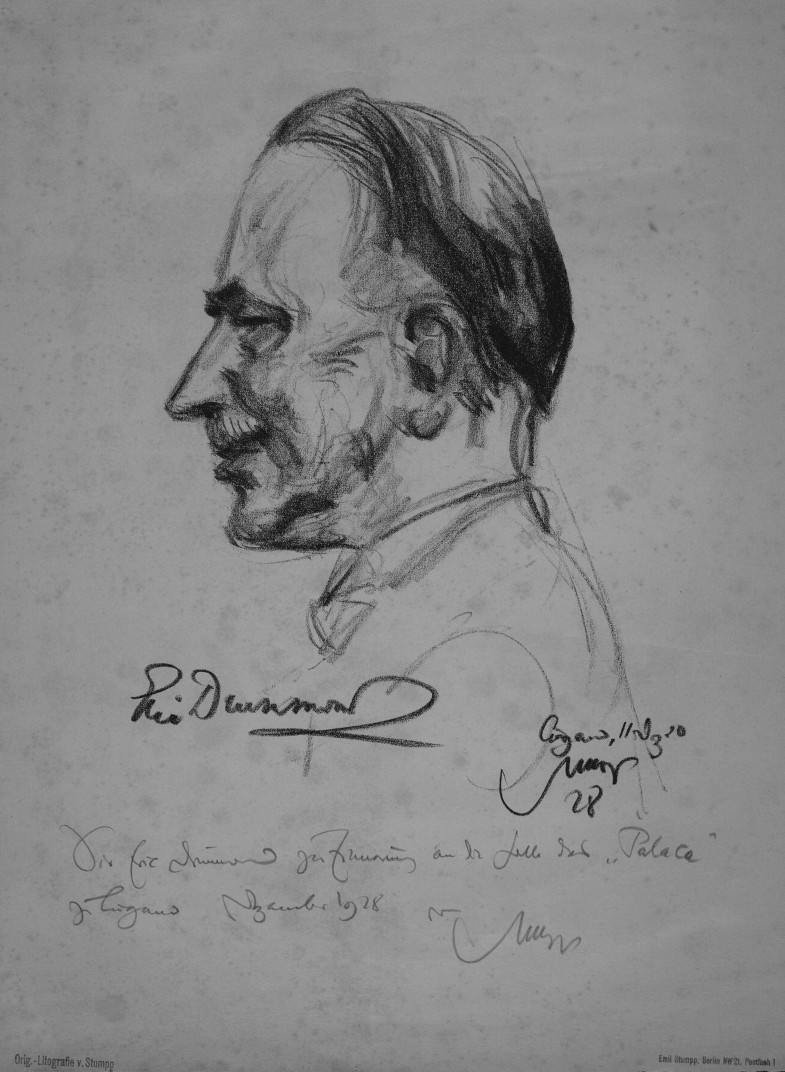 On Wednesday 13 August 1919, and on most Wednesdays throughout his tenure, Drummond met with his Directors to give them an opportunity to exchange views and to learn what was happening in the Secretariat as a whole. The Minutes of these meetings survive and give a fly-on-the-wall view of how Drummond conducted himself. His character comes through strongly on reading these. A prime concern was reputation: he would urge staff 'to do nothing which could be taken as a handle by critics of the League', drawing attention to the fact that, as a corporate body, the credit of the whole was affected by the acts of individuals. He urged them to concentrate on making the League the greatest possible success. He consequently encouraged wide-ranging debates and tolerated combative views, courteously listening to others before speaking in a gentle and felicitous way—although he usually exercised his authority in the end, saying for instance 'the present system did not seem to him to work badly' or 'there was more than one course to be followed in the matter'. He encouraged initiative, indicating that money would be forthcoming for work within Member States. Additionally he showed loyalty to junior staff, spreading enforced budget cuts gradually, so that those affected might be absorbed elsewhere in the Secretariat. In an International Secretariat, there is no place for racial prejudice and he told his Directors in one of his Confidential Circulars that the spirit of the Covenant implied 'equal liberty and independence for all races'. 71
It was the personality and 'sound practicality' of Drummond that decisively shaped the Secretariat's character.
72
A prominent aspect of this was his self-effacement. His blue-pencilling is seen in the draft of a text that accompanied a posed photograph showing him at work at the League—all hyperbole is deleted, all superlatives removed and the script is depersonalized.
73
A well-balanced description of his character in the
Spectator
found nothing but Drummond's shyness to censure. Drummond would say nothing startling about himself (or indeed about anyone else) and the article goes on to praise him for his invariable and scrupulous fairness, his very careful attention to detail, and his constant hard work. After Drummond had spent a decade in office, statesmen, diplomats and journalists all were of the view that no one of his calibre was available to succeed him. If, at times, he felt the weight of the world on his shoulders he went out to play golf, or to fish. The article concludes a little unkindly:
Perhaps the truth is that he is the product of an ancient and very subtle form of education, little understood even by those who have evolved the training of English gentlemen. Count Keyserling in his solemn German way calls it a system of yoga, in which the training of character makes up for deficiencies in intellectual equipment. 74
When he left the League, all ranks of the Secretariat expressed their gratitude and respect for his leadership although many regretted that he did not overcome his natural reserve and establish more direct relations with them. Those who were close to him remembered him with affection and kept in touch: Séan Lester, for example, at the time of the League's demise; Erik Colban at the birth of the UN; Arthur Sweetser until his last days; and Monnet's friendship continued into the next Drummond generation. It was the view of another former colleague that he was a man who possessed 'not so much exceptional gifts as ordinary gifts possessed to an exceptional degree' and that 'his patience and calm are qualities on which external evidence may properly be called':
They were tried hourly, by persons both within and without the Secretariat, but his patience was affected by neither importunity, nor complaining, nor touchiness, nor verbosity or any other of our little ways, nor could the distraction of the most urgent or anxious affairs disturb his invincible calm.

Another quality which Drummond showed himself to possess to a supreme degree is personal modesty. This quality, besides giving to his character its undoubted charm, showed itself in his disposition to notice the good rather than the bad in his colleagues and in his utter aversion from dictatorial methods … It is true that Sir Eric Drummond never impressed his vision on his staff by the method of direct appeal … [He] preferred to let his staff learn their duties, including the highest, by practice rather than by precept …

… the intellectual graces showed themselves chiefly in a supple and workmanlike written English, which owes something no doubt to association with those masters of official prose, Asquith and Balfour, but most to the inherent distinction of a mind naturally perceptive, quick and humble. His recreations really were important to him.

Perhaps it was his single-mindedness more than any other quality which held, even while they disagreed with him, the trust of delegates and colleagues … he became, more than men of greater celebrity and popular influence, the essential pivot, the silent standard bearer … 75
Those who visited him at home in Geneva noticed the family atmosphere. 76 A colleague who knew him better than most observed that to pierce behind the reserve of the British official and strike the real personality one had, above all, to see the ideal family life in which he found repose. When he returned home at the end of the day, he left the office behind and tried to have dinner every evening with his family, banishing discussion of work and tolerating diversions that were a common part of the household, such his children playing jazz records. 77 Thus he derived from his wife and children strengths that sustained him in the stressful post of Secretary-General.
Anger was never a feature of Drummond's public persona, but he expressed this in private dialogue with the British Government, particularly but not exclusively, over budget economies. 78 He did occasionally show weakness: stronger assertions at crucial moments of the obligations owed to the League might have stiffened the backbone of Member States. 79 During the 1931 Manchurian crisis (see Chapter  6) he hoped that a measure could be found to minimize the risk of rupture between Japan and the League and he emphasised to the Secretariat 'the strict necessity for impartiality'. 80 This was a crisis that called into question the value of a Secretary-General manifesting strict neutrality—not for the last time. 81 In the days of the cold war, Nikita Khrushchev asserted that 'an impartial official is a fiction'. 82 Other critical assessments of Drummond's tenure at the League conclude that Drummond—because of his personality and circumstances—never came to exercise a strong guiding hand in directing the League's work. 83 The chapters that follow show this to be a quite incorrect judgement. Criticisms such as these failed to see that the League developed by simple processes directed towards the pacific organization of international relations. 84
Drummond's career after he left Geneva in 1933 is covered in detail in Chapter  3 and Annex 2. The post in the diplomatic service to which Drummond was assigned on returning to the FO was one in which his character proved to be a disadvantage. The high reputation that he earned in his 14 years at the League began to erode in the post of Ambassador to Mussolini's Italy. In Rome, he was too courteous and too understanding of every point of view. Privately, he was dismayed by the 'boasting, the posturing, the rampant nationalism, the gross misrepresentations of the British attitude, the absurd egotism and conceit [that] have been enough to turn the least Anglo-Saxon stomachs'. 85 Drummond, who inherited the Earldom of Perth during his Ambassadorship, was blamed unfairly for becoming too close to the Fascist regime. 86 When the Duce seemed determined to conquer Abyssinia, Drummond tried vainly to settle the dispute through dialogue and conciliation, principles that he had successfully employed in the League. Drummond achieved some success in avoiding alienating Mussolini in the face of the serious threat coming from Germany (see Chapter  3).
An Italian perception on Drummond's assignment is provided in the 1937–38 diaries of Count Ciano, Mussolini's son-in-law and Foreign Minister. On Drummond's departure from Italy he wrote:
I must acknowledge that [Drummond] has worked well – intelligently and honestly … And yet the first day he saw me he wrote to his Government – we have the document – describing his repugnance which he felt, and forced himself to overcome, when he shook hands with me. 87
At the age of 63, Drummond left the FO and returned to Britain a tired man. Ciano implied that he was losing his vigour and showing signs of stress, recording that: 'Usually he is witty and quick in argument, but today he was bewildered and vague in his replies and had little to say for himself. To use a boxing term, I might describe him as "groggy'''. 88 Back in London, after a short period in the new Department of Information he retired and took up his seat in the House of Lords (see Chapter  3).
His retirement years were spent in Fyning House in the Sussex village of Rogate, where he took pride in his wife's accomplishment as a gardener. This domestic life was interrupted in early 1951 when an American graduate student from Cambridge, Stephen Schwebel, arrived to interview him on the political powers and practice of a Secretary-General. In the book that Schwebel subsequently published he includes three Drummond quotes, namely that a Chancellor would not have been successful in the League; that the political activities of the Secretary-General were only known to very few; and that he (Drummond) was neither parliamentarian nor politician.
89
These seem to be Drummond's response to an influential book by a former League official whose opinion was
… that it was a mistake on the part of the statesmen responsible for establishing the League to choose an administrator. The purely administrative tasks could well have been entrusted with advantage to a man of Sir Eric's fibre, but the political tasks should have been in the hands of a statesman … Experience shows that it is a statesman who must be chosen as head of a political agency. He must be an international leader. 90
A life-long smoker, he died of lung cancer at Rogate on 15 December 1951 and was buried in Scotland, not on Drummond soil but in the Galloway lands of Ela's family at Sweetheart Abbey, which takes its striking name from a devoted thirteenth century wife laid to rest with her husband's heart. The inconspicuous grave that marks the final resting place of James Eric Drummond, 16th Earl of Perth describes him as 'a great international civil servant' and carries a poignant inscription from the Beatitudes, 'Blessed Are The Peacemakers For They Will Be Called Children Of God'. Ela, who died in 1965, lies beside her husband.
Of their children, two of his daughters married during his Rome assignment, Margaret to John Walker, a member of the American Academy there, and Angela to an Italian Count, Alessandro Collestatte (the marriage did not last). Gillian married John Murray Anderson, an officer in the Seaforth Highlanders shortly after the Second World War ended. Only David entered the political milieu of his father. He worked with Monnet early in his career as a banker, advising the Chinese government on economic matters. In 1934, he married an American, Nancy Fincke. A successful financier of great integrity, he caught the attention of Harold Macmillan, who appointed him Minister of State for Colonial Affairs. 91 Later, he facilitated discussions between Monnet and Prime Minister Edward Heath on the European Economic Community. 92 In the 1960s he bought back Stobhall, the former Drummond home on the River Tay and, with Nancy's help, restored it.
Eric Drummond left the world as he entered it—with only modest wealth. At the time of his death many commented on his character, stating that he was 'unruffled, shrewd, diplomatic, a little pawky', and showed 'patience, even temper, good sense and transparent honesty of purpose'. 93 Sweetser circulated a eulogy stating that he was quite sure, from the closest contacts, that Drummond had no realization of the unique and lasting contribution that he had made to human progress. His judgement was that 'Drummond will come into his full recognition as having conceived and then constructed one of the new, permanent elements of world life'. 94 The creation of an International Civil Service was an enduring achievement of the internationalism that emerged in 1919. On learning of his death, representatives at the UN General Assembly rose and observed one minute of silence. 95
Endnotes
1.

Stb7/1/3/1, Yates-Brown, F. (1929), 'The League of Nations: The Character of Sir Eric Drummond', Spectator, 5 January.

 

2.

Stb7/1/3/1, Couduriere de Chassagne, J. (1938), 'Un cadet d'Écosse; the Earl of Perth', L'Illustration, 23 April.

 

3.

Stb7/3/1/3, Drummond to Angela Constable-Maxwell, 2 December 1903.

 

4.

Stb7/3/4/1, Autobiographic note (undated).

 

5.

Bucks Herald & Buckinghamshire Advertiser, 31 and 24 May 1890; Innerpeffray Library, Visitors' Book entries of 20 April 1894, 8 May 1896 and 30 June 1897.

 

6.

Rotunda, D. (1972), The Rome Embassy of Sir Eric Drummond, p. 88.

 

7.

Stb5/1/5, Newspaper Clipping, 1 August 1885.

 

8.

Eton College Chronicle, 7 November 1895, p. 131.

 

9.

Stb7/3/4/1, Autobiographical note (undated).

 

10.

Lloyd, L. (2004), 'Drummond (James) Eric, seventh earl of Perth (1876–1951) Diplomatist'.

 

11.

Gardyne, C. (1915), Records of a Quiet Life, p. 516.

 

12.

Stb5/1/9, Drummond, 22 August 1919.

 

13.

Balhousie, London Gazette, 29 October 1895, p. 5860; 'Record Book of the Third Battalion Royal Highlanders, 1801–1904'.

 

14.

Balhousie, 'Permanent Order Book, 3rd Battalion Royal Highlanders, 1865–1899, Battalion Orders Perth 31 December 1896'.

 

15.

Stb7/3/1/3, Drummond to Angela Drummond, 26 August 1914, p. 9; Stb5/1/9, The Evening Standard, 29 April 1919, p. 66; Stb7/4/9, 'Sportsman's Record', 31 December 1895.

 

16.

Walton, Issac. (1653), The Compleat Angler, p. 84.

 

17.

Stb7/4/9, Sportsman's Record of game and fish caught in various locations in 1894–1947.

 

18.

Buxton, A. (1932), Sporting Interlude at Geneva, p. 93.

 

19.

Stb5/1/6, Daily Graphic, 28 January 1897; Strathearn Herald, 30 January 1897.

 

20.

Stb7/4/9, 'Sportsman's Record', 1896; Preylowski, J.F. Tr. Hoffman, R. (1999), 'John Horrocks 1817–1881', pp. 13–20.

 

21.

Hansard, HL, Lord Perth, 'Germany and European Security', vol. 140, cc. 814–5, 16 April 1946.

 

22.

Stb7/4/9, 'Sportsman's Record'.

 

23.

Kennedy, A.L. (1952), 'Article 5—Lord Perth', p. 188.

 

24.

Stb5/1/9, 'Diplomatic Plum', The Evening Standard, 29 April 1919, p. 66; Fosdick, R. (1972), The League and the United Nations , p. 19; Stb7/1/4/6, Wilson, J.V. (1933), 'Sir Eric Drummond a Personal Sketch', Union, June.

 

25.

Stb7/4/9, 'Sportsman's Record'.

 

26.

Jones, R. (1983), The British Diplomatic Service 1815–1914, p. 143.

 

27.

London Gazette, 20 April 1900; Roach, J. (1971), Public Examinations in England, p. 211.

 

28.

Stb7/3/1/1, Angela Constable-Maxwell to Drummond 19 December 1902; Drummond to Angela Constable-Maxwell, 23 December 1902.

 

29.

Stb7/3/1/1, Angela Constable-Maxwell to Drummond, 26 August 1903.

 

30.

Stb7/3/1/1, Drummond to Angela Constable-Maxwell, 30 November 1903.

 

31.

Stb7/3/1/1, Yorkshire Herald, 21 April 1904.

 

32.

Stb7/3/1/1, Drummond to Angela Constable-Maxwell, 2 December 1903.

 

33.

Stb5/1/8, 'Drummond's Chief. Birth of an Heir Recalls Many a Stirring Romance', New York Tribune, 3 October 1907; Stb5/1/9, The Sketch, 27 October 1915.

 

34.

Rovine, A. (1970), The First Fifty Years, p. 19.

 

35.

Murray, G. (1955), 'The League of Nations Movement', p. 9.

 

36.

Brock, M. and Brock, E. (2014), Margot Asquith's Great War Diary, p. 55.

 

37.

Brock, M. and Brock, E. (2014), Margot Asquith's Great War Diary Biographical Note, Drummond, p. 352.

 

38.

Stb7/1/5/1, Margot Asquith to Drummond, 23 February 1915.

 

39.

Mulligan, W. (2014), The Great War for Peace, pp. 125–6.

 

40.

Rovine, A. (1970), The First Fifty Years, p. 20; Egremont, M. (1998), Balfour, p. 285; TNA, FO800_197, pp. 122–3, Drummond to Cecil, 21 December 1916.

 

41.

TNA, FO800_197, Balfour to PM, 15 December 1916; and Drummond to Cecil, 21 December 1916.

 

42.

Stb7/1/3/1, Letter from Drummond, 3 January 1937.

 

43.

Georgetown University Archives, Box 45, Folder 7, Lady Perth to Leslie, 30 June 1951.

 

44.

McCulloch, T. (2008), 'The Correspondence of Arthur C. Murray'.

 

45.

TNA, FO800_329, Leslie to Drummond, 12 August 1918, Enclosure p. 142; FO800_329, p. 155, Barnes to Drummond, 9 January 1918; FO800_383, p. 76, Cunliffe-Owen to Drummond, 18 January 1917.

 

46.

The Tablet, 'Et Cietera', 30 December 1916, p. 23.

 

47.

Kennedy, A.L. (1987), 'Article 5—Lord Perth', p. 188.

 

48.

TNA, FO800_197, p. 92–6, Drummond to Cecil, 13 December 1916.

 

49.

TNA, FO800_197, p. 97–8, 'German Peace Proposals', ED 14 December 1916.

 

50.

TNA, FO800_197, p. 100, Drummond to Cecil, 14 December 1916.

 

51.

TNA, FO800_197, p. 101, Drummond to Prime Minister, 15 December 1916.

 

52.

TNA, FO800_384, Drummond Memorandum 'America and Peace', 22 January 1917.

 

53.

NLS, Elibank Papers, MS 8805, Volume 1, Murray to Drummond, 31 May 1918, img295 and Murray Note, 14 February 1944, img250.

 

54.

Fowler, W.B. (2015), British–American Relations, p. 18.

 

55.

Latawski, P. (1987), 'Count Horodyski's Plan', p. 391.

 

56.

Egremont, M. (1998), Balfour, p. 287.

 

57.

Rovine, A. (1970), The First Fifty Years, p. 20.

 

58.

TNA, FO800_383, Butler to Drummond, 21 June 1917.

 

59.

Stb7/1/1/1, Drummond to House, 10 July 1917.

 

60.

TNA, FO 800_385, Drummond to Balfour, 27 November 1918.

 

61.

Lloyd, L. (2004), 'Drummond (James) Eric'; Barros, J. (1979), Office Without Power, p. 12.

 

62.

Bendiner, E. (1975), A Time for Angels, p. 133.

 

63.

Rovine, A. (1970), The First Fifty Years, p. 21–2.

 

64.

Cecil, R. (1949), All the Way, p. 150.

 

65.

Barros, J. (1979), Office Without Power, p. 34.

 

66.

NRS, Malcolm Diary, 22 and 26 April 1919, quoted in Barros, Office Without Power, p. 13.

 

67.

Stb7/3/3/2, 'The Quiet Man Who Faced Mussolini', News Chronicle, 17 December 1951.

 

68.

The Times, 30 April 1919, p. 11; Anonymous, 'League of Nations in Being', p. 13.

 

69.

The Tablet, 3 May 1919, p. 22.

 

70.

Slocombe, G. and Kelen, E. (1937), A Mirror To Geneva, pp. 323–4.

 

71.

LONA, Directors Meeting, CC. 13, 24 March 1927.

 

72.

Tams, C. (2006), 'League of Nations'.

 

73.

Photo and draft text of Sir Eric at work 1926, Roger Eggleston, Personal Communication, 2015.

 

74.

Stb7/1/3/1, Yates-Brown, F. (1929), 'The Character of Sir Eric Drummond', p. 14.

 

75.

Stb7/1/4/6, Wilson, J.V. (1933), 'Sir Eric Drummond'.

 

76.

Stb7/3/3/2, Sweetser to Countess of Perth, 22 December 1951.

 

77.

Rotunda, D. (1970), The Rome Embassy, pp. 91–2.

 

78.

Stb7/1/1/6, 16 July 1920, Drummond to Balfour and 23 November 1921 Drummond to Johnson.

 

79.

Scott, G. (1973), The Rise and Fall of the League, p. 252; Housden, M. (2014), The League of Nations, p. 12.

 

80.

LONA, Directors' Meetings M304 and 305, 4 and 11 November 1931.

 

81.

Kille, K. (2005), The UN Secretary-General, p. 30.

 

82.

Khrushchev, N.S. (1961), New York Herald Tribune, 17 April in Mihajlov, D. (2004), 'The Origin and the Early Development of International Civil Service'.

 

83.

Giraud, E. (1963), 'Le Secrétariat des institutes internationals', p. 13.

 

84.

Kennedy, D. (1985), 'The Move to Institutions', p. 876, fn. 96.

 

85.

Gelardi, A.J. (1982), Sir Eric Drummond, Britain's Ambassador to Italy , p. 114.

 

86.

Drummond, E. (1944), Letter to The Spectator, 13 October, p. 18.

 

87.

Mayor, A. (1952), Ciano's Diary, 16 November 1938.

 

88.

Mayor, A. (1952), Ciano's Diary, 9 October 1937 and 2 July 1938.

 

89.

Schwebel, S. (1952), The Secretary-General of the United Nations , Introduction and p. 227.

 

90.

Ranshofen-Wertheimer, E.F. (1945), The International Secretariat: A Great Experiment in International Administration.

 

91.

Roth, A. (2002), 'Obituary, Lord Perth', The Guardian, 10 December.

 

92.

The Herald, 'Lord Perth Internationalist Who Oversaw the End of the Empire and Defended Scotland's Industrial Interests', 2 December 2002.

 

93.

Spectator, 'The Deaths of Lord Perth and Hilary St. George Saunders', 844, 21 December 1951; The Times, 'Obituary, Earl of Perth', 17 December 1951, p. 8.

 

94.

Stb7/3/3/2, Personal, Sweetser, Washington, 16 December 1951.

 

95.

Stb7/3/3/5, United Nations, A/PV356, 20 December 1951.