The Implementation of the Landing Obligation in Small-Scale Fisheries of Southern European Union Countries
Abstract
In the European Union, discards represent a major source of undocumented mortality, contributing to the overfishing of European fish stocks. However, little attention has been given by the scientific community to discards in the European Union's small-scale fisheries (SSF). This is mainly due to the fact that discards are mostly generated by industrial fisheries, while SSFs were generally thought to have lower discard rates than industrial fisheries. A Landing Obligation (LO) is being introduced in European waters with the reform of the Common Fisheries Policy (CFP) (Article 15, EU regulation 1380/2013) to limit/reduce discarding. However, management recommendations are required to support its implementation. The reality and challenges to enforce the LO in SSF are analyzed in this chapter, gathering information from different small-scale fisheries and fishers from the Atlantic Ocean and Mediterranean Sea who were asked about their perceptions toward the LO. The objectives of this chapter are to (a) identify the reasons for discarding and (b) investigate the multiple ecological, economic, social, and institutional drivers which act as a barrier toward the implementation of the LO in SSF. Given the high importance of SSF in the southern countries of Europe, different case studies of SSF from France, Greece, Portugal, and Spain coasts are used to illustrate the reasons for discarding, the impacts of the LO on SSF, and the barriers for its implementation.
Keywords
Common Fisheries Policy 
Discards 
Impacts 
Landing Obligation 
Small-scale fisheries 
Southern Europe 
5.1

Introduction

In the European Union (EU), discards represent a major source of undocumented (or poorly documented) mortality, contributing to the overfishing of European fish stocks. Discarding levels in EU fisheries vary between locations, gears, species, and fishing grounds (Uhlmann et al. 2013). However, data collection and estimates of discards for all commercial species in EU waters under the CFP are far from being complete and generally have low precision. This reflects the relatively low intensity of discard sampling and the high variability in amounts of fish discarded, even within a single fishery. The omission and/or poor discard data from stock assessments may also result in underestimation of exploitation rates and can lead to biased assessments and policy recommendations, hampering the achievement of resilient and sustainable fishery resources uses (Aarts and Poos 2009).

The implementation of a Landing Obligation (LO) was one of the key elements of the recent reform of the EU Common Fisheries Policy (CFP) (Regulation (EU) No 1380/2013). A phased LO was formally implemented in January 2015, and by 2019 it will be in force in all EU waters, covering all fisheries that capture commercial species covered by the CFP regulation, including SSF. Landings from EU SSF are worth around €2 thousand million euros annually, i.e., 25% of the revenue generated by EU fisheries, and SSF therefore have a high value in the seafood supply chain. Around 80% of EU fishing boats and more than 40% of EU fishers (90,000) are engaged in SSF (Macfadyen et al. 2011), emphasizing that SSF is a sector with great social, economic, and cultural importance for coastal communities, especially in southern Europe.

The small-scale fleet has declined by 20% over the last 10 years, to just over 70,000 vessels. Small-scale vessels are on average between 5 and 7 m in length, weigh 3GT, and have engines with a power of 34 kW (Macfadyen et al. 2011). More than 90% primarily use passive gears (i.e., gears that are not towed or dragged through the water) such as drift and fixed nets, hook and lines, or pots and traps. Despite their importance, for decades, EU fishery policy (e.g., quotas, subsidies, management systems) has focused on large-scale fishing, and there is a lack of knowledge about biological, environmental, socioeconomic, management, and policy aspects of SSF. SSF faces diverse challenges and pressures, not least to establish appropriate governance systems.

However, little research has been done on the impacts of the LO on SSF (Villasante et al. 2015a; Veiga et al. 2016). Therefore, the specific objectives of this chapter are to (i) identify the reasons for discarding among SSF, (ii) determine the factors (ecological, economic, institutional) that act as barriers for the successful implementation of the LO, and (iii) identify the institutional arrangements and/or rules that either inhibit or facilitate an adaptation of the LO.
5.2

The Status of Discards in Small-Scale Fisheries

To examine research gaps regarding discards in SSF, we did a systematic literature search to identify relevant scientific papers published up to August 2018 in Scopus, by searching titles, abstracts, and keywords using the following terms: "fisher*" or "fishing"; "discard*"; and "artisan*" or "small-scale" or "traditional" or "subsistence" or "local" or "industrial" or "commercial" or "large." The results obtained show that the topic of discards in SSFs attracted little attention among the scientific community. A total of 1219 papers have been published on the topic of discards from 1950 to August 2018, of which 952 are related to industrial fisheries (78%) with only 267 papers focused on SSF (21%) (Fig.

5.1

). The review also showed that the little attention paid by the scientific community to discards in SSFs is due to the belief that discard problems were mainly concentrated in industrial fisheries, while SSFs generally have lower discard rates (Villasante et al.

2016a

).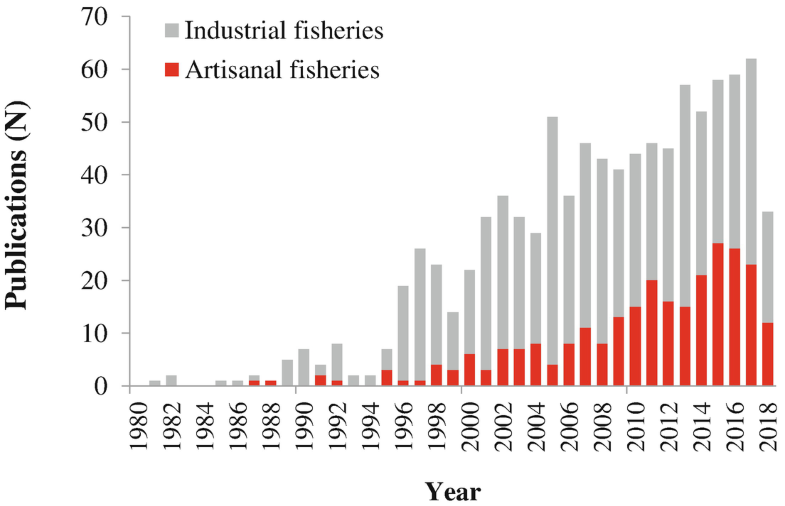 Discarding occurs not only due to poor gear selectivity and the capture of unwanted "low value" fish but also due to the mismatch between catch composition and regulatory catch or size limits. Undersize fish may be discarded due to the MLS regulations; over-quota fish can be discarded in a multi-species fishery due to quota exhaustion of one species, and less valuable size classes of target species may be discarded to make room for more valuable size classes (high grading). Even if high grading has been legally forbidden, it is still known to occur on a regular basis. All these issues are reported to be present in EU SSF (Villasante et al. 2016a, 2016b, 2016c). These different reasons for discarding impact heavily on the willingness to comply with rules and regulations.
5.3

Impacts of the Landing Obligation in Small-Scale Fisheries

The term SSF implies small vessel size and, sometimes, low levels of technology and capital investment per fisher. For the purposes of the European Maritime and Fisheries Fund (Regulation (CE) No 508/2014, "small-scale coastal fishing" was formally defined as fishing done by vessels of an overall length < 12 m and not using towed gear. SSF are thus typically "artisanal" and coastal, using small boats, targeting multiple species using traditional gears.

To investigate the impact of the LO in SSF, we will focus on the impact of this measure on selected SSF in the EU – in France, Greece, Portugal, and Spain. We will describe these fisheries, their discards, the reasons for discarding, impact of the LO, factors that act as barriers for the successful implementation of the LO, and the institutional arrangements and rules that inhibit or facilitate the adaptation to the LO.
5.4

Conclusion

Despite the increased recognition of SSFs, there is a still need to ensure that policy-makers receive robust scientific data about such fisheries on which to base decisions and thus ensure coherent policy. Our results show that only 21% of 1219 papers that have been published until 2018 focused on the discard problem in SSF.

Key SSFs from around Europe selected to investigate the reasons for discarding, impact, and barriers to implementing the LO illustrate that discard rates vary greatly from fishery to fishery and species to species. However, the main reasons fishers discard are relatively similar from fishery to fishery and are mostly due to regulations (mainly TACs, quotas, and MLS), low market value of some catch components, capture of noncommercial species, high grading, and damaged catch.

Small-scale fishers perceive that it will be difficult to comply with the LO and could identify ecological, economic, and institutional barriers to the implementation of the LO. From an ecological perspective, most fishers are of the opinion that resources are largely mixed, and unwanted catch is very difficult to avoid. For example, the fact that the beach seine fishery in Portugal is carried out in areas of great ecological sensitivity, such as nursery areas, results in the capture of large numbers of juveniles. From an institutional perspective, the lack of monitoring, control, and enforcement capacity by fisheries jurisdictions, combined with lack of incentives for compliance, are critical barriers perceived by fishers for the implementation of the LO in all case studies. Plus, some fishers identified that the implementation of the LO requires the adoption of more selective gear technology (Galicia and Azores). Azores fishers think they are already using one of the most selective gear in European fisheries and as such that the LO should not apply to them.

From an economic perspective, fishers state that the LO will increase the operational costs of fishing activities. They strongly oppose the fact that unwanted undersize catch cannot be sold for human consumption and that this catch will count against their quota. In general, the potential socioeconomic impacts of the LO could be high for SSF. For example, it is estimated that the future yield (catches) under the LO in Galicia (Spain) would be only 50% of catches expected in the absence of the LO, regardless of the total volume of quotas allocated to the fleet.
Notes
Acknowledgment
The authors acknowledge the financial support from the European COST Action "Ocean Governance for Sustainability – challenges, options and the role of science" and by the ICES Science Fund Project "Social Transformations of Marine Social-Ecological Systems", and MINOUW (Grant Agreement 634495). C. Pita acknowledges FCT/MEC national funds and FEDER co-funding, within the PT2020 partnership Agreement and Compete 2020, for the financial support to CESAM (Grant no UID/AMB/50017/2013). C.M. Teixeira had the support of the Fundação para a Ciência e a Tecnologia (FCT) (Pest-OE/MAR/UI0199/2011); and C.M. Teixeira and C. Pita were supported by the Research Project "LESSisMORE – LESS discards and LESS fishing effort for BETTER efficiency on the small-scale fisheries" (Ref. "LISBOA-01-0145-FEDER-028179"), support by the FEDER Funds through the COMPETE 2020, by the PIDDAC through FCT/MCTES. TM thanks the support from the European Union's Horizon 2020 research and innovation project DiscardLess (Grant Agreement No 633680), the Fundação para a Ciência e Tecnologia (FCT) strategic project UID/MAR/04292/2013 granted to MARE. He is also supported by the Program Investigador FCT (IF/01194/2013/CP1199/CT0002).
Copyright information
© The Author(s) 2019
Open Access This chapter is licensed under the terms of the Creative Commons Attribution 4.0 International License (http://creativecommons.org/licenses/by/4.0/), which permits use, sharing, adaptation, distribution and reproduction in any medium or format, as long as you give appropriate credit to the original author(s) and the source, provide a link to the Creative Commons licence and indicate if changes were made.
The images or other third party material in this chapter are included in the chapter's Creative Commons licence, unless indicated otherwise in a credit line to the material. If material is not included in the chapter's Creative Commons licence and your intended use is not permitted by statutory regulation or exceeds the permitted use, you will need to obtain permission directly from the copyright holder.