Global Developments: Policy Support for Linking Biodiversity, Health and Climate Change
Abstract
This chapter highlights key policy processes at the international level dealing with the alignment of policies for the biodiversity-climate-health nexus. Recent developments by UN Conventions and major international organisations, such as the Convention on Biological Diversity, the Ramsar Convention and the United Nations Framework Convention on Climate Change (UNFCCC), together with the World Health Organization (WHO) and the Intergovernmental Science-Policy Platform on Biodiversity and Ecosystem Services (IPBES), are discussed. Special attention is given to newly emerging integrative global policy processes and partnerships between the Convention on Biological Diversity and the WHO, also in the framework of the Agenda 2030 for Sustainable Development and avenues to translate them into local policy through the global partnership ICLEI – Local Governments for Sustainability. Conclusions are drawn to foster the joint implementation of policy goals.
Keywords
Biodiversity-climate-health nexus 
Science-policy interface 
UN conventions 
CBD partnership 
IPBES 
SDG goals 
Highlights
Policy agendas of health promotion, climate change adaptation and biodiversity conservation are starting to become aligned.

Alignment of indicators, joint metrics and reporting for health, climate change adaptation and biodiversity is needed to work effectively across different sectors.

Joint collaborative working and governance is needed to put policy agendas into practice and foster implementation across sectors.
14.1

Introduction

Biodiversity forms the foundation of life on Earth and human health, as it underpins the functioning of ecosystems and associated ecosystem services (Cardinale et al. 2012). We depend on the contributions from nature to people (Díaz et al. 2018) for providing our food and fresh water, regulating climate, preventing floods and disease, as well as providing recreational benefits and aesthetic and spiritual enrichment (see also Irvine et al. Chap. 10, this volume). Biodiversity contributes to both traditional and modern medicines and supports local livelihoods and economic development (Romanelli et al. 2015). Because of these fundamental linkages between biodiversity and human health, it is surprising that this important cross-cutting issue made it –only in the last few years – prominently onto the agendas of important international conventions and organisations such as the Convention on Biological Diversity (CBD), the Ramsar Convention on Wetlands and the World Health Organization (WHO). Given the fact that climate change increasingly has direct and indirect effects on both biodiversity and human health, it is even more important to stress the links between the topics in order to foster nature-based solutions for promoting health and adapting to climate change.

This chapter highlights some key policy processes to tackle the relationships between (1) biodiversity and climate change, (2) biodiversity and health, (3) climate change and health and (4) the biodiversity-climate-health nexus on the international level. The field is developing fast, and this chapter represents the status as of August 2018. The connection between biodiversity and health – sometimes also in relation to climate change – is also emerging in many practical regional and local initiatives, coming from both a nature conservation angle and a medical angle. (For an overview about European Nature and Health network initiatives see Keune et al. Chap. 15, this volume.)
14.2

Biodiversity and Climate Change

Much work has been done on the direct effects of climate change on biodiversity (e.g. changes in phenology and in species' distribution, composition and interactions; see Bellard et al.

2012

; Parmesan

2006

; Thomas et al.

2004

) as well as indirect effects of these changes on human health (Pecl et al.

2017

). But vice versa, biodiversity also affects the climate system and can also ameliorate climate change effects through nature-based mitigation (e.g. through carbon sequestration and carbon storage in vegetation or soils; see e.g. IPCC

2014

) and adaptation measures (Lo

2016

) (see Fig.

14.1

). The latter – for example, reducing the urban heat island effect and disaster risk – have strong implications for human health and well-being. This was taken up and elaborated on by major international policy processes such as the Ramsar Convention on Wetlands in its resolutions (e.g. see Resolution XII.13: Wetlands and disaster risk reduction (Ramsar

2015

)) and related activities reflected in the themes of the World Wetlands Days 2017 "Wetlands for Disaster Risk Reduction", and 2018 "Wetlands for a sustainable urban future". Ecosystem-based approaches to adapting to climate change and reducing disaster risk have also been an important topic in the processes of the CBD (Lo

2016

).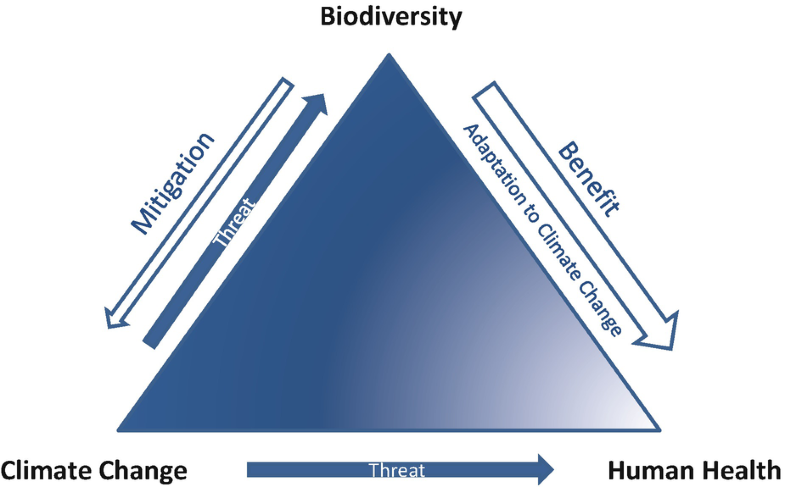 14.3

Biodiversity and Health

The emergence of the ecosystem service concept led to the Millennium Ecosystem Assessment (MA 2005) with its synthesis report on health (Corvalan et al. 2005) followed by the Economics of Ecosystems and Biodiversity reports (TEEB 2010) and several national assessments (Schröter et al. 2016). These assessments mainly focused on economic benefits of nature and mention health benefits only little or less explicitly.

In the policy arena, the international treatment of the linkages of health and biodiversity began with the COHAB Initiative that was established in response to outputs of the First International "Conference on Health and Biodiversity – COHAB 2005", which took place in Galway, Ireland in August 2005 (see Box 14.1). The recommendations from that meeting addressed a number of key issues at the interface of biodiversity and human well-being, and raised issues of governance, equity and participation. These were the core issues around which the COHAB Initiative was then established (COHAB 2005), and which provided the basis for further development of the topic. The COHAB Initiative, which is less active now, had a strong influence to put the topic on the agenda of the CBD and stimulated the joint work programme of the CBD and the WHO, which are now the main global actors in this field (see sect. 14.5.2).
Box 14.1 Co-operation on Health and Biodiversity – COHAB Initiative
The COHAB Initiative operates through Partnership arrangements with a growing network of organisations worldwide, representing government and multi-lateral agencies, academic institutes, NGOs, indigenous communities and the private sector. These organisations share a common interest – to enhance co-operation between the health and biodiversity sectors, working together for a healthy planet with healthy people. Major areas of focus include:
Poverty reduction and livelihood security

Food security, nutrition and dietary health

Emerging diseases

Natural products and medicinal resources

Disaster prevention, relief and recovery

Traditional knowledge

Indigenous community health

Social and spiritual well-being and mental health.
COHAB Initiative Partnership arrangements provide a framework within which organisations may collaborate to increase the effectiveness of their efforts in addressing the issues linking the conservation and sustainable use of biodiversity with health, well-being and livelihood security. Partners range from Intergovernmental organisations (mainly from the UN-System), to international non-governmental organisations and a variety of country-based organisations.
(http://www.cohabnet.org, accessed 25.05.2018)
14.4

Climate Change and Health

The direct link between climate change and health issues is well developed (e.g. WHO 2016; Wolf et al. 2015; see also Lindley et al. Chap. 1, Hunter et al. Chap. 17, both this volume). Already in 2008 the World Health Assembly developed a global Work Plan to support member states in climate change and health protection that was updated in 2014 (WHO 2015).1 In 2015, the Lancet Commission on Health and Climate Change prominently recommended ten concise policy actions for the next 5 years on climate change adaptation to protect public health (Watts et al. 2015), which urged joint working across sectors and scaling up of investments to secure a climate-resilient public health system. Human health was also included as an important aspect in the European Environment Agency indicator report on climate change (Füssel et al. 2017). International policy commitments were documented in the Paris Agreement of the United Nations Framework Convention on Climate Change (UNFCCC), which recognised "the social, economic and environmental value of voluntary mitigation actions and their co-benefits for adaptation, health and sustainable development"(UN 2015a).

Unfortunately, the interlinkages between climate change, health and biodiversity only gained little attention within international climate policy, so far.
14.5

Biodiversity–Climate–Health Nexus

Despite the many activities in the individual fields of biodiversity conservation, climate change mitigation and adaptation as well as the improvement of human health, the benefits that intact ecosystems can provide to people's health in the face of climate change has only been recognised slowly during the last decade. There are many opportunities to bring the three topics of biodiversity, health and climate together in a constructive way and to tackle real issues. Biodiversity can help to prevent or minimise human-induced or natural disasters that are caused or accelerated by climate change.

For example:
1.

Biodiversity can help human societies to adapt better to climate change induced heat waves in urban areas (see Lindley Chap. 1, this volume; overviews in Kabisch et al. 2017).

 

2.

Biodiversity in the form of floodplain or mangrove ecosystems can help to protect human populations from the impact of severe floods partly caused by climate change (Temmerman et al. 2013).

 

3.

Different species or varieties of plants and animals can help to adapt agricultural systems to climate change, so that they can provide sufficient nutrients and healthy diets (Lin 2011).

 
The emphasis of policy linkages was first on wetlands (see below) and nature-based solutions in urban areas (Kabisch et al. 2016, 2017; WHO Regional Office for Europe 2016), while the biodiversity-climate-health nexus has also been considered in much broader applications (see also Romanelli et al. 2015). In the following sections we provide some examples of international policy processes that take an integrative approach.
14.6

Conclusions

Within the last decade much emphasis has been placed on the individual linkages between (1) biodiversity and climate change, (2) biodiversity and health, and (3) health and climate. But so far addressing the three issues together is rare even though they are closely inter-related. Ultimately joint indicators and metrics need to be found to be slotted into sectoral policies.

Integrative research is urgently needed to better understand the triangular relationship between biodiversity in all its forms, levels and inter-relations, climate change effects (temperature and precipitation) and health, taking into account the 'One Health Approach' that goes beyond considering only human health by looking at the entire system.

As evidenced in this volume, there are many opportunities for synergies to tackle public health, biodiversity and climate change adaptation. International and regional conventions as well as international organisations and government programmes are increasingly addressing these issues jointly. They should be encouraged to go further in order to benefit from possible synergies and to avoid detrimental outcomes for society by either no action or by not taking into account aspects beyond a single sector. The World Health Organization already liaises with the global conventions – CBD, Ramsar as well as UNFCCC – and this cooperation could be strengthened. Synergies between the conventions on the issue of climate change, its possible impact on health and how well managed biodiversity could help human societies to better cope with the expected changes need to be further explored and developed. Alignment with the 2030 Agenda on Sustainable Development will further foster joint working.

A specific IPBES assessment on biodiversity and health, with associated scenario development under a changing climate, would be very helpful to provide a single up-to-date, policy-relevant document on the issue that could guide further policy development and the international research agenda.
Notes
Acknowledgements
This work was supported by the German Federal Agency for Nature Conservation (BfN) with funds of the German Federal Ministry for the Environment, Nature Conservation, and Nuclear Safety (BMU) through the research project "Conferences on Climate Change and Biodiversity" (BIOCLIM, project duration from 2014 to 2017, funding code: 3514 80 020A).
Copyright information
© Springer Nature Switzerland AG 2019
Open Access This chapter is licensed under the terms of the Creative Commons Attribution 4.0 International License (http://creativecommons.org/licenses/by/4.0/), which permits use, sharing, adaptation, distribution and reproduction in any medium or format, as long as you give appropriate credit to the original author(s) and the source, provide a link to the Creative Commons licence and indicate if changes were made.
The images or other third party material in this chapter are included in the chapter's Creative Commons licence, unless indicated otherwise in a credit line to the material. If material is not included in the chapter's Creative Commons licence and your intended use is not permitted by statutory regulation or exceeds the permitted use, you will need to obtain permission directly from the copyright holder.