Myeloproliferative Neoplasms
Abstract
Polycythemia vera (PV) and essential thrombocythemia (ET) have a favorable outcome without need for allo-HSCT unless the disease progressed to post-ET/PV myelofibrosis or secondary AML (Lussana et al. 2014).
76.1

Primary and Post ET/PV Myelofibrosis
76.2

Chronic Myeloid Leukemia
76.2.1

Definition, Epidemiology, Diagnosis, and Classification

Chronic myeloid leukemia (CML) is a clonal myeloproliferative disorder of the HSC. CML was the first leukemia described and the first to be characterized by a consistent chromosomal aberration, the 22q- or "Philadelphia" (Ph) chromosome, later identified as a reciprocal translocation, t(9;22), encoding the BCR-ABL oncoprotein.

CML is the most common of the myeloproliferative disorders. The incidence is 0.4–1.75 per 100,000 population per year, and it increases with age (Höglund et al. 2015). The disease can occur at any age, but the median age at presentation ranges between 45 and 55 years. There is a slight male predominance, with a male to female ratio of 1.3:1.

CML present initially as an indolent or chronic phase (CP), easily controlled with treatment. The natural history continues with a bi- or triphasic stage, becoming more aggressive through accelerated phase (AP) and then blast crisis (BC) or directly from CP to BC.
76.2.2

Risk Factors and Prognostic Index

Several multivariate-derived prognostic models and staging have been proposed to help define individual prognosis and allow assigning patients to different strategies of therapy based on risks. The most commonly used are the Sokal and Hasford one (Sokal et al. 1984; Hasford et al. 1998).

The benefit of allo-HSCT is that it can provide cure, but the clear disadvantage is its association with considerable morbidity and mortality, which typically occur early post procedure. Outcome can be improved by better selection of those most likely to benefit. In this context the EBMT developed a risk score for patients with CML, based on five variables: donor type, disease phase, recipient age, donor/recipient gender combination, and interval from diagnosis to transplant, which together results in a score of 0–7 (see risk factors in Chap.  11) (Gratwohl et al. 1998).

Results of transplant are now highly predictable based on these five factors. It is worth remembering that the EBMT or "Gratwohl" score was developed in the mid-1990s and was based on 3142 patients transplanted between 1989 and 1996 (Fig.

76.2a

). With overall improvements in supportive care, it would be reasonable to expect that a similar analysis performed on patients transplanted more recently would demonstrate improved results across all-risk scores. However, the analysis is complicated by the change in approach to management of CML. During the period of the original analysis, allo-HSCT was the treatment of choice for all patients. Since 2000 allo-HSCT has been replaced by tyrosine kinase inhibitors (TKI) as frontline therapy, and hence the reasons for patients coming to transplant are not always clear from registry data. Although this should be compensated by the use of factors such as age at transplant, disease phase, and time from diagnosis to transplant, some caution should be exercised in the interpretation of more recent results. Having said this, the analysis has been repeated recently for 3497 patients transplanted from 2007 to 2017 and confirmed improved outcome of 5-year OS across all-risk scores by 11–26% (Fig.

76.2b

). Although these pretransplant factors are known to affect outcome in all diseases, it is worth focusing specifically on the impact of disease phase in CML, in particular because one of the few problems of TKI therapy is that within the cohort of patients receiving transplants, the proportion transplanted in or after blast crisis has increased over time (Table

76.2

).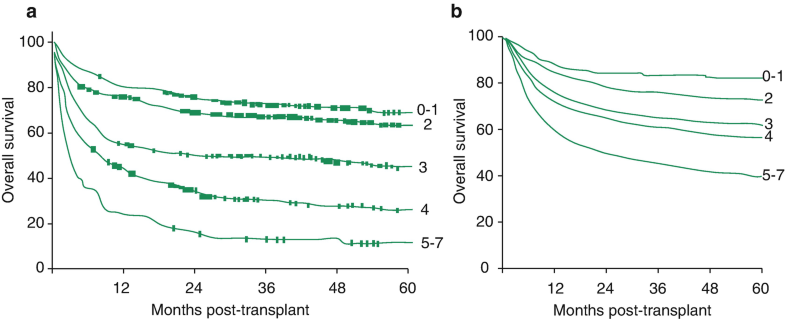 Table 76.2
Change in proportion of patients transplanted in each disease phase from 2007 to 2017
Year of transplant

1st CP

Number (% total)

AP

Number (% total)

≥2CP

Number (% total)

BC

Number (% total)

2007

164 (50)

49 (15)

82 (25)

34 (10)

2008

134 (45)

34 (12)

84 (28)

44 (15)

2009

133 (41)

46 (14)

92 (28)

53 (16)

2010

128 (36)

57 (16)

106 (30)

65 (18)

2011

148 (49)

50 (15)

86 (26)

46 (14)

2012

127 (46)

34 (12)

74 (27)

42 (15)

2013

136 (44)

41 (13)

78 (25)

54 (18)

2014

138 (43)

48 (15)

75 (24)

57 (18)

2015

137 (44)

43 (14)

73 (23)

62 (20)

2016

111 (42)

30 (11)

70 (26)

55 (21)

2017

74 (36)

20 (10)

68 (33)

45 (22)
Allografts for CML were initially restricted to patients in AP, and improvements in survival came only when transplant was performed in the CP. Data of 138 patients with CML transplanted between 1978 and 1982 and reported to the IBMTR showed 3-year survivals of 63%, 36%, and 12% for patients transplanted in the CP, AP, and BC, respectively. The probability of relapse for those transplanted in CP was 7% (Speck et al. 1984). The effect of disease phase on the outcome of transplantation has not changed over the years. To optimize the effect of allo-HSCT for a patient who has progressed to blast crisis, a second CP should be achieved using TKI and/or conventional combination chemotherapy.
76.2.3

Pretransplantation Treatment

Early descriptions of therapy included radiotherapy, introduced at the beginning of the twentieth century and later oral chemotherapy, in particular BU and hydroxycarbamide. These approaches could control the signs and symptoms of CML in chronic phase but could not prevent its inevitable transformation into a rapidly fatal chemoresistant blastic disease. The first treatment that eradicated the Ph-positive clone and induced cure was BMT, initially described in syngeneic twins and soon followed by procedures involving HLA-matched siblings and later URD. Transplantation, once the treatment of choice for this disease, has been relegated to second-, third-, and even fourth-line treatment in parallel with the development of the TKI. As more potent TKI move to first-line therapy, patients destined to respond poorly to these drugs are identified earlier, and transplant will return to use as an earlier line strategy.
76.2.4

Autologous HSCT

Autologous HSCT for CML started about at the same time as allo-HSCT in the late 1970s early 1980s in Europe with the goal to set up the clock to early phase with high-dose therapy followed by reinfusion of autologous HSC. However, following the introduction of targeted therapy with TKI, the number of auto-HSCT in Europe has decreased rapidly, with only 0–4 per year between 2012 and 2016 as per the EBMT registry data. Auto-HSCT is currently not a recommended strategy in CML; however, it should be mentioned that due to the lack of randomized studies, the potential role of autologous HSCT for CML remains unknown.
Copyright information
© EBMT and the Author(s) 2019
Open Access  This chapter is licensed under the terms of the Creative Commons Attribution 4.0 International License (http://creativecommons.org/licenses/by/4.0/), which permits use, sharing, adaptation, distribution and reproduction in any medium or format, as long as you give appropriate credit to the original author(s) and the source, provide a link to the Creative Commons license and indicate if changes were made.
The images or other third party material in this chapter are included in the chapter's Creative Commons license, unless indicated otherwise in a credit line to the material. If material is not included in the chapter's Creative Commons license and your intended use is not permitted by statutory regulation or exceeds the permitted use, you will need to obtain permission directly from the copyright holder.