Ethical Codes and Declarations
Abstract
From Hippocrates and Chinese and Islamic healers to modern times, ethical codes and declarations are an essential component of medical education and conduct. Even after many centuries, the early documents on medical ethics are outstanding examples of clear, precise, and timeless formulations. In recent decades, dramatic changes to the practice of medicine have led to an enormous increase in the volume of ethical declarations and documents. Nevertheless, these documents lag behind the rapid new developments in medical research and practice and cannot offer advice in situations in which some ethical costs are inevitable and in which a compromise has to be made.
Keywords
Hippocratic oath 
Sun Simiao 
Ali Rahawi 
Ethical codes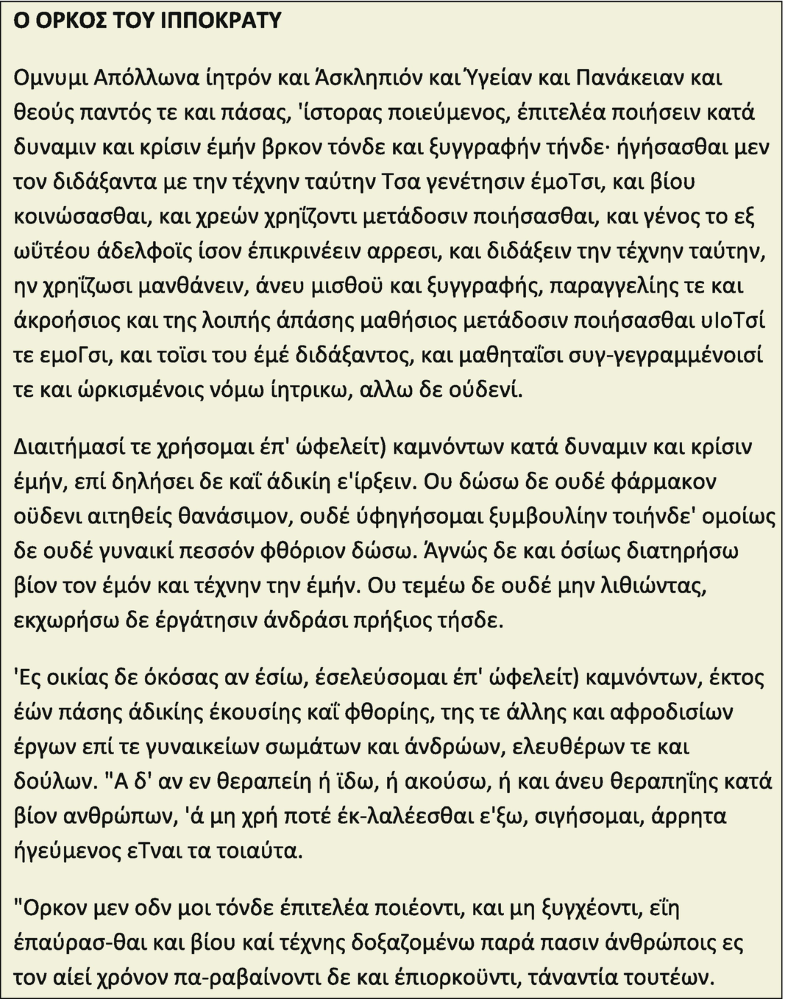 In the previous chapter, we mentioned several professional groups that recognize the necessity of conforming to ethical activity, especially in situations of imbalance of power. Among all professions, medical doctors were the first to recognize the importance of a proper ethical approach.
There are two ways of determining whether an act is ethical. The first approach, as presented in this chapter, is to compare the act against written guidelines—ethical codes and declarations. In the chapters that follow, we will introduce ethical analysis as the second approach: the act is evaluated by reasoning about the degree to which it is in accordance with specific ethical principles.
2.1

Hippocratic Oath and Other Ancient Documents

When discussing ethical codes and declarations, one has to begin with Hippocrates. The most important legacy of Hippocrates and of his students is the Hippocratic Oath. After 2500 years, this document remains the foundation of medical ethics.
Hippocratic Oath
I swear by Apollo Physician and Asclepius and Hygieia and Panaceia and all the gods and goddesses, making them my witnesses, that I will fulfill according to my ability and judgment this oath and this covenant:
To hold him who has taught me this art as equal to my parents and to live my life in partnership with him, and if he is in need of money to give him a share of mine, and to regard his offspring as equal to my brothers in male lineage and to teach them this art—if they desire to learn it—without fee and covenant; to give a share of precepts and oral instruction and all the other learning to my sons and to the sons of him who has instructed me and to pupils who have signed the covenant and have taken an oath according to the medical law, but no one else.

I will apply dietetic measures for the benefit of the sick according to my ability and judgment; I will keep them from harm and injustice.

I will neither give a deadly drug to anybody who asked for it, nor will I make a suggestion to this effect. Similarly I will not give to a woman an abortive remedy. In purity and holiness I will guard my life and my art.

I will not use the knife, not even on sufferers from stone, but will withdraw in favor of such men as are engaged in this work.

Whatever houses I may visit, I will come for the benefit of the sick, remaining free of all intentional injustice, of all mischief and in particular of sexual relations with both female and male persons, be they free or slaves.

What I may see or hear in the course of the treatment or even outside of the treatment in regard to the life of men, which on no account one must spread abroad, I will keep to myself, holding such things shameful to be spoken about.

If I fulfill this oath and do not violate it, may it be granted to me to enjoy life and art, being honored with fame among all men for all time to come; if I transgress it and swear falsely, may the opposite of all this be my lot.
Roughly 1000 years later, the renowned Chinese physician, Taoist, and alchemist Sun Simiao presented his ethical recommendations for physicians in his book entitled On the Absolute Sincerity of Great Physicians [1].
The Purpose of Medical Practice

1.

The object is to help, not to gain material goods.

 

2.

Save life and do not kill any living creature.

 

3.

Do not seek fame: virtuous conduct will be rewarded by humans and spirits.

 

The Requirements of a Great Physician

4.

Master the foundations of medicine thoroughly, work energetically and unceasingly.

 

5.

Be mentally calm and firm in disposition; do not give way to selfish wishes and desire.

 

6.

Commit oneself with great compassion to save every living creature.

 

Manner of Medical Practice

7.

Possess a clear mind and maintain a dignified appearance.

 

8.

Do not be talkative, engage in provocative speech, or make fun of others.

 

9.

Do not ponder upon self-interest and fortune; sympathize and help wholeheartedly.

 

10.

Examine and diagnose carefully, prescribe accurately, and cure effectively.

 

Attitude Towards Patients

11.

Treat everyone on an equal basis, no matter whether they are rich or poor.

 

12.

Do not reject or despise a patient who suffers from abominable diseases such as ulcers and diarrhea: be compassionate and sympathetic.

 

13.

Do not enjoy oneself in a patient's house while the patient is suffering.

 

Attitude Towards Other Physicians

14.

Do not belittle another physician in order to exalt one's own virtue.

 

15.

Do not discuss others and decide about their rights and wrongs.

 
In the ninth century, Ishaq bin Ali Rahawi was the first to write a book on the principles of medical ethics in the Islamic world. In 20 chapters, the book lays out guidelines for the work of physicians. As the guardian of the patient's body and soul, the physician should work for the benefit of the patient, even if the patient is considered an enemy. The physician shall not prescribe any lethal drugs or assist with an abortion. Ali Rahawi also wrote the rules of good behavior, confidentiality and non-corruption, and mutual respect and solidarity between physicians [2].
Let us not forget that these documents written by physicians are older than any law aiming at regulating medical work and protecting patients' rights. At that point in time, ethics was already a major step ahead of law, and I dare to say the same still holds today.
Why are we mentioning the Hippocratic Oath, Sun Simiao's ethical guidelines, and Rahawi's recommendations? Despite the fact that these texts were created in different cultural, religious, and social environments over a span of more than 1500 years, there are astonishing similarities between them. Diligence and professional competence, protection of life, compassion and help for the sick regardless of their social status, humility and relinquishing one's own comfort, confidentiality, solidarity among physicians—it is remarkable how valid these written rules remain today.
2.2

Medical Ethics in Modern Documents

Nowadays, written ethical codes and declarations abound. Such documents have been adopted by national and international professional medical associations, as well as by specialized medical associations in the fields of gynecology, psychiatry, pediatrics, emergency medicine, intensive care medicine, public health, occupational medicine, and sports medicine, to name just a few. Due to their high number, physicians cannot be familiar with all the documents and possibly none of us has a complete overview. The second negative consequence of the abundance of ethical codes and declarations is contradictory information across documents. Even more so: one can easily spot inconsistencies and internal contradictions within a single document. The third drawback is that written recommendations are constantly lagging behind the developments in medicine. Think about research in genetics, the ever more intensive involvement of preventive medicine into the healthy population, development in medical diagnostics and treatment, and the high degree of entanglement between contemporary medicine and the interests of the pharmaceutical industry—these are all areas where both legislation and ethical codes and declarations fall behind recent developments.
2.3

Advantages and Disadvantages of Normative Ethics

It would be of course wrong to suggest that we could do away with medical laws, codes of medical ethics, or the declarations of the World Medical Association. In its 2500 years, the oldest of the documents—the Hippocratic Oath—has not lost its significance. In many respects, codes and declarations provide good general guidelines. However, one would be misled into thinking that the sheer existence of an ethical code would help us solve numerous ethical dilemmas in physician's work. Real ethical dilemmas arise when each of the measures physicians have at their disposal incurs some ethical costs. To turn the phrase differently: genuine dilemmas are those for which one has to choose among several actions, of which none is without unwanted consequences. Ethical codes and declarations provide us with no advice for such situations. This leads us to the next chapter: ethical theories and ethical analysis.
References
1.

2.
Selected Codes of Medical Ethics
Europe: Patuzzo S, Pulice E. Towards a European code of medical ethics: ethical and legal issues. J Med Ethics. 2017;43:41–6.

CrossRef

Google Scholar
Copyright information
© Springer Nature Switzerland AG 2019