Pathogen Genomics and the Potential for Understanding Diseases in the Developing World
Part of the Advances in Microbial Ecology book series (AMIE)
Abstract
Approximately 46% and 32% of deaths among children under five globally occur in sub-Saharan Africa and South Asia, respectively. Over 80% of the 4.2 million child deaths in Africa are caused by infectious diseases, sharply contrasted to Europe where 39% of the 0.15 million child deaths are attributable to infectious diseases (Fig. 5.1) (Black et al. 2010). Hence, despite the remarkable public health advancements in hygiene, sanitation, antimicrobial drugs and vaccine strategies of the twenty-first century, the burden of infectious diseases remains unacceptably high in the developing world.
Keywords
Human Immunodeficiency Virus 
Bacterial Vaginosis 
Acquire Immune Deficiency Syndrome 
Simian Immunodeficiency Virus 
Whole Genome Amplification 
These keywords were added by machine and not by the authors. This process is experimental and the keywords may be updated as the learning algorithm improves.
Introduction
Approximately 46% and 32% of deaths among children under age five globally occur in sub-Saharan Africa and South Asia, respectively. Over 80% of the 4.2 million child deaths in Africa are caused by infectious diseases, sharply contrasted to Europe where 39% of the 0.15 million child deaths are attributable to infectious diseases (Fig.
5.1
) (Black et al.
2010
). Hence, despite the remarkable public health advancements in hygiene, sanitation, antimicrobial drugs and vaccine strategies of the twenty-first century, the burden of infectious diseases remains unacceptably high in the developing world.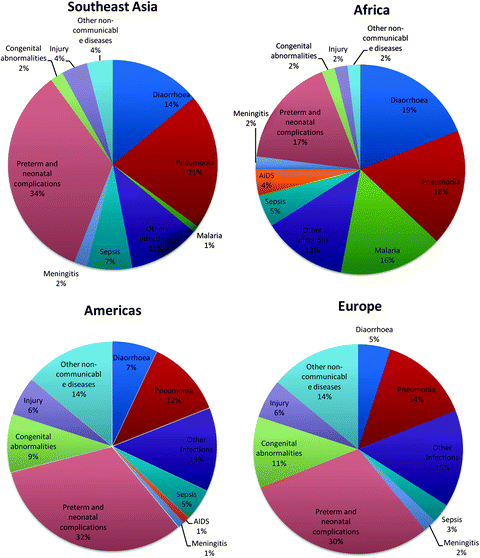 Morbidity and mortality due to infectious diseases have remained high in the developing world because several infections such as malaria have never been controlled and continue to persist, while other infectious diseases have emerged or re-emerged in the last few decades (Jones et al. 2008). Recently, e.g., there have been outbreaks of chikungunya (in South East Asia), dengue (in South America) and Ebola haemorrhagic fever (in Africa). The emergence and re-emergence of disease may be driven by several factors which include climatic changes that affect the survival of microbes and their vectors, modern agricultural practices, increased rates of travel and migration, high population densities and improved surveillance and detection of new threats.
In addition, links between pathogens and diseases previously attributed to genetic, environmental and organic factors are being discovered, for instance, the link between Helicobacter pylori and peptic ulcers as well as gastric cancer (Dorer et al. 2009). The importance of disruptions of the normal microbial ecology in several autoimmune diseases such as necrotizing enterocolitis (NEC), atopic eczema, Crohn's disease (CD) and chronic obstructive pulmonary disease (COPD) has also been demonstrated (Proal et al. 2009). Furthermore, it appears that some infections are polymicrobial (in that more than one microbe acts synergistically or sequentially to cause an infection) (Bakaletz 2004). Given the current prevalence and significance of infectious diseases caused by bacteria, fungi, protists and viruses in the developing world, the comprehensive characterization of the evolution, life cycle, physiological versatility and metabolism of pathogens is imperative.
Genomics (the study of genomes) facilitates the global analysis of pathogens and has huge potential to provide invaluable insights into various facets of pathogenesis. Genomics and genomics-derived applications have been used to study virulence, transmission, immune evasion, host-microbial interactions and microbial ecology in some of the most clinically significant pathogens in the developing world. Virulence is the degree of pathogenicity of an infectious agent, indicated by case mortality rates and its ability to invade and damage host tissue. Virulence is mediated by several genetic factors which code for proteins involved in adhesion, colonization, toxin production and invasion. Whole-genome sequencing can be used in conjunction with microarray-based technologies, targeted genetic screens and proteomic analysis to discover virulence genes.
More recently, genomics has been used in developing rapid diagnostics tools as well as identifying vaccine and drug targets in several bacterial, protozoan and viral pathogens which could be adapted in resource-limited settings. The expansion of genomics has been fuelled by rapid advancements in DNA-sequencing technologies. Several faster, cheaper and higher throughput nucleic acid sequencing and analysis platforms have become available in the last few years and are more accessible than ever before, even in the developing countries (many are described in accompanying chapters throughout this book). Genomics tools have the advantage that they are not culture dependent and pathogen nucleic acids can be analysed long after the cells have lost viability. Hence, these tools can be invaluable in resource-limited settings whereby the reagents and equipment to support culture are not easily accessible (e.g. media, incubators and −20−70°C freezers).
Better understanding and characterization of the causes of morbidity will be essential in the achievement of the Millennium Development Goal 4 (MDG4) (Mittelmark 2009) to reduce childhood mortality by 35% between 1990 and 2015. This chapter focuses on how genomics tools have been applied to understand various aspects of human infectious diseases in the developing world and how these tools could be applied in future studies as part of the efforts to control and treat infectious diseases. Initially, the focus will be on the genomics application in the major infectious diseases in the developing world, i.e. pneumonia, meningitis, malaria, tuberculosis, the human immunodeficiency virus (HIV) and diarrhoeal diseases (Fig. 5.1). Thereafter, pathogen genomics of neglected tropical diseases (NTDs) will be discussed focusing on a few examples, Buruli ulcer, trachoma and trypanosomiasis.
Genomics for Major Infectious Diseases in the Developing World
Genomics Applications for Neglected Tropical Diseases (NTD)
Neglected tropical diseases (NTD) cover a wide spectrum of old and emerging diseases caused by helminths, protozoa, fungi, bacteria and viral pathogens that together infect an estimated one billion people but have received relatively little attention, warranting the name 'neglected'. About half of the people infected with NTDs are in sub-Saharan Africa. NTDs tend to occur in the poorest, most remote and disadvantaged regions of the world and are disabling, disfiguring and often times fatal. The pathogenesis, transmission and epidemiology of many of these pathogens are poorly understood, lacking appropriate diagnostic tools. Likewise, there are very few licensed vaccines against NTDs, and many available drugs are not optimally effective or ineffective against NTD infections. Hence, there is great potential for genomics to uncover the virulence factors, molecular epidemiology, genome organization and potential drug and vaccine targets of NTDs.
Trypanosomiasis
Trypanosomiasis refers to several distinct diseases caused by the protozoan parasites trypanosomes. Human African trypanosomiasis (HAT) is a life-threatening infection caused by Trypanosoma brucei gambiense and Trypanosoma brucei rhodesiense which infects 50,000–70,000 people in sub-Saharan Africa. In Latin America, trypanosomes cause Chagas diseases which is an important cause of morbidity and mortality in that region. The sequencing of the trypanosomal genome has made remarkable contributions to the understanding of parasite pathogenesis, host-parasite interactions, mechanisms of genetic exchange, disease diagnosis, molecular epidemiology and drug mechanisms of action (Tait et al. 2011; Zucca and Savoia 2011). Current HAT treatment regimens are highly toxic and require prolonged periods of administration and monitoring which are problematic in resource-limited settings where the disease burden is greatest. Hence, there is a need for the identification of new drug targets which could be expedited by structural and comparative genomics. Promising targets and new drugs for the treatment of Chagas disease have already been identified using genomics and proteomic approaches, e.g. drugs that target the trypanosome purine salvage pathways, cruzipain (cysteine protease) and ergosterol and trypanothione biosynthesis are being investigated (McKerrow et al. 2009).
Mycobacterial Infections
Other than tuberculosis, mycobacteria also cause Buruli ulcer and leprosy which are disabling and disfiguring diseases infecting thousands of people in developing countries. Buruli ulcer is an emerging disease of the subcutaneous tissue that is caused by Mycobacterium ulcerans which is a slow-growing pathogen. M. ulcerans is closely related to Mycobacterium marinum which causes mild skin infections in humans. However, comparative genomics studies with its progenitor M. marinum have shown that M. ulcerans has large deletions of approximately 1.1 Mb in its genome and acquired a virulence plasmid that confers mycolactone production by horizontal gene transfer. The reduced genome size in M. ulcerans is associated with the loss of several virulence factors present in M. marinum and the acquisition of an immunosuppressive cytotoxin, making it a niche-adapted specialist (Demangel et al. 2009). The case of M. ulcerans highlights how evolutionary genomics can be used to understand pathogenesis in emerging infections, and the identification of key virulence factors sets the stage for future studies targeted at vaccine development.
Trachoma
The leading cause of infectious blindness globally is trachoma, with 63 million cases of active disease, and around 50% of the trachoma disease burden globally is concentrated in ten developing countries. Trachoma is caused by an obligate intracellular pathogen, Chlamydia trachomatis, which is also a leading cause of sexually transmitted infections and results in immense loss of productivity and represents a major public health and socio-economic burden. The need for an effective trachoma vaccine is greater than ever before because currently available antimicrobial treatments do not prevent re-infection and C. trachomatis is easily transmitted from asymptomatic carriers to establish new infections. Chlamydial genomics research has revealed several protective antigens and epitopes that could be applied as effective vaccines (Eko et al. 2008).
Future Frontiers: Pathogen Genomics in the Developing World
Conclusions
Genomics is useful for epidemiologic characterization of known virulence factors and the discovery of novel virulence factors. Whole genome sequencing conducted on numerous microbial species has shown considerable variations in the size, content and organization of the genomes of pathogens which may be associated with metabolic versatility and virulence which is invaluable for understanding disease in the developing world. Host and pathogen genomics can provide invaluable insights into the factors that influence the heterogeneity seen in transmission, vulnerability to infection, disease progression and disease outcomes among individuals from different age strata, ethnicities, socio-economic backgrounds and geographic regions exposed to a pathogenic microbe and inform better disease control and management strategies. As many genomics tools are not widely accessible in the developing world, fostering international collaborations will become increasingly important. Furthermore, funds to foster international collaborations, build capacity within resource-limited settings and the development of rapid, cheap and sustainable techniques that can be used in the developing world are urgently needed.
Copyright information
© Springer Science+Business Media, LLC 2012