Abstract
The HIV latent reservoirs are considered as the main hurdle to viral eradication. Numerous mechanisms lead to the establishment of HIV latency and act at the transcriptional and post-transcriptional levels. A better understanding of latency is needed in order to ultimately achieve a cure for HIV. The mechanisms underlying latency vary between patients, tissues, anatomical compartments, and cell types. From this point of view, simian immunodeficiency virus (SIV) infection and the use of nonhuman primate (NHP) models that recapitulate many aspects of HIV-associated latency establishment and disease progression are essential tools since they allow extensive tissue sampling as well as a control of infection parameters (virus type, dose, route, and time).
1

Introduction

HIV latency is a key hurdle to curing HIV. The HIV latent reservoirs are defined as a cell type or anatomical site where a replication-competent form of the virus persists for a longer time than in the main pool of actively replicating virus (Van Lint et al. 2013). This definition mainly restricts the viral reservoirs to latently infected resting CD4+ memory T cells carrying stably integrated, transcriptionally silent but replication-competent proviruses. These cells do not produce virus particles while in resting state, but can give rise to infectious virus following activation by several stimuli, leading to viral rebound when antiretroviral therapy (ART) is stopped (Chun et al. 1995, 1997, 2000; Finzi et al. 1999; Siliciano et al. 2003; Davey et al. 1999). A less conventional, wider definition of HIV reservoirs has also been proposed: all infected cells and tissues containing all forms of HIV persistence that can participate in HIV pathogenesis (Avettand-Fenoel et al. 2016). This definition includes defective proviruses which participate to HIV pathogenesis through viral transcription and synthesis of viral proteins without new virion production. These proteins can induce and maintain immune activation, thus participating in the vicious circle of HIV pathogenesis (Avettand-Fenoel et al. 2016).

The mechanisms conducting to the establishment of HIV latency but also to its maintenance probably vary from one patient to the other, from one tissue or one anatomical compartment to the other, and also from one cell type to the other (Darcis et al. 2017). Therefore, a cure for HIV is unlikely achievable without considering all latent cellular and anatomical reservoirs such as the brain (Kumar et al. 2014).

HIV is divided into HIV type 1 (HIV-1) and HIV type 2 (HIV-2). HIV-1 is responsible for the HIV pandemic and is related to viruses found in chimpanzees and gorillas, while HIV-2 is related to viruses found in primate sooty mangabey. HIV-1 may be further divided into groups (M, N, O, and P) and subtypes within the M group. Simian immunodeficiency virus (SIV) infection and the use of nonhuman primate (NHP) models that recapitulate HIV-associated disease progression are essential tools. Indeed, NHP models of ART-treated macaques infected with the simian immunodeficiency virus of macaques (SIVmac), which is more closely related to HIV-2 in comparison with HIV-1, have been validated and help to characterize the type, establishment, maintenance, and activation of latent viral reservoirs (Deleage et al. 2016). Importantly, unlike nonpathogenic infection in its African natural host, SIVmac induces an AIDS-like disease in Asian rhesus macaque monkeys with similar symptoms and immunological consequences seen in HIV-infected humans. The use of SIV latter in this chapter specifically refers to SIVmac.

NHP infected with SIV provides several significant advantages, including the possibility to perform extensive tissue sampling in animal and elective necropsy. Since the huge majority of viruses persists under ART resides in tissues that are difficult to access in human clinical settings, this is undoubtedly the main benefit.

During the past few years, important progress has been made to characterize the viral reservoirs, to understand the molecular mechanisms underlying HIV/SIV latency, and to better investigate and address the crucial questions of the complexity, diversity, and dynamics of these mechanisms.

In this chapter, we consider our present knowledge of the molecular mechanisms involved in HIV-1 and SIV latency. To begin, we present a brief description of the HIV-1 and SIVmac promoters, which will be of great importance for the subsequent discussion.
2

The HIV-1 and SIVmac Promoters

Most of the HIV-1 and SIVmac transcripts are initiated at the main viral promoter located in the 5' long terminal repeat (5'LTR) region. The 5'LTR has been divided into three regions [U3 (unique in 3'), R (repeated), and U5 (unique in 5')] and into four functional domains (from the 5'end to the 3'end: the modulatory region, the enhancer composed of a distal region and a proximal region, the core promoter and the leader region that extends until the first codon of the gag gene) (Fig. 

1

a). Importantly, this latter region encodes the trans-activating response (TAR) element whose RNA forms a stable stem-loop structure (Fig. 

1

b). The TAR hairpin is present at the 5'end of each transcript and allows the recruitment of the viral transactivator protein Tat.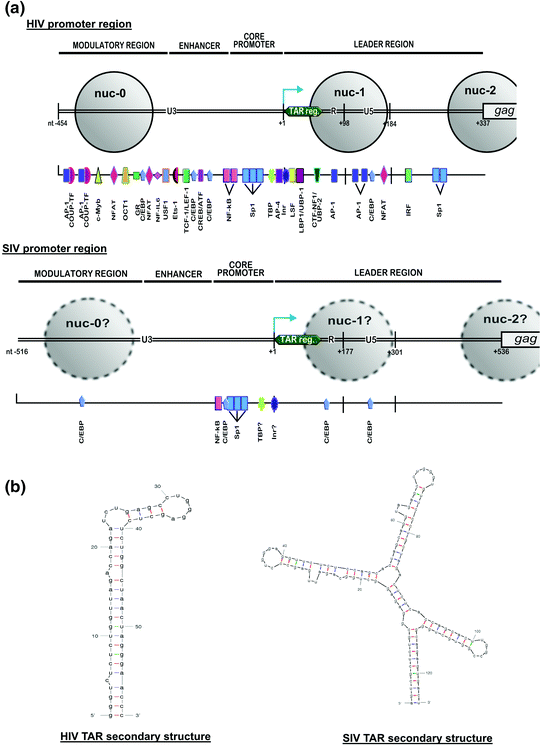 The strength of the HIV-1 promoter is modulated by cellular factors and its chromatin environment (see below). Indeed, the 5'LTR of HIV-1 contains several DNA-binding sites for various cellular transcription factors (TFs), including Sp1 and NF-κB, that are important for HIV-1 replication, whereas other sites, such as NF-AT, LEF-1, COUP-TF, Ets1, USF, and AP-1 binding sites, enhance transcription without being indispensable (Colin and Van Lint 2009).
In the absence of Tat, critical TFs, such as NF-κB and Sp1, are required for the formation of the pre-initiation complex leading only to the production of short transcripts, while in the presence of Tat, transcription is enhanced and full-length viral transcripts are synthetized. However, in addition to its classically recognized role in the induction of transcriptional elongation and chromatin remodeling, Tat may also influence transcriptional initiation by facilitating the assembly of the pre-initiation complex requiring the Sp1 and NF-κB binding sites (Brady and Kashanchi 2005). Interestingly, in this context, recent studies from Ben Berkhout's laboratory demonstrate that Tat(HIV) and Tat(SIV) also stimulate HIV-1 or SIV gene expression, respectively, independent of the TAR hairpin, via Sp1 sequence elements in the U3 promoter region (van der Velden et al. 2012; Das et al. 2011).
The three Sp1 binding sites present on the core promoter play a role on HIV-1 transcription recruiting the pre-initiation complex and the transcriptional factor Sp1 that serves as a recruitment platform for modifying chromatin complexes. The TF Sp1 is a ubiquitous factor that can lead to a positive or negative transcriptional effect depending on additional recruited factors. Sp1 bound to the U3 sites can have a negative effect by recruiting histone deacetylases (HDAC1 and HDAC2) to promote histone H3 and H4 deacetylations (Marban et al. 2005, 2007). In microglial cells, the CNS-resident macrophages, this recruitment requires the cofactor CTIP-2 (COUP-TF interacting protein 2). Indeed, the group of Rohr, in collaboration with our laboratory, has demonstrated that Sp1 recruits a multi-enzymatic chromatin-modifying complex including HDAC1, HDAC2, and SUV39H1 to the viral promoter, where CTIP-2 allows deacetylation of the ninth lysine of the N-terminal tail of histone H3 (H3K9), which is a prerequisite for H3K9 trimethylation by SUV39H1 (Marban et al. 2005). This last histone modification allows heterochromatin protein 1 (HP1) binding and polymerization. Interestingly, the Rohr's group reported displacement of CTIP-2 and subsequent recruitment of CREB-binding protein (CBP) through Sp1 following HIV-1 activation with phorbol esters (Marban et al. 2007). In CD4+ T lymphocytes, another study demonstrated that c-Myc is recruited to the HIV-1 5'LTR by Sp1 and in turn recruits HDAC1 in order to blunt HIV-1 promoter expression (Jiang et al. 2007). Following activation, cellular histone acetyltransferases (HATs), including p300/CBP, PCAF, and Gcn5, are recruited to the promoter region, leading to the acetylation of both H3 and H4 histones via several TFs such as Sp1 (Marsili et al. 2004). Interestingly, HMBA causes the release of P-TEFb from HEXIM1 and triggers CDK9 recruitment to the HIV-1 5'LTR via an unexpected interaction with the transcription factor Sp1 (Choudhary et al. 2008).
Otherwise, NF-κB binding sites are found in the enhancer region of all primate lentiviral LTRs, although their numbers may vary between different groups of SIV and HIV-1. Most subtypes of pandemic HIV-1 group M strains (A, B, D, F, G, H, J, and K) and some SIVs contain two NF-κB binding sites located −104 to −80 bp upstream of the transcriptional start site (Fig. 1a). However, HIV-1 group M subtype C strains, which account for almost 50% of HIV-1 infections worldwide, typically contain three binding sites for NF-κB in their enhancer region (Heusinger and Kirchhoff 2017). In contrast, subtype A/E recombinants of HIV-1 group M, the human immunodeficiency virus type 2 (HIV-2), and several SIV lineages contain just a single NF-κB binding site. Typically, mutations in the NF-κB binding sites of HIV-1 LTRs prevent efficient proviral transcription.
Another well-characterized cellular TF is the C/EBP (CCAAT/enhancer-binding protein) family for which three binding sites have been identified in the HIV-1 LTR and four binding sites in the SIVmac LTR (Ravimohan et al. 2010; Hogan et al. 2003). Functionally, these sites are involved in activation of HIV-1 transcription and are important for viral replication in the monocyte–macrophage lineage, but not in T cell lines. The regulation of HIV-1 transcription and replication in macrophages is mediated primarily by the two isoforms of C/EBPβ, the liver-enriched transcriptional activator protein (LAP) and liver-enriched transcriptional inhibitory protein (LIP) translated from the second and third in-frame AUG, respectively, and in these cells at least one functional C/EBP binding site within the HIV-1 LTR is necessary for basal level transcription and replication (Ravimohan et al. 2012). In the context of SIV, three of the four sites have been shown acting as negative regulators of SIV basal transcription, while the last binding site is associated with positive regulation of basal viral transcription [reviewed in (Liu et al. 2009)]. These differences could be explained by the differential recruitment to the SIV LTR of the C/EBPβ2 isoform (LAP) or the C/EBPβ3 isoform (LIP), which present an activator or repressor activity, respectively (Barber et al. 2006).
HIV-1 and SIV transcriptions are consequently coupled with the cellular activation status and by the abundance of cellular transcription factors that can either induce or repress viral promoter activity depending on the cell types. Interestingly, besides the presence of DNA-binding sites in the HIV-1 promoter region, several ubiquitous and cell-specific TFs have also been shown to be recruited to part of the pol gene coding for the integrase and to have an important impact on viral infectivity [(Goffin et al. 2005), reviewed in (Van Lint et al. 2013)].
Moreover, nucleosome positioning in the HIV-1 promoter appears to be specific and dynamic, supporting a major implication during latency and transcriptional activation. In latent conditions, two nucleosomes (named nuc-0 and nuc-1) are precisely situated at the proviral promoter (Fig. 1a). Nuc-0 is located immediately upstream of the modulatory region and nuc-1 immediately downstream of the viral transcription start site (TSS). The position of those nucleosomes in the 5'LTR appears to be an intrinsic property of the LTR. Indeed, the same positions were observed independently of the integration sites in different cell lines (Van Lint et al. 2013). Notably, during HIV-1 transcriptional activation, the organization of nuc-1 but not of others nucleosomes present on the HIV-1 genome is disrupted (Verdin et al. 1993). To our knowledge, such a precise nucleosome organization of the SIV promoter has not been described yet.
3

Regulation of HIV-1/SIV Transcription

Latency is established and maintained through multiples mechanisms acting in concert and operating mostly at the transcriptional level but also at several post-transcriptional steps. Regarding transcriptional regulation, HIV-1/SIV latency results in a complex and variable combination of multiple elements acting at the initiation and/or at the elongation phases of transcription. This heterogeneous and dynamic combination of transcriptional repression mechanisms impedes the synthesis of the viral trans-activating factor Tat, a viral protein indispensable for profound activation of HIV-1 and SIV transcription.
4

Post-transcriptional Regulation of HIV-1 Expression
4.1

HIV-1 mRNA Processing and Latency

Transcriptional regulation, described in the previous section, takes place and is influenced by nuclear co-transcriptional processes, including pre-mRNA capping, splicing, and polyadenylation that occur mostly co-transcriptionally (Karn and Stoltzfus 2012). First, pre-mRNAs are capped at their 5'end by capping enzymes: RNA triphosphatase, RNA guanylyltransferase, and RNA (guanine-N7) methyltransferase. Further processing of viral pre-mRNA by the host splicing machinery produces various transcripts and therefore various proteins. Nascent transcripts indeed result in over 40 differently spliced mRNAs (Purcell and Martin 1993), which can be divided into three classes: (i) fully spliced RNA expressing Tat exon1+2, Rev and Nef; (ii) singly spliced RNA encoding Tat exon1, Vif, Vpu-Env, and Vpr; or (iii) unspliced RNA serving as genomic RNA or to produce the Gag and Gag-Pol precursors.

P-TEFb, in addition to its crucial role in transcriptional regulation, also links the co-transcriptional processes of pre-mRNA capping and alternative splicing to transcriptional elongation (Lenasi et al. 2011). P-TEFb therefore facilitates the generation and processing of protein-coding mRNA.

Before the transport to the cytoplasm, the processing of the nascent transcript is completed by polyadenylation. The 3' processing and polyadenylation of pre-mRNAs involve recognition of the upstream AAUAAA and downstream GU-rich motifs surrounding the cleavage and poly(A) addition site. For this, host cellular proteins such as the cleavage/polyadenylation specificity factor (CPSF), cleavage stimulation factor (CstF), CF1m, CF2m, and poly(A) polymerase are required for endonucleolytic cleavage and polyadenylation of viral pre-mRNA.

The viral Rev protein is involved in the transport of unspliced and partially spliced mRNAs from the nucleus to the cytoplasm, following its interaction with the Rev-responsive element (RRE). Nuclear export occurs upon association of Rev with the nuclear export factor Exportin 1 (Crm-1) and translocation of the Rev/RNA complex to the cytoplasm where it is either translated or packaged into virions [reviewed in (Kula and Marcello 2012)]. Therefore, defects in viral RNA export, which could be due to insufficient levels of either Rev (Huang et al. 2007) or the HIV-1 RNA-binding factors Matrin 3 and PTB (polypyrimidine tract-binding protein)-associated factor PSF (Zolotukhin et al. 2003; Yedavalli and Jeang 2011; Kula et al. 2013) or inhibition of HIV-1 mRNA translation, are also implicated in HIV-1 latency.
4.2

Noncoding mRNAs and HIV-1 Latency

MicroRNAs (miRNAs) are short single-stranded noncoding RNAs of 19–25 nucleotides that mediate post-transcriptional gene silencing. In general, following RNA Pol II transcription, primary miRNA transcripts are sequentially processed via the nuclear RNases III Drosha and Dicer to generate mature miRNAs which interact with a complementary sequence in the 3' untranslated region of target mRNAs by partial sequence matching, resulting in degradation of the mRNA and/or translational repression. The level of specific mRNA translation can therefore be modulated by miRNAs.

Interestingly, modifications of the miRNA profile have been observed in HIV-1 infected patients (Houzet et al. 2008; Witwer et al. 2012; Bignami et al. 2012). Mechanistically, Tat and Vpr are known to function as RNA silencing suppressors by modulating miRNA expression levels in infected cells (Qian et al. 2009; Coley et al. 2010).

Cellular or viral miRNAs can target either cellular or virally expressed mRNAs. For example, PCAF, a HAT that is involved in chromatin remodeling, is targeted by miR-17/92 and miR-20a, both of which are downregulated in HIV-1 infection (Hayes et al. 2011; Triboulet et al. 2007). Cyclin T1 is repressed by various miRNAs in resting CD4+ T cells (miR-27b, miR-29b, miR-150, and miR-223) (Chiang and Rice 2012; Sung and Rice 2009). Moreover, cellular miRNAs, miR-28, miR-125b, miR-150, miR-223, and miR-382, known to be upregulated in resting CD4+ T cells, recognize the 3'end of HIV-1 mRNAs (Huang et al. 2007) and thus participate in the repression of HIV-1 gene expression.

Several viral miRNAs (vmiRNAs) have also been identified, including TAR-derived miRNA-TAR5p/3p (Klase et al. 2007; Ouellet et al. 2008) and the Nef-derived miR-N367 (Omoto et al. 2004). In contrast, some miRNAs can also have a positive effect on HIV-1 expression, for instance, when targeting HDAC involved in both the regulation of NF-κB and Tat. Indeed, the acetylation of these key factors is needed to allow for their proper action (Darcis et al. 2015).

The role of long noncoding RNAs (lncRNAs) has recently been observed in gene expression regulation, from transcriptional initiation to protein translation and degradation. For instance, the 7SK RNA is a lncRNA involved in the regulation of active P-TEFb levels (see the previous section). Nuclear-enriched abundant transcript 1 (NEAT1) is another example of a lncRNA that is involved in HIV-1 gene expression. This lncRNA is associated with the pathway of HIV mRNA export dependent on Rev and other cellular cofactors (Zhang et al. 2013) and play a crucial role in the post-translational regulation of HIV-1 expression. In addition, expression levels of noncoding repressor of NF-AT (NRON), a lncRNA involved in the HIV-1 latency establishment by targeting Tat for degradation (Imam et al. 2015), was observed to be inversely correlated with levels of HIV mRNA in resting CD4+ T cells (Li et al. 2016).
5

Concluding Remarks

For several years now, intensive efforts have been made by the scientific community to better characterize the HIV-1 latent reservoir and to investigate the molecular mechanisms regulating latency in infected cells. Improved knowledge of these mechanisms of persistence has paved the way for innovative strategies to attempt to eradicate latent HIV-1 but have also highlighted hurdles that should be overcome to reach this goal. One of them is the heterogeneity of latency, resulting from the multiplicity of the molecular mechanisms of HIV-1 transcriptional repression.

Numerous advances in our understanding of viral transmission, pathogenesis, and latency can be attributed to the use of SIV and NHP models. Multiple studies investigated whether these models recapitulate known and newly discovered features of HIV persistence in humans, including molecular mechanisms underlying latency. By many aspects, SIV and NHP models well reflect HIV infection of the human body. However, molecular mechanisms underlying SIV latency have been barely studied. Therefore, it is not excluded that some differences exist between HIV-1 and SIV latency, imposing a prudent analysis of the data obtained from the SIV/NHP models.
Notes
Funding
This project has received funding from the Belgian Fund for Scientific Research (FRS-FNRS, Belgium), the European Union's Horizon 2020 research and innovation programme (grant agreement N° 691119 EU4HIVCURE H2020-MSCA-RISE-2015), the ANRS (France Recherche Nord & Sud Sida-HIV Hépatites), the "Fondation Roi Baudouin", the NEAT Program, the Walloon Region (the Excellence Program "Cibles" and the "Fond de maturation" program), the ARC program (ULB) and the Internationale Brachet Stiftung (IBS). BVD and SB are postdoctoral fellows (ARC program and PDR project from the FRS-FNRS, respectively). CVL is "Directeur de Recherches" of the FRS-FNRS (Belgium).
Copyright information
© Springer International Publishing AG 2017