Abstract
The problem of pollution has been rising all over the world right now, and plastics are the one that plays major role in it, which has been in daily use like packaging materials, carry bags, manufacturing of different types of materials, etc. Among them around, 40% are particularly used for the production of food packaging materials. A feasible way to solve this issue is to gradually decrease the consumption of plastics prepared of petrochemical origin and subsequently substitute it with plastics made up of biodegradable materials. The transformation process of bioplastics materials (starch, polyhydroxyalkanoates, cellulose, and polylactide) for food packaging applications by employing traditional plastic manufacturing techniques such as injection molding, extrusion, and compression molding has been discussed in this chapter. Active packaging is one of the latest packaging techniques which contain active ingredients in them utilized to scavenge free radicals or eradicate undesirable organisms, thereby extending the shelf life of the product. The application of bioplastics materials in the production of active packaging has also been reviewed and discussed in this chapter.
Keywords
Active packaging 
Barrier 
Bioplastics 
Food packaging 
Polyhydroxyalkanoates 
Abbreviations
HDPE

High-density polyethylene

HPMC

Hydroxypropyl methylcellulose

HSAC

α-Hydroxysulfonic acid cellulose

LDPE

Low-density polyethylene

MOI

2-Methacryloyloxyethyl isocyanate

PBAT

Poly(butylene adipate-co-terphthalate)

PBS

Poly(butylene succinate)

PCL

Poly(ε-caprolactone)

PE

Polyethylene

PEG

Polyethylene glycol

PET

Poly(ethylene terephthalate)

PHA

Polyhydroxy alkanoate

PHB

Polyhydroxy butyrate

PHBV

Polyhydroxybutyrate-valerate

PLA

Polylactic acid

PP

Polypropylene

PS

Polystyrene

PTT

Poly(trimethylene terephthalate)

PUR

Polyurethane

PVC

Polyvinyl chloride

TFA

Trifluoroacetic acid

TPS

Thermoplastic starch
1

Introduction

Plastics produced from petrochemical sources are in use for a long time in different kinds of applications like packaging, automotive, healthcare, and electronic devices. They are non-avoidable owing to the economic advantage it offers and its versatility, robustness, and aesthetic qualities. In the current scenario, some of the frequently utilized polymers in packaging applications are polyethylene (PE, 29%), polypropylene (PP, 19%), polyvinyl chloride (PVC, 13%), polystyrene (PS, 7%), poly(ethylene terephthalate) (PET, 7%), polyurethane (PUR, 6%), and others. However usages of such polymers have created immense negative impact in the atmosphere, because of their toxic nature after incineration, non-biodegradability and pollution of water bodies [1].
1.1

Global Production and Impact

The demand for polymers in food packaging applications has been constantly on the rise owing to the increase in consumption of convenience foods. Global trades in processed foods have reached more than two trillion US dollars, and packaged foods contribute for half the quantity of that. When compared with other packaging materials like metal, paper, and board, plastic packaging occupies a major share of it (40%) [2]. The packaging materials employed in food industries have very short lifetime, cannot always be recycled, and after their utilization, majority of them accumulate in the landfills and water bodies, causing serious ecological concerns. It has been identified that only less than 3% of the plastic bags (500 billion) that are distributed in the market every year are recycled [3]. The plastic packaging materials used are frequently contaminated by biological substances and by foodstuff, thereby making it complicated for recycling process.

A feasible way to solve this issue is to replace non-natural polymers with eco-friendly materials particularly for packaging applications. However there are stiff challenges faced in using biodegradable polymers owing to their processability, cost, and functional properties when compared with synthetic polymers. The biodegradable polymers can be produced by utilizing natural resources like plants, animals, and microorganisms or from other renewable resources and are degraded by the enzymatic action of fungi, yeast, and bacteria; and they are compostable by acting as fertilizers and soil conditioner. Some of the important examples are polylactic acid, cellulose, starch, chitosan, lignin, and proteins [4].
2

Classification of Bioplastics

The bioplastics are categorized into four sections depending on their method of synthesis, source, and chemical composition.

Based on their chemical composition, source, and synthesis method, bioplastics can be classified into four categories (shown in Fig.

1

): (1) polymers derived straightly from biomass (e.g., protein, starch, cellulose); (2) polymers produced through chemical synthesis by utilizing bioderived monomers (e.g., bio PE, PHB, PLA); (3) polymers produced from microbial fermentation (e.g., polyhydroxyalkanoates); and (4) polymers produced through chemical synthesis by utilization of both petroleum-based and bio-derived monomers (e.g., PTT, PBS) [

6

].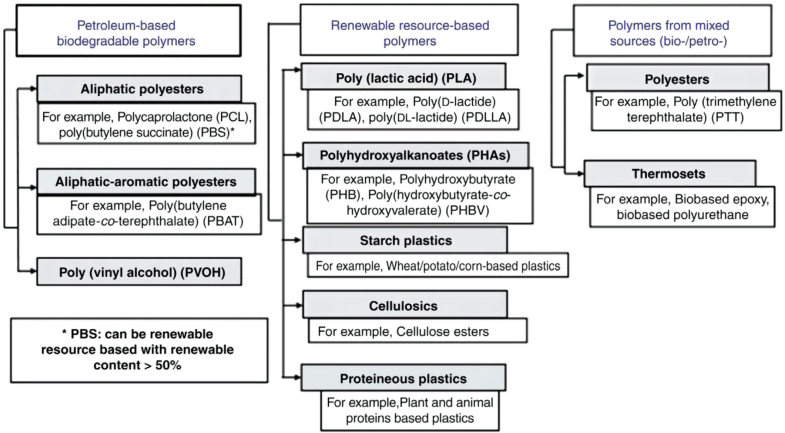 Bioplastics made out of starch, cellulose, PLA, and PHAs have gained commercial importance in recent times, due to their ease in processing using existing processing equipment, good functional properties, and they can be manufactured in bulk at competitive costs [6].
3

Active Packaging

The emergences in innovative packaging techniques are due to demand from consumer for palatable, mildly processed, and ready-to-eat foods with good quality and long shelf life. The ultimate goal of food packaging technology is to avoid food spoilage during farm to fork and also to eradicate hazards leading to foodborne illness. Recent changes in lifestyle where the consumer has less time to prepare meals have propelled the food packaging sector to develop new and inventive food packaging methods.

Latest techniques in the area of food packaging are intelligent packaging, active packaging, and bioactive packaging, which have shown significant promise in maintaining the freshness and extending the shelf life, thereby improving the quality and safety of food products [63].

Active packaging is an inventive concept which refers to the utilization of active materials including moisture absorbent, scavengers, and antimicrobial- and antioxidant-releasing systems that are used in food-enveloping environment to enhance the performance of packaging systems [64].

The major aims of active packaging are to prevent moisture infusion and microbial attack, reduce oxidation, regulate respiratory process, etc. It can be achieved with the help of CO2 scavengers/emitters, time-temperature sensors, biosensors, aroma emitters, ripeness indicators, ethylene scavengers, and prolonged release of antioxidants into the package during storage period.

A range of compounds such as organic acids including propionate, benzoate, sorbate and bacteriocins (pediocin and nisin), enzymes like lysozyme, fungicides, and metals were tested previously in food packaging for their antimicrobial activity [65, 66, 67]. For example, in Japan they have incorporated Ag-substituted zeolite as antimicrobial agent in packaging films. The Ag-ions have wide antimicrobial spectrum, and in active packaging films they inhibit variety of metabolic enzymes. However, there are some limitations that exist such as Ag-zeolite is costly and so far there are few descriptions reported regarding their application as packaging material. LDPE films comprising potassium sorbate have shown very good inhibitory effect against yeast cells. Currently, there are two commercial biocidal films available in the market; one is chlorine dioxide and the other one is a chlorinated phenoxy compound. The biocidal agent in both films resides in the polymer spaces and is released upon food contact or in response to changes in the environment.
3.1

Antimicrobial Packaging Concept

The antimicrobial agent may be coated onto films, or it can be directly incorporated into polymer material or packaging films to produce antimicrobial packaging films. The utilization of active antimicrobial compounds included in packaging material could be one approach for controlling bacterial pathogens in the food packaging system. This would ensure microbial food safety for consumer and also helps in extension of food's shelf life.

The mechanism of action in antimicrobial film may be migrating or non-migrating, it depends on the interaction between food matrix and the packaging. The antimicrobial agents can be infused in vapor or gradually diffused through food surface for migrating film applications, whereas it can be applied over the surface for non-migrating film applications. The release of active antimicrobial compounds in the food packaging should be tightly regulated and controlled; otherwise it might pose a safety risk to consumers.
3.2

Antioxidant Release

Antioxidants are utilized into active packaging films to maintain oxidation stability of lipids and to prolong shelf life of dried products and O2-sensitive foods. Natural, synthetic, and nanoparticle-based antioxidants have been successfully developed into multiple layer films. The synthetic antioxidants like thioester, butylated hydroxytoluene, and organophosphates sometimes migrate into food products, thereby creating potential toxicity issues, and due to this, the usage of such antioxidants are restricted in active packaging [88]. Hence, such artificial additives are currently replaced with natural alternatives like essential oils and plant extracts which exhibit antioxidant properties. The oxidative damage caused to foods can be reduced by employing edible-coated films which does it by reducing the oxygen transmission rate. The selection of bioactive compound depends on its compatibility with the packaging. For example, food packaging material ethylene vinyl alcohol copolymer (EVOH) matrix incorporated with antioxidants like quercetin, ferulic acid, green tea extract, and ascorbic acid had significantly decreased water permeability. Moreover, green tea extract incorporated films has shown great protection against lipid oxidation [89]. In a different study, cassava starch films comprising rosemary extracts have shown better barrier properties against UV light and good antioxidant activity [90]. Solvent casting method was used to incorporate oregano, rosemary, and thyme essential oils (EOs) into polylactic acid resin (PLA, concentration 10% w/w) to produce antioxidant packaging films. Addition of EOs significantly reduced lipid oxidation and improved the shelf life of the product [91]. An active packaging material of κ-carrageenan incorporated with different amounts of mulberry polyphenolic extract (MPE) has improved water vapor, UV light barrier, antioxidant, and pH-sensitive activity of the films [92].

One of the major advantages of using antioxidant incorporated packaging films rather than antioxidants directly added to food is that the active antioxidant materials incorporated in packaging could be able to provide a controlled release of them into food, when compared to constant usage of antioxidants during storage [93]. Taken together, sometimes direct coating of antioxidants over the surface of packaging material and/or food may result in sensory disapproval. Hence, when packaging materials are produced by incorporating antioxidants in the packaging matrix, it may aid in improving food safety and quality by reducing direct accumulation of chemicals.
4

Conclusion

Nowadays due to recent advancements in technologies and awareness among people to conserve our planet, there is a great potential for using bioplastics as food packaging materials. Most of bioplastics are currently employed in the production of loose film which is having potential to be used for service packaging such as cutlery, cups, carry bags, and plates and for recent packaging like active packaging (antimicrobial, antioxidant), intelligent packaging, modified atmospheric packaging, etc. Over the last few years, there were much efforts undertaken to enhance the functional properties like flexibility, functionality, biodegradability, stability, and processability of bioplastics through physical, biological, and chemical treatment such as blending, compounding, copolymerization, and fermentation. The bioplastics developed by improving the functional properties may have almost same properties like petroleum-based plastics, but due the high developmental costs involved, the cost of production of biopolymers are still high. More investigations are needed in the future toward the development of cost effective intelligent and smart packaging systems, which can be able to provide information related to properties of the food within the package (microbiological safety, quality, shelf life, nutritional value). The smart packaging systems not only provide information regarding food to customers; they also act as potential barrier in safeguarding the food and ensuring the integrity of food properties. On the other note, it is also expected that more support is needed from the governments, particularly in the developed countries to cut down the large price difference between biodegradable packaging and conventional plastic packaging.
Copyright information
© Springer Nature Switzerland AG 2020