Abstract
Platelet and blood transfusions have vital importance to the lives of many patients. Platelet transfusions are a life-saving intervention by reducing risk of bleeding in thrombocytopenic patients. Due to the short shelf life of platelets and their limited availability, researchers have developed various platelet transfusion production technologies. Understanding the cellular and biophysical mechanisms of platelet release is particularly important for development of platelet transfusion products (PTPs) and to translate them to clinical applications in patients requiring platelet infusion. Similarly, due to donor dependence and increased clinical need of blood transfusions, studies on the erythroid transfusion products (ETPs) have recently gained momentum. This led to development of ETP technologies involving differentiation of stem cells to fully functional erythrocytes in vitro. During megakaryopoiesis or erythropoiesis, various stimulatory factors, growth factors, transcription factors, and biophysical conditions have been shown to play a crucial role in the formation final blood products. Thus, understanding of the in vivo mechanisms of platelet release and erythrocyte maturation is particularly important for mimicking these conditions in vitro. This review focuses on latest and up-to-date information about the innovations in PTP and ETP technologies. We also discuss some of the recent fundamental findings that have changed our understanding of in vivo platelet release and blood formation.
Graphical Abstract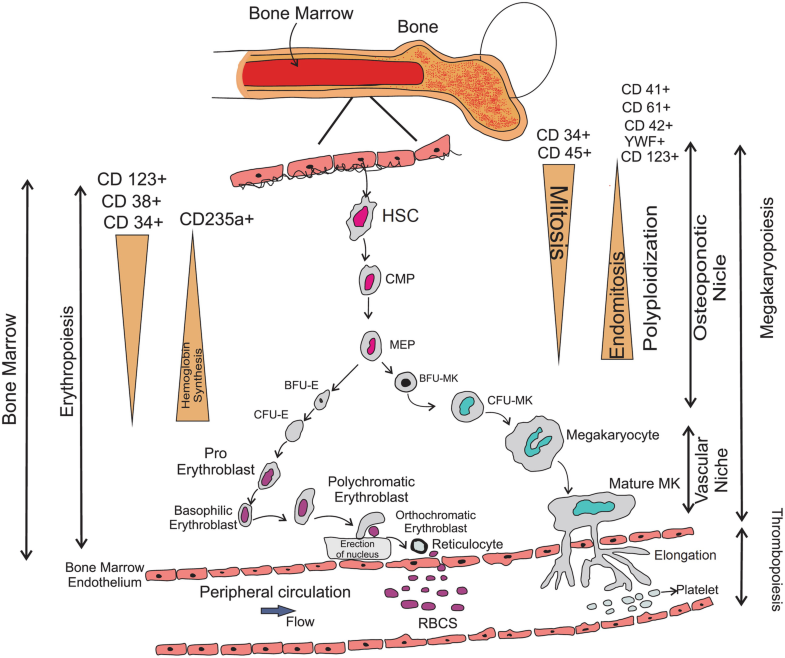 Keywords
Erythroid transfusion products 
Erythropoiesis 
ETPs 
Hematopoietic stem cells 
Megakaryocytopoiesis 
Megakaryopoeiesis 
Platelet transfusion products 
Abbreviations
ABI

Aurora B Inhibitor

ADSC

Adipose Derived Stem Cells

BFU-MK

Burst Forming Unit Megakaryocyte

BM

Bone Marrow

CFU-GEMM

Colony Forming Unit – granulocyte, erythrocyte, monocyte, megakaryocyte

CFU-Mk

Colony Forming Unit Megakaryocyte

CMP

Common Myeloid Progenitor

CMPs

Common Myeloid Progenitors

DMS

Demarcation Membrane System

ECM

Extracellular Matrix

ESC

Embryonic Stem Cell

ES-sacs

Embryonic Stem Cell–Derived Sacs

ETPs

Erythroid Transfusion Products

FLI1

Friend Leukemia Integration 1

GATA1

GATA binding protein 1

GPV

Glycoprotein V

HDFs

Human Dermal Fibroblasts

hESCs

Human Embryonic Stem Cells

hiPSCs

Human Induced Pluripotent Stem Cells

HPC

Hematopoietic Progenitor Cells

HSC

Hematopoietic Stem Cell

hTERT

Human telomerase reverse transcriptase

IL-1α

Interleukin 1 alpha

MAPK

Mitogen Activated Protein Kinase

Meis1

Myeloid ectopic viral integration site 1

MEP

Megakaryocyte Erythroid Progenitor

Mk

Megakaryocyte

MKP

Megakaryocyte Progenitor

Mks

Megakaryocytes

NF-E2

Nuclear Factor Erythroid 2

PB

Peripheral Blood

PDGF

Platelet Derived Growth Factor

PI

Phosphatidylinositol

PTPs

Platelet Transfusion Products

RBCs

Red Blood Cells

RRI

Rho Rock inhibitor

RUNX1

Runt related transcription factor 1

SCF

Stem Cell Factor

SDF-1

Stromal-Derived Factor-1

SI

Src Inhibitor

STAT1

Signal Transducer and Activator of Transcription 1

TAL-1

T-cell Acute Lymphocytic Leukemia Protein 1

TGF-β

Transforming Growth Factor-Beta

TPO

Thrombopoietin

UCB

Umbilical Cord Blood

VEGF

Vascular Endothelial Growth Factor

vWF

von Willebrand Factor
Notes
Acknowledgments
FK has been supported by funds provided by the European Commission Co-Funded Brain Circulation Scheme by The Marie Curie Action COFUND of the 7th. Framework Programme (FP7) (115C039), The Scientific and Technological Research Council of Turkey (TÜBİTAK) [grant numbers 115S185, 215Z069, 215Z071,and 216S317], The Science Academy Young Scientist Award Program (BAGEP-2015, Turkey), The International Centre for Genetic Engineering and Biotechnology – ICGEB 2015 Early Career Return Grant [grant number CRP/TUR15-02_EC], Medicine for Malaria Venture MMV Pathogenbox Award (Bill and Melinda Gates Foundation), Gilead Sciences International Hematology & Oncology program, Gilead ile Hayat Bulan Fikirler, and ERA-Net CVD program (118S929). We apologize whose work could not be discussed in this review due to size limitations. All authors declare that they have no conflicts of interest concerning this work.
Copyright information
© Springer Nature Switzerland AG 2019