Abstract
The insect cell-baculovirus expression system technology (BEST) has a prominent role in producing recombinant proteins to be used as research and diagnostic reagents and vaccines. The glycosylation profile of proteins produced by the BEST is composed predominantly of terminal mannose glycans, and, in Trichoplusia ni cell lines, core α3 fucosylation, a profile different to that in mammals. Insects contain all the enzymatic activities needed for complex N- and O-glycosylation and sialylation, although few reports of complex glycosylation and sialylation by the BEST exist. The insect cell line and culture conditions determine the glycosylation profile of proteins produced by the BEST. The promoter used, dissolved oxygen tension, presence of sugar precursors, bovine serum or hemolymph, temperature, and the time of harvest all influence glycosylation, although more research is needed. The lack of activity of glycosylation enzymes possibly results from the transcription regulation and stress imposed by baculovirus infection. To solve this limitation, the glycosylation pathway of insect cells has been engineered to produce complex sialylated glycans and to eliminate α3 fucosylation, either by generating transgenic cell lines or by using baculovirus vectors. These strategies have been successful. Complex glycosylation, sialylation, and inhibition of α3 fucosylation have been achieved, although the majority of glycans still have terminal mannose residues. The implication of insect glycosylation in the proteins produced by the BEST is discussed.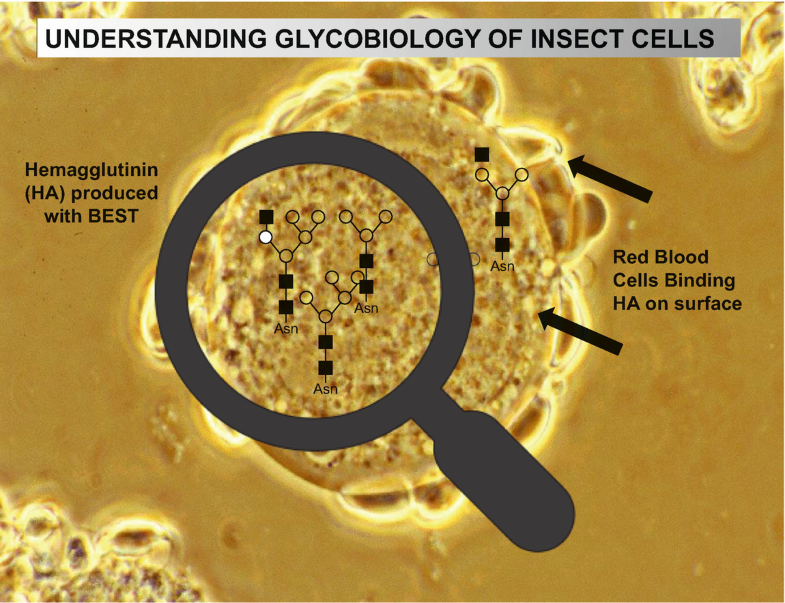 Keywords
Baculovirus 
Cell engineering 
Glycobiotechnology 
Glycosylation 
Insect cells 
Recombinant protein 
Abbreviations
BEST

Baculovirus expression system technology

CHO

Chinese hamster ovary

CHST2

Carbohydrate sulfotransferase 2

CSAS

Sialic acid synthetase

DOT

Dissolved oxygen tension

eLH/CG

Recombinant equine luteinizing hormone/chorionic gonadotropin

ER

Endoplasmic reticulum

FBS

Fetal bovine serum

FDL

Fused lobes protein

Fuc

Fucose

FucT

Fucosyltransferase

FucT3

α-1,3 Fucosyltransferase

GalT

β-(1➔4)-Galactosyltransferase

Gal

Galactose

Gal3ST2

Gal-3-O-sulfotransferase 2

GalNAc

N-Acetylgalactosamine

Glc

Glucose

GlcNAc

N-Acetylglucosamine

GlcNAcase

β-N-Acetylglucosaminidase

GlcNAcT

GlcNAc transferase

hpi

Hours postinfection

IgG

Immunoglobulin

Man

Mannose

ManNAc

N-Acetylmannosamine

MP

Baculovirus basic protein promoter

ND

Not detected

Neu5Ac

N-Acetylneuraminic acid

NR

Not reported

PAP

Rat purple acid phosphatase

rHA

Recombinant influenza hemagglutinin

rLRE

Recombinant lutropin receptor ectodomain

RMD

Guanosine-5′-diphospho (GDP)4-dehydro-6-deoxy-d-mannose reductase

SAS

Sialic acid 9-phosphate synthase

SeAP

Secreted human alkaline phosphatase

SialT

Sialyltransferase

TPA

Tissue plasminogen activator

βhCG

β subunit of human chorionic gonadotropin
Notes
Acknowledgements
Research performed thanks to the support by UNAM-DGAPA-PAPIIT IT-200315. Technical assistance from Luis Alberto Diaz is acknowledged.
Copyright information
© Springer International Publishing AG, part of Springer Nature 2018