Sustainable Management, Wertschöpfung und Effizienz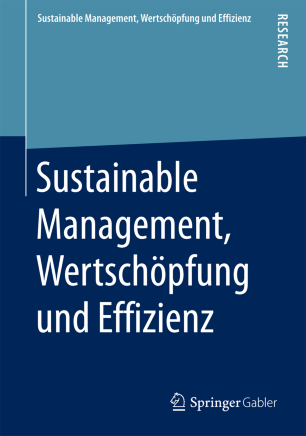 About this series
In dieser Schriftenreihe stehen insbesondere empirische und praxisnahe Studien zu nachhaltigem Wirtschaften und Effizienz im Mittelpunkt. Energie-, Umwelt-, Nachhaltigkeits-, CSR-, Innovations-, Risiko- und integrierte Managementsysteme sind nur einige Beispiele, die Sie hier wiederfinden. Ein besonderer Fokus liegt dabei auf dem Nutzen, den solche Systeme für die Anwendung in der Praxis bieten, um zu helfen die globalen Nachhaltigkeitsziele (SDGs) umzusetzen. Publiziert werden nationale und internationale wissenschaftliche Arbeiten.
Reihenherausgeber:
Dr. Gregor Weber, ecoistics.institute
Dr. Markus Bodemann
Prof. Dr. René Schmidpeter, Center for Advanced Sustainable Management, Cologne Business School
This series is focusing on empirical and practical research in the fields of sustainable management and efficiency. Management systems in the context of energy, environment, sustainability, CSR, innovation, risk as well as integrated management systems are just a few examples which can be found here. A special focus is on the value such systems can offer for the application in practice supporting the implementation of the global sustainable development goals, the SDGs. National and international scientific publications are published (English and German).
Series Editors:
Dr. Gregor Weber, ecoistics.institute
Dr. Markus Bodemann
Prof. Dr. René Schmidpeter, Center for Advanced Sustainable Management, Cologne Business School