Studies in East Asian Linguistics
Book Series
There is 1 volume in this series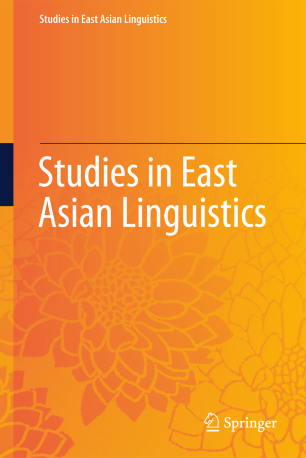 About this series
The series will publish studies in the general and interdisciplinary area of linguistics with a particular focus on East Asian languages. The series will feature not only formally but also empirically oriented work on any aspect of the theoretical analysis or processing of the languages.
The topics of the series include a variety of language studies (syntax, semantics, pragmatics, phonology, morphology, corpus linguistics, historical linguistics, discourse analysis, language acquisition, psycholinguistics, language learning) as well as computational linguistics (cognitive modeling of language, dialogue and interactive systems, information retrieval, language resources, machine translation, NLP applications, sentiment analysis, social medial, text classification, and the like). The series can be about a single East Asian language or a comparative work among East Asian languages and/or between an East Asian language and any other languages that contributes to the advancement of the study of East Asian languages.
The importance of understanding the linguistic features of East Asian languages has been increasing as does the role of the East Asian countries in the era of global world. While there have been numerous research activities for the languages, few has initiated the dissemination of the research results accessible to the audiences around the world and published by a globally recognized publisher.
The series would be an optimal place to report new developments in the East Asian language study of language, information, logic, and computation. The series would make new results, ideas, and approaches for the study of East Asian languages available to the public in the most timely and focused manner.