Palgrave Studies in Democracy, Innovation, and Entrepreneurship for Growth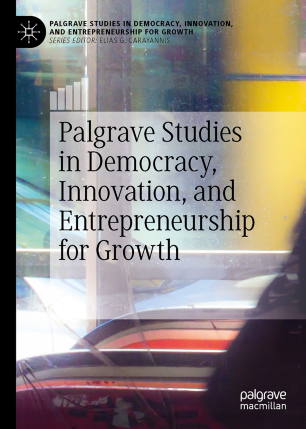 About this series
The central theme of this series is to explore why some areas grow and others stagnate, and to measure the effects and implications in a trans-disciplinary context that takes both historical evolution and geographical location into account. In other words, when, how and why does the nature and dynamics of a political regime inform and shape the drivers of growth and especially innovation and entrepreneurship? In this socio-economic and socio-technical context, how could we best achieve growth, financially and environmentally?

This series aims to address such issues as: • How does technological advance occur, and what are the strategic processes and institutions involved?• How are new businesses created? To what extent is intellectual property protected?• Which cultural characteristics serve to promote or impede innovation? In what ways is wealth distributed or concentrated?
These are among the key questions framing policy and strategic decision-making at firm, industry, national, and regional levels.
A primary feature of the series is to consider the dynamics of innovation and entrepreneurship in the context of globalization, with particular respect to emerging markets, such as China, India, Russia, and Latin America. (For example, what are the implications of China's rapid transition from providing low-cost manufacturing and services to becoming an innovation powerhouse? How do the perspectives of history and geography explain this phenomenon?)
Contributions from researchers in a wide variety of fields will connect and relate the relationships and inter-dependencies among (1) Innovation, (2) Political Regime, and (3) Economic and Social Development. We will consider whether innovation is demonstrated differently across sectors (e.g., health, education, technology) and disciplines (e.g., social sciences, physical sciences), with an emphasis on discovering emerging patterns, factors, triggers, catalysts, and accelerators to innovation, and their impact on future research, practice, and policy.
This series will delve into what are the sustainable and sufficient growth mechanisms for the foreseeable future for developed, knowledge-based economies and societies (such as the EU and the US) in the context of multiple, concurrent and inter-connected "tipping-point" effects with short (MENA) as well as long (China, India) term effects from a geo-strategic, geo-economic, geo-political and geo-technological set of perspectives.
This conceptualization lies at the heart of the series, and offers to explore the correlation between democracy, innovation and growth.