Perspectives in Pragmatics, Philosophy & Psychology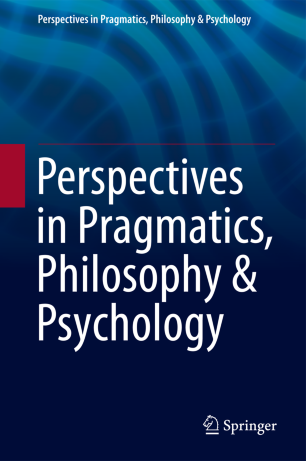 About this series
Perspectives in Pragmatics, Philosophy and Psychology deals with theoretical pragmatics and pragmatics from a philosophical point of view. The connection between philosophy and pragmatics is double. On the one hand, philosophy contributes to creating a framework to be called the 'pragmatics of language' capable of dealing with interpretation phenomena that complement purely semantic processes; on the other hand, pragmatics is capable of coping with major philosophical problems, e.g. skepticism and Gettier's problem. All volumes in the collection reserve a central place for the philosophical ideas in pragmatics, such as contributions to epistemology in which pragmatics plays a key role.
This series is indexed by Scopus
The collection: Perspectives in Pragmatics, Philosophy and Psychology publishes:
- pragmatics applied to philosophical problems and in the area of pragmalinguistics - pragmatics applied to the understanding of propositional attitudes, including knowledge, belief, in dissolving paradoxes and puzzles relating to epistemology. - pragmatics applied to psychology, especially on the topic of intentions and mind-reading- philosophical treatments of dialogue analysis
Editor-in-ChiefAlessandro Capone, University of Messina, Italy
Consulting EditorsKeith Allan, Monash University, AustraliaLouise Cummings, The Hong Kong Polytechnic University, Hong KongWayne Davis, Georgetown University, Washington, USAIgor Douven, University of Paris-Sorbonne, FranceYan Huang, University of Auckland, New ZealandIstvan Kecskes, State University of New York at Albany, USAFranco Lo Piparo, University of Palermo, ItalyAntonino Pennisi, University of Messina, ItalyFrancesca Santulli, Ca' Foscari University of Venice, Italy For inquiries and submission of proposals authors can contact the editor-in-chief, Alessandro Capone, via: acapone@unime.it.