Studies in the History of Law and Justice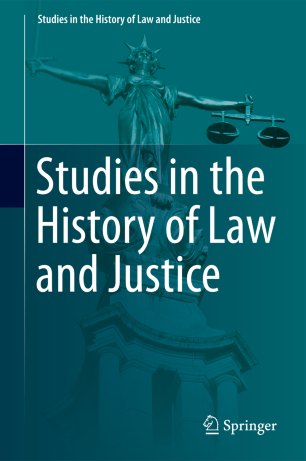 About this series
The purpose of this book series is to publish high quality volumes on the history of law and justice. Legal history can be a deeply provocative and influential field, as illustrated by the growth of the European universities and the Ius Commune, the French Revolution, the American Revolution, and indeed all the great movements for national liberation through law. The study of history gives scholars and reformers the models and courage to question entrenched injustices, by demonstrating the contingency of law and other social arrangements. Yet legal history today finds itself diminished in the universities and legal academy. Too often scholarship betrays no knowledge of what went before, or why legal institutions took the shape that they did.This series seeks to remedy that deficiency.
Studies in the History of Law and Justice will be theoretical and reflective. Volumes will address the history of law and justice from a critical and comparative viewpoint. The studies in this series will be strong bold narratives of the development of law and justice. Some will be suitable for a very broad readership.
Contributions to this series will come from scholars on every continent and in every legal system. Volumes will promote international comparisons and dialogue. The purpose will be to provide the next generation of lawyers with the models and narratives needed to understand and improve the law and justice of their own era. The series includes monographs focusing on a specific topic, as well as collections of articles covering a theme or collections of article by one author.