Springer Tracts in Mechanical Engineering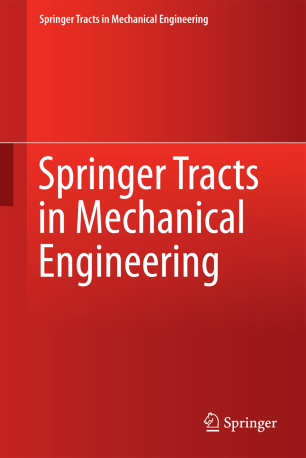 About this series
Springer Tracts in Mechanical Engineering (STME) publishes the latest developments in Mechanical Engineering - quickly, informally and with high quality. The intent is to cover all the main branches of mechanical engineering, both theoretical and applied, including:

Engineering Design
Machinery and Machine Elements
Mechanical Structures and Stress Analysis
Automotive Engineering
Engine Technology
Aerospace Technology and Astronautics
Nanotechnology and Microengineering
Control, Robotics, Mechatronics
MEMS
Theoretical and Applied Mechanics
Dynamical Systems, Control
Fluids Mechanics
Engineering Thermodynamics, Heat and Mass Transfer
Manufacturing
Precision Engineering, Instrumentation, Measurement
Materials Engineering
Tribology and Surface Technology
Within the scope of the series are monographs, professional books or graduate textbooks, edited volumes as well as outstanding PhD theses and books purposely devoted to support education in mechanical engineering at graduate and post-graduate levels.

Indexed by SCOPUS, zbMATH, SCImago.
Please check our Lecture Notes in Mechanical Engineering at http://www.springer.com/series/11236 if you are interested in conference proceedings.
To submit a proposal or for further inquiries, please contact the Springer Editor in your region:
Ms. Ella Zhang (China)
Email: ella.zhang@springernature.com
Priya Vyas (India)
Email: priya.vyas@springer.com
Dr. Leontina Di Cecco (All other countries)
Email: leontina.dicecco@springer.com
All books published in the series are submitted for consideration in Web of Science.